Grain-free Peanut Butter Shortbread Cookie Bars made with all gluten-free, dairy-free and egg-free ingredients. A delicious peanut butter shortbread cookie base topped with peanut butter filling and dark chocolate.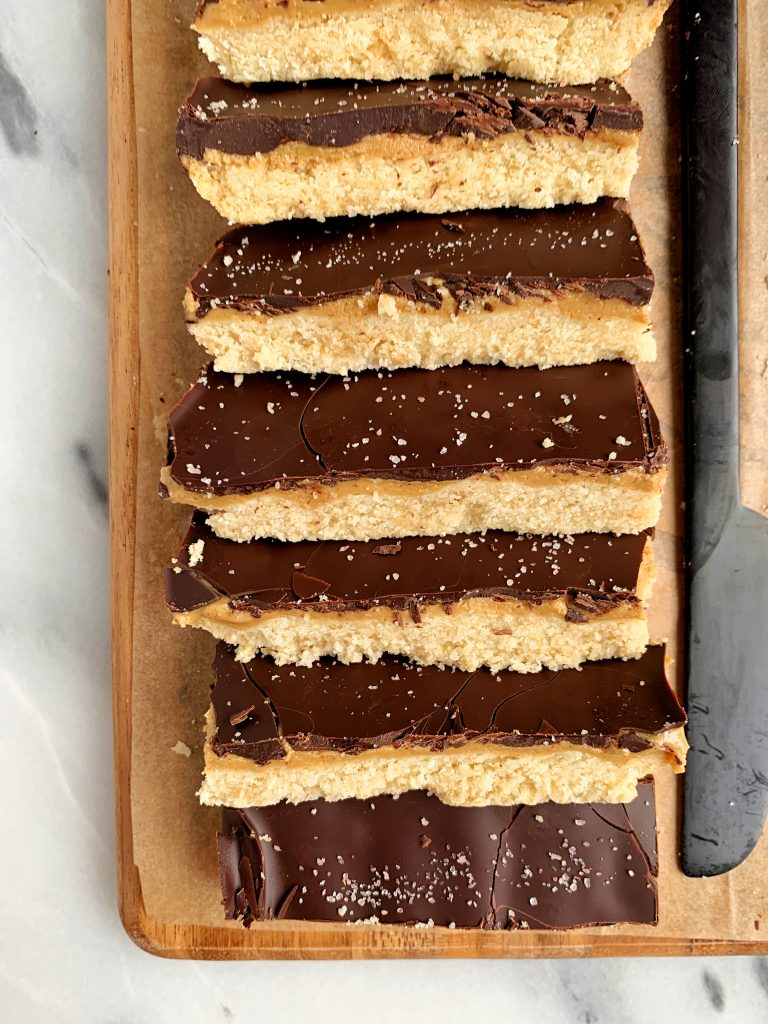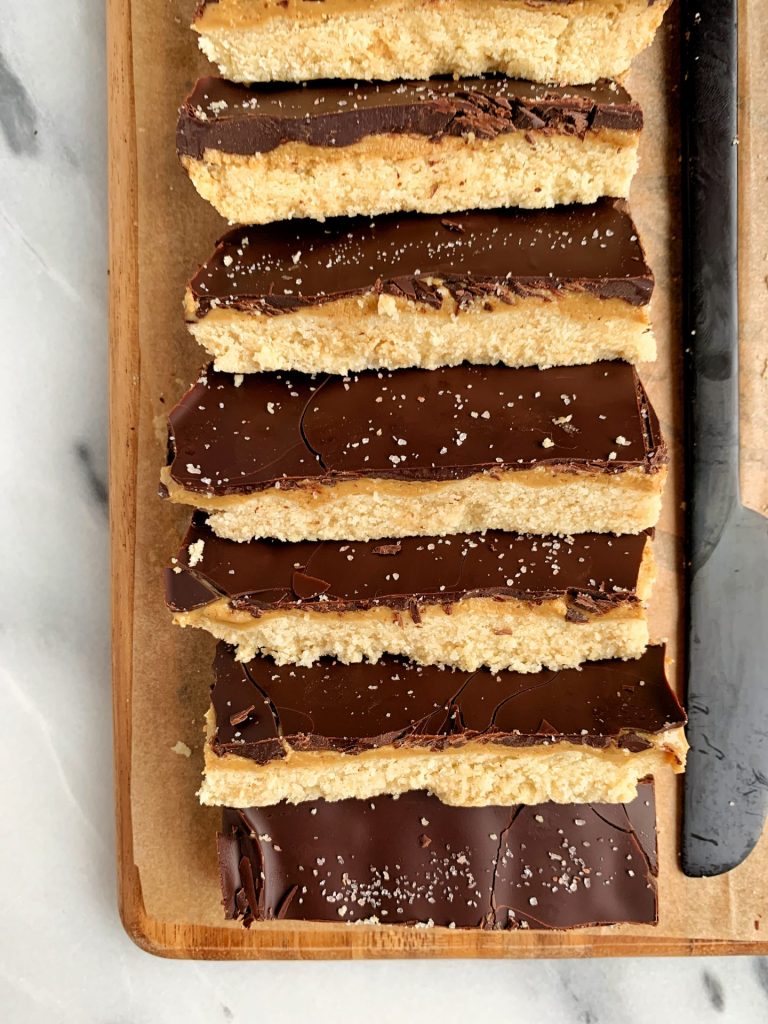 THESE COOKIE BARS ARE EVERYTHING.
Don't mean to scare you with the call caps, but WOW.
Peanut Butter Shortbread Cookie Bars made with all healthy ingredients.
Yes, you read that right. These cookies may look indulgent and crazy, but they are surprisingly low in sugar AND they have extra protein in them. I use a little organic maple syrup in the cookie base and add some collagen in the peanut butter filling. Plus since we are using almond flour and coconut flour, these have healthy fats and protein from that too.
I pretty much crave all things chocolate and peanut butter daily, so it should come as no surprise to most that we have another recipe using this classic combo. It is forever the best in my opinion and the possibilities of what to do with them are endless.
These PB shortbread cooke bars are grain-free, egg-free AND gluten-free.
Oh and they don't require a million different ingredients. Don't let the 3 layers intimidate you either. It is such an easy recipe to make with minimal effort.
What ingredients are needed:
Almond flour. The main flour for the cookie. I haven't tested subs and don't recommend using only coconut flour! It will be way too crumbly and the consistency will be off.
Coconut flour. Add a little with the almond flour and you will have the best ever shortbread cookie base.
Creamy peanut butter. I mean, are we surprised? The creamier the better!
Coconut oil. Melted and cooled if you are using solidified oil.
Maple syrup. How I sweetened these bad boys up. You can sub honey but coconut sugar won't work.
Dark chocolate. The cherry on top of these bars. Use these gems for the perfect coconut sugar-sweetened chocolate that melts so easily.
Vital Proteins Collagen. I love using their latte varieties in my recipes. They add the best flavor to them. Especially the vanilla and they add extra protein and collagen to whatever you are eating. They dissolve right into whatever you are making! Feel free to omit if needed.
For all of my favorite healthy candy recipes head on over to this blog post!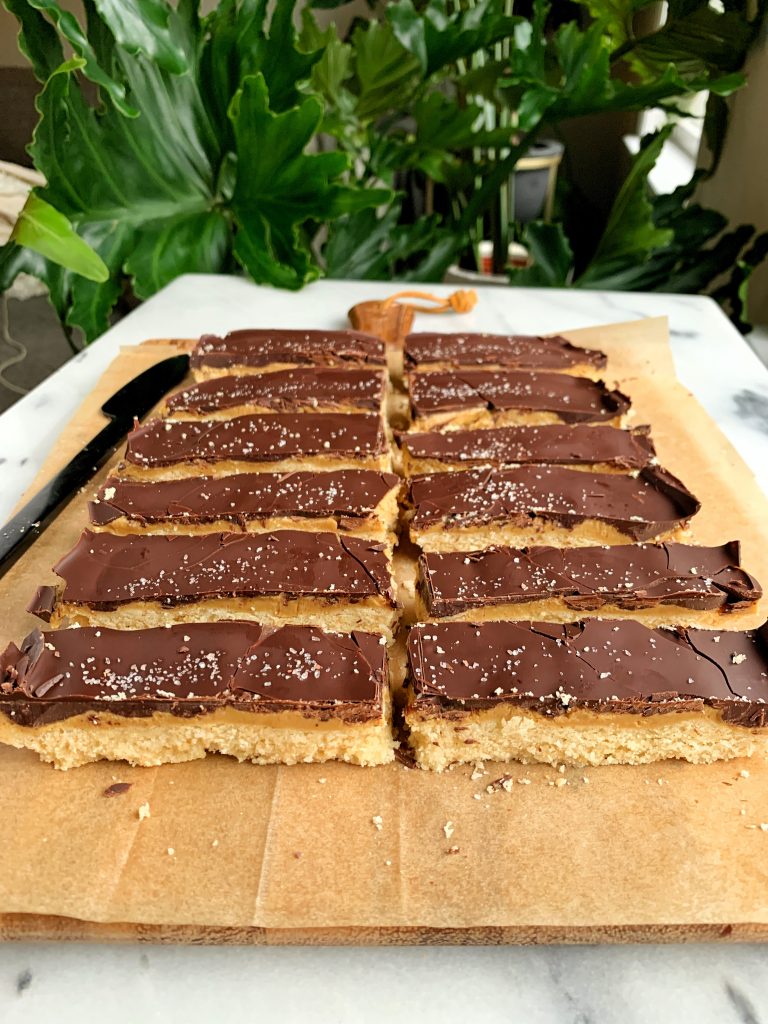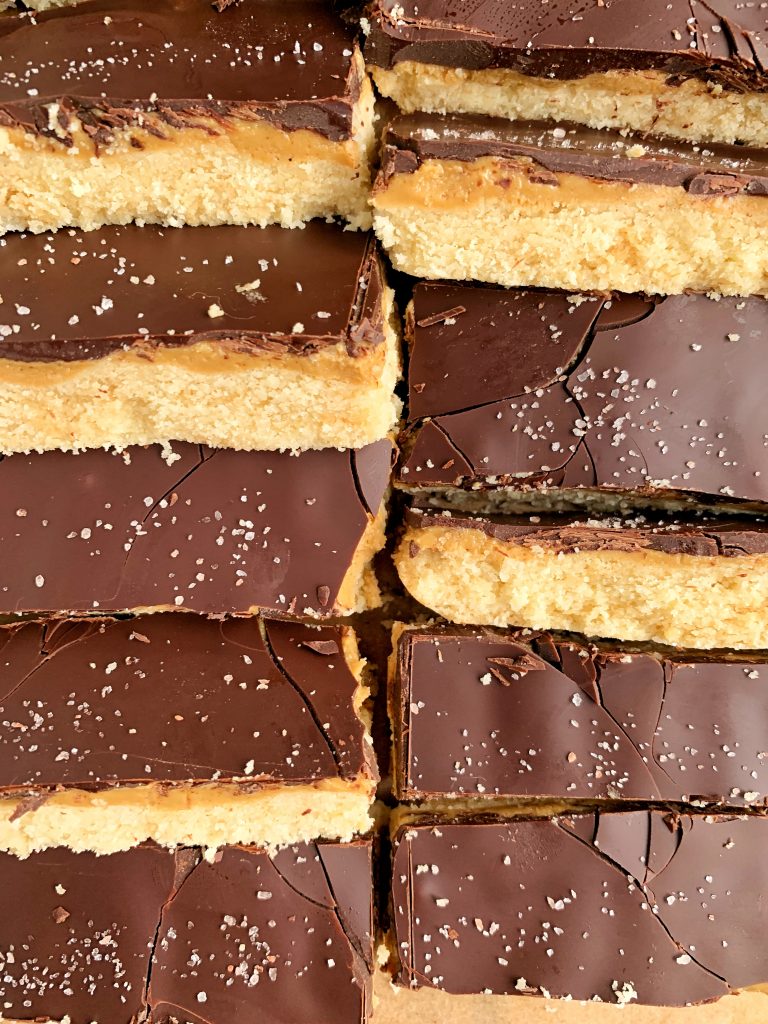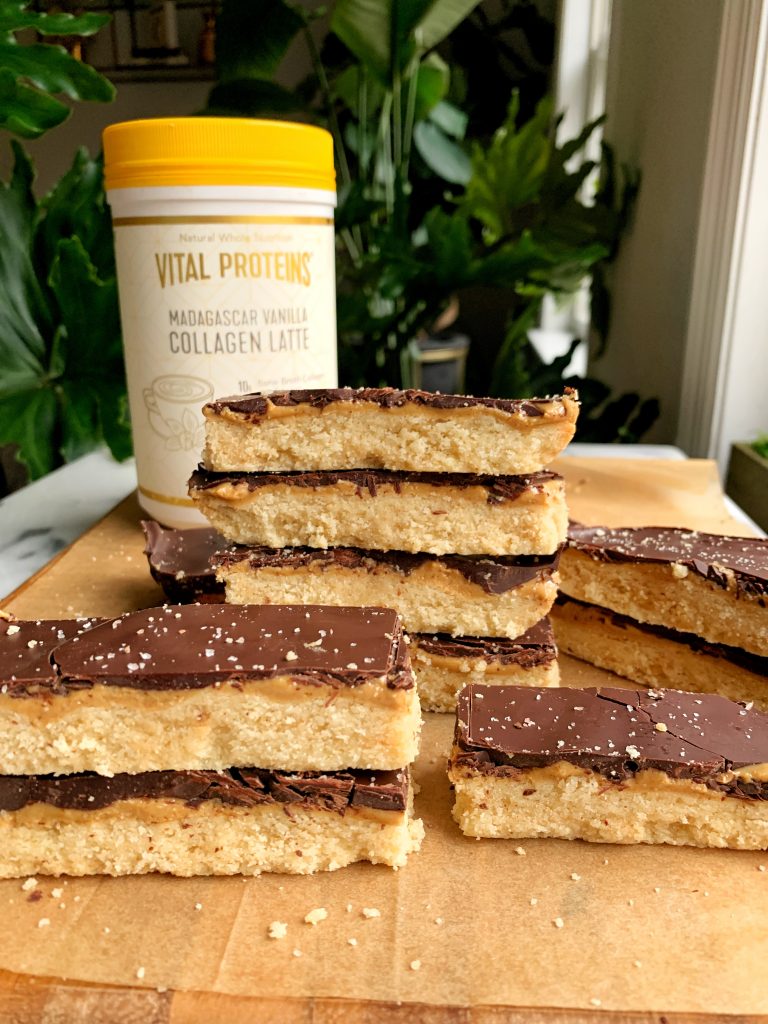 Print
Grain-free Peanut Butter Shortbread Cookie Bars
The best ever grain-free peanut butter shortbread cookie bars made with almond flour, coconut flour and sweetened with maple syrup. Topped with a delicious creamy peanut butter and chocolate layer. Surprisingly low in sugar and these are gluten-free and egg-free.
Prep Time:

10 mins

Cook Time:

15 mins

Total Time:

60 minutes
Peanut butter shortbread cookie base:
1.5 cups

almond flour*

1/4 cup

coconut flour*

1 tablespoon

creamy peanut butter

1/4 cup

liquid coconut oil

3 tablespoons

maple syrup
Peanut butter center:
Dark chocolate topping:
1 cup

dark chocolate chips (I used these – code RACHL for free shipping)
Instructions
Preheat oven to 350 degrees and line an 8×8 baking dish with parchment paper
In a medium bowl, mix together cookie base ingredients until well combined
Press cookie batter into dish to form the base
Bake in oven for 15-20 minutes, or until just golden
Remove from oven and cool for about 15 minutes (I put dish in fridge on a towel)
Well the cookie base cools, mix together the peanut butter, coconut flour and collagen in a small bowl and set aside
Melt chocolate chips until fully melted
Evenly spread the peanut butter layer on top of the cookie then the melted dark chocolate on top
Add the cookie bars to freezer to set for about 1 hour
Slice into 12-14 bars and enjoy!
Notes
*Store leftovers in fridge or freezer
*I haven't tested other flours
xx, Rach