Sharing a bit about my personal experience pumping breast milk and any tips for balancing both pumping and nursing for mamas.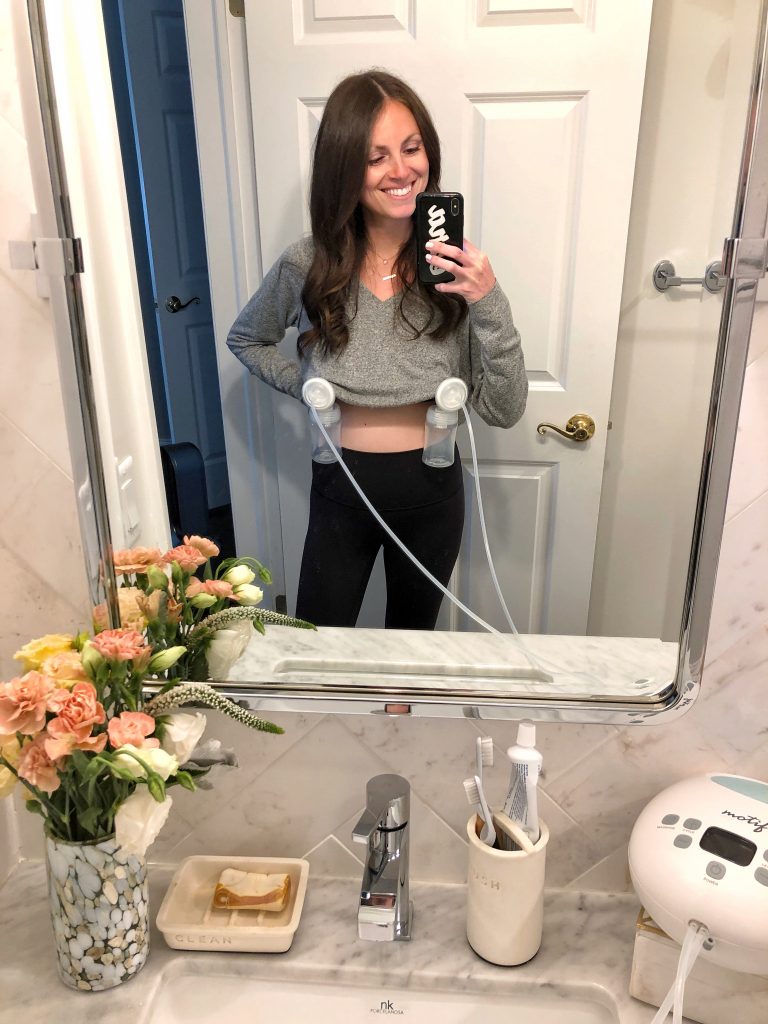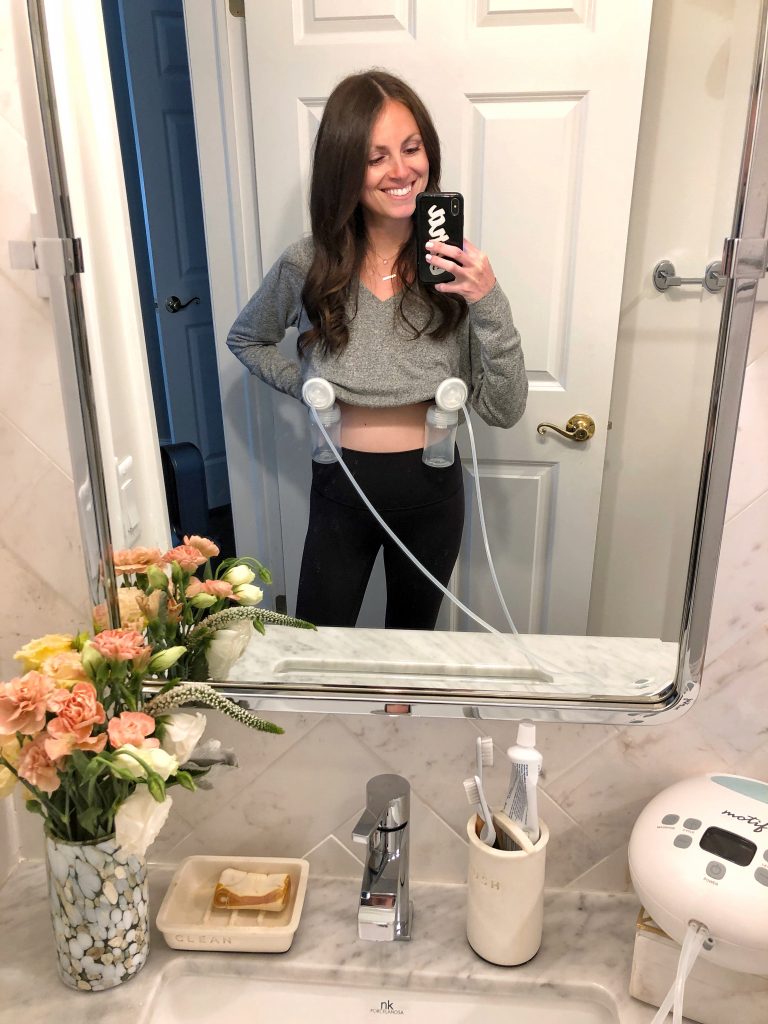 Let me start off by stating the obvious here…
I am simply sharing my own personal experience with pumping breast milk throughout the past few months. I am by no means an expert and I cannot say if what works for Ezra and I will work for everyone else. Everyone's journey with breastfeeding and pumping is their own and I am grateful to be in a position to share what works for us and what we have found successful so far. I am also writing this when Ezra is around 11 weeks, so please note this may change a bit as he gets older!
Can I just say how much I love being able to share topics like this with you guys?
Breastfeeding and pumping can be really intimidating for new mamas, especially in the beginning. I was convinced I wouldn't have milk come in, had no idea what to expect and the thought of pumping my boobs sounded insane and just weird if you asked me.
Most of us don't know how to go about pumping or know what to even expect. I had no idea how to balance pumping and nursing and also just making sure I was producing enough for Ezra. I still get a little nervous that I won't produce enough for him sometimes, but I am trusting the process and my body that it is doing everything it can to fuel our bubba. That is the best any of us can do – have a little bit of trust and faith in this process.
You guys had a handful of questions surrounding pumping breastmilk when I polled the Instagram community. You'll notice this blog post is in more of a Q+A format. I felt this was an easier way to share a lot of my thoughts and information I have with you guys about pumping and my experience without overwhelming anyone with so much info…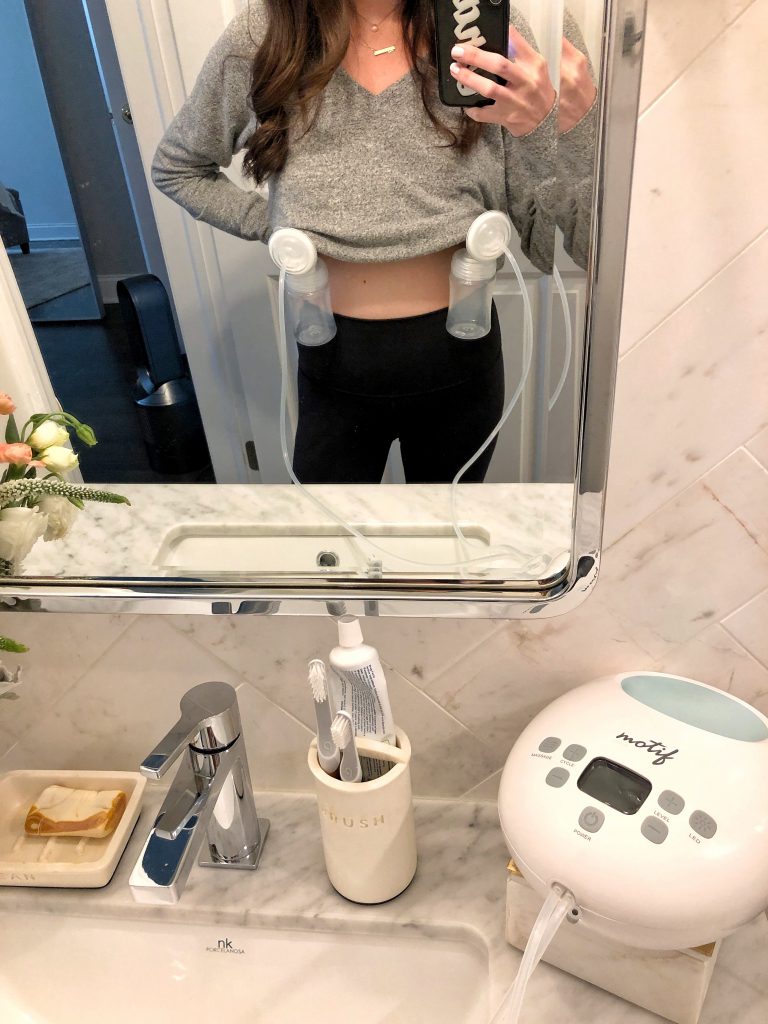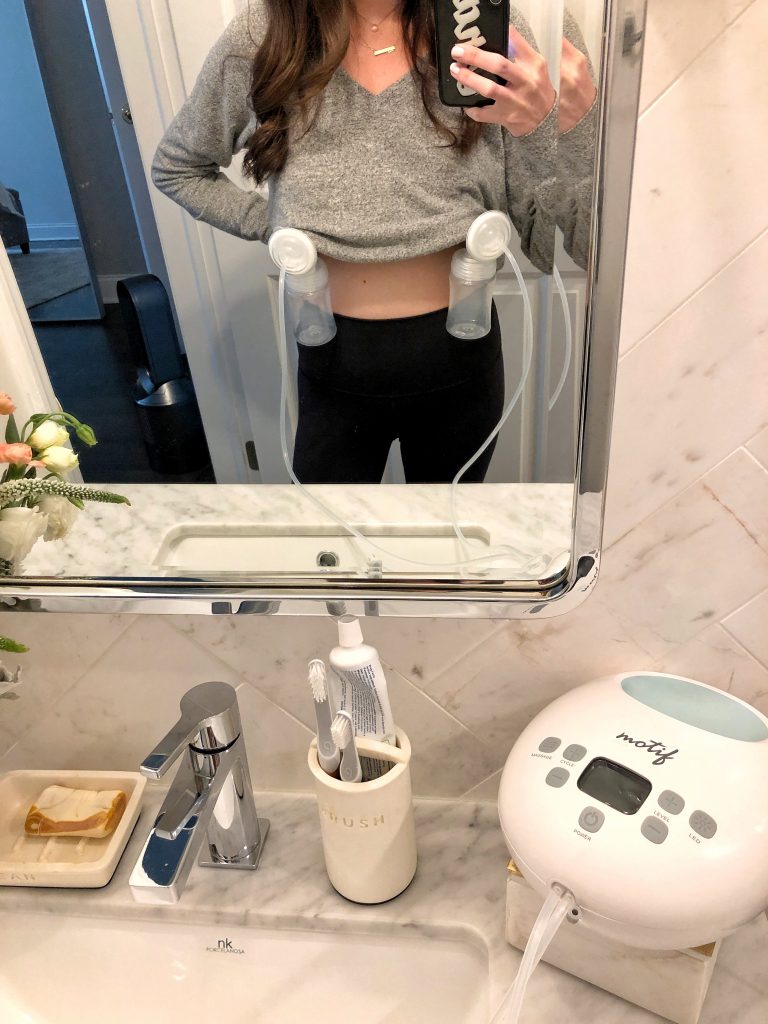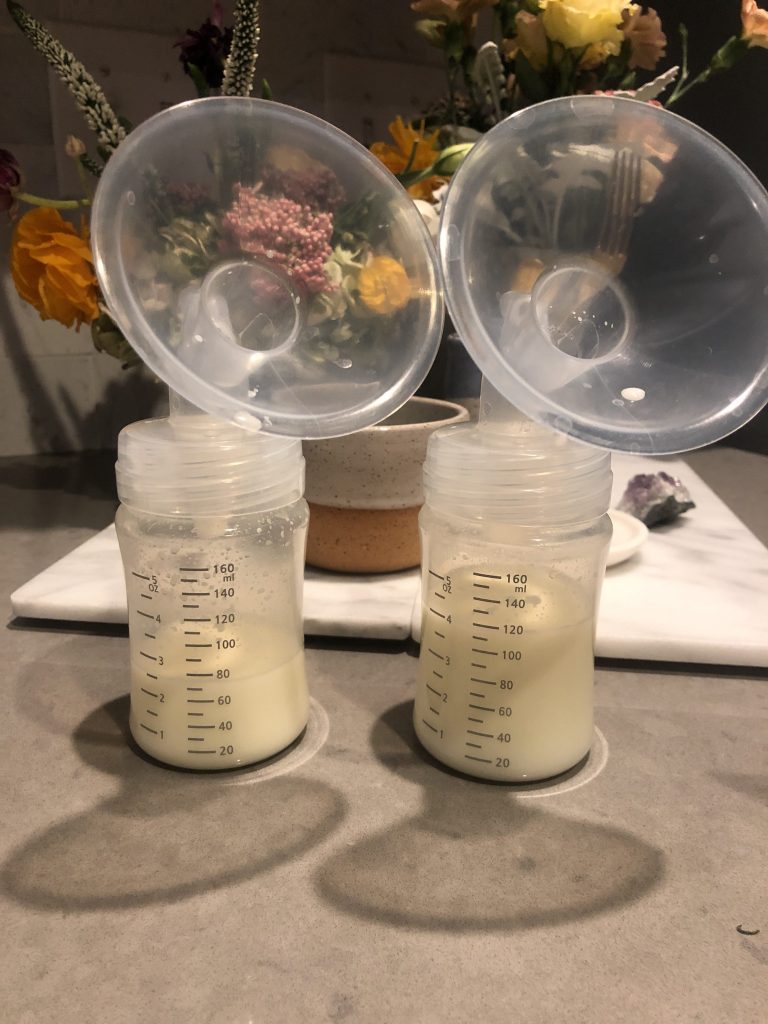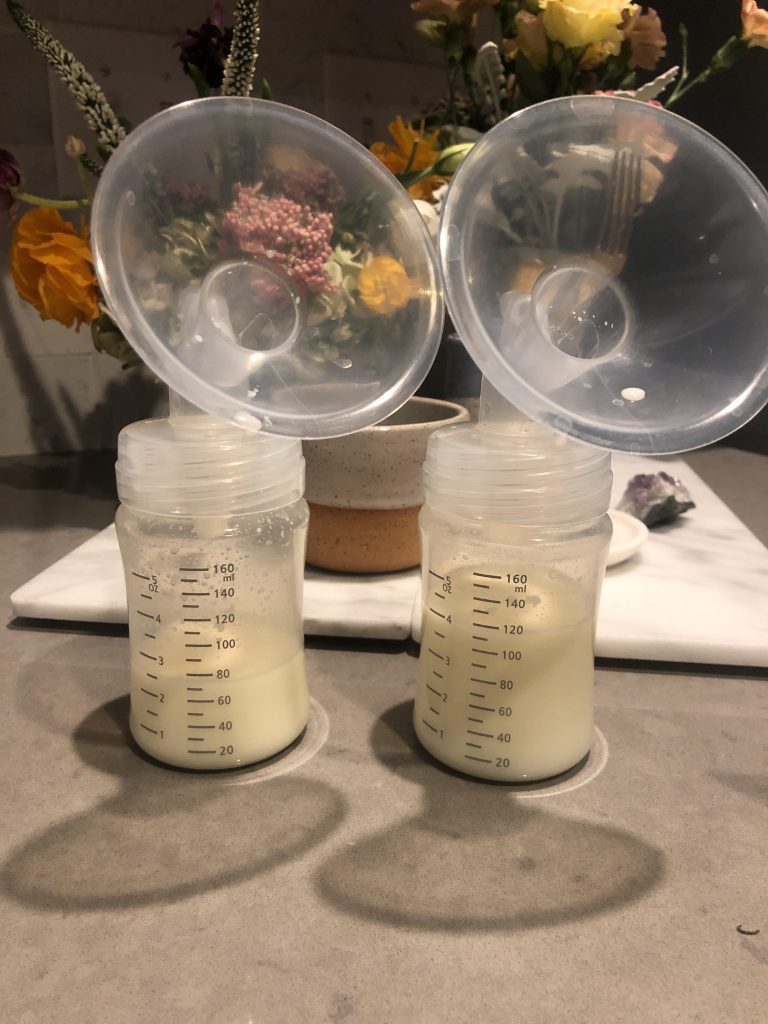 Breastmilk pumping Q + A:
When did you start pumping?

Let's start with the obvious question here! I started pumping the day after Ezra was born in the hospital. They have hospital grade pumps that are offered to new mamas and I started pumping as soon as I could. I would try to feed Ez (the very little colostrum that pours out at first) then pump for 10-15 minutes each time to stimulate my boobs to start producing more. I did this for the first four days he was born when we were in the hospital. I found it really helpful to make my supply come in quickly. It is tedious, I know, but I found it so worth it.

What is your pumping and nursing schedule like?

I try to only nurse Ezra throughout the day. Realistically this isn't always easy though. When I am not home, and then he gets a bottle of milk I have pumped and ready to go in the fridge. Now that I am working full-time again this usually happens 1x-2x per day. First in the late morning and afternoon when I am mid-work. Whenever I miss a feeding and cannot nurse him, I pump around the same time. For example, if I am not home for an 11am feeding (his actual feeding times change daily right now), then I pump around within the hour so we can try to stay on the same schedule. Ezra typically feeds 8-10x throughout a 24 hour period depending on his hunger that day (he is around 11 weeks). I aim to nurse him as much as I can but realistically that is about 3-4x each day with my work schedule. At night (after 10pm) we give him bottles only, so for his 2-3 night time feedings, he drinks from a bottle and I pump at the same time. Yes, some would say this is counter productive but it allows for Jordan to help as well. Ezra doesn't always fall asleep right after feeding (almost there though!) and I was losing my mind feeding for 30+ minutes, changing him then putting him to sleep. By the time he was falling asleep he was basically hungry again and I wasn't sleeping at all. I do always nurse him first thing in the morning though, usually around 7/7:30am before I start my day. Even if I wake him up to do it (he never rejects food that's for sure!). It gives me a moment of bonding with him before the craziness starts.

Did pumping help increase your supply?

Absolutely! When we got home from the hospital, I try to pump after 2 or 3 of his day time feedings to continue to help stimulate my boobs. I only pumped for 10 minutes or so because I didn't want to overdo it. This seemed to work really well for me. Whenever my supply feels lower than usual, I try to pump for 10-15 minutes right after a feeding. I actually did this yesterday where I pumped after feeding Ezra for is 7am, 10am and 1pm feedings. I don't expect to get much milk after but it helps stimulate my supply to come in.

How many ounces do you pump?

I pump anywhere from 4-6 ounces total right now. It depends on the time of day and how much time has passed between a feeding. If I go 4-5 hours (again how long I go is based off of Ezra's feeding schedule), I notice I get anywhere from 4-6 ounces total. Usually my left produces more than my right as you can see if the photo above. When I don't nurse him during the day and pump instead, it is around 4-5 ounces. He also gets a bottle of 4-4.5 ounces, which is great because my supply matches what he is drinking when I don't nurse him. Sometimes it is less when I pump too but I try not to get too caught up in that. Stress doesn't do the milk supply any good!

What pump do you use?

I have tried a few pumps now and most recently I have been using Motif's Luna pump, which just launched this month. You can order it through your insurance too with Aeroflow Breastpumps. This was really really helpful because dealing with insurance is a headache waiting to happen. The Luna pump is super powerful and helps me pump more milk in less time than the other pumps I have used. Plus it is super simple and easy to work. Some pumps are very confusing and I have found the Luna pump to be really user friendly, quieter than most and you can customize it to work for you and your bub. Not to mention that when you pump throughout the night it has a backlit screen so my eyes aren't seeing a harsh light and it even has a night light. Plus it only weighs 2 lbs and I also love that you can pump one boob if needed too..something my other pumps didn't offer.
I found Aeroflow Breastpumps to be really helpful to order from. They help mamas get all different pregnancy and postpartum support and it is all through insurance too. They take care of the entire process like filing the insurance claim, getting any info from your doctor, etc. And believe me – the last thing you want to deal with is paperwork and so much back and forth when you have a baby around.

What modes settings of the pump do you use and for how long?

The Luna pump has different levels for the cycle and the vacuum pressure. I prefer doing level 10 for pumping, unless my nipples are sore (which does happen from time to time) and then I will do 7 or 8 if that's the case. Do what feels good for you! I usually stick with cycle 46 too, but I love playing with the different ones to see what works best. As for timing, it varies. Sometimes it's 15 minutes and others it's 20-30 minutes. I usually look down and see if milk is still coming out, if nothing is coming then I stop pumping. When I miss a feeding, it's usually the 25 minute mark.

When did Ezra get his first bottle?

We decided to give Ezra a bottle as early as possible. The second day he was born and we were still in the hospital, I put some of my milk into a bottle and he drank it. This was a personal decision and I am so happy we did do this because I didn't want him to reject taking a bottle down the road. Breastfeeding is super demanding and I have heard many babies have a hard time drinking from a bottle if they have been nursed directly for too long. I didn't want to take a risk with that. Ezra drinks from the bottle and nurses beautifully. We also try to do paced bottle feeding to help balance both nursing and bottle feeding.

What have you found to increase your supply?

Supply and demand and FOOD AND WATER! It is as simple as that. The more your bubba demands, the more you will supply for them. My hunger with breastfeeding has been insane. I'm eating more than double what I was eating before and during pregnancy (seriously) and I am eating a wide variety of foods. This includes quality gluten, dairy, nuts, grass-fed meats and anything very nutrient dense. I keep bites like these (code RACHL for 15% off) on hand in the fridge and they also have helped my supply along with their lactation powder. At first I was really confused and didn't expect to be so hungry but listening to my body and eating and drinking enough really has helped with my supply. Of course trying to stay stress-free helps too but we all know that is easier said than done.

What bra do you use when pumping?

This is a must have! I have tried a few and this one is the most comfortable and holds up the pump really well. I highly recommend getting a few of these.

Where do you store pumped milk?

I do a mix of keeping pumped milk in the fridge and freezer. I store it in the fridge for 3-4 days and it never goes to waste. I also store about 4 ounces per bag in the freezer. I haven't used the freezer milk yet since we haven't needed it but this is a game changer for when I go away or will be gone for more than a couple of hours. I use these bags to freeze my milk.

What if you drink on occasion?

I'm not a huge drinker but I do love my martinis and tequila. I haven't really had much of a social life since Ezra was born (ha!) but I plan on using testing strips to test my milk when I drink alcohol. I think this is the safest way to know. Plus using my gut. If I feel like I drank a little much, will resort to the pump and dump method.

Did you see a lactation consultant?

YES! And it was covered by insurance. I went a few days before Ezra was born and I highly recommend this before the baby is born. It was really helpful to learn more about how the baby should latch, why skin-to-skin is important and it is great to have someone to call or see if you need anything. I stay clear from google and looking things up that way, so have a lactation consultant is great.

Have you found a travel pump you like?

I just got one last week from Motif too! I am using their Duo, which is amazing as well. I pumped in the barre dressing room this week using it 😉
That was a ton of info, I know! But I hope this was helpful for you guys. I am excited to hear more about your journeys breastfeeding and pumping.
xx, Rach
Thank you Aeroflow Breastpumps + Motif for sponsoring this post! I am so grateful to have found a pump that works well for Ezra and I and partner together.