One-Bowl Healthy Vegan Carrot Cake Loaf made with sprouted spelt flour for a healthier carrot cake recipe!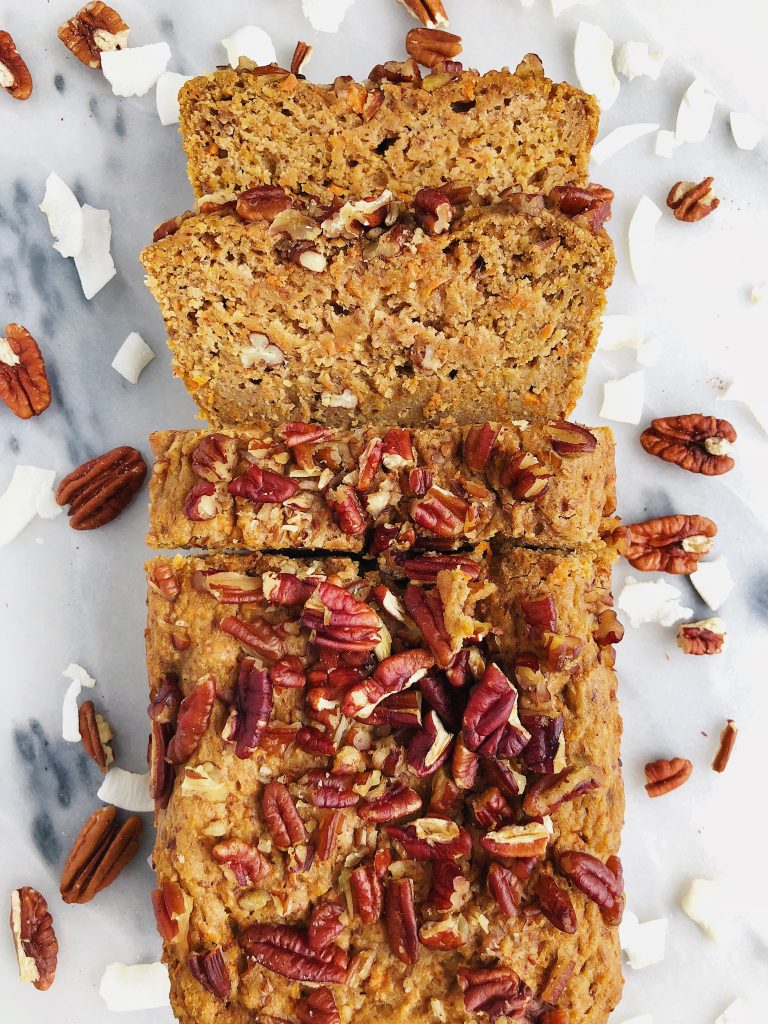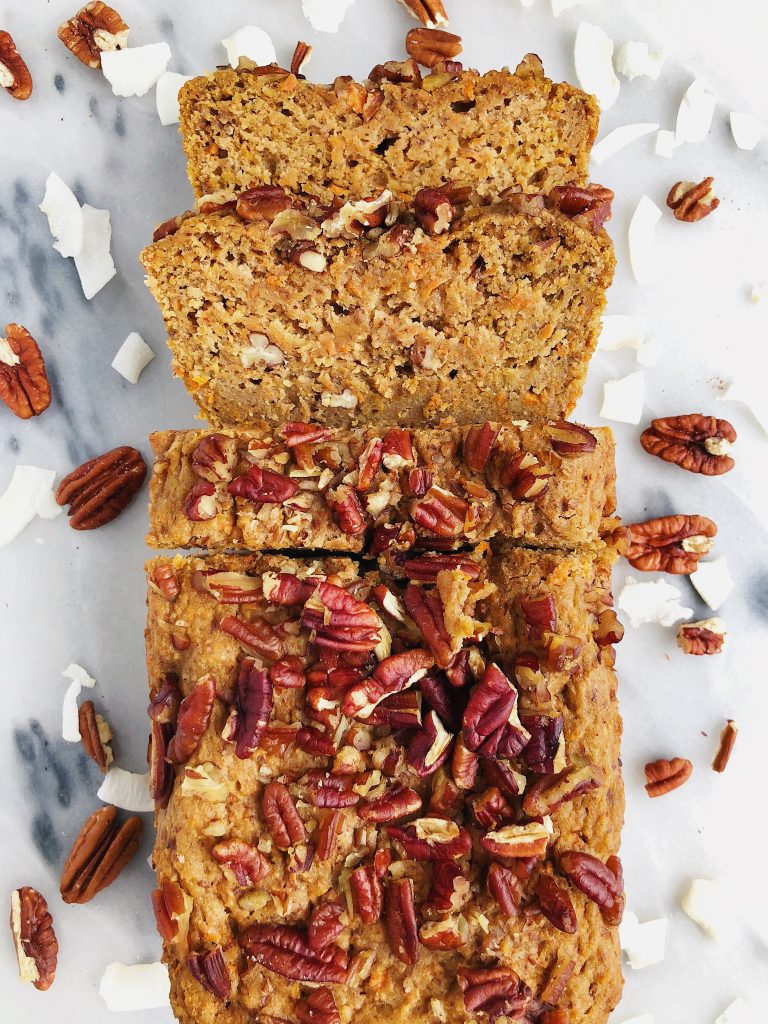 Remember when I posted a teaser about carrot cake a few weeks ago and you guys went CRAZAY?!
I love showing you the behind the scenes in the kitchen, but I don't usually share as much as I would like to. I tend to create my recipes a few weeks out and have learned that you guys want what I am teasing as soon as flipping possible 😉
I seriously have received at least 3 messages a day (usually more) asking when this will be up. I had it originally planned for later in April, but silly me forgot that this would be an epic Easter recipe for anyone celebrating. Or really just for anyone who wants a delicious carrot cake loaf on a Sunday..
Okay, so let's get to this Vegan Carrot Cake Loaf. We are pretty much combining banana bread and carrot cake into one perfect recipe. No, I do not use bananas in this, but it does have that banana bread texture and consistency.
I love how it is very simple and easy to make (only one bowl to clean!) and it is a recipe that you can feel good about eating for breakfast, dessert or a snack. Anytime of the day works for me friends.
I used my beloved sprouted spelt flour for this loaf. I have been using this flour for everything. It is such a subtle flavor and it is very easy to bake with. It works as a 1:1 sub for regular flour and while it isn't technically gluten-free, many who cannot tolerate spelt flour can indeed enjoy sprouted spelt flour. Obviously eat at your own risk, if you know spelt flour doesn't work well for you, you can sub oat flour.
Now let's make some dreamy Vegan Carrot Cake Loaf and eat our faces off. Here are a couple other carrot cake recipes too for ya!
WHAT YOU NEED
Unsweetened applesauce
Flax egg
Nut milk
Coconut oil
Coconut sugar
Carrots
Pecans
Cinnamon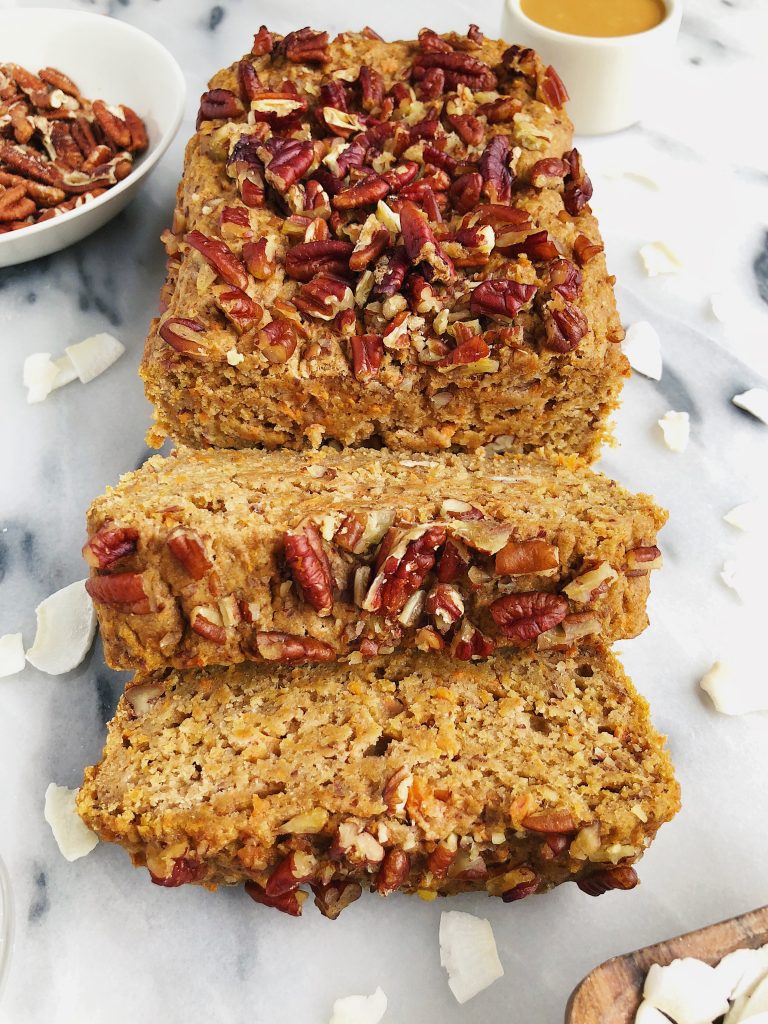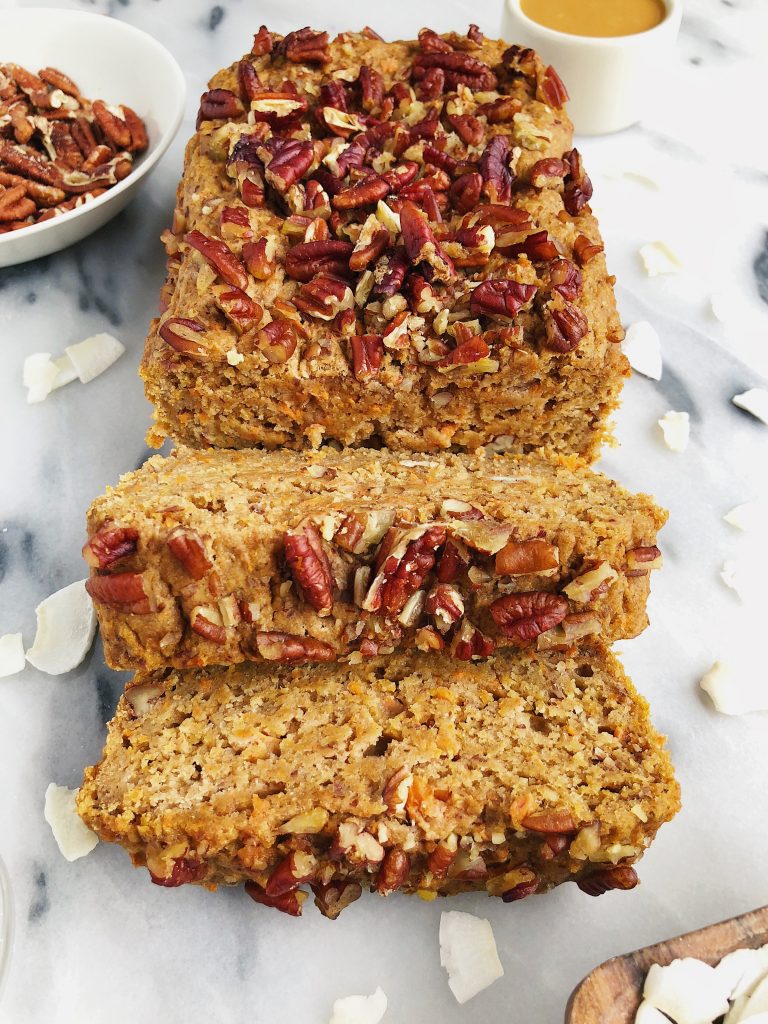 SaveSave
SaveSaveSaveSave
Save
Save
Print
One-Bowl Vegan Carrot Cake Loaf
The best vegan carrot cake bread! Made with a few simple ingredients. Gluten free-friendly and lower in sugar.
Ingredients:
1/2 cup

unsweetened applesauce

2

flax eggs

1 cup

non-dairy milk

1/3 cup

liquid coconut oil

1/3 cup

coconut sugar

1 teaspoon

vanilla extract

2 1/4 cup

gluten-free oat flour or spelt flour

3 teaspoons

baking powder

1 teaspoon

cinnamon

1/3 cup

chopped pecans

1 1/2 cup

grated carrots
Instructions
Preheat oven to 350 degrees and grease a bread pan well or line with parchment paper
Mix together the ground flaxseeds and water to form the flax egg
Let the "egg" sit for a few minutes then mix in a large bowl with applesauce, milk, coconut oil, vanilla and coconut sugar
Add in sprouted spelt flour, baking powder, cinnamon and nut meg
Mix well until batter is well-combined
Fold in carrots then pecans and pour into bread dish
Bake in oven for 50-60 minutes (stick a toothpick in to see if it is ready!)
Will stay good on counter in airtight container for 3 days or in fridge for 5, freezer for 2 months!
xx, Rach
SaveSave