Our Home Reveal Part Five: Bedroom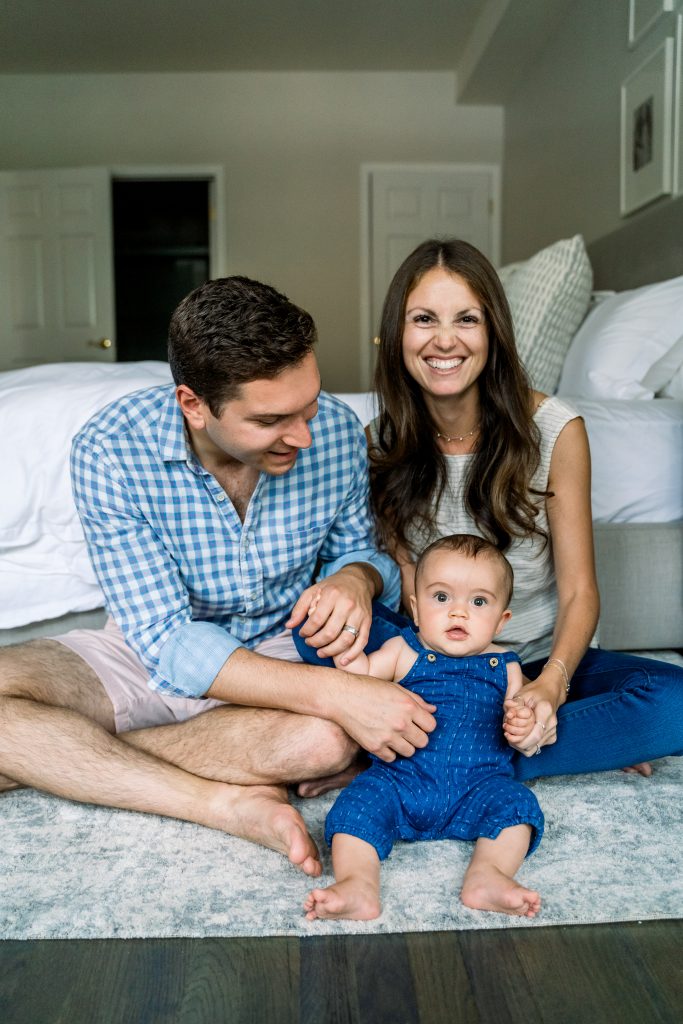 It only took us two years and a baby later to finally redo our bedroom.
I wish I took a before and after photo of what our room looked like because this is such a facelift for us! We were still using Jordan's bedroom furniture from his room at his parents house. We had a refrigerator next to our bed. Boxes on boxes of random things everywhere, and only one dresser for the two of us. It was a complete an under mess. And as someone who has borderline OCD – not fun for me.
The furniture was great quality but it was dark brown/black-ish colored wood, which really gave the whole room a really dark vibe.
Every single night before going to bed, I would say how I disliked the vibe and feel of our bedroom. I wanted to create a calm space that was airy and bright and something to zen me out a bit before going to bed at night.
I also was hoping to utilize our space to create a little desk area for myself. As Ezra gets older, I have a feeling it will be more and more challenging to work from home. And while I prefer to be working at the dining room table…that won't be easy in a few months. Our bedroom isn't the most ideal place to work from, but with only 3 rooms in our apartment, I can't be too picky!
Other than my desk area, we wanted to keep things simple in this room. No frills or anything over the top. Although in our future home, I'd love to get a fireplace in our bedroom. We aren't TV in bed kind of people either. Well, let me rephrase that – I am not a TV in bed kind of person. Jord would gladly have a television in our room if it wasn't for me. I didn't grow up with one in my room, never depended on it for sleep and honestly now that we have baby, who has time to lay in bed an watching TV anyways?!
You guys know by now that I am a huge Room & Board person. We furnished our entire home with their furniture and have gotten family and friends hooked on their quality pieces. I am so grateful to partner with Room & Board for yet another room in our apartment. Our dining room, living room and Ezra's room are each filled with their pieces.
I always start off furnishing our room but going on the Room & Board site and making a wish list of all the items I am eyeing up. It is my favorite way to look for things before going in person. That way I can also see how others have decorated rooms too in their customer photos and on Instagram.
Then I head over to their showroom in Chelsea and try to meet with a Design Associate who can help me bring the room to life a bit. For this room, we met with Bevon who was so great! Not to mention, he also agrees with my no TV in the bedroom rule 🙂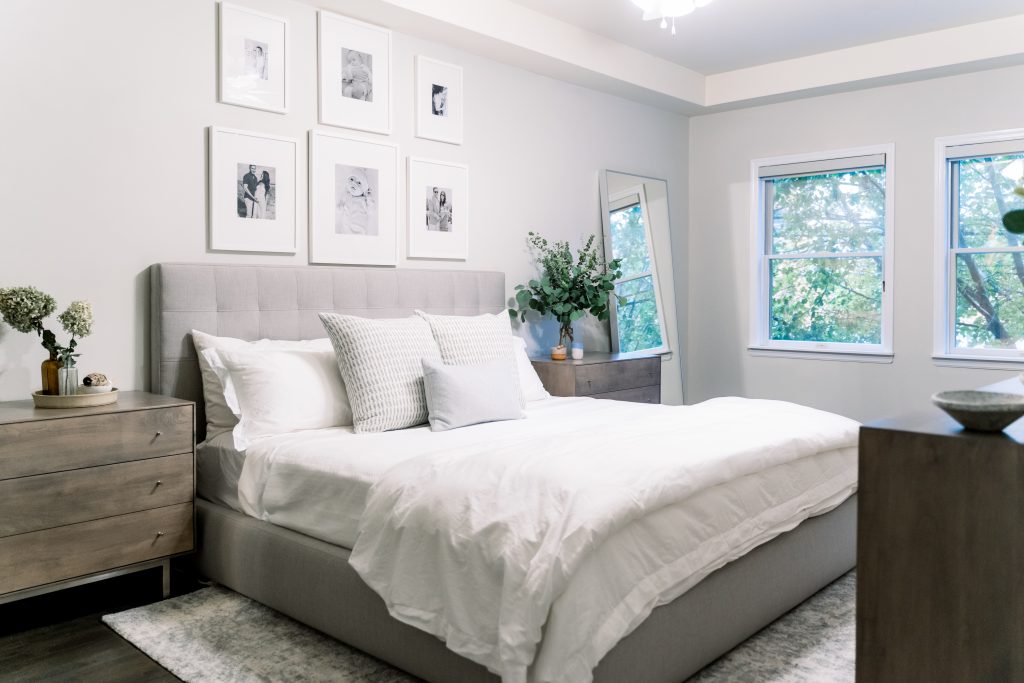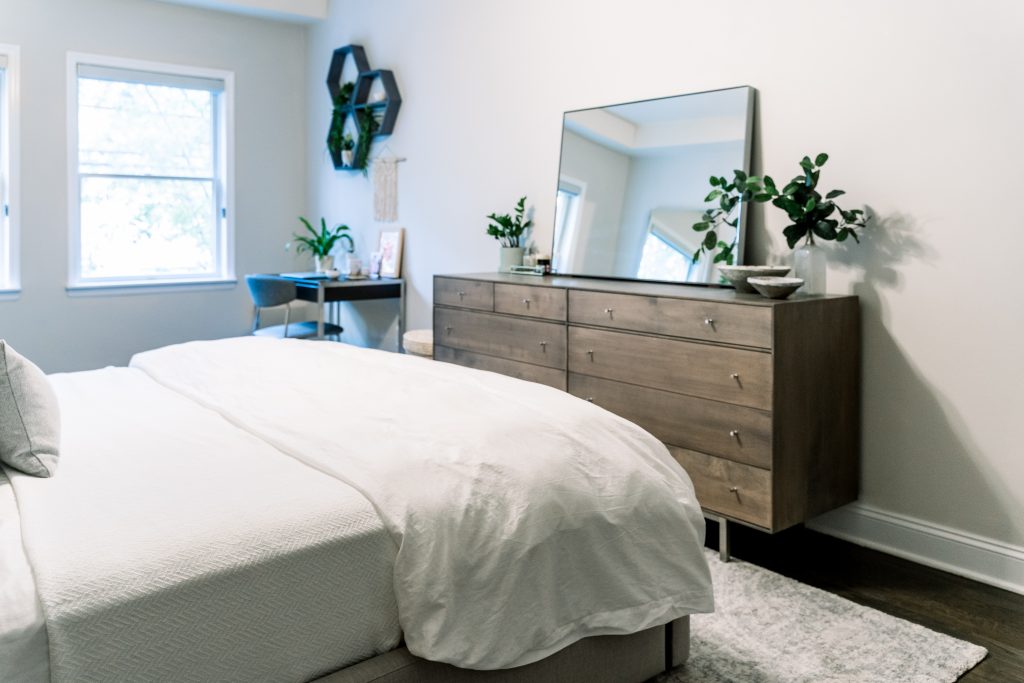 Let's start with the bed area and what we decided to go with..
I had to bribe J to agree to a king size bed. But after much persuading, he was on board (finally). I kept saying we needed more and more room for all of our babies one day. When really, I just want to obnoxiously sprawl out on the bed when I'm sleeping. A couple nights in to sleeping in the new bed – Jordan was more than happy we went with a larger mattress this time.
We have the Encased Coil with Memory Foam King Mattress – highly recommend this! It has just the right firm and cozy combo. We also have their Hypoallergenic King Pillows for sleeping and they have just the right amount of fluff. And the Hypoallergenic King Duvet Filler for our duvet and Chevron Weave Cotton King Blanket for the in between the sheets and duvet layer (making this huge bed is a workout – let me tell ya!). Lifting the decor pillows is a workout for me.
Our previous bedroom had drawers under the bed, which is epic for storage in an apartment. Luckily the bed frame I actually wanted had some too. We have the Avery King Storage Bed (in Sunbrella Canvas Fabric). We store our towels and extra sheets under there as the drawer itself is really deep.
You may notice our nightstands are 2x the size of a usual nightstand. As I just mentioned, storage is everything in our apartment. By using these three-drawer dressers, it really adds extra storage for us to utilize. We went with the Hudson line and have the maple with shell stain for our dressers. The ten-drawer one is huge. In fact, I am pretty sure 6 out of the 10 drawers are still empty! The Infinity Mirror is one of my favorite pieces from Room & Board too. It adds just the touch to the top of the dresser.
Above our bed, I wanted to add a bit more of a personal touch. Otherwise known as the Ezra shrine as it is all family photos. And a few ones when I was pregnant with him. Don't worry – we will update as needed! But this Profile Set of Six Frames is great and J said it was easy to hang up too. I love the look of the black and white photos with the furniture.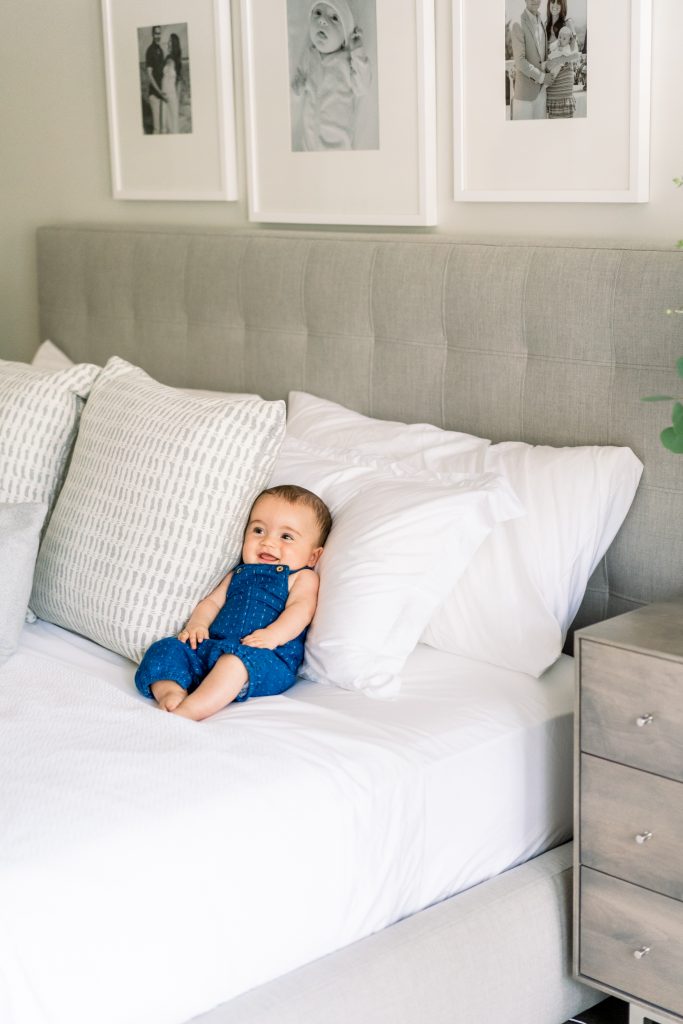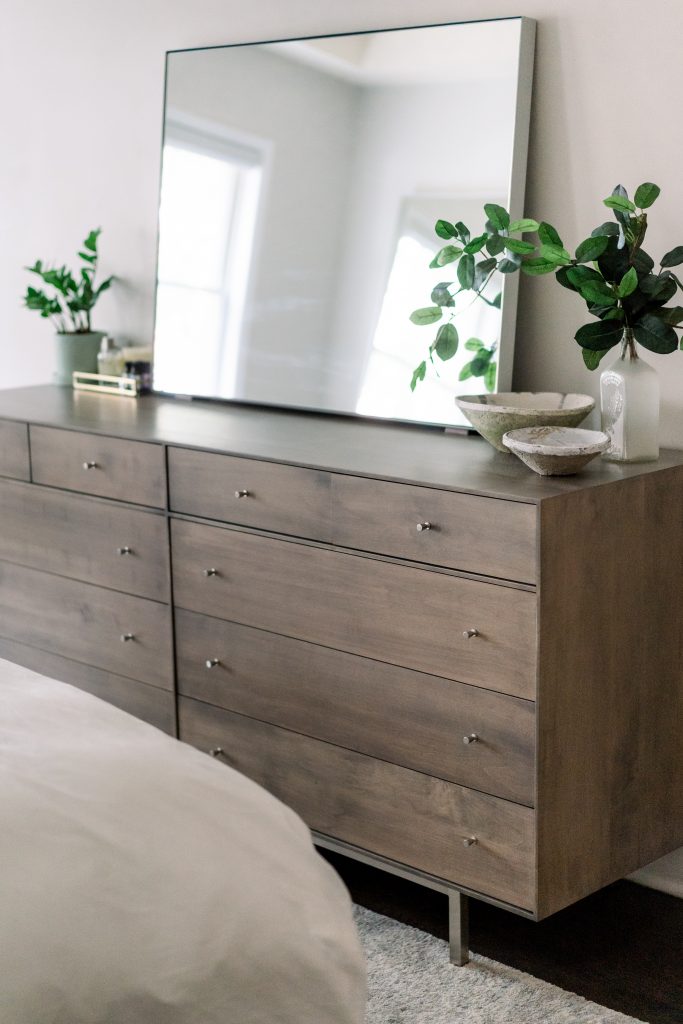 The last little part of our room is my desk area – yay! I have the Basis Desk in cherry with charcoal stain and Wolfgang Side Chair. It compliments the lighter furniture really well. I usually do my post recipe work here and if anyone is in the living/dining room and I need to get work done, it is great to have this. It also has a drawer attached to it, which fits my laptop and some other work supplies I have on hand.
The wooden shelves above were not made by Jordan (ha!) but from the sweetest crew called Northern Creek Wood. It is handmade up in Rochester, NY and they crafted the most perfect accent for above my desk. Plus some fun accents too to spice things up a bit!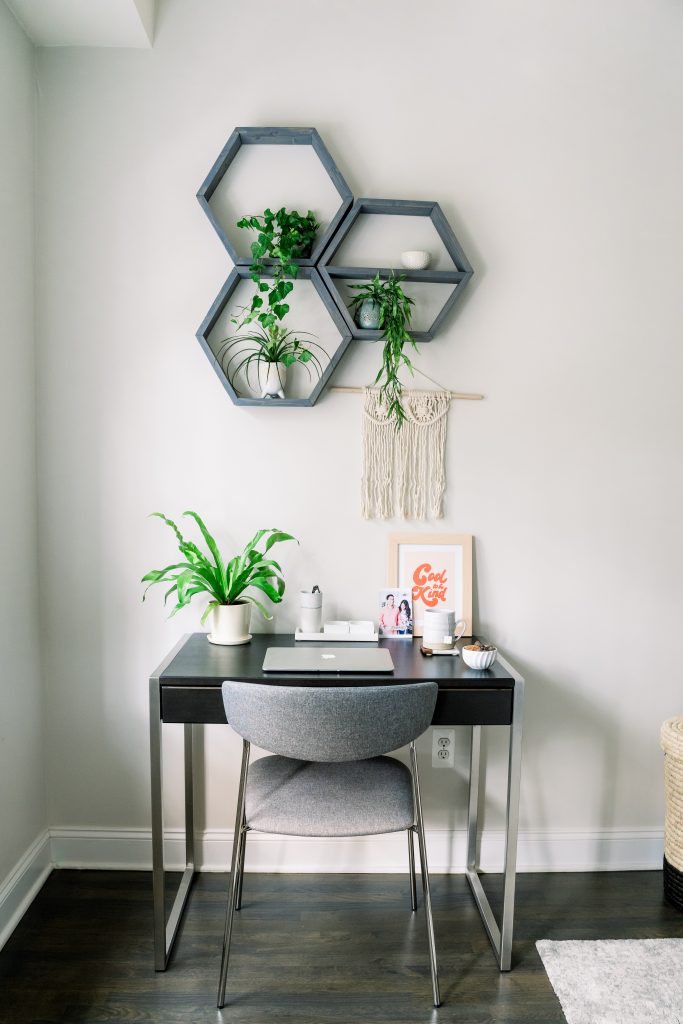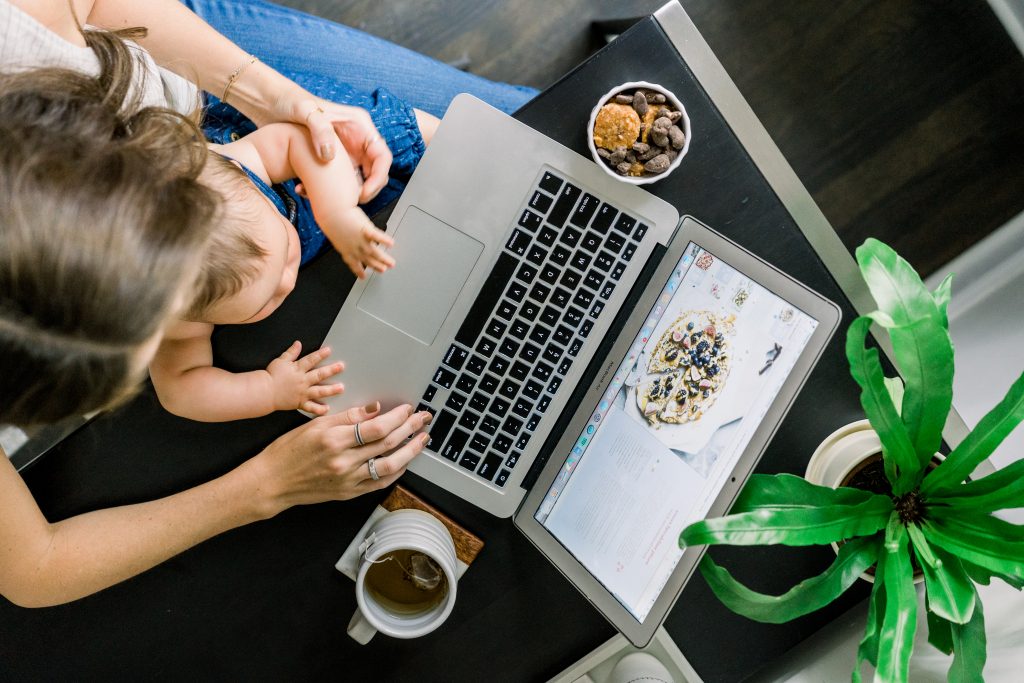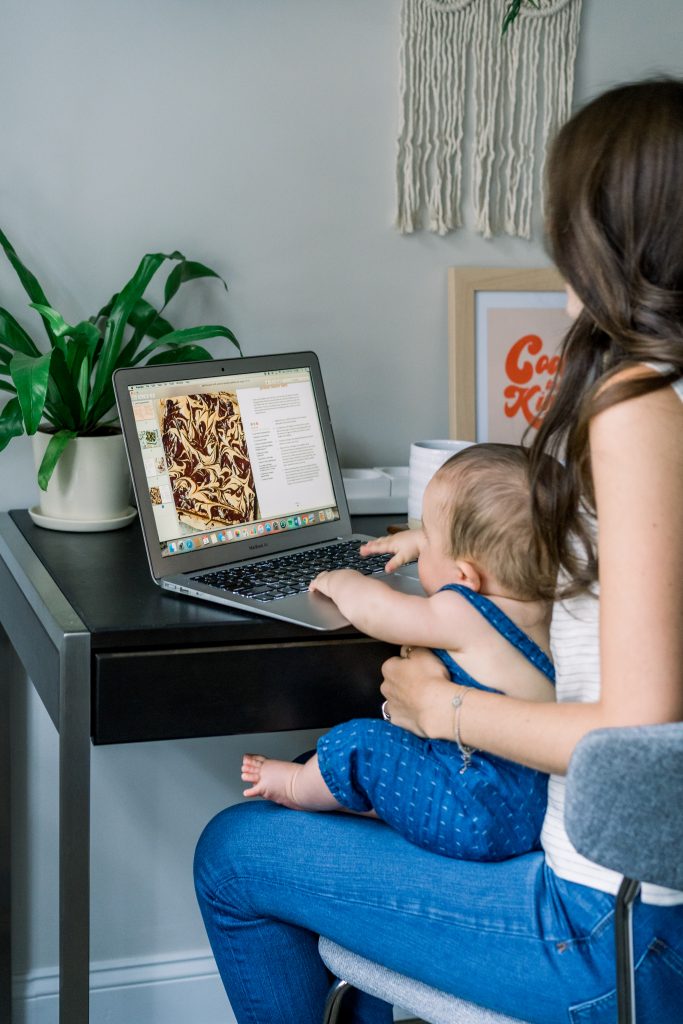 And that's a wrap friends! Next time I furnish a room, let's hope it is a new brownstone with an epic backyard space (..a girl can dream).
xx, Rach
Thank you Room & Board for generously gifting these items for our home. We are so grateful to have collaborated with your team!