The Most Epic Paleo Chocolate Chip Cookie Cake made with all gluten-free, grain-free and dairy-free ingredients.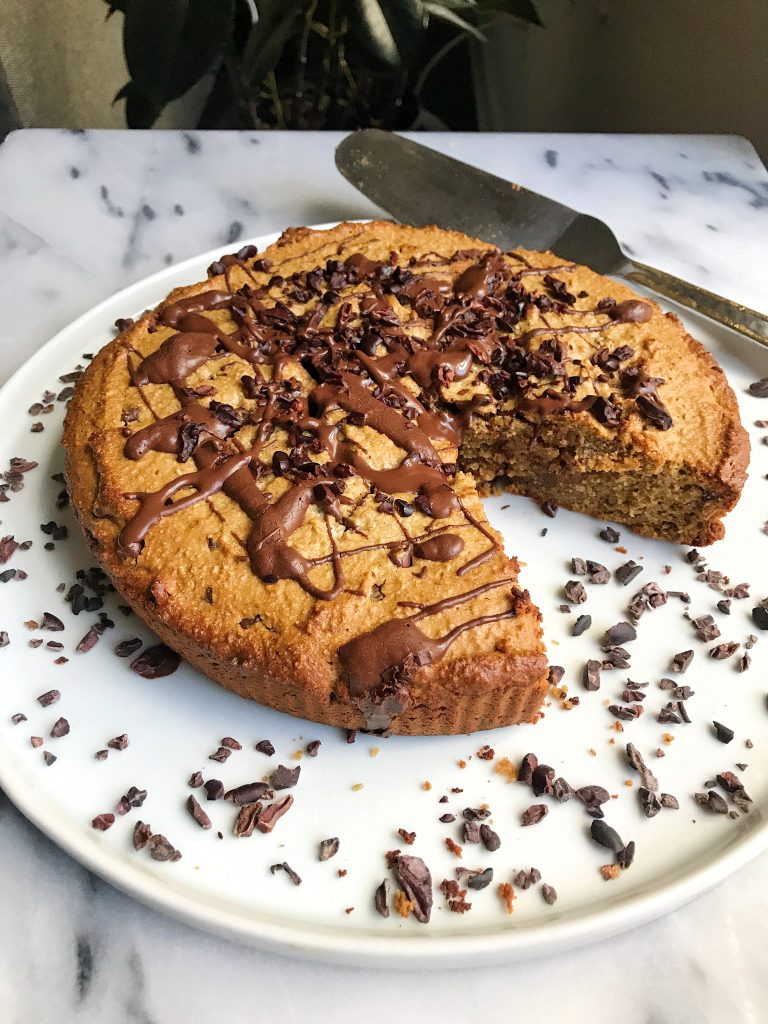 So If I had to pick one thing to eat for the rest of my life, it is this Paleo Chocolate Chip COOKIE CAKE! Created after my Banana Bread Cookie Skillet.
But imagine if chocolate chip cookies and cake had a bad (weird, I know). And out come this epic and delicious grain-free cookie cake. It is what I will be requesting for my birthday dessert moving forward, and I am looking to reasons to make this again. Besides my endless craving for it because true life I ate the whole thing in less than a week when I made it. It was worth every bite but I had no self control over this recipe.
Also what I love even more about this cookie cake is that it is SO EASY to make. And it doesn't require twenty different steps or ingredients and also doesn't have been feeling like a lard afterwards (despite eating basically the whole thing).
Cookie cake that is basically one giant healthy chocolate chip cookie.
Plus it is made with good quality ingredients like coconut oil, coconut sugar, creamy nut butter and I use almond flour as the flour in this cookie cake.
Almond flour is by far my favorite flour to bake with. It is much easier to handle than coconut flour since it doesn't need as much liquid, and it is more nutritious than using regular or whole wheat flour. I prefer to use almond flour that is made from almonds that have been blanched to remove the skin on the almond. It is pretty much just almonds ground into a fine texture. I use it in a ton of recipes on the blog!
WHAT YOU NEED
Nut butter (I love this one)
Unsweetened applesauce
Eggs
Coconut sugar
Chocolate chips
Vanilla extract
Baking powder
Don't forget to share this recipe with me on Instagram when you bake it!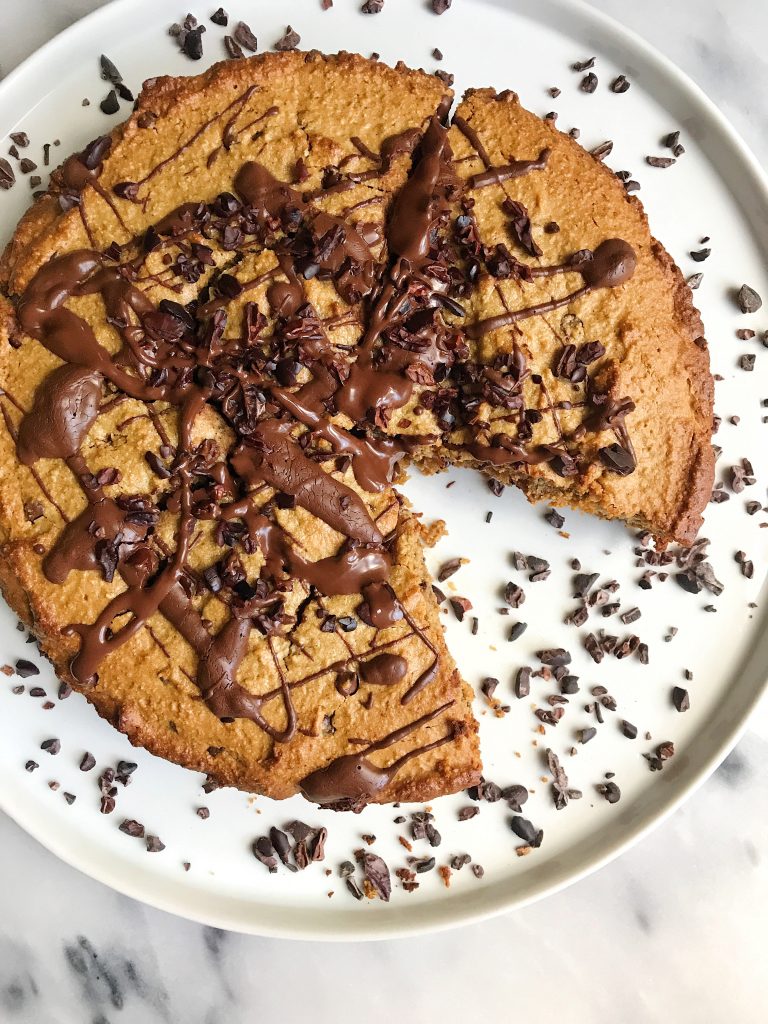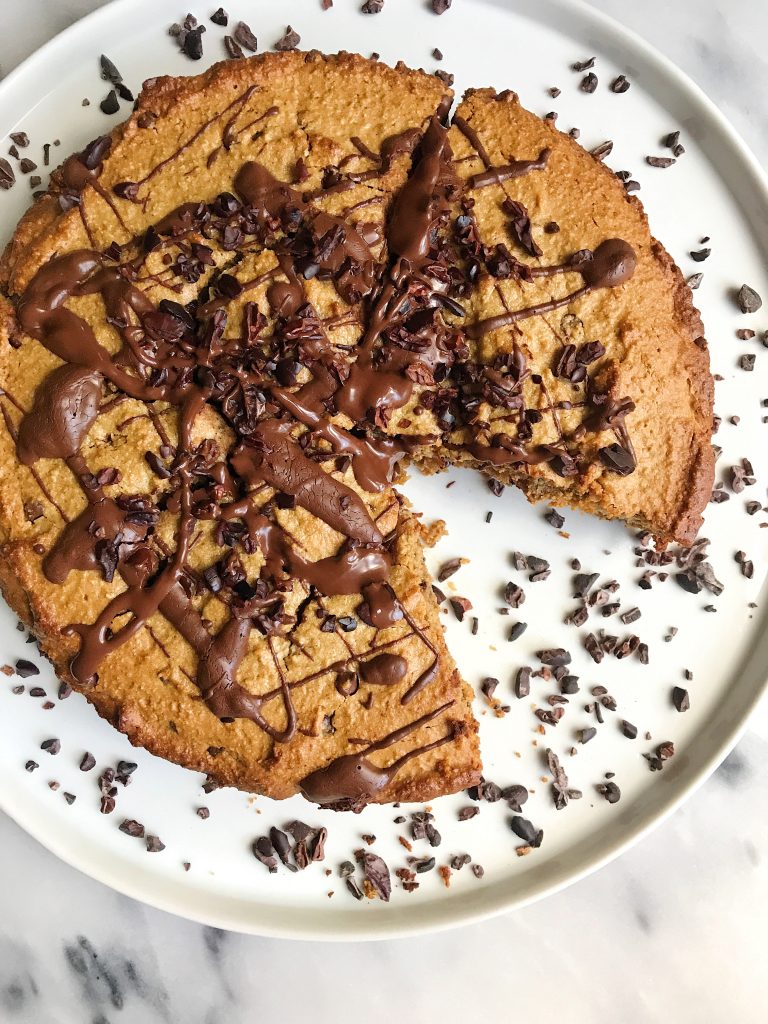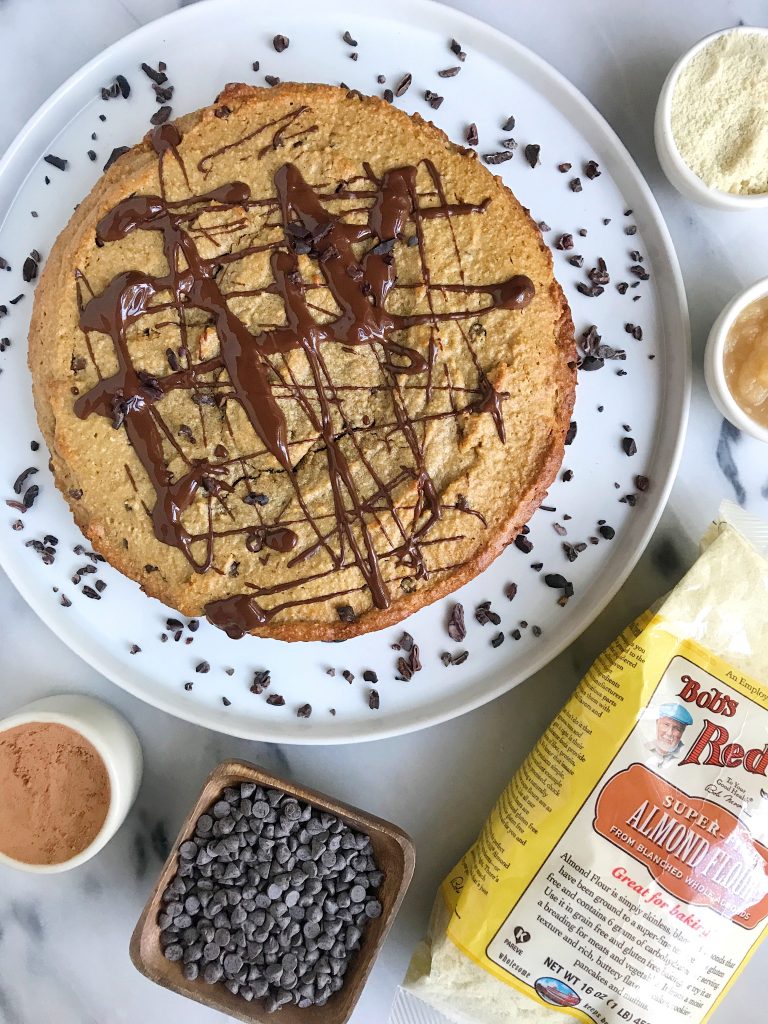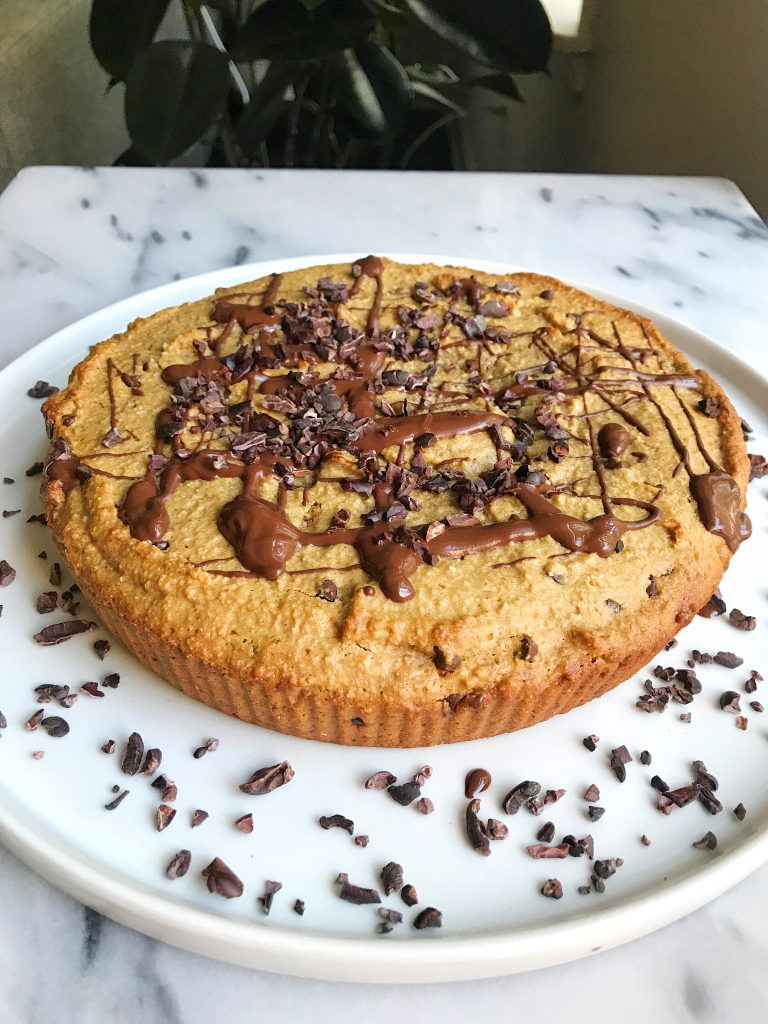 Print
Epic Paleo Chocolate Chip Cookie Cake
Epic Paleo Chocolate Chip Cookie Cake made with all gluten-free, grain-free and dairy-free ingredients. Plus no refined sugar for an insanely delicious cookie cake.
1/2 cup

creamy nut butter (I used almond)

1/3 cup

oil of choice (coconut, avocado and hemp all work!)

1/2 cup

unsweetened applesauce

2

eggs

2 teaspoon

vanilla extract

3 cups

almond flour

2/3 cup

coconut sugar

1 teaspoon

baking powder

1/3 cup

dark chocolate chips (code RACHL for free shipping)
Instructions
Preheat oven to 350 degrees and grease an baking dish well (8 inch – 10 inch will both work but bake times will vary)
In a large bowl mix together nut butter, oil, applesauce, eggs and vanilla extract with a mixer (I used Kitchen Aid hand mixer)
In another large bowl add almond flour, coconut sugar and baking powder
Add dry ingredients to wet and mix well and fold in dark chocolate chips
Pour onto baking dish and bake in oven for 35-45 minutes (it will be crunchy on outside and soft doughy center!)
Let it cool for 10-15 minutes until cutting! Enjoy on its own or with ice cream and toppings
*Will stay good for about 5 days on counter or store in fridge for longer, you can also freeze it!
Author:
Category:

paleo, gluten-free, dairy-free, grain-free

Cuisine:

cookies, cake, dessert
xx, Rach
SaveSave
SaveSave
SaveSave