Paleo Pecan Crumble Pumpkin Loaf made with simple ingredients for an easy and healthy fall bread recipe!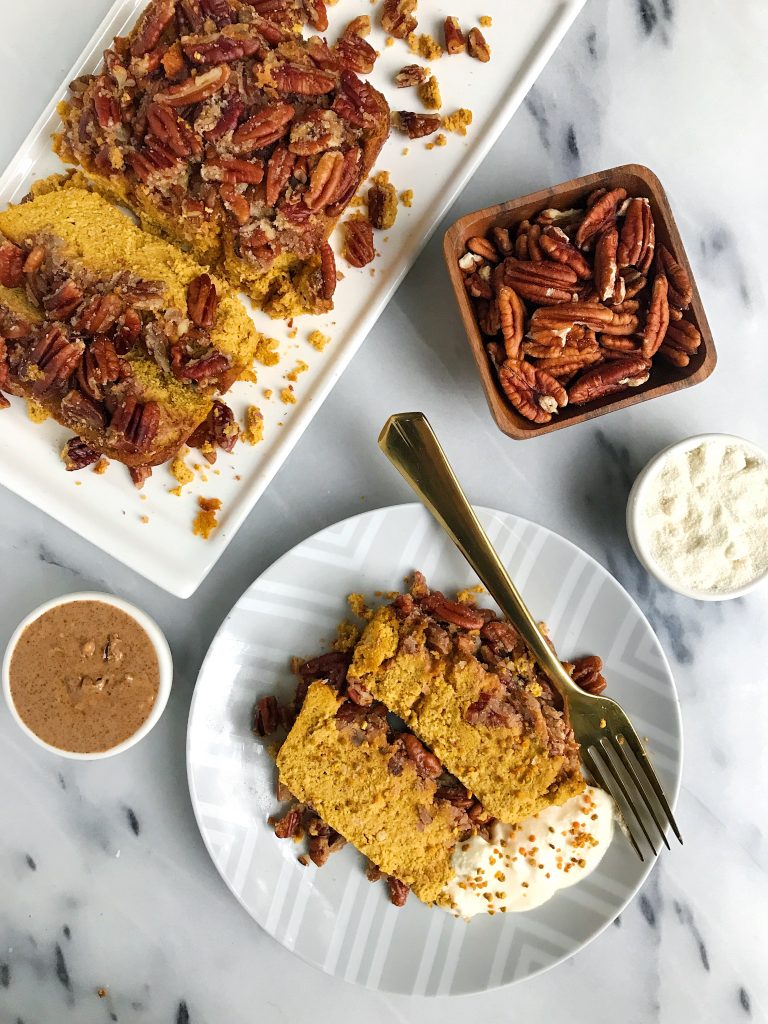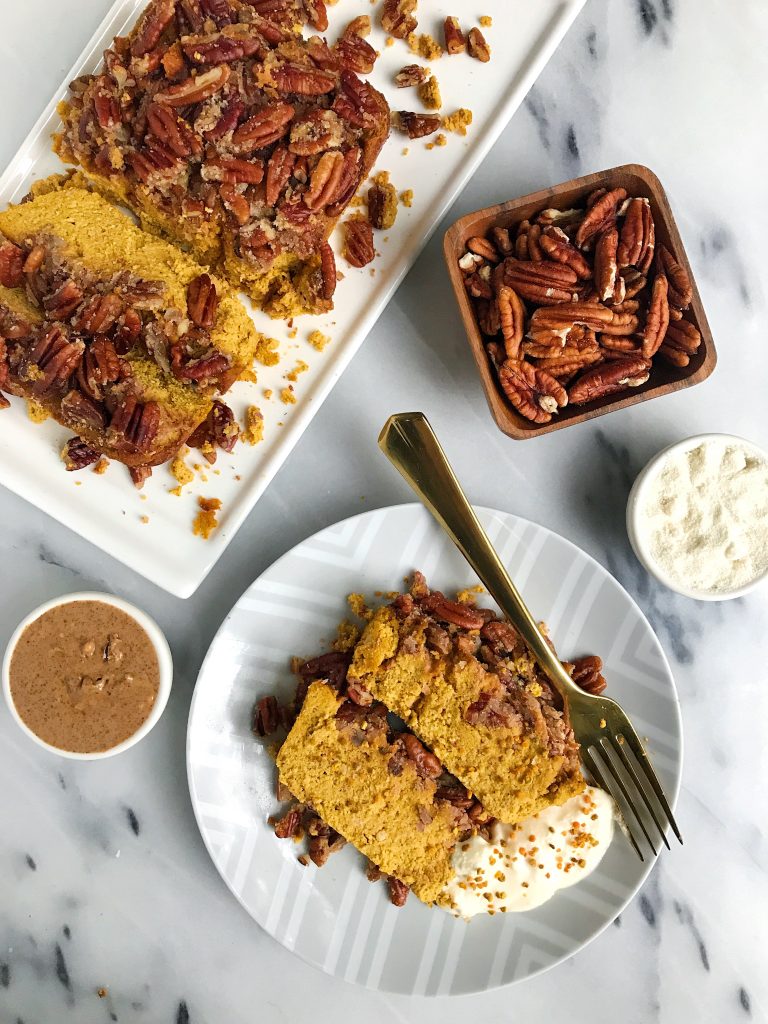 I didn't plan on making a pumpkin loaf this year but after seeing your reaction over that Dark Chocolate Marble Sweet Potato Loaf, I couldn't resist. Plus a handful of you were asking when it was coming. I always do my best to create the recipes that YOU are looking for and get excited about.
This Easy Paleo Pecan Crumble Pumpkin Loaf is the ultimate sweet pumpkin-y loaf…
And it even has a pecan crumble on top that is too die for!
I use all paleo ingredients for this loaf making it gluten, grain and dairy-free. This recipe is also nut free-friendly if you use sunflower seed butter and coconut milk instead of the almond milk you'll see below. Plus this loaf has zero refined sugars despite the sweet pecan crumble topping!
Why do I add collagen to this?!
I also add collagen peptides to the loaf for an extra nutritional boost. Usually I add it to my smoothies, hot tea, anything. I use the unflavored varieties for the most part so I can switch up how I consume it. You don't even taste it and I am sitting here eating pumpkin bread that is actually doing my hair, skin, nails and digestion some good!
More on why I use collagen here.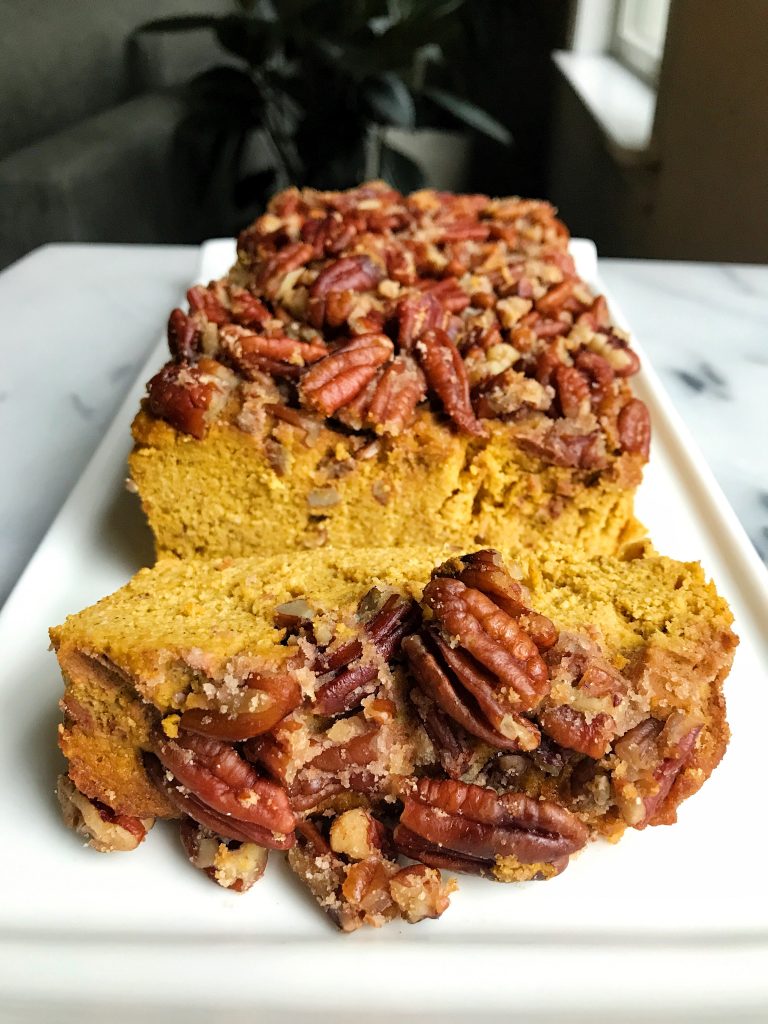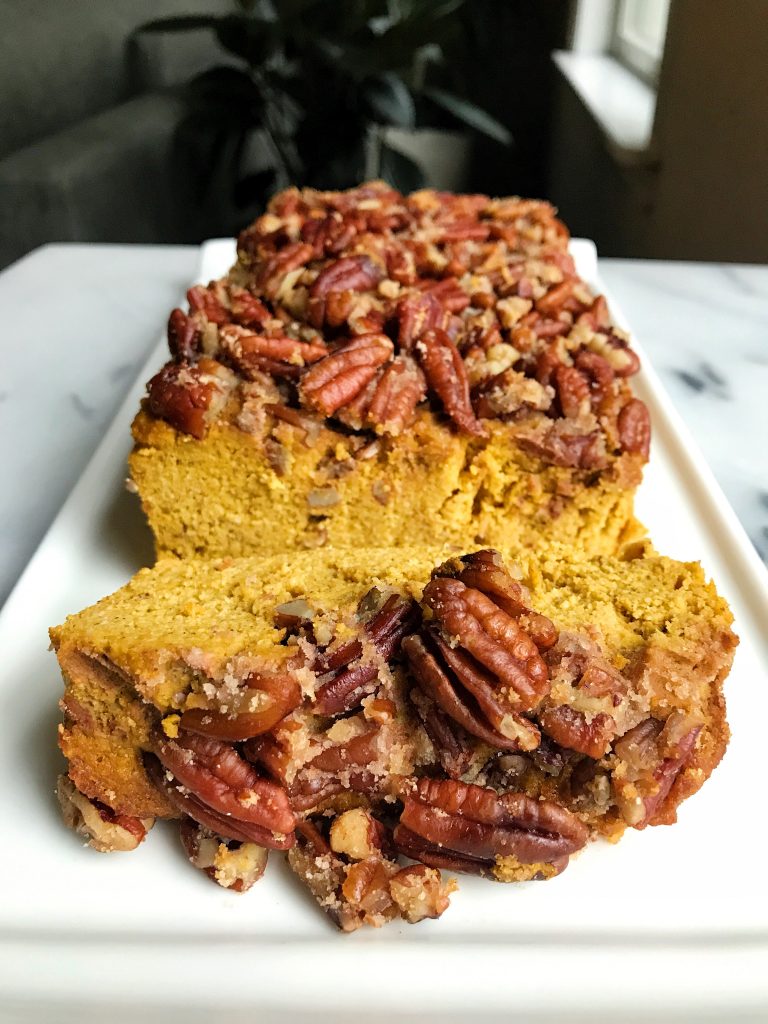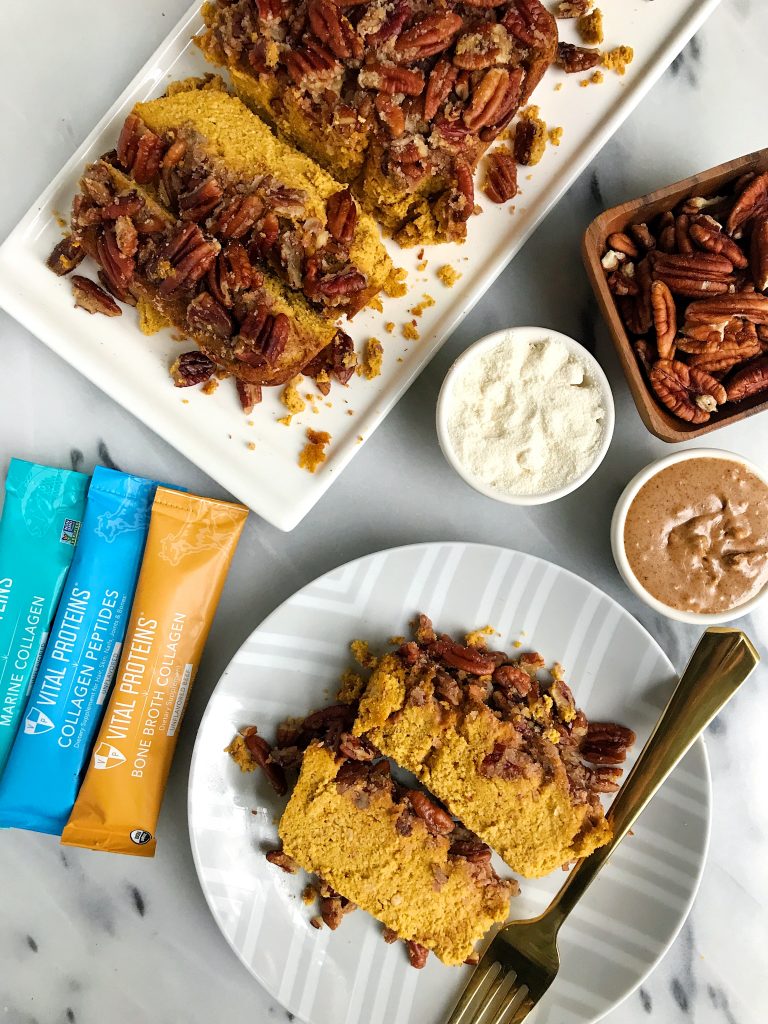 Print
Paleo Pecan Crumble Pumpkin Loaf
Pumpkin bread:

3

eggs

1.5 cups

pumpkin puree

1 tablespoon

liquid coconut oil

1 teaspoon

vanilla extract

1/4 cup

creamy almond butter

2 tablespoons

almond milk

2 tablespoons

maple syrup or honey

1/2 teaspoon

cinnamon

1 teaspoon

pumpkin pie spice

1/3 cup

coconut flour

1/2 teaspoon

baking powder

1

–

2

scoops Vital Proteins Collagen Peptides

Pecan crumble:

3/4 cup

chopped pecans

1 tablespoon

coconut flour

1/4 cup

coconut oil or grass-fed butter, softened

2 tablespoons

honey

2 tablespoons

coconut sugar
Instructions
Preheat oven to 350 degrees and grease a bread dish well
In a small bowl, combine pecan crumble ingredients and mix well and place in fridge
Whisk together eggs, pumpkin, coconut oil, vanilla extract, almond butter, almond milk, maple syrup together with a hand mixer in a large bowl
In a small bowl, mix coconut flour, cinnamon, pumpkin pie spice, baking powder and peptides
Add dry ingredients to wet and mix well
Pour onto greased bread dish and top with crumble mixture
Add onto the bread and bake in oven for 30 minutes then remove and cover with tinfoil and bake for another 15-20 minutes (use toothpick to see if ready, it may take a bit!)
Let it cool before cutting, I didn't the first time and crumbled a bit!
*This loaf is not going to rise as much as a traditional bread as it is made with coconut flour. it will be about 3-4 inches high!
Author:
Category:

paleo, grain-free, gluten-free, dairy-free

Cuisine:

dessert, breakfast, snack
xx, Rach
Thank you Vital Proteins for sponsoring this post. It means so much to me to work with brands that I love and who support rachLmansfield!
SaveSave
SaveSave
SaveSave
SaveSave