How to make the best Gluten-free Pizza Crust at home! This recipe is simple, easy and has that chewy, crispy-edge pizza crust we love.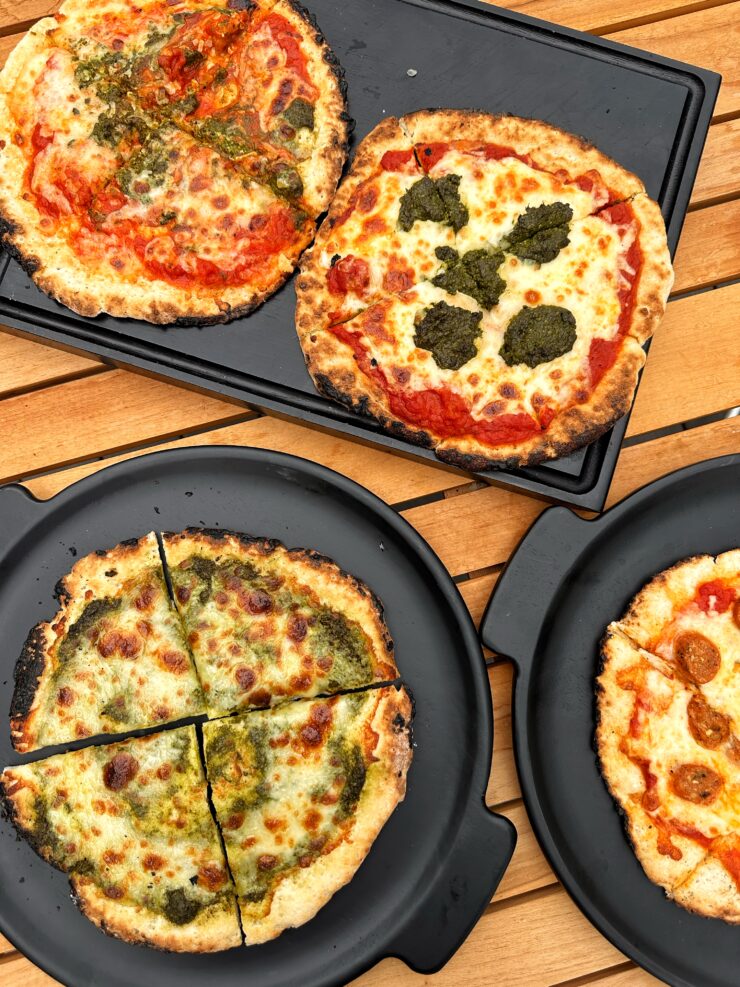 This is your basic recipe for gluten-free pizza dough! It is one of our favorites to make to a family pizza night. I love that you can also freeze the dough too to save time next time you go to make pizzas!
As you guys know, my husband can't eat gluten. So pizzas is one of the foods he "misses" the most. It is nearly impossible to find good gluten-free pizza near where we live, so we started making our own pizza right at home.
This is our go-to gluten-free pizza dough recipe. It makes the most delicious pizza crust and even if you don't need to eat gluten-free pizza, you will love this too. It is great for kids, adults, anyone. And making our own pizza also means you get to pick out any toppings you want too. That is a major plus if you are someone like me who loves making your own pizzas up!
This is the best gluten-free pizza to make and I cannot wait to hear what you guys think of it too.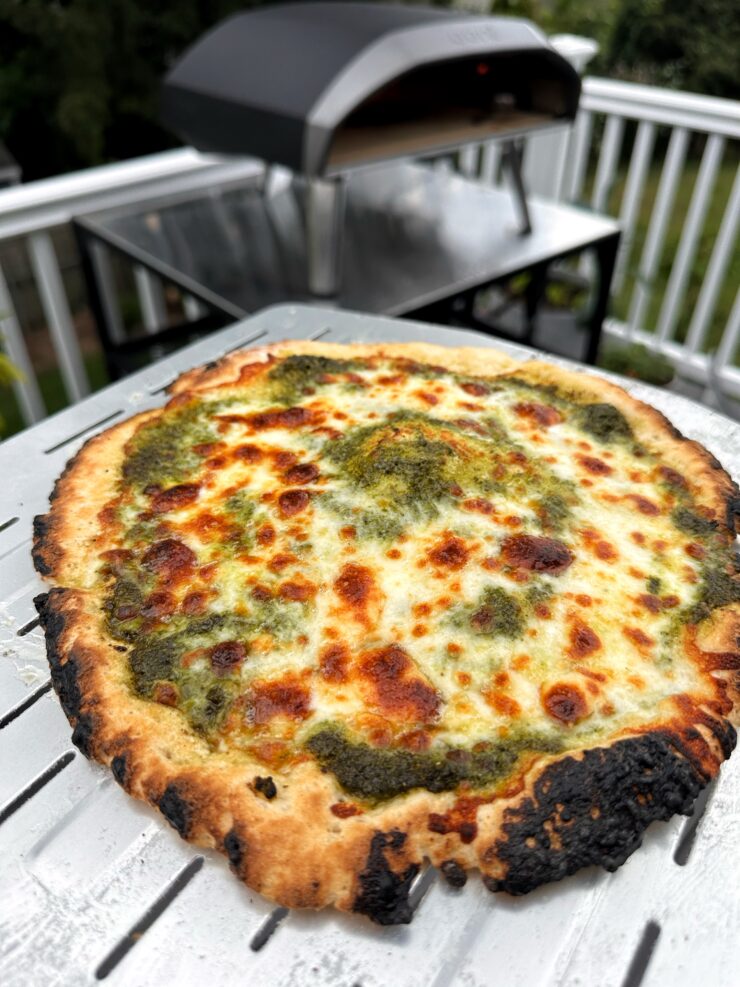 What ingredients you need to make the best gluten-free pizza crust:
Gluten-free pizza flour – this is the one we use and it's great
Water – filtered or tap water
Oil – I used avocado oil but olive oil works too
Sea salt
Food scale – I really recommend using one for this as the dough measurements need to be exact
Any toppings you want for the pizza: pesto, sauce, cheese, etc.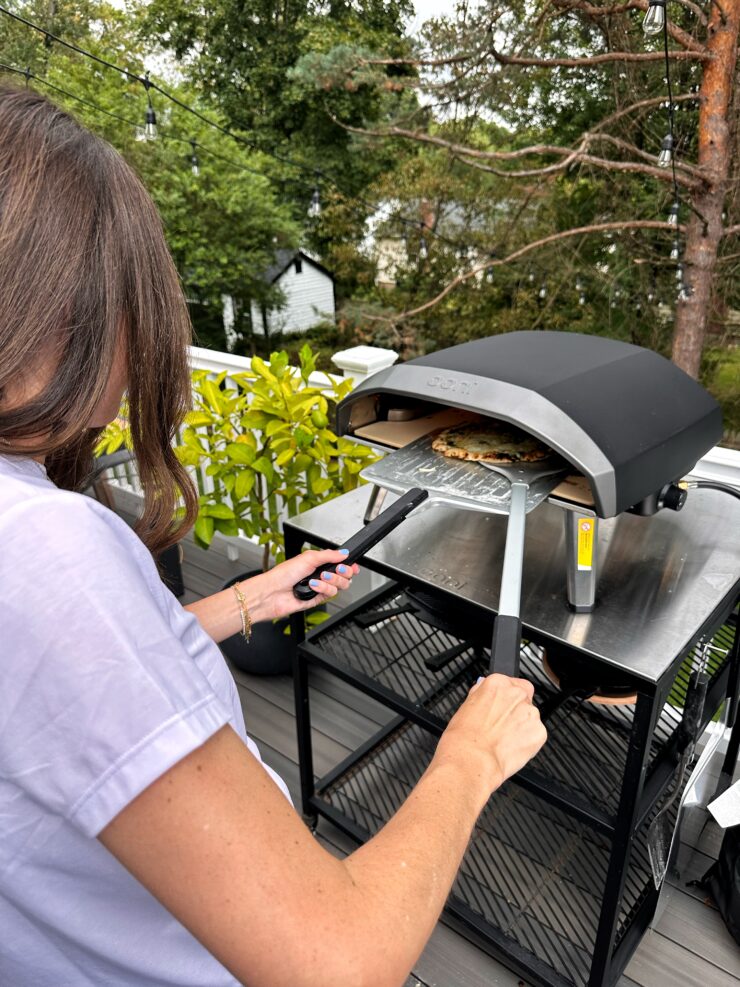 How to make gluten-free pizza crust:
Add flour, water, salt to stand mixer and mix for 5 minutes using dough hook attachment on speed 2
Add in oil and bring speed down to a 1 then mix for 2 more minutes
Refrigerate the dough for 30 minutes
Remove from fridge and break dough into 250g balls
Then add to large ziplock bags or saran wrap and add to fridge for 3 to 24 hours (cover your hands in oil to prevent sticking!)
Take out the dough from bags in the fridge 2 hours before cooking and add it to a lightly oiled baking sheet and cover with clean dish towel
Add parchment paper to counter and drizzle a little oil
Add the dough and form into desired pizza shapes then sprinkle a little flour on top
Warm up your ooni pizza oven (we have it on this table)
Place the crust onto large spatula (pizza oven size) then gently flip the crust over
Cook in pizza oven for 2 minutes, turning frequently to prevent burning then remove
Add desired toppings on top then cook back in pizza oven until ready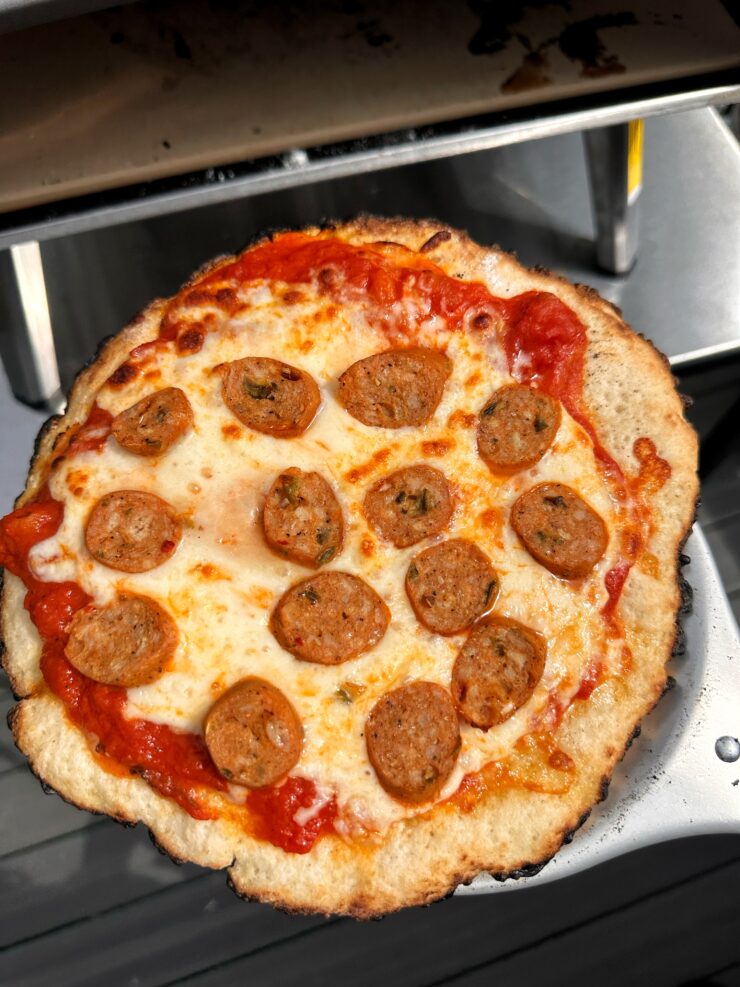 FAQs and tips on making gluten-free pizza:
Can I use another flour? This is the only flour we have tried and the other ingredients are proportioned for it. I don't recommend using another flour.
Make sure you measure the flour and mix-in's exactly – these need to be measured with a food scale in order to turn out how it should. A scale is inexpensive and key to making the pizza crust.
Don't skip any steps – this is not something you can take shortcuts with. Please follow ingredients and instructions as listed so your pizza turns out yummy!
If your pizza dough is sticky, lightly oil your hands so it is easier to work with.
Can I make this pizza dough ahead of time? Yes absolutely! Make and keep in fridge for up to 3 days. You can also freeze the dough for up to 2 months and let it thaw out in fridge to make pizza when ready.
Is yeast gluten-free? It is! Baker's yeast is gluten-free.
I don't have a pizza oven, what can I do? You can also make these in the oven but I do not have exact cook times and temperatures. I would do 400 degrees F or so and it'll take a bit longer.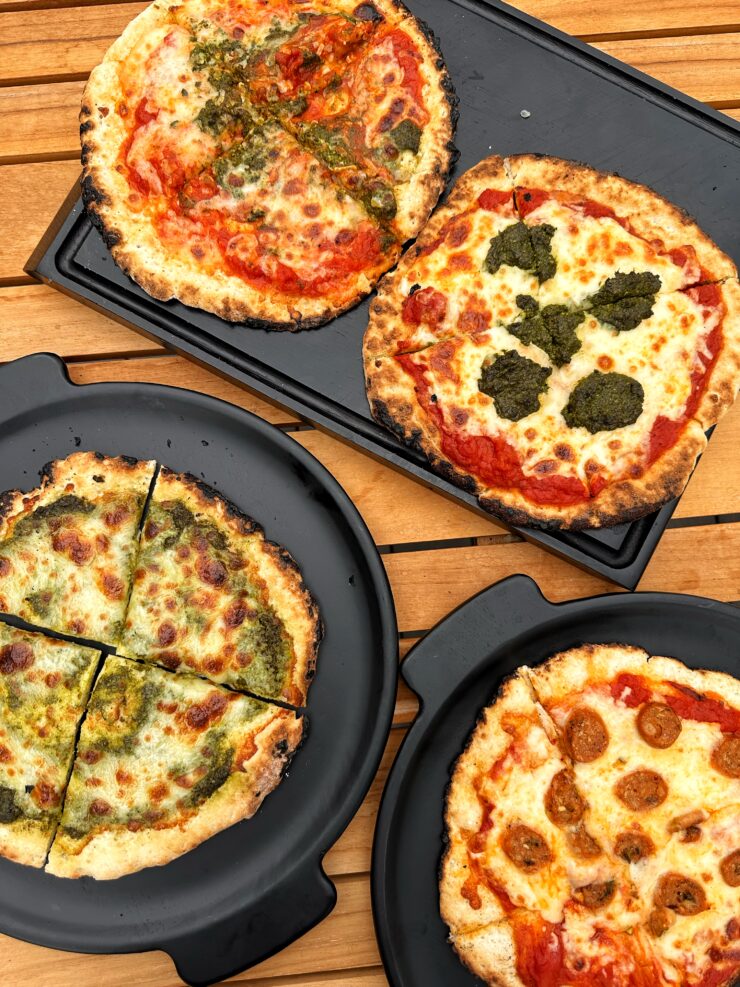 A few other delicious recipes to make for family dinner:
Sheet Pan Lasagna (gluten-free)
EASY Sheet Pan Tacos (gluten-free)
Buffalo Chicken Sheet Pan Quesadilla
Print
The Best Gluten-free Pizza Crust Recipe
How to make the best Gluten-free Pizza Crust at home! This recipe is simple, easy and has that chewy, crispy-edge pizza crust we love.
Instructions
Add flour, water, salt to stand mixer and mix for 5 minutes using dough hook attachment on speed 2
Add in oil and bring speed down to a 1 then mix for 2 more minutes
Refrigerate the dough for 30 minutes
Remove from fridge and break dough into 250g balls
Then add to large ziplock bags or saran wrap and add to fridge for 3 to 24 hours (cover your hands in oil to prevent sticking!)
Take out the dough from bags in the fridge 2 hours before cooking and add it to a lightly oiled baking sheet and cover with clean dish towel
Add parchment paper to counter and drizzle a little oil
Add the dough and form into desired pizza shapes then sprinkle a little flour on top
Warm up your ooni pizza oven (we have it on this table)
Place the crust onto large spatula (pizza oven size) then gently flip the crust over
Cook in pizza oven for 2 minutes, turning frequently to prevent burning then remove
Add desired toppings on top then cook back in pizza oven until ready