Sheet Pan Lasagna is an easy dinner recipe for the whole family. Such a delicious twist on a comfort food and this recipe is made with all gluten-free ingredients.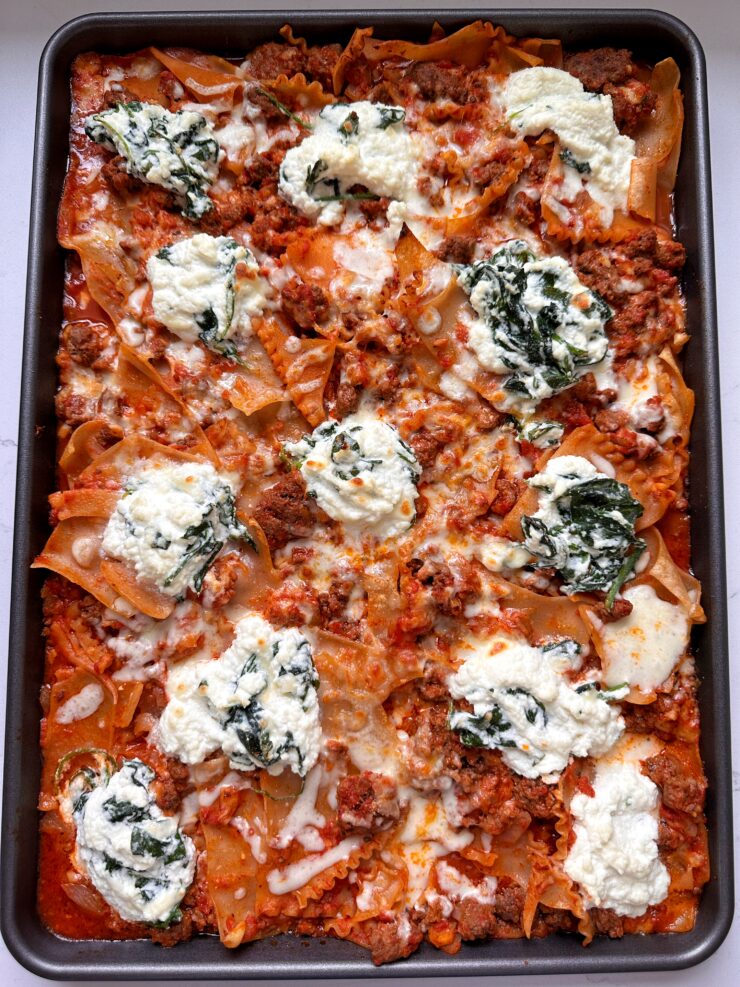 I LOVE sheet pan recipes over here. And this sheet pan lasagna might just be the most delicious way to make that layered pasta dish we all know and love. I was inspired by Giada De Laurentiis to make this from her Tiktok video. And wow she really nailed this recipe. I am obsessed with making it now and my kids also love it.
This is a really tasty well-balanced and flavorful meal that feeds the whole family. It is different then the typical lasagna because no layering involved and it's quicker to cook but still so flavorful.
Sheet pan lasagna is also kid approved, has the most delicious crust on the edges that gets crunchy texture in each and every bite. And it's all around a go-to over here for a weeknight dinner recipe. It's ready in under an hour and my kids don't complain, it feeds my husband and I and we get a couple of extra servings (woohoo!).
I cannot wait to hear what you guys think of this recipe! Let me know if you make it too.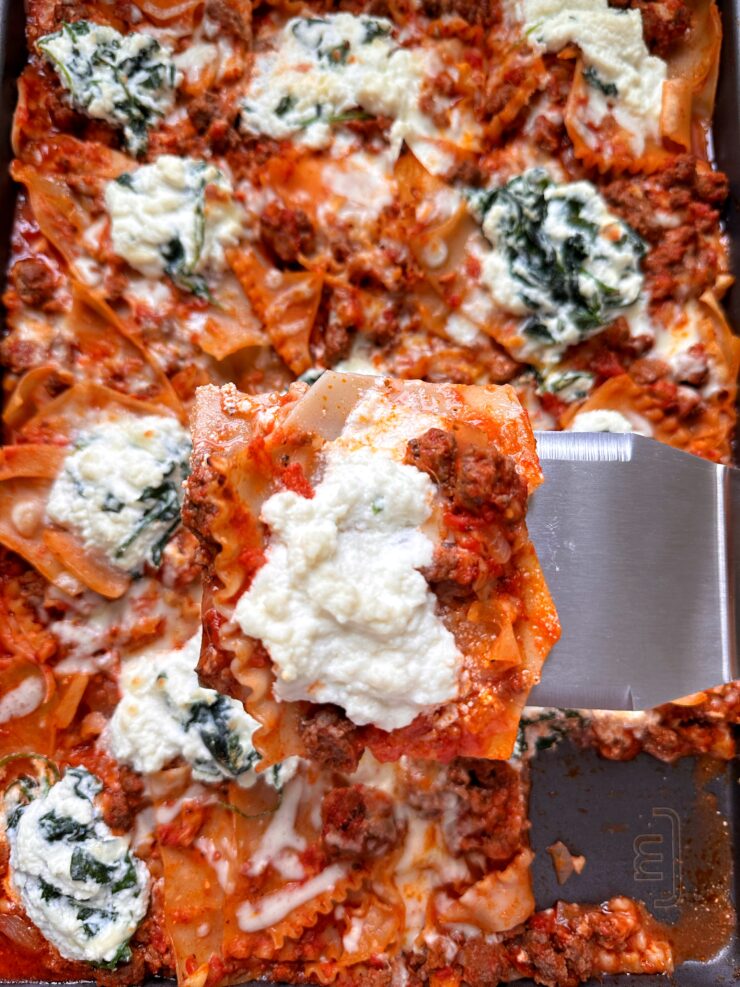 What ingredients you need to make Sheet Pan Lasagna:
Gluten-free

lasagna noodles

–

broken into 2-inch long pieces. If not gluten-free, use regular gluten lasagna noodles

White onion – chopped well for the beef mixture
Garlic cloves – minced well for the beef mixture
Leafy spinach – alternatively you can use frozen spinach if you have and defrost it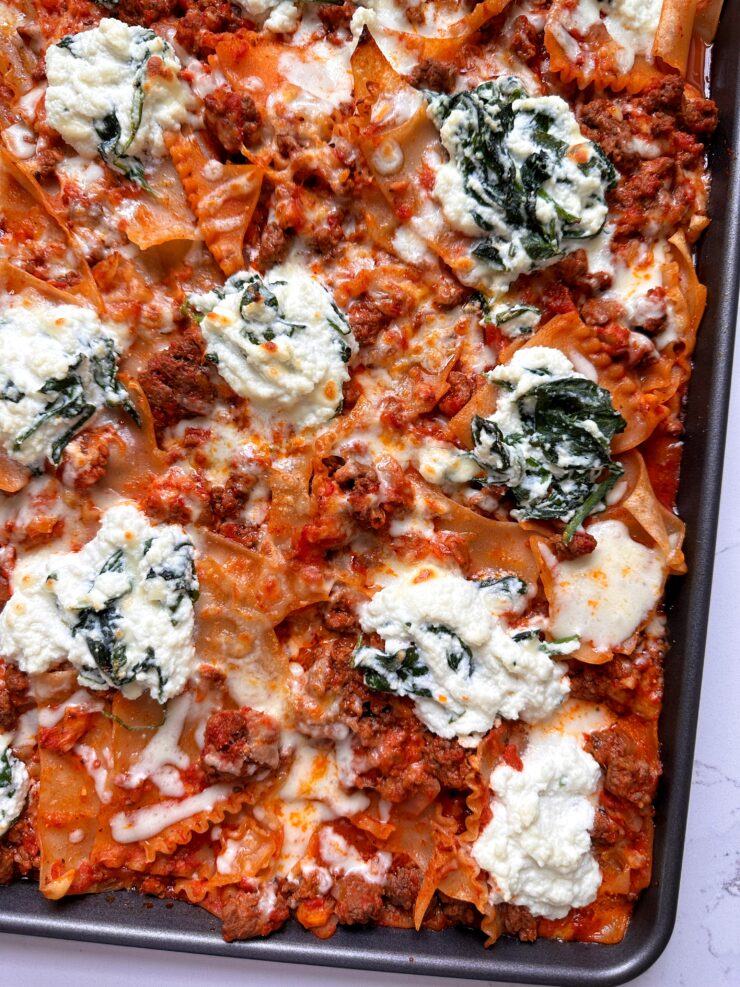 How to make lasagna in a sheet pan:
In a large pot boil the lasagna noodles to al dente according to package directions

Drain and pour into a large mixing bowl then cover noodles with lukewarm water and set aside (this will help prevent the noodles from sticking to each other)

Preheat oven to 350 degrees F

In a large skillet, cook ground beef, onion and garlic over medium heat until browned

Drain off any excess fat and return to the pan

Stir in the pasta sauce, Italian seasoning, salt, and pepper

Next sauté the spinach in some oil until cooked (about 5 minutes)

Then add spinach and ricotta cheese to a medium bowl and mix to combine

Next add strain the water from the lasagna noodles and mix in the meat sauce

Add 1 cup mozzarella cheese, and 1 cup parmesan cheese and fully mix

Lightly spray a 13 x 18 inch sheet pan (a

half sheet pan

) with non-stick cooking spray

Pour all the lasagna noodles, sauce and cheese mixture onto the baking sheet and spread out evenly

Next, places dollops of the ricotta mixture over the top of the noodle mixture

Then sprinkle with remaining cheese and bake in oven

Bake for 35-40 minutes or until the cheese is golden. Broil for last 30 seconds or so if desired then serve warm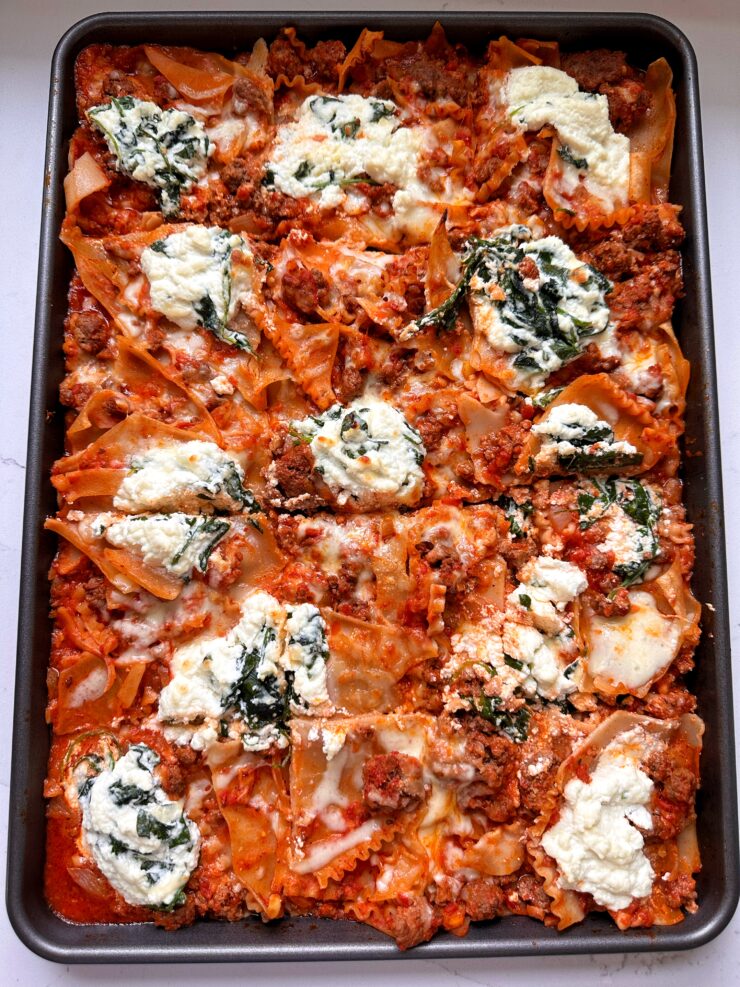 FAQs on making lasagna in a sheet pan:
What is the best way to store leftovers? In an airtight container for 5 days. You can also freeze it too for up to 2 months.
Should I drained the ricotta cheese before using? If it has liquid in it then yes. Drain before mixing. But the one I buy doesn't need to be.
Do you bake the lasagna covered or uncovered? I typically bake it uncovered since the baking sheet is shallow. This doesn't need much baking time since it's not layered and as deep.
Can I omit the beef if vegetarian? Absolutely! Feel free toe even sub ground turkey if you don't like beef. Or some type of vegan meat alternative if you prefer.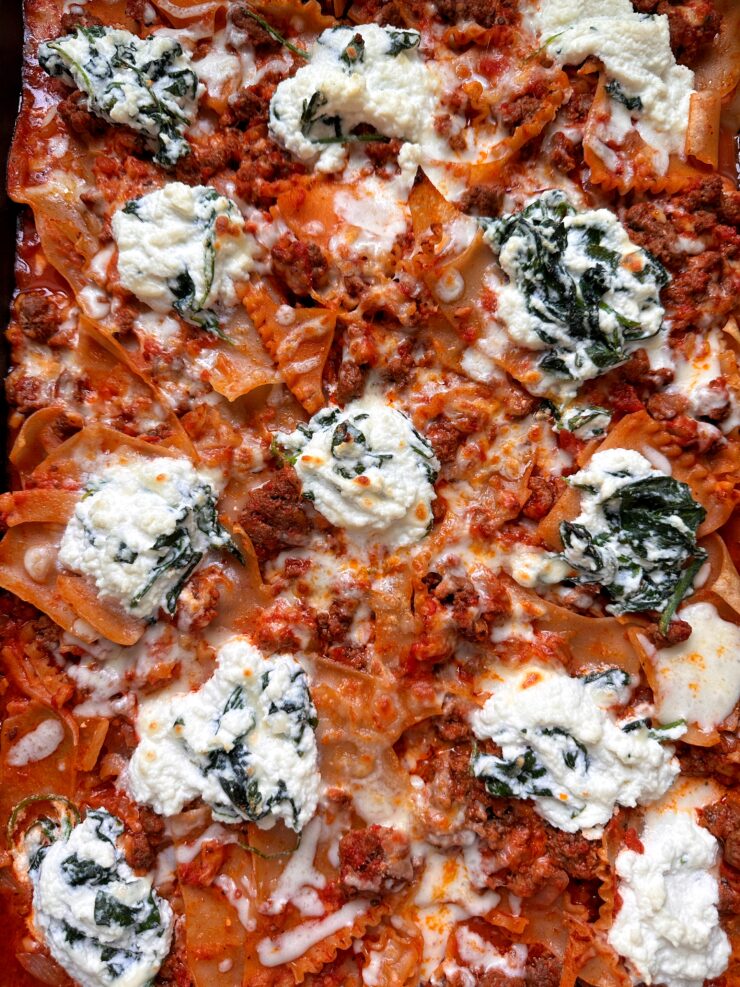 A few other sheet pan recipes to try:
Buffalo Chicken Sheet Pan Quesadilla
EASY Sheet Pan Tacos (gluten-free)
Print
Sheet Pan Lasagna (gluten-free)
Sheet Pan Lasagna is an easy dinner recipe for the whole family. Such a delicious twist on a comfort food and this recipe is made with all gluten-free ingredients.
Prep Time:

10 mins

Cook Time:

50 mins

Total Time:

50 mins
9 ounces

gluten-free

lasagna noodles

broken into

2

-inch long pieces

1

small white onion, chopped

2

garlic cloves, minced

3 cups

leafy spinach
Instructions
In a large pot boil the lasagna noodles to al dente according to package directions

Drain and pour into a large mixing bowl then cover noodles with lukewarm water and set aside (this will help prevent the noodles from sticking to each other)

Preheat oven to 350 degrees F

In a large skillet, cook ground beef, onion and garlic over medium heat until browned

Drain off any excess fat and return to the pan

Stir in the pasta sauce, Italian seasoning, salt, and pepper

Next sauté the spinach in some oil until cooked (about 5 minutes)

Then add spinach and ricotta cheese to a medium bowl and mix to combine

Next add strain the water from the lasagna noodles and mix in the meat sauce

Add 1 cup mozzarella cheese, and 1 cup parmesan cheese and fully mix

Lightly spray a 13 x 18 inch sheet pan (a

half sheet pan

) with non-stick cooking spray

Pour all the lasagna noodles, sauce and cheese mixture onto the baking sheet and spread out evenly

Next, place dollops of the ricotta mixture over the top of the noodle mixture

Then sprinkle with remaining cheese and bake in oven

Bake for 35-40 minutes or until the cheese is golden. Broil for last 30 seconds or so if desired then serve warm
Notes
*Store leftovers in fridge for 5 days. Reheat in microwave