The best Chocolate Peanut Butter Smoothie recipe to make! This is my go-to smoothie recipe that is vegan and tastes like a peanut butter cup.
If you want to eat peanut butter cups but also want to eat healthy – here we go friends. This is my go-to smoothie recipe because it has an added crunch to it AND it tastes like a peanut butter cups.
This recipe is inspired be a smoothie we got in LA and went back every single morning to order it. It is insanely good, easy to make and as you know – smoothies take a whole 2 minutes to make. The cleaning of the blender takes longer than the smoothie itself. Plus you can even make this thicker if you want and turn it into a smoothie bowl!
What ingredients you need to make a chocolate peanut butter smoothie:
Frozen banana – this makes it extra creamy and also sweetens the smoothie!
Handful of ice – Jordan loves adding ice to smoothies to make them thicker too. I personally leave it out but personal preference.
Creamy peanut butter – I add so much peanut butter to this. It really makes it takes like a peanut butter cup.
Vegan chocolate protein powder – this is the best protein powder out there.
Non-dairy milk (code RACHL for 15% off) – you could use water too. You may need more or less depending on your preference.
Cacao nibs – this adds such a crunch you will LOVE. I am obsessed with adding it in.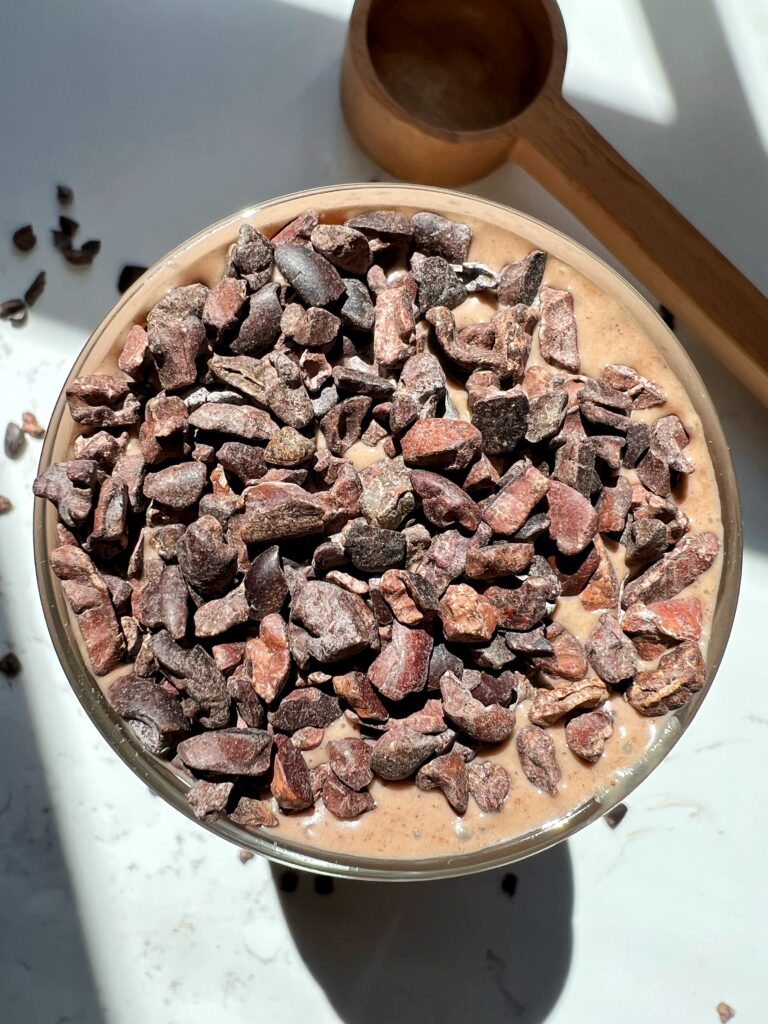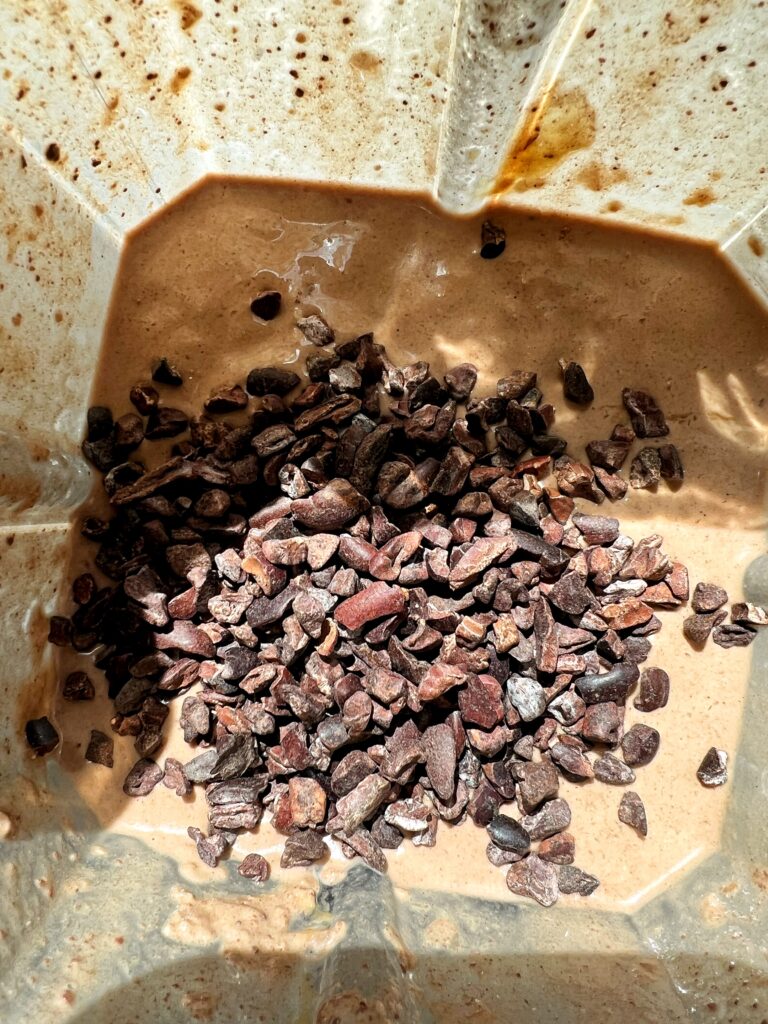 FAQs about making smoothies:
What are the best ingredients to put in a smoothie? I love adding frozen fruit like banana or blueberries, mangos, strawberries etc. Also I do love adding greens in there but didn't for this recipe. I was really going for the dessert smoothie here but spinach is a great addition. Then I like to add a protein powder, seeds, anything we have on hand! And nut butter – always nut butter.
Do you always put ice in your smoothie? It keeps it cold and makes the consistency so much better. But it is personal preference. Also if you don't have frozen fruit – add ice with fresh fruit and it'll make it more of a smoothie consistency.
Are smoothies healthy? I personally think they are a great healthy breakfast or snack of sorts. You can pack in a lot of nutrients into one thing and it's great for someone who doesn't eat well. Especially a recipe like this. You are getting fiber, protein and fat in one recipe.
A few of my other go-to healthy breakfast ideas:
The Best Strawberries and Cream Smoothie
Easy Gluten-free Oatmeal Blender Waffles!
Gluten-free Spinach Banana Pancakes
Classic Overnight Oats: The Breakfast Staple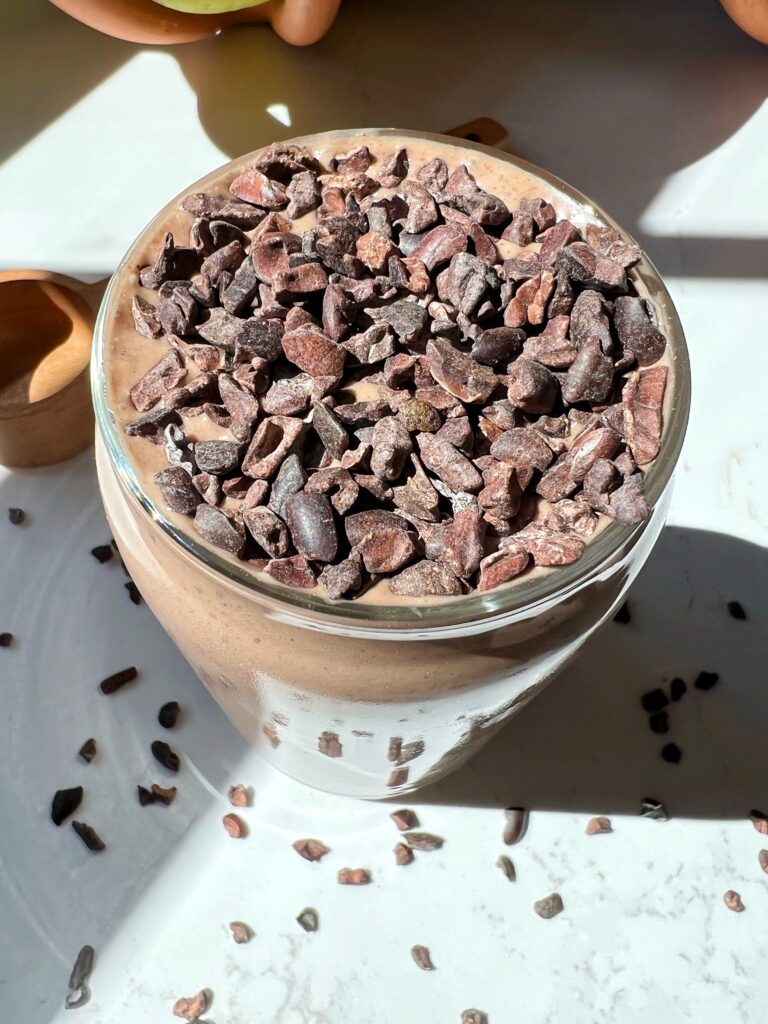 Print
The Ultimate Chocolate Peanut Butter Smoothie
The best Chocolate Peanut Butter Smoothie recipe to make! This is my go-to smoothie recipe that is vegan and tastes like a peanut butter cup.
Instructions
Blend all of the ingredients tougher until smooth
Pour into glass of choice then top with extra cacao nibs if desired
Enjoy cold!
Notes
*You can prep this the night before and store in fridge or freezer if you prefer too.