These Vegan Apple Cider Donuts are made with paleo ingredients and they are oven-baked and topped with a dreamy crumb topping!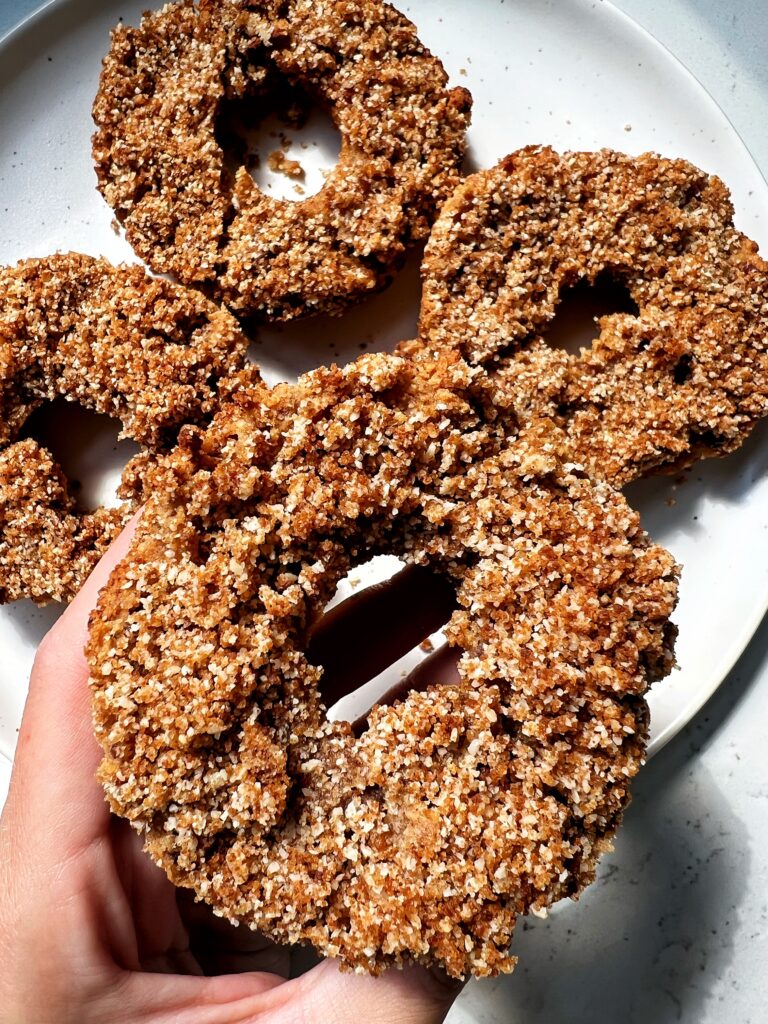 Every single Fall growing up, my family would go apple picking. It still is a tradition for us, except now I am quite particular on which orchard we go to because I like to make sure no pesticides are used. Organic farms are hard to find since the certification is so pricey, so I personally just want the no pesticides and non-GMO certification if possible.
We stock up on every single big ass juicy apple and I come home with baskets of them. As a self-proclaimed apple connoisseur, I take the apple picking tradition quite seriously.
But you know what the other part of the tradition is? Getting some traditional apple cider DONUTS. We always get the powdered sugar, cinnamon sugar and plain. Like to mix things up then my Dad and Jord divide them amongst themselves so we all take home some of each.
Yes real apple cider donuts are amazing and nothing really compares to them. But I did make us some EPIC Vegan Apple Cider Donuts..
What ingredients are in these baked apple cider donuts:
Unsweetened organic applesauce – I use the one from Trader Joe's usually!
Medjool dates, softened – pitted and softened dates. I usually use the organic Trader Joe's ones
Creamy nut or seed butter – any creamy nut butter works well
Almond flour – I haven't tested another flour for this
Coconut flour – I don't have a sub for coconut flour
Coconut sugar – we use this in the crumb topping to sweeten it a bit
Liquid coconut oil or baking oil – any liquid oil works! So melted coconut oil, olive oil, etc.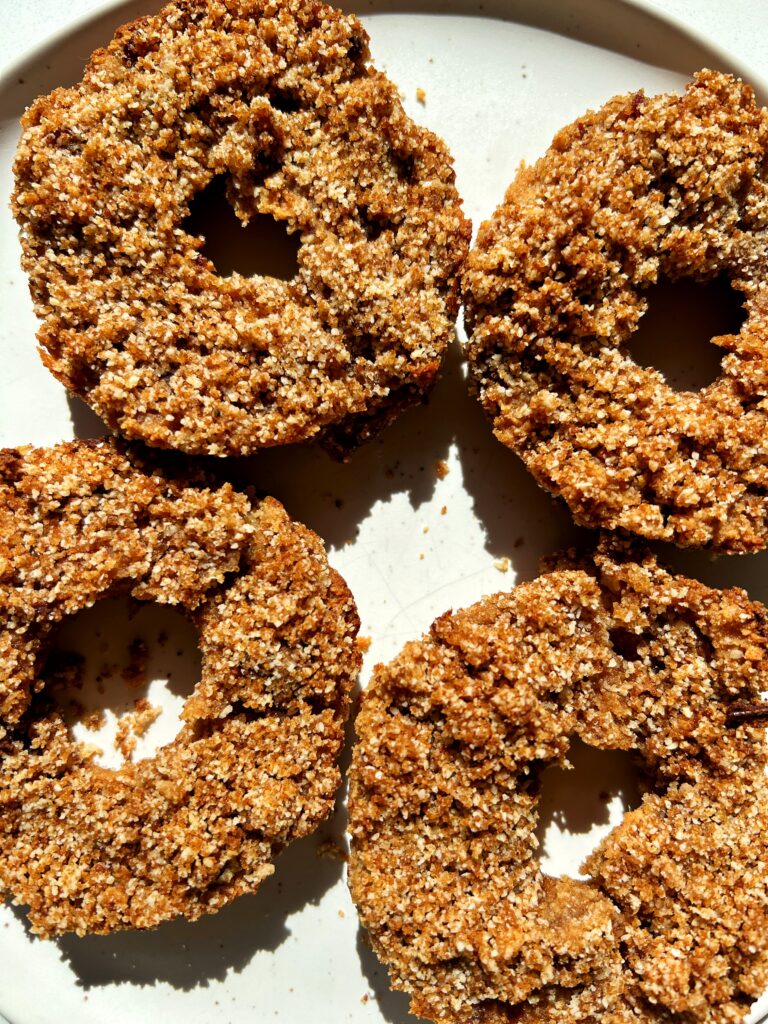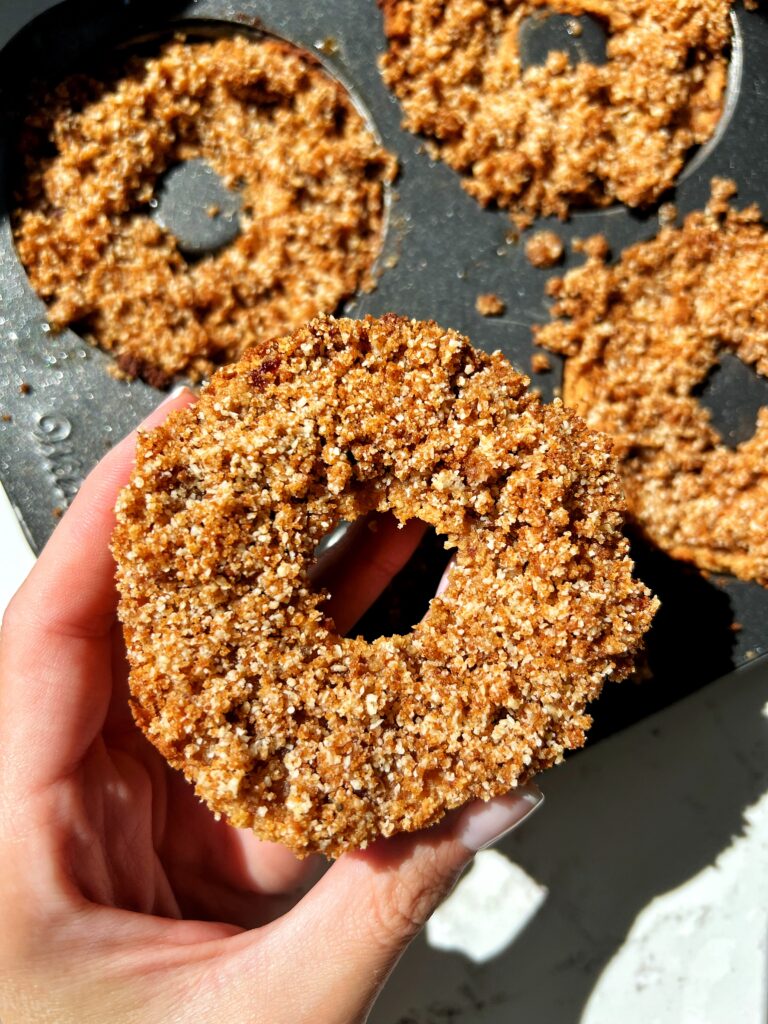 And even Jord, the king donut eater, loves these. He texted me this morning and said, "this donuts are really so good". That's how you know they're good friends.
These donuts are also gluten-free, vegan and made with no eggs. They're sweetened with dates and I use unsweetened applesauce instead of cider with a few delicious spices. You can also add some chopped up apples inside if you want.
Tips for success making baked apple cider donuts:
If you don't have a donut pan, you can make these into muffins. I personally haven't tried so please watch the bake time. I'd guess anywhere from 12-15 minutes, but keep me posted!
When you take these out of the oven, let them cool for a few then gently remove within 15 minutes or so. I use a knife to circle around the edges to make it easier to remove
If you don't want to make a crumb topping, you don't have to! These are great without the crumb topping too
If you do make these donuts, don't forget to share with me on Instagram! I cannot wait to see what you think. And not to worry, more fall recipes coming your way ASAP!
And don't forget to check out all the fall pumpkin desserts and more over on this blog post.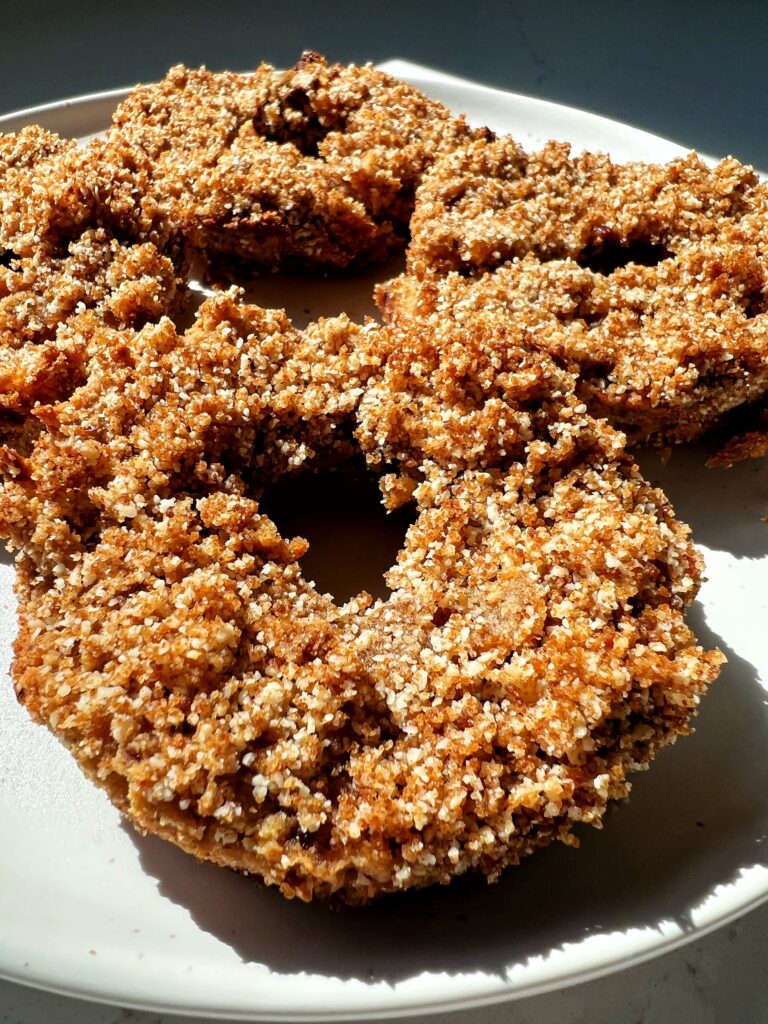 Print
Baked Paleo Apple Cider Donuts (vegan)
These Vegan Apple Cider Donuts are made with paleo ingredients and they are oven-baked and topped with a dreamy crumb topping!
Prep Time:

5 mins

Cook Time:

30 mins

Total Time:

35 mins
Donuts:
1 cup

unsweetened organic applesauce

10

pitted medjool dates, softened

1 teaspoon

vanilla extract

1/4 cup

creamy nut or seed butter

1 tablespoon

baking powder

1 tablespoon

cinnamon

1/2 teaspoon

nutmeg

1 1/4 cup

almond flour

2 tablespoons

coconut flour
Crumb topping:
Instructions
Preheat oven to 350 degrees and grease a donut pan with coconut oil
In a food processor, blend together the applesauce, dates, vanilla extract and nut butter together until dates are almost completely broken up and well blended
Add in the baking powder, cinnamon, nutmeg, almond flour and coconut flour and blend again until the batter is thick and well combined (scrape the edges of the food processor too!)
Add donut batter to the donut pan and evenly spread with a spoon
Mix together the crumb topping then sprinkle on top
Bake in oven for 20 minutes then cover with foil and bake for another 8-10 minutes
Allow the donuts to cool for about 10 minutes then gently remove
Notes
*Store leftovers on counter for 5 days or in the freezer for a couple of months!
**You can also make these into muffins. I haven't tested this personally but I'd recommend baking for 12 minutes then checking on them until ready!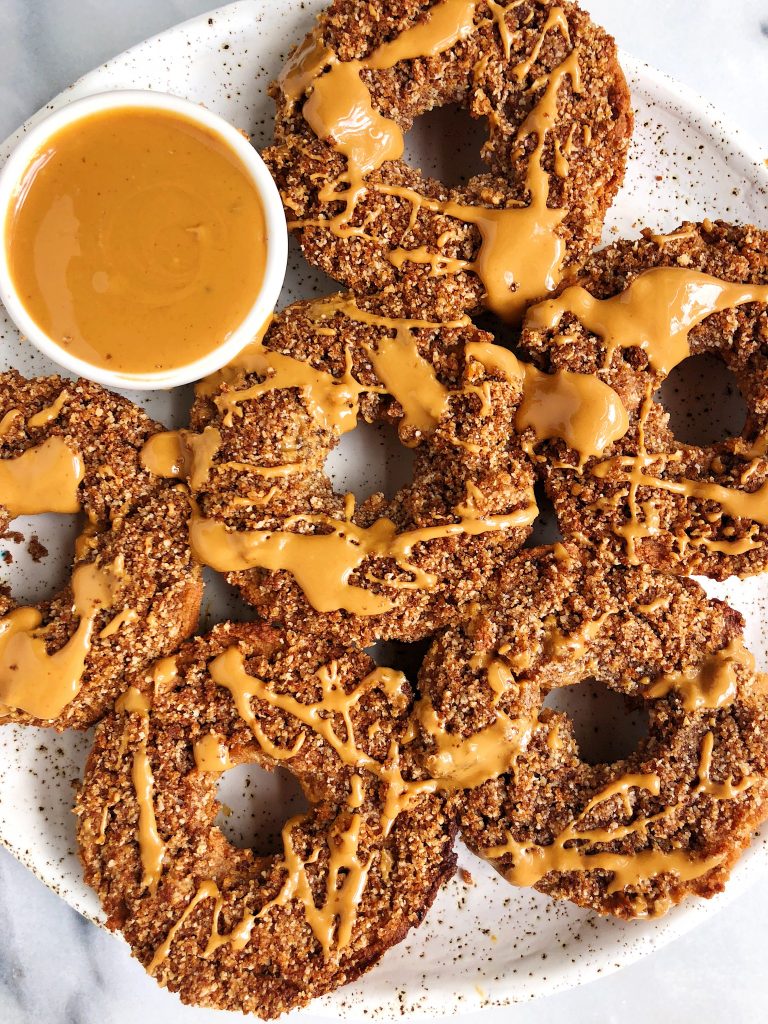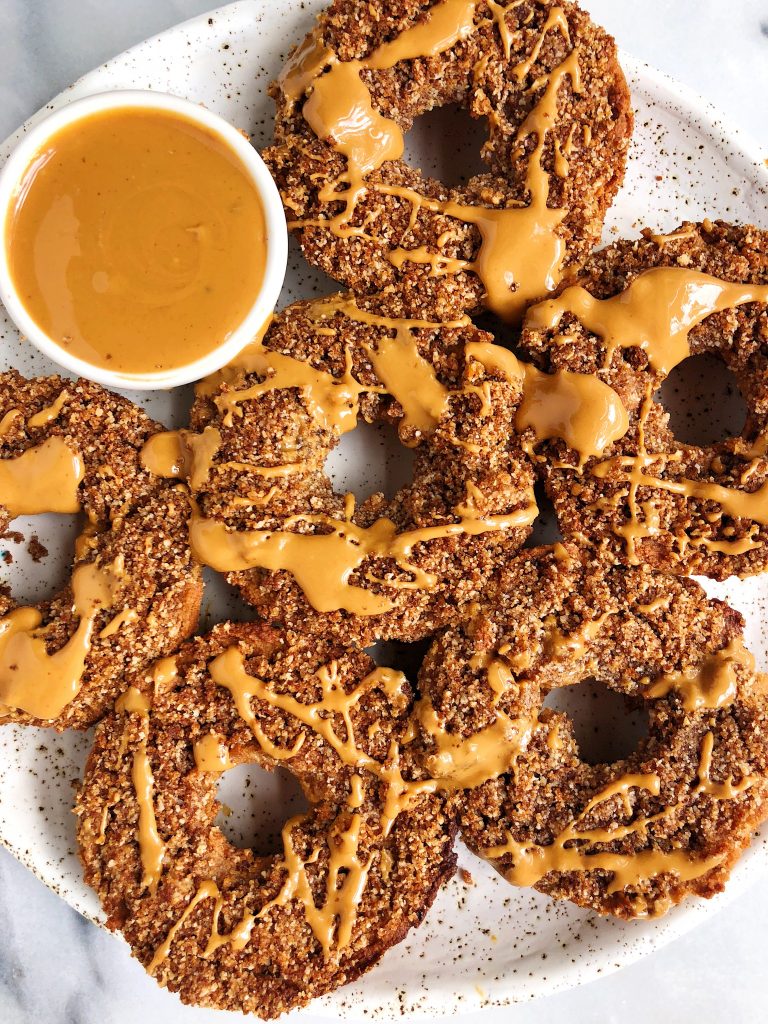 SaveSave
SaveSave
SaveSave
SaveSave
SaveSave
SaveSave
SaveSave