Vegan Cashew Cream Cheesecakes that are gluten-free and grain-free for an easy healthy cheesecake recipe!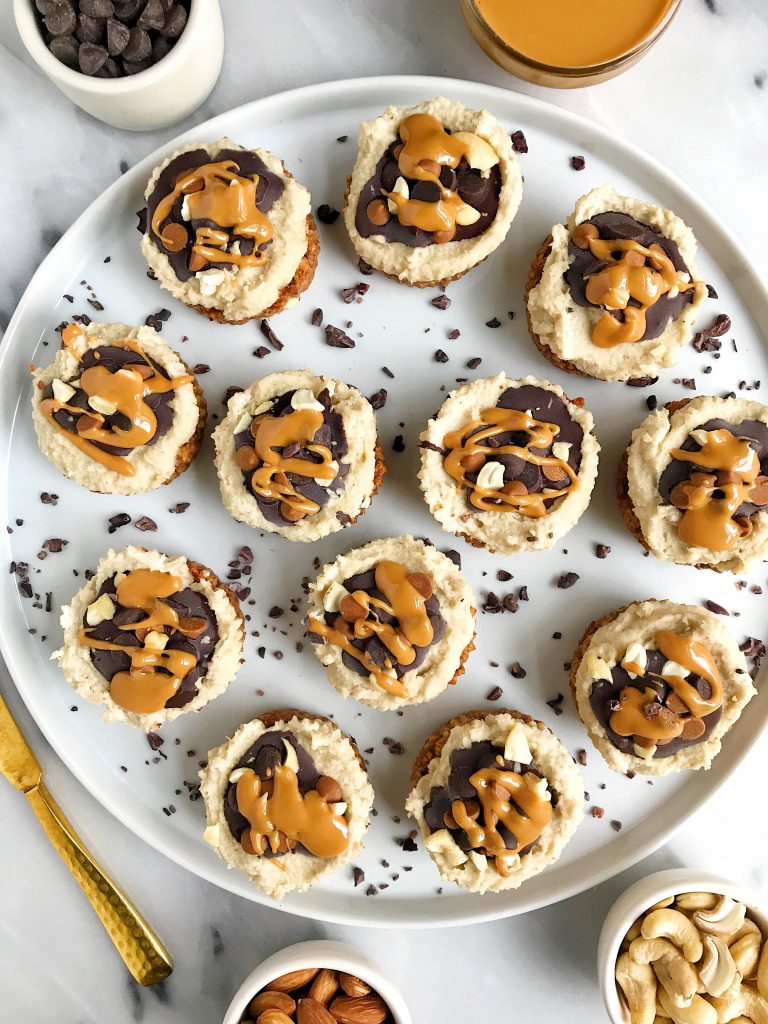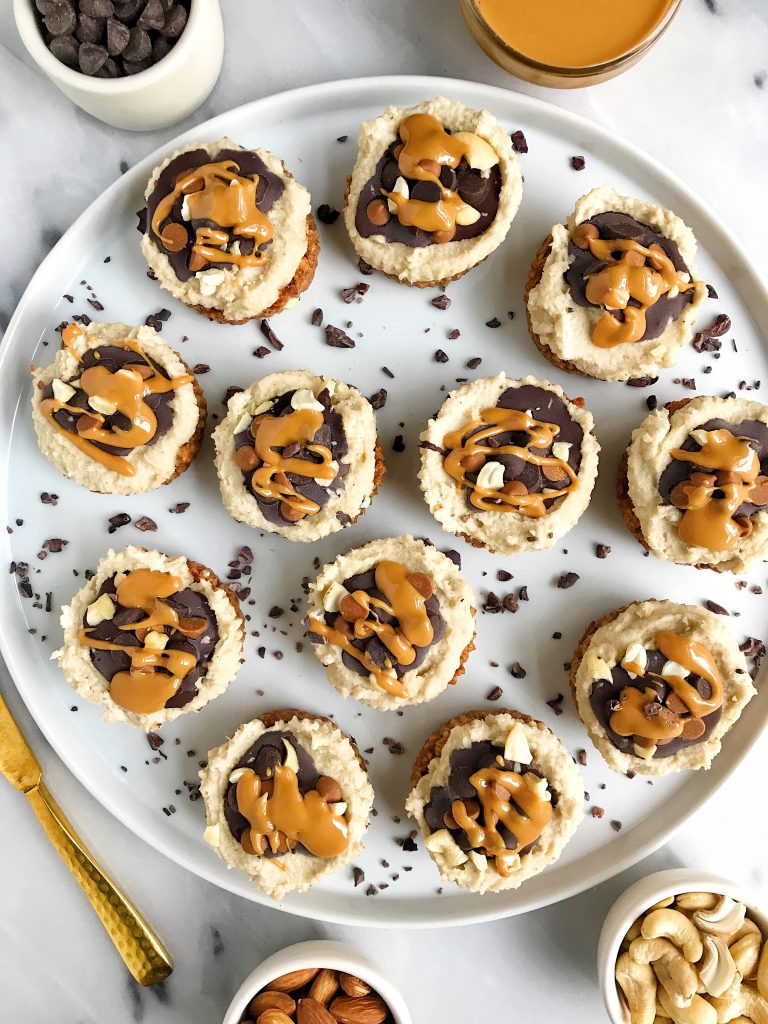 I don't think it is possible to love a dessert more than I love these Vegan Cashew Cream Cheesecakes.
OH MY GOSH you guys! They are a dream. I have made a few different vegan cheesecakes here on the blog and each time I put a new spin on the recipe and fall in love all over again with these.
I love that I can eat cheesecake that isn't filled with cheese or even tofu for that matter. I notice that a lot of cheesecakes online that are vegan use tofu in place of the "cheese". While that is a very good idea, I personally do not eat tofu (it bothers my stomach!). I love using soaked nuts in place of it.
Cashews are by far my favorite right now to make cheesecakes out of and this Cashew Cream Cheesecake is on top of an easy date and almond crust (no butter!). The cheesecake filling is made up of only four ingredients. I use raw cashews, coconut milk (full fat), vanilla extract and Nutiva's Coconut Oil with Butter Flavor to get that delicious butter-y flavor in the cakes.
At first I was a bit apprehensive on this buttery coconut oil but now I am obsessed! It is not only amazing on top of popcorn or spread on toast, but it is a game changer to bake with. Plus you can even find it at Walmart! For anyone who has an intolerance to butter (I don't but love using new products!) it adds that flavor you miss from real butter to the recipe.
Nutiva's vegan butter flavor is made from pure organic and non-GMO plants like sunflower, coconut and mint. They are never processed with any chemicals either! I use a variety of their other products too like Organic Coconut Sugar, Organic Mct Oil and more. They have so many amazing ingredients for cooking and baking, it's amazing. I have a few more Nutiva recipes coming up next year too that I cannot wait to share.
For these Vegan Cashew Cream Cheesecakes, you can really top them with anything you'd like. Some crushed nuts, chocolate drizzle or even some cashew butter on top. The possibilities are endless and they are the perfect gluten-free and vegan dessert to bring to a holiday party. Plus there is no refined sugar in them!
WHAT YOU NEED
Dates (I used date crumbles)
Nutiva's Coconut Oil with Butter Flavor
Raw almonds
Water
Coconut flakes
Cinnamon
Cashews
Coconut milk (full fat works best)
Vanilla extract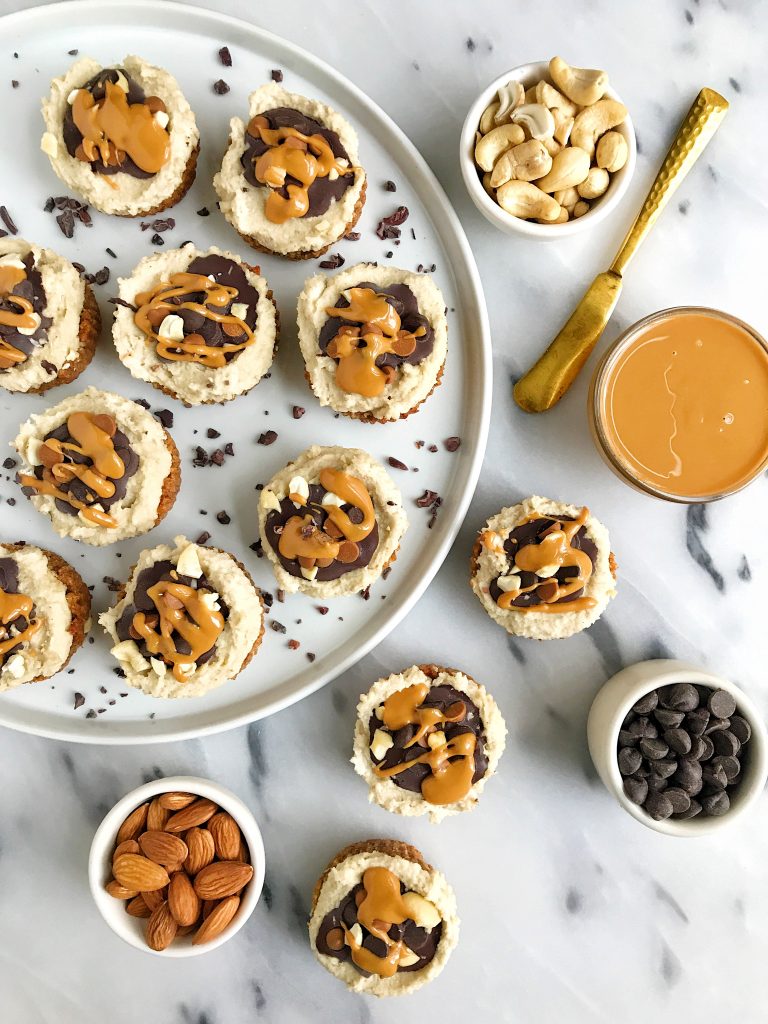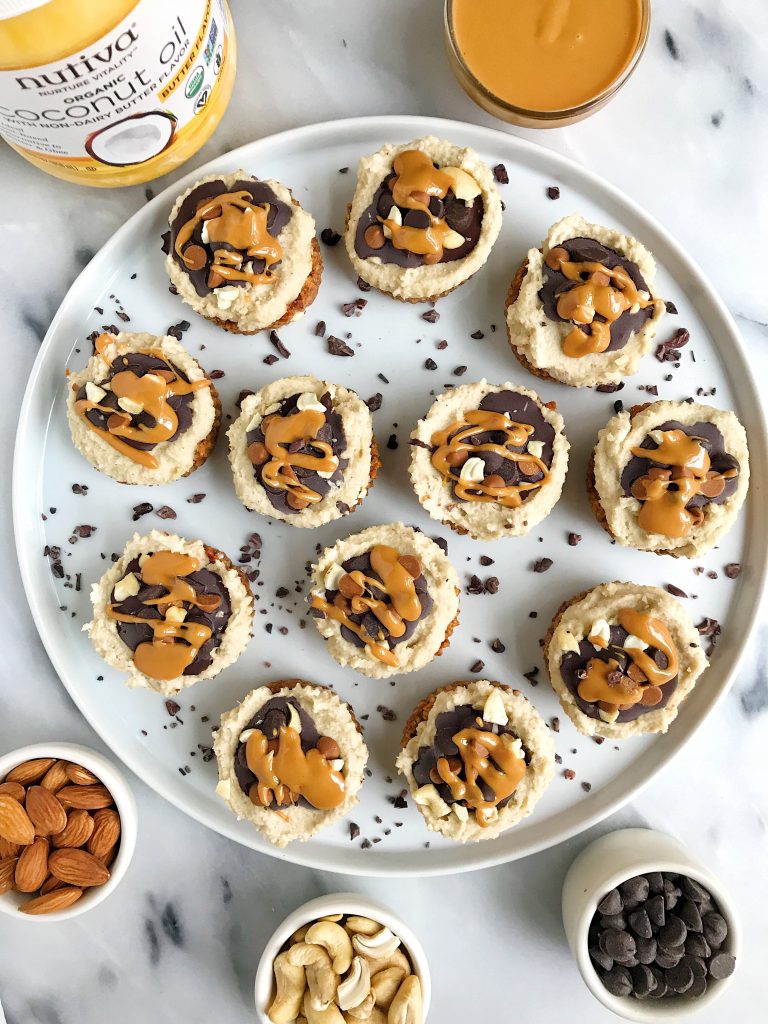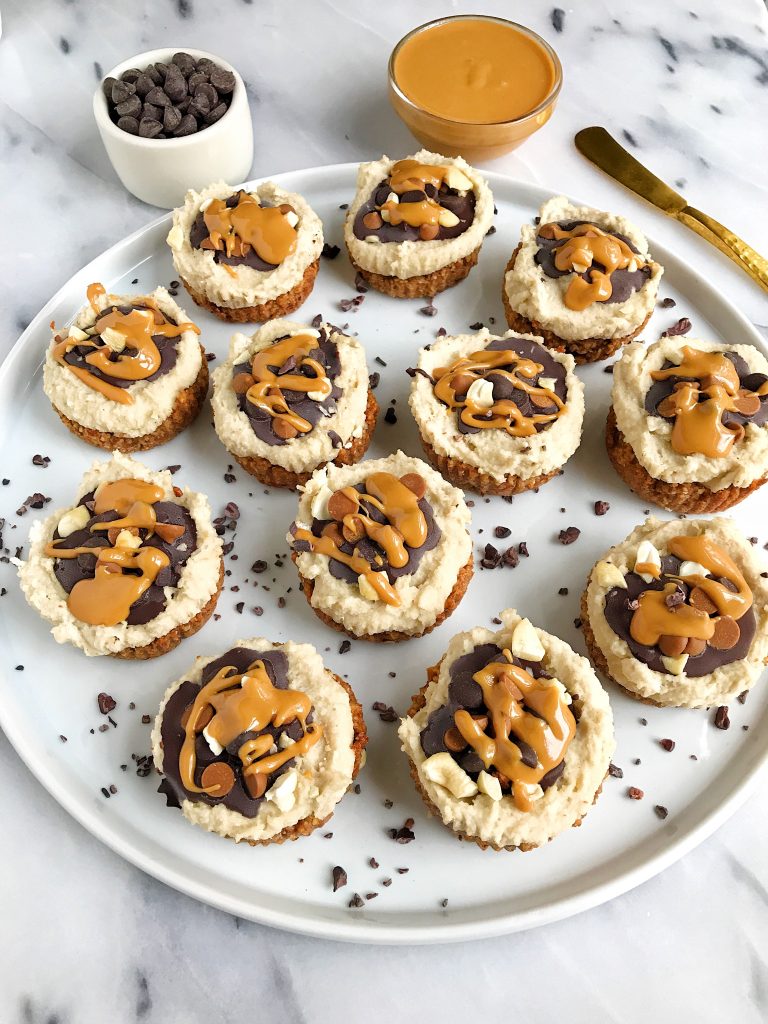 Print
Vegan Cashew Cream Cheesecakes
Prep Time:

20 mins

Cook Time:

75 mins

Total Time:

1 hour 35 mins
Crust:

1 cup

date crumbles (or about

6

pitted dates)

1

and 1/4 cup raw almonds

1/2 cup

unsweetened coconut flakes

1/4 cup

water

1/2 teaspoon

cinnamon

Cashew Cream Filling:

2 cups

raw cashew

⅓ cup

full fat coconut milk

2 tablespoons

Nutiva Organic Coconut with Butter Flavor (or your preferred coconut oil)

½ teaspoon

vanilla extract

Topping ideas:

Dark chocolate

Crushed cashews

Peanut butter
Instructions
Preheat the oven to 350 degrees and line a baking tray with liners
Add the dates and cashews into two separate bowls
Fill each with boiling hot water and let them soak for at least 10 minutes
Strain the dates and add to food processor with the other crust ingredients and blend until it forms a sticky dough
Using a spoon, add crust to each cupcake liner and press down to form the base of the cheesecake
Bake in oven for 15 minutes and let cool
While the crust is cooling, begin making the cheesecake filling
Strain the cashews from the hot water if you haven't done so already
Add the cashew cream ingredients to food processor and blend until smooth and creamy
Add on top of crust then drizzle additional chocolate and add crushed nuts if desired
Cover with foil and add to freezer for 1 to 2 hours to set
*Will stay good in freezer for about a month or so, let them thaw out for a couple of minutes before eating!
Author:
Category:

vegan, gluten-free, grain-free

Cuisine:

dessert, cheesecakes
xx, Rach
Thank you Nutiva for sponsoring this post. It means so much to me to work with brands that I love and who support rachLmansfield!
SaveSave
SaveSave
SaveSave
SaveSave
SaveSave