15-minute Peanut Noodle Salad made with a dreamy peanut sauce and tossed in spaghetti of choice with scallions and peanuts for a quick and easy meal to make for lunch or dinner.
I am always looking for delicious, fast and EASY recipes to make for meals. And this noodle salad is perfect for lunch or dinner and my kids even love it. Plus it makes a great lunch to pack for work or school. You can add some protein on top like chicken or salmon too if you want to make it more filling as well. I love it with some grilled salmon on top.
This sauce though is SO good.
It is creamy, nutrient-dense and there is nothing not to love about having peanut butter in your pasta, am I right? You can also pair this sauce with any pasta you want, but I prefer a spaghetti of sorts when I make it. I also use a gluten-free pasta but you don't have to if you don't want to.
Tip: make the sauce and noodle salad ahead of time and leave the sauce on the side. That way you can toss right before eating and it won't get too soggy!
What ingredient you need to cook peanut noodle salad:
Gluten-free spaghetti – you can use any spaghetti you'd like or even soba noodles if you prefer
Seedless cucumber – spiralized or thinly sliced. This adds the best crunchy cold texture to the salad with the noodles
Chopped scallions – just the green parts of the scallions are needed
Crushed peanuts – I like using roasted and unsalted peanuts for this but any works!
Creamy peanut butter – extra creamy with nothing else added. I look for the ingredients in my peanut butter to be peanuts and sea salt
Honey or maple syrup – either of these sugar options work to make the sauce. Just for a touch of sweetness
Coconut aminos – I use this instead of soy sauce but you can also use tamari or soy sauce if you prefer
Rice vinegar – this is optional but I think it adds extra flavor to the sauce
Sesame oil – instead of olive oil, I use sesame oil for flavor!
Ground or fresh grated ginger – this goes a long way! I love adding this to this dish for flavor
How to make peanut noodle salad:
Cook pasta according to instructions on package
While pasta cooks prepare the sauce by adding ingredients to saucepan and warm over medium low heat
Stir and once everything is full melted and combined, remove from heat
Toss spaghetti into a bowl with sauce then add in the cucumber, scallions and peanuts
Serve while warm or cool and feel free to add any desired proteins like chicken or salmon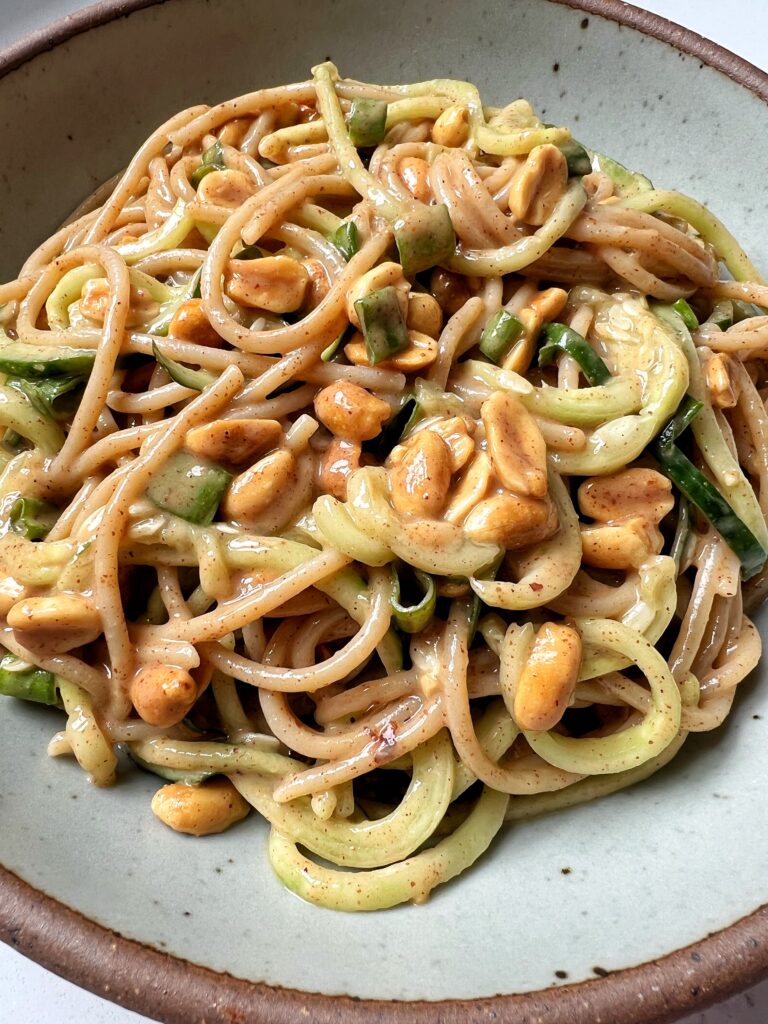 Can I make this dish ahead of time?
Absolutely! I loving making a batch of this and having it during the week. Plus you can leave sauce on the side and toss it in the salad right before eating so it doesn't get too soggy.
Can I make this recipe nut-free?
Yes! Sub the peanut butter for a tahini and add some seeds instead of the peanuts. It would be delicious too. Plus then it is school friendly as well!
What proteins go well with this noodle salad?
Anything you'd like! Some chicken, grilled salmon, tofu, shrimp or anything you are craving! I love that you can keep it plant-based or add some animal protein on top if you'd like.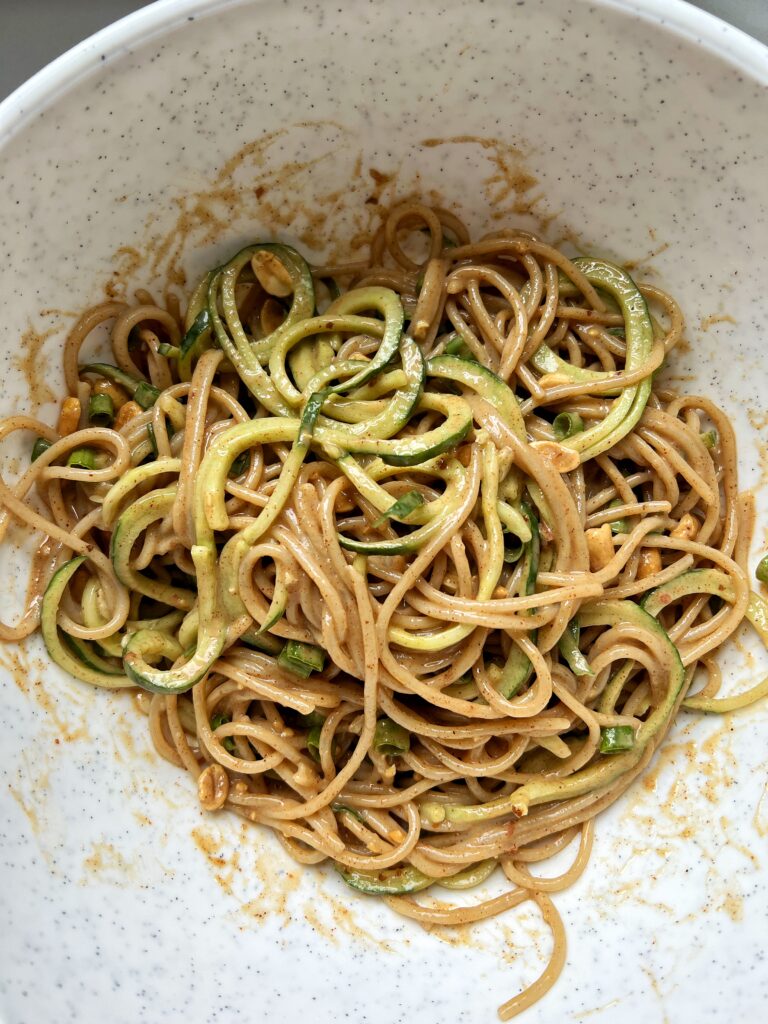 Best tips for success making peanut noodle salad:
This sauce can be stored in the fridge in airtight container for up to 5 days in the fridge. So feel free to store it in their until ready to eat and serve.
Feel free to add in more veggies or things you are craving like spinach or zucchini to the salad. I liked to keep it simple with the cucumber and scallions but use anything you have!
You can use your favorite type of pasta. I love a longer spaghetti kind but do what you love the most.
A few other healthy meal ideas to make:
Healthy Zucchini Pizza Casserole (gluten-free + grain-free)
20-minute Healthy Chicken Teriyaki (paleo)
EASY Gluten-free Chicken Enchilada Recipe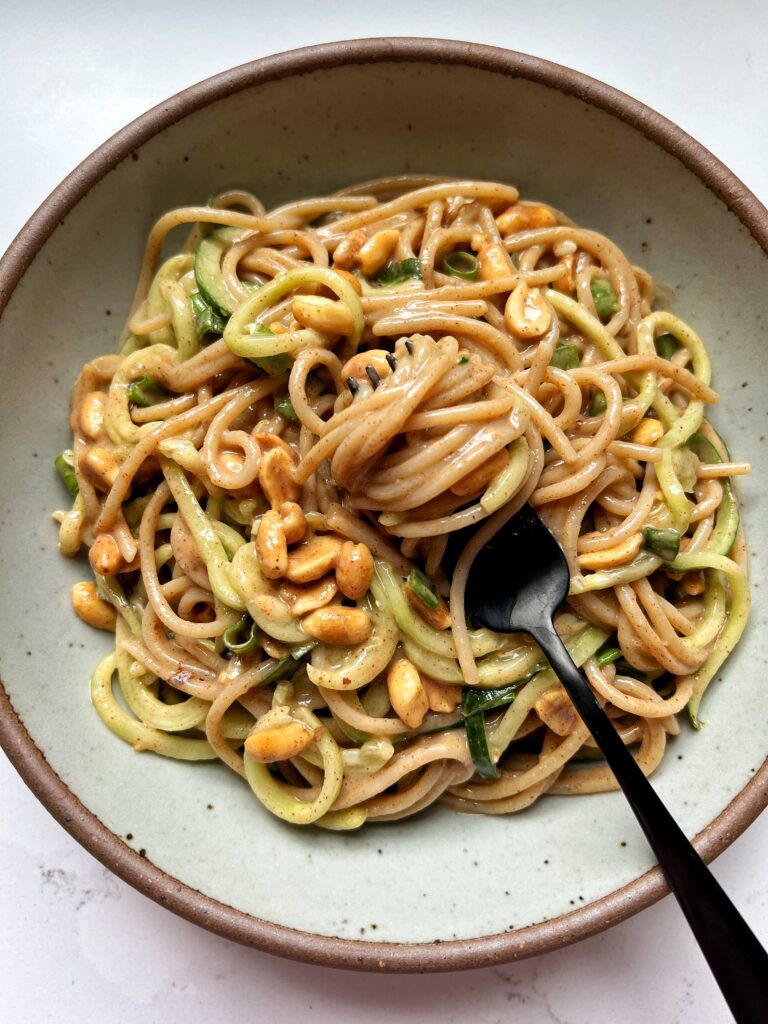 Print
15-minute Peanut Noodle Salad (gluten-free)
15-minute Peanut Noodle Salad made with a dreamy peanut sauce and tossed in spaghetti of choice with scallions and peanuts for a quick and easy meal to make for lunch or dinner.
Prep Time:

5 mins

Cook Time:

10 mins

Total Time:

15 mins
Noodle salad:
8 ounces

gluten-free spaghetti

1

seedless cucumber, spiralized or thinly sliced

1/4 cup

chopped scallions (green part)

1/3 cup

crushed peanuts
Peanut sauce:
1/2 cup

creamy peanut butter

1 tablespoon

honey or maple syrup

3 tablespoons

coconut aminos

1 tablespoon

rice vinegar

1 tablespoon

sesame oil

2 tablespoons

filters water

1/2 teaspoon

ground or fresh grated ginger

Sea salt to taste
Instructions
Cook pasta according to instructions on package
While pasta cooks prepare the sauce by adding ingredients to saucepan and warm over medium low heat
Stir and once everything is full melted and combined, remove from heat
Toss spaghetti into a bowl with sauce then add in the cucumber, scallions and peanuts
Serve while warm or cool and feel free to add any desired proteins like chicken or salmon
Notes
*Store leftovers in fridge for 5 days