Hi friends! I am oh so excited (and somewhat proud of myself for getting my ISH together) because my 2018 Holiday Gift Guide is here and READY for you before Thanksgiving.. YAY! This guide has gifts for pretty much anyone in your life you may be shopping for this holiday season and I have included ideas in all different price ranges. It's the season to spread the love to those in your life (and yes, that includes yourself) and I have put together a list of my favorite items that I personally own and have given to others for gifts in the past.
You will notice these gift ideas are in different categories for who you are shopping but you can of course mix and match from each category as well. I tried to categorize them a bit to make the browsing a bit easier for you! The gifts listed for mama's-to-be and easily be great for your "trendy friend" or mother-in-law or for yourself. Feel free to use this as a guide and customize to work for your shopping and browsing. And of course there is a section for what you buy YOU!
First off, here are a few key dates to know for shopping:
November 23 – Black Friday
November 24 – Small Business Saturday
November 26 – Cyber Monday
November 22-26 – Cyber Week
As someone who does 99% of their shopping online, I also sign up for brand's newsletters and follow them on Instagram this time of year so I don't miss out on any deals! The stores linked below for the gifts are also customer-friendly when it comes to returns. This is something I always keep in mind. Of course we don't give a gift with the intention it'll be returned but you never know and I also always give a gift receipt.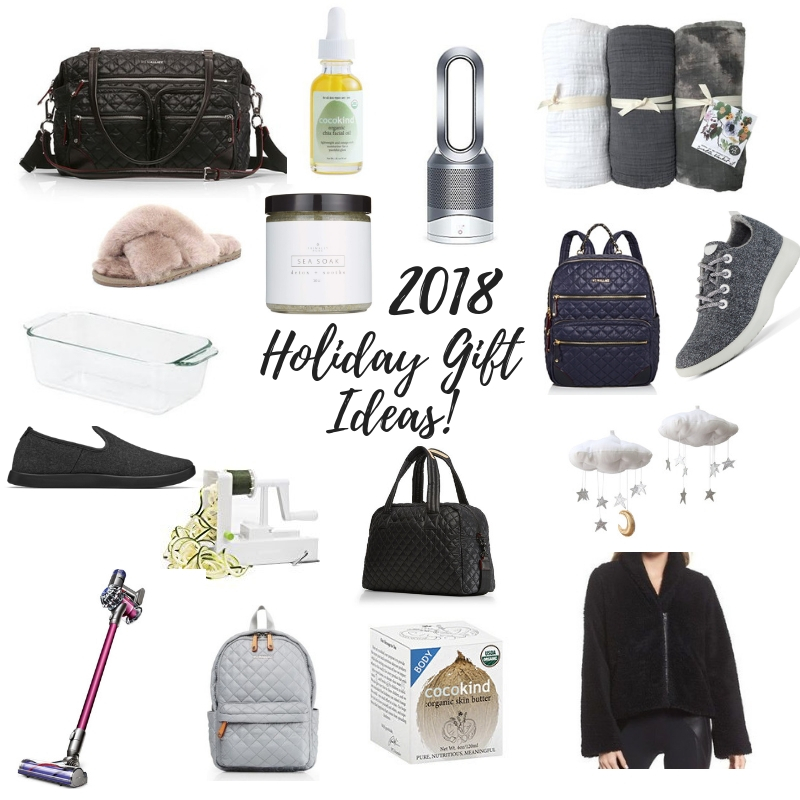 Gifts for: Mama's and Mama's-to-be
Belly oil + body butter ($12) my two most priced possessions right now during pregnancy. Ever since week 18 hit and my bump started growing, I apply the belly oil and body butter daily. It is key to help prevent stretch marks and it honestly just feels good to apply and give the beautiful bump some extra love. There isn't a thing as too much body oil and butter when you are pregnant and even post-pregnancy I hear it is great to still apply as you breastfeed and your body adjusts.
Baby Jives ($20+) – code RACHL for 15% – I stumbled on Baby Jives when we first found out we were expecting via Instagram. I have been swooning over everything they make and already stocked up on a few goods for when our little dude is here. I love their organically dyed swaddles, adorable mobiles (we have the clouds and moon!) and the blankets for those Insta-worthy photos. I'm going to be sharing more on what we have from Baby Jives once the babe is born but I did get a code (RACHL) for 15% all orders for you guys!
Compression socks ($23) – if you have a friend who is pregnant and plans to travel or sits often for work, these compression socks are a life saver. I bought them before our trip to Europe and no, they aren't the most fashionable but they are so needed. My ankles and feet have been getting really swollen from sitting (all the blood rushes to my feet!) and they are so helpful when flying. A practical and needed gift for anyone expecting.
MZ Wallace Diaper Bag + Pad ($35~) – I have been on the hunt for a trendy and cute and practical diaper bag and also a changing pad that matches. No surprise that it is from MZ Wallace since you guys know my obsession for their products (more on that in the rest of the guide). I ordered these two options for diaper bags: Crosby Traveler and TriBeCa Traveler then their Quilted Pad to use as the changing pad. Not going to be a regular mom.. I'm a cool mom (HA!)
Letterboard ($39) – I have this on my list of things to order before the baby is born! Such a cute piece to have and I know you have seen these on Insta before. Even if babies aren't on your radar, these letter boards are fun to mess around with and put funny or inspirational phrases on them.
Ribbed dress ($49) – Ask Jord how many times I have worn this dress while pregnant.. I even have it in two colors (black and burnt orange). I wore it daily in California and in the summer when my jeans were getting way too snug and I wanted to be comfy. It is such an affordable dress and I love that you can wear it post pregnancy since it isn't maternity. I will still be rocking this next summer post-bump.
Fuzzy slippers ($58) I'm already on my second pair of these slippers. They are my favorite to keep on in the house. Since I work from home, I wear them basically all day and they also keep my feet warm in the winter but since they are open-toed they work in summer months too. I got these before I was pregnant but they are a great gift to get anyone and they wear very well.
At-home massage ($99~) – code RACHL for $20 off – Um yes, this is a necessity in my life. Every 3-4 weeks I have been getting a prenatal massage. The back pains are real and it helps to destress and get some flow in our muscles. I love using an at-home service because you don't have to worry about being on time, you just provide sheets and pillows and they bring the bed! Then when massage is over you can take a bath, shower and just bliss out. No rush to catch the subway or drive home. I prefer these 100x more than a spa. My link and code RACHL gets you $20 off first booking (whether you book for yourself or a friend!)
Cashmere pants ($198) – Besides that stretchy dress, these cashmere pants have been a staple in my everyday clothing. I dress them down as lounge wear at home and can dress them up with a nice blouse or sweater to go out for dinner or anything. I have the tan and black ones and need to practice serious self control not to get the gray! They're amazing. Definitely a splurge item but again, these will fit post pregnancy too, which is important to me when investing in a pricier item.
Dyson vacuum ($449) – I have been sharing my love for Dyson for a couple years with you guys now and I am still impressed daily over how insane this vacuum is. I was always so hesitant on getting it because of the price but we tested them out in the store a couple years back and they really really work. As someone who vacuums daily (crumbs galore over here), it makes the clean up less stressful. And when we have kids running around, I have a feeling the mess is just going to continue to grow!
Gifts for: The Food + Wellness Kween
Gifts for: The Trendy Friend
Plant vases ($14-36) – Nowadays there is a 99% chance your bestie has a plant or at least has been eying some up at the local shop. Getting a fun vase is always a great gift and can be super affordable too. We have plants in every room (even the bathroom!). These face vases are so cute and I love this ceramic one too with the design/texture. This teardrop vase is perfect for eucalyptus and lavender. It doesn't fit something with a larger stem!
Facial roller ($28) – When Jord declined my ask to give me nightly face massages, I settled for a facial roller. I keep it in the fridge so it is cooling and supposedly it helps reduce inflammation and increase circulation in the face. I cannot attest to this but it feels so good when I roll it on my cheeks and forehead (especially after working!).
Reusable cup ($38) – Straws are basically a dying bread as is the daily plastic cup use. Having a reusable cup makes someone actually want to use it instead of plastic. And now so many coffeeshops will fill up their coffee for you in your cup! Great to carry around. I also love this one.
Palo santo kit ($38) – Every single night after dinner, I burn these to a) get rid of whatever smell I just made while cooking and b) to cleanse the air a bit before decompressing for the night. I'm addicted to smell of these! We keep them in the living room and bathroom and our bedroom. You can order a kit or just sticks which are super affordable ($6!).
Cozy up jackets ($49-168) – I have been wearing this one most of this Fall and it is $49 and I love it but full disclosure the quality isn't as good as this one. It probably will last 2 seasons or so! I have had this one for over a year and it is amazing. The most comfy jacket ever – there is a reason they're called cozy jackets! I just ordered this longer one and cannot wait for it (it covers your tush!)
Allbirds ($95) – My Allbirds collection is getting somewhat insane at this point. But I kid you not when I say they are the most comfortable shoes in the world. I love walking around the city in my Wool Runner's (I have them in a few different colors) and the Wool Lounger's are a staple. They're the best for travel, running errands, everything! Also they just launched high top Tree Topper's that I ordered. Cannot wait to test those out!
MZ Wallace Backpack ($225~) – 4 years ago I purchased my first MZ Wallace bag and haven't looked back. I have successful started a collection in my closet (Jord is like please stop) but the number one bag I cannot live with out from them is the Small Metro Backpack. It is a must have and I use it daily to go into the city. It holds my snacks (obviously), water, sneakers, anything! I also use it for traveling and day trips. It is so durable in any weather and very easy to keep clean! You guys always see me posting stories with it on my back too and ask what it is. I also have this Small Crosby Backpack for something a little dressier! Spoiler alert: MZ backpacks are the shiz.
Gifts for: Any Dudes in Your Life
Gifts for: Parents + In-Law's
Gifts for: YOU
Cocokind anything ($9~) – My favorite product cocokind has ever made is the facial cleansing oil. I use it for cleaning my body and face (call me crazy but it works). I also have very dry skin and in the winter especially this is amazing for me to use so my skin isn't dried out from over washing. When I do exfoliate, it is only with sea moss because it is gentle and easy on the skin as is the chlorophyll mask. The macabeet stick I use for blush and a pinkish lip color. The matcha stick and turmeric sticks are two staples too, but honestly you cannot go wrong with any of these products. I have successful used them all!
Primally Pure ($16~) – code RACHL for 10% all orders – my favorite deodorant is the blue tansy and Jord even uses it! He likes the lemongrass one. I carry this lip balm everywhere (but really it is in all my jackets and bags!). Their bath salts are amazing as well, I use them weekly and love the scents. The blue tansy oil I use for a DIY hair mask for my ends and on dry elbows, etc. in winter. Such a light and easy oil to apply.
Woven journal ($28) – I'm the first to admit I'm the worst at journaling. But I do love hand-writing notes from work calls and my to-do list so I always have a journal around. I'm particular about the look of them because it makes the task 100x more fun (lame, yes but it's true).
Organic sheets ($58) – Treat yo self to some organic sheets. We started getting some a couple years ago but they're not cheap. These are affordable and we have been loving them!
At-home massage ($99~) – code RACHL for $20 off – I raved about this in the Mama-to-be section too but if you're looking to pamper yourself in much needed self-care this season, a massage is a must. And one that is at-home just takes the cake.
Winter boots ($230) – I finally bought a pair of winter boats that aren't rain boots! I ordered these and they were on sale (code info on site).
Other random gift ideas:
Happy holidays you guys! Sending you all the love and good vibes for a healthy holiday season.
xx, Rach