Copycat Peanut Butter Pumpkin Reese's made with plant-based, grain-free and gluten-free ingredients!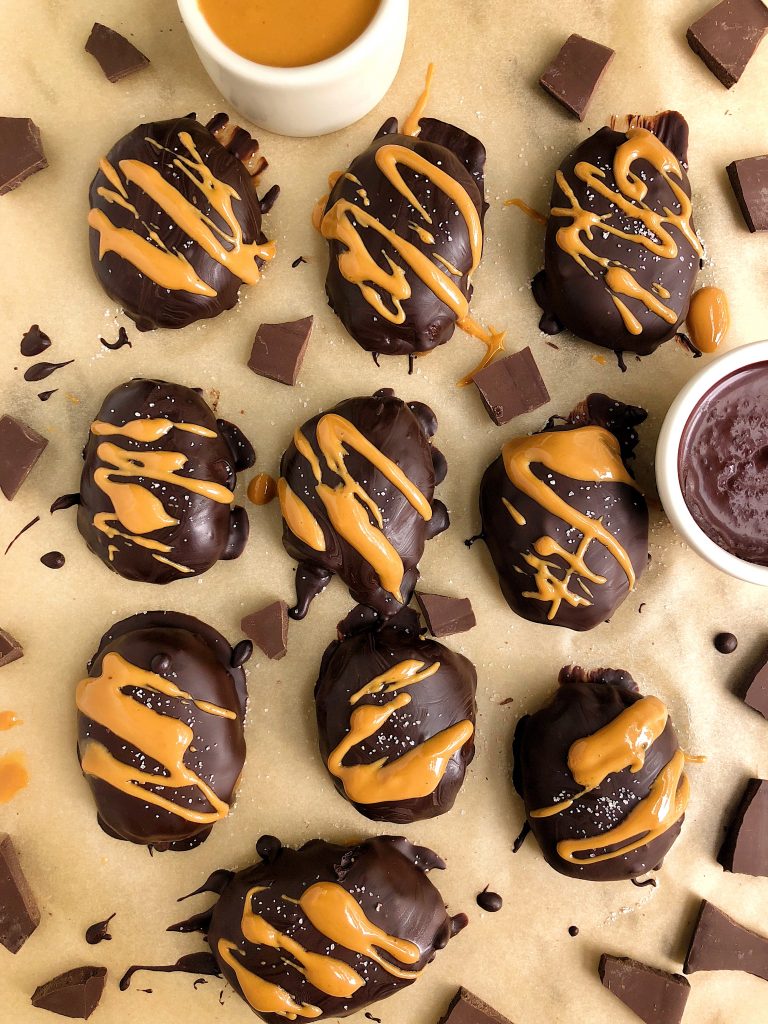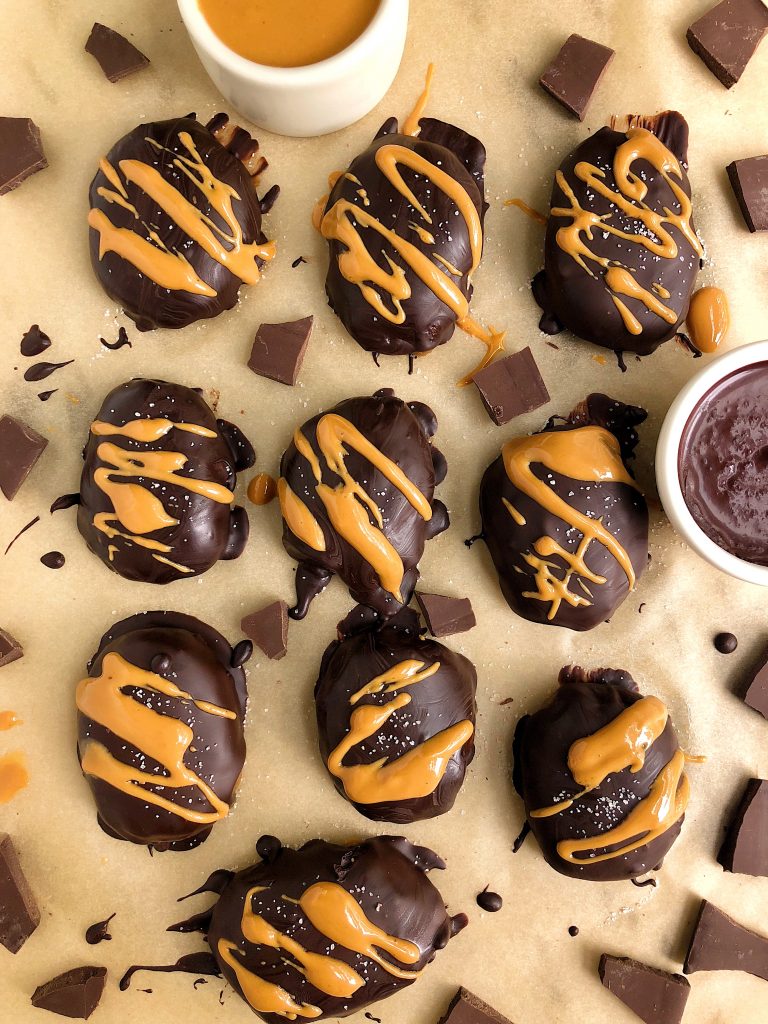 When the dark chocolate and peanut butter cravings strike, there is not way to ignore it.
Even when you crave this pretty much every day like I do over here. This has been my go-to dessert combo since I was younger and my Mom would bribe me with Reese's Pieces and peanut butter cups to behave. Or when I was at the movies and would down a large bag of Reese's pieces (true story). The obsession is unreal.
Today we are taking this combo up a notch by making them a bit more seasonal. We are making Dark Chocolate Peanut Butter Pumpkin CANDIES. Heck to the flipping yes.
These homemade candies are made with all plant-based, grain-free and gluten-free ingredients. Not to mention here is no refined sugar involved and I even added some extra plant protein in them, which helps stabilize my blood sugar a bit when I eat a few of these. I love sneaking in plant-based proteins whenever I can to desserts and sweet snacks. I notice I feel much more full and satisfied after and when you find the right protein powder, it adds a delicious flavor.
Don't forget to share these candies with me over on Instagram if you make them.
A few of my other favorite candy recipes from the blog:
Homemade Paleo Dark Chocolate Twix Bars
5-ingredient Copycat Peanut Butter M&Ms (gluten-free)
Dark Chocolate Peanut Butter Caramel Eggs (gluten-free)
For all of my favorite healthy candy recipes head on over to this blog post!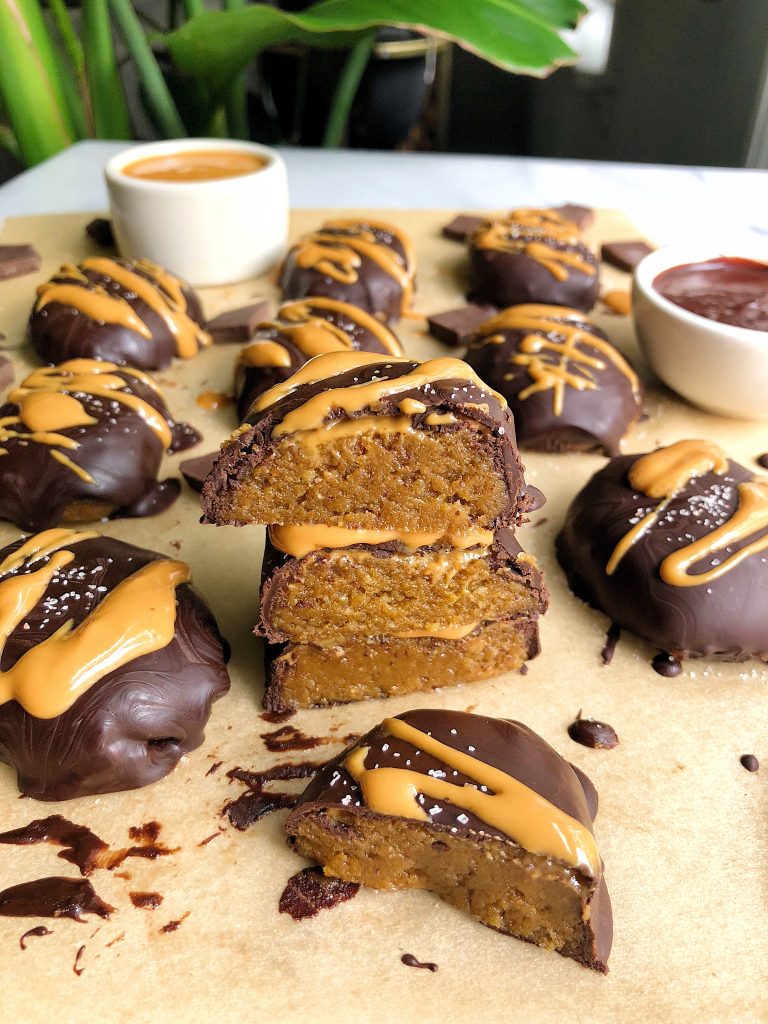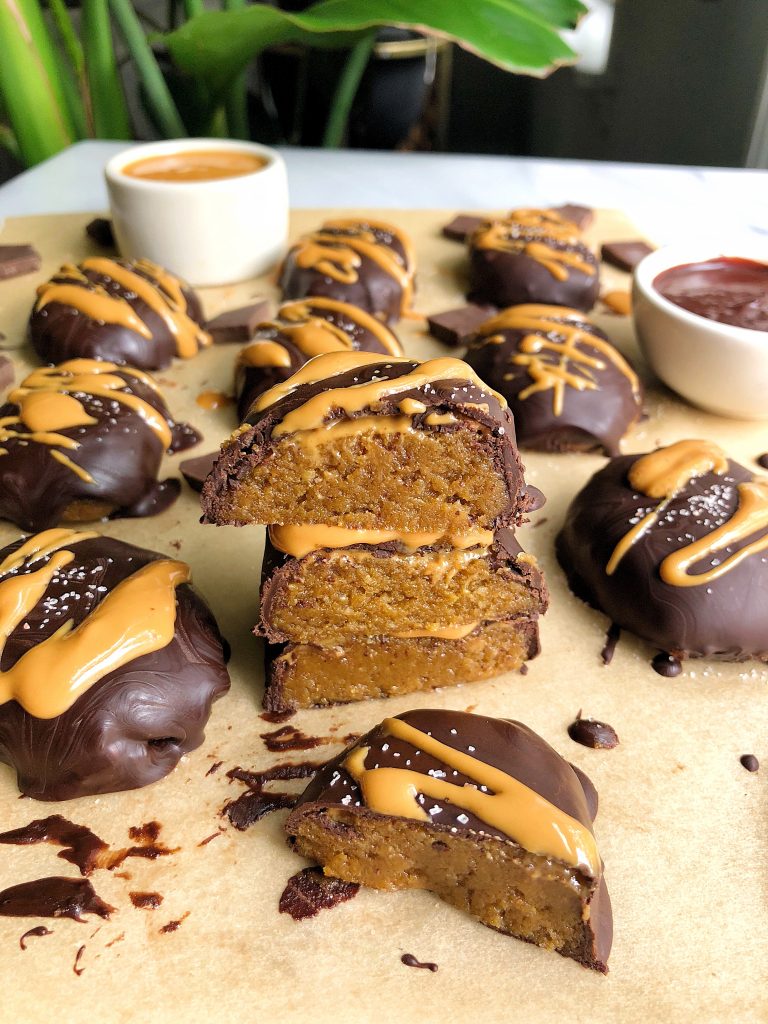 Print
Copycat Peanut Butter Pumpkin Reese's
Copycat Peanut Butter Pumpkin Reese's made with plant-based, grain-free and gluten-free ingredients. Plus they have extra protein in them!
Prep Time:

5 mins

Cook Time:

30 mins

Total Time:

35 minutes
1/2 cup

creamy peanut butter +

2 tablespoons

for drizzling

1/4 cup

organic pumpkin puree

1/4 cup

organic plant-based protein

powder

(add

2

more tablespoons coconut flour if you do not have protein but I highly recommend adding to add extra boost!)

2 tablespoons

manuka honey or maple syrup

4 tablespoons

coconut flour

1/2 teaspoon

pumpkin pie spice

5

–

6

ounces of dark chocolate – code RACHL for free shipping
Instructions
Line a baking sheet or cutting board with parchment paper
In a medium bowl, mix together the 1/2 cup peanut butter, pumpkin puree, protein powder, honey, coconut flour and pumpkin pie spice until creamy and well combined (you can also use food processor but not necessary)
Using your hands, form into 9 candies (I did an egg shape but anything works)
Melt dark chocolate over the stove or in microwave. Depending on chocolate you use, you may need to add coconut oil to melt
Cover each candy in chocolate then drizzle extra peanut butter on top and add to fridge to set for about 30 minutes
Notes
Store in the fridge for up to a week or freezer for a couple of months!
xx, Rach