34 weeks, you snuck up real quickly…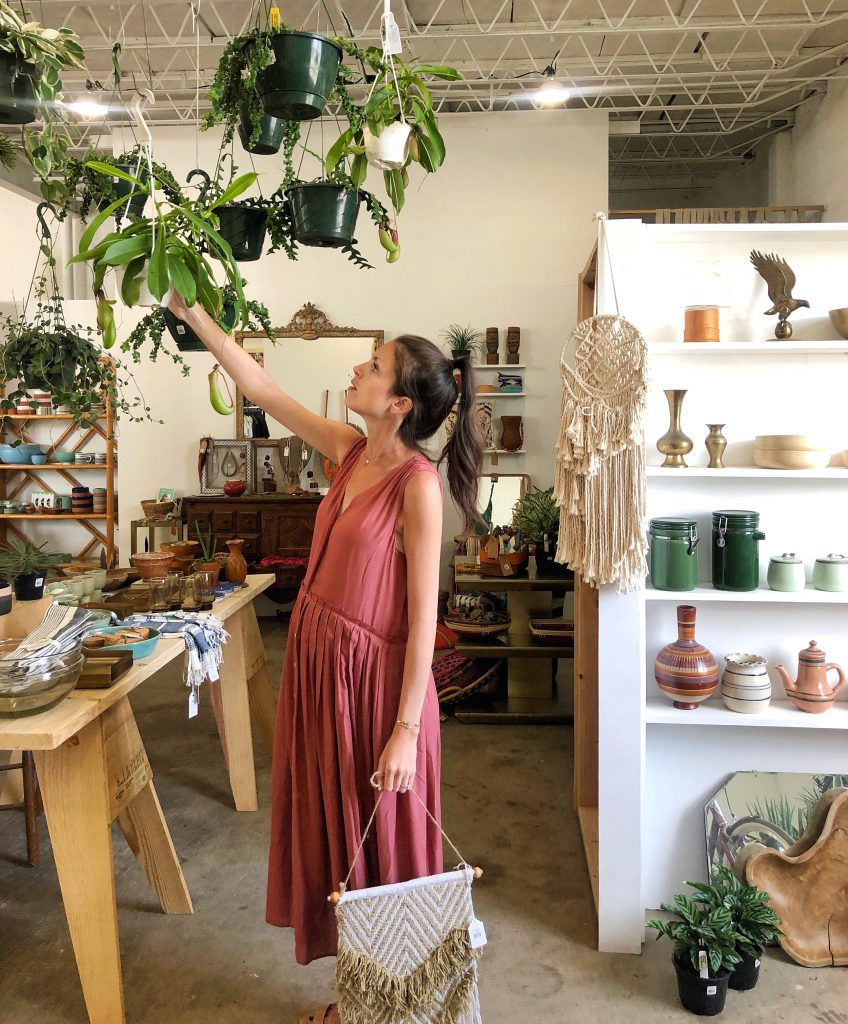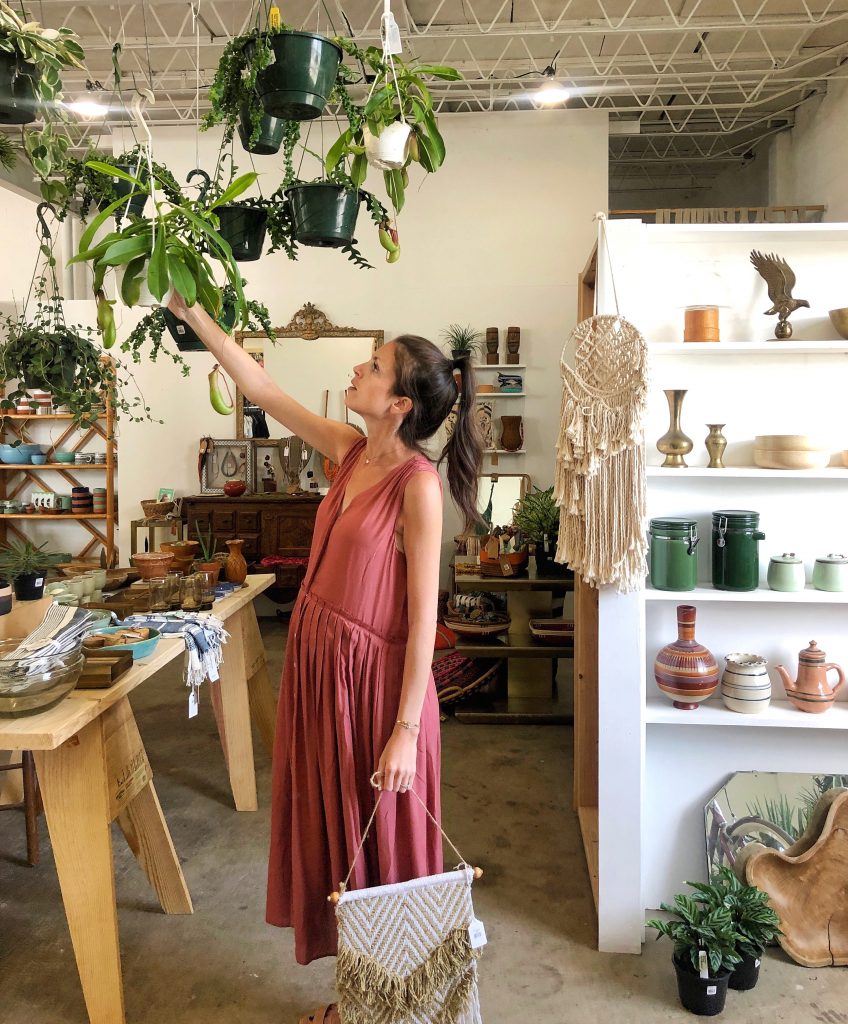 As you guys may have seen, I just came back to Hoboken from a couple of weeks with my family down in Jupiter, Florida. Back just in time to finish up the last 3 weeks of work before my "maternity leave" starting February 1 and 2 days before I'm technically not supposed to fly anymore (cut that one close!). It is truly insane to even think that we are only about 6 weeks away from meeting our little bub. And let me just tell you that each week is truly going even quicker than the last and my bump certainly is in hyper growth mode now.
I'd be lying if I said I was physically comfortable 24/7 and everything has been hearts, stars and rainbows over the past couple weeks. I am very very grateful that for the first 28 weeks or so of pregnancy, I felt amazing. No morning sickness, not too tired and even had decent energy too. Didn't have crazy food aversions or weird cravings either. But the past few weeks haven't exactly been too easy on my body physically. I am obsessed with carrying our little babe and watching my body change to grow our baby (more on that here), but the discomfort has really taken on a new level and each day seems to be getting a bit more crazy over here.
Let's chat about contractions for a bit..
For starters, I started having a lot of Braxton Hicks contractions pretty much every single day. These ultimately feel like constant pressure for a few minutes in my stomach and that he is trying to escape my belly or something. A lot of pressure is happening during them and I have found it challenging to get comfortable during these too. Whether I am sitting, standing, laying but the good thing is they go away relatively quickly. I try to move positions and walk around as much as I can but at the same time, I'm pretty tired physically.
My doctor recommended I started tracking the contractions a bit closer during my last visit, so this week I started wearing a tracker on my stomach from Bloomlife in the morning and again at night for an hour or two. I find that he goes a bit crazier at night time when I am laying down, so I try to wear it more after dinnertime to track his dance party in my belly.
I had heard about Bloomlife from a few friends and read amazing things about it on social media before, so I was excited to test it out for myself. It also sounded pretty fascinating to me that something can help me track contractions. Bloomlife makes a tracker that allows women to automatically track and count contractions (both labor or Braxton Hicks contractions). It is a sensor and patch that can easily be taken on and off your body. Safe to say I got this just in time for the craziness going on in there. This is also the first ever clinically validated wearable contraction monitor that saves mama's to be from having to count the contractions themselves. I already forget to turn the oven off these days, so counting this wasn't happening. And you download the app to keep track of everything, making it so simple. I didn't even know something like this existed until I was pregnant!
Bloomlife is also 100% passive and doesn't send any energy into the body like an ultrasound or doppler, it is totally non-invasive. I was a bit apprehensive on that at first because I didn't want to add any weird energy onto the bump by tracking this. And since you rent the sensor from Bloomlife (usually for the last 6-8 weeks of pregnancy), it makes it totally more affordable for mama's-to-be to try it out.
There are three simple parts of using Bloomlife: the app, sensor and reusable patches. The sensor comes with a charger and you snap the sensor into the reusable patches that you can wear for up to a week (just don't wear it in the bath or shower!). When you're wearing it, it doesn't detect the difference between Braxton Hick contractions and active labor contractions but the contraction pattern bar on the app shows you the regularity of them, which has been super helpful. Then you follow along on your app and it will record everything for you! Just make sure it sit still as the app calibrates with the patch and sensor. I laid down for a bit to sync it!
The inner nerd in me is loving every moment of this. I'm going to keep wearing the Bloomlife tracker over the next few weeks so stay tuned for more here on that.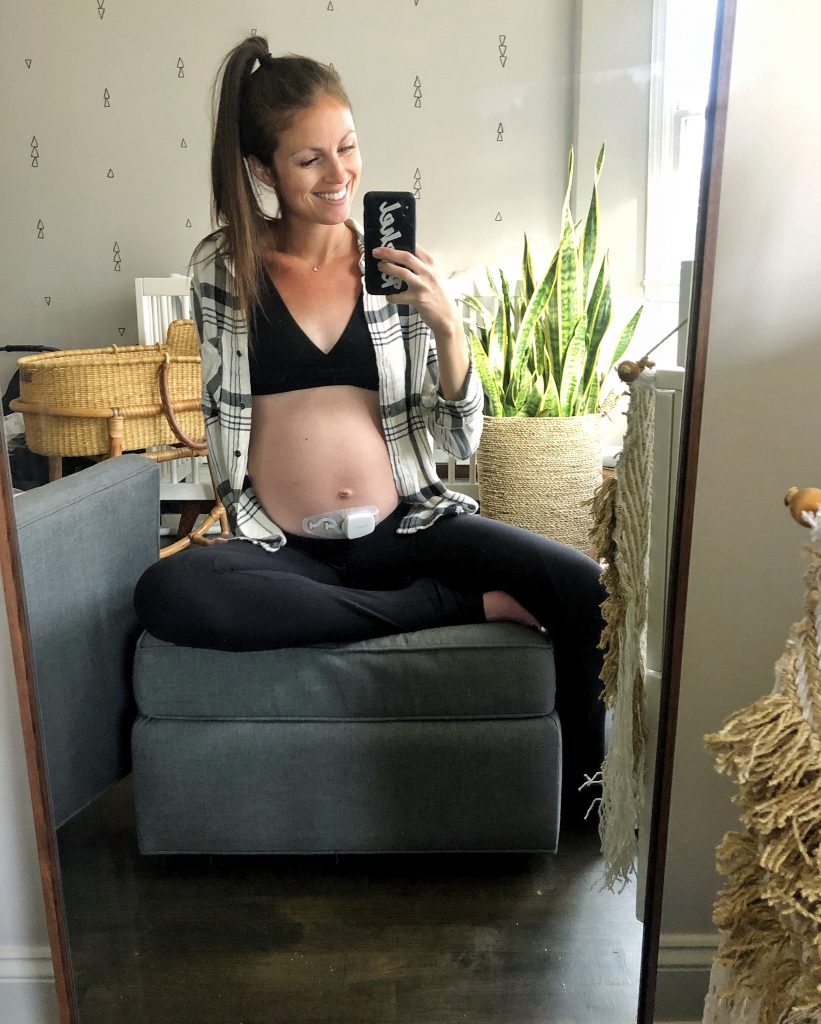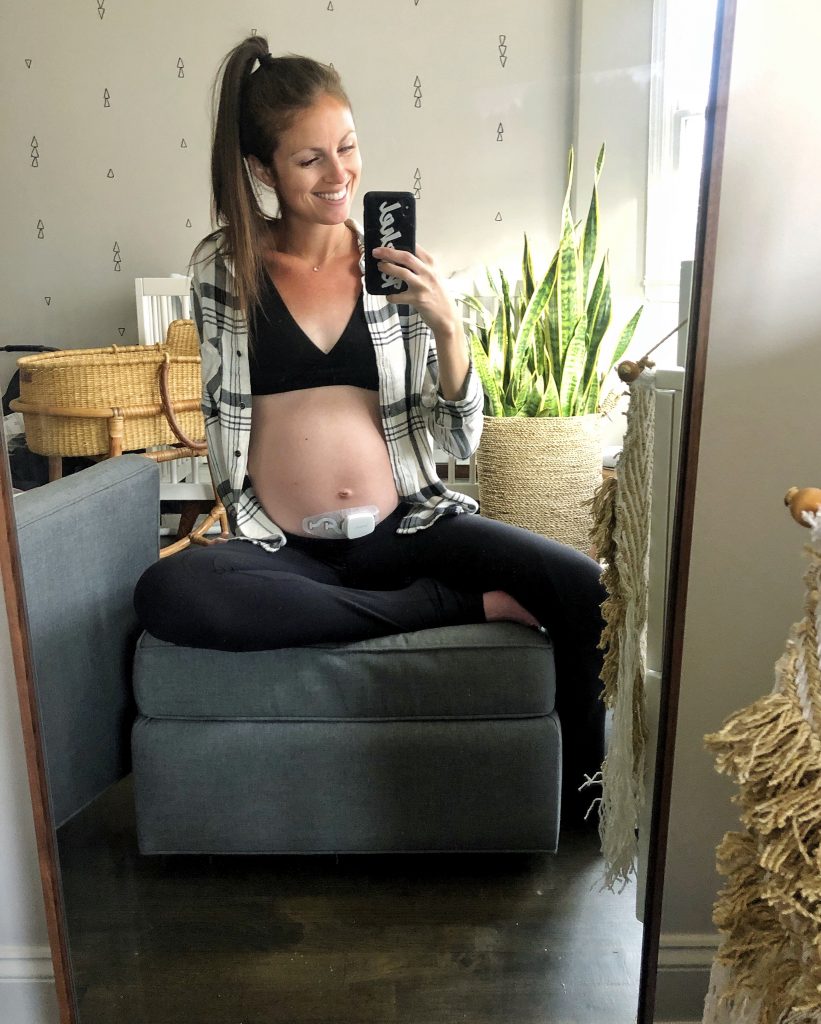 A few more things we have been doing to prep for the babe:
Washing all of his things – I spent more time folding our bub's socks then I have with any other laundry in my life. I started washing his clothes, sheets, blankets, pretty much anything that is going to be used within the first couple weeks he is here. Washed his hospital outfits we are bringing (yes, I'm bringing two incase he spits up or something on one!) and his cozy jacket we have to bundle him up in to bring him home. I'm testing out a few detergents so I will keep you posted on which one we end up using the most and enjoying.
Acupuncture and inversions to flip him – If you saw my Instagram stories the other week, you saw me laying on an ironing board against the couch doing a little inversion. According to spinning babies, this can help shift the babe into the ideal birth position. He has been breached now for the past few weeks and doesn't really seem to want to move. I also have been going to acupuncture a bit to help. I went 2x before Florida, took a break down there and now going to go consistently over the next few weeks. There are certain pressure points like our pinky toes (so random) that can help trigger movement for the baby. I am open to trying anything that is non-invasive and won't hurt me or the bub. There is a procedure of sorts you can get done at the hospital to physically try to move him but we made the decision that isn't for us. If he isn't moving, I trust it is for a reason. The cord could be wrapped around his head or ankle or somewhere and my pelvis just may be too small to fit him comfortably any other way. If he continues to stay in this position, we will be scheduling a C-section (personal decision that both Jordan and I are comfortable with). My doctor prefers not to do C-sections unless necessary so I know and trust that if that is what she recommends, it is for the best. She also said it is unlikely he will move based off the exact position he is in and how i am carrying.
Stocking up the nursery with necessities – My recent amazon order is somewhat comical. Thermometer, nail files, diaper rash cream, and other random necessities we need to have in the nursery when he comes home. Jamie from Horderly is coming to work her magic in the nursery in early February and that is going to be amazing to have everything all set in place!
CPR class is booked – We planned a CPR class for late January with some friends in Hoboken for the afternoon. This is really the only class we are doing besides hiring a lactation consultant to prepare for the baby. I don't want to mess around with choking for obvious reasons and doing it with some friends will make it a bit more fun too!
See week 31 bump update for info on breast pump, birth plan, vaccine + lactation consultant!
How my body + baby have been feeling the past couple weeks:
Babe is digging into my ribs – I am pretty sure he is digging a hole in there or something with his feet. My upper right stomach/rib cage area gets the craziest pains. My friend told me she has heard of babies actually breaking the ribs of some mama's so let's hope it doesn't get that crazy, but holy ISH that pain is no joke. It was a little scary at first but I notice it more after dinner and at nighttime when he is the most active in general. I try to lay on my side and move him a bit to alleviate the pain but it doesn't always work. Mostly just letting him doing his thing in there.
Insane stomaches after a big meal – I had spoken about this previously but it has gotten really really uncomfortable for me to eat a big meal. And I don't mean Thanksgiving-style plate. I will eat what I like to think is my typical-sized dinner, have some dark chocolate or dessert after (again this is my usual vice) and about 20 minutes later I want to throw up everywhere or pop my stomach with a toothpick. Clearly neither of those things are happening but the pressure of the babe and food in my stomach combined is insane. Then an hour later I am starving and my stomach is growling. My doctor recommends keeping my eating schedule to smaller meals, which I have been doing but even then it gets a little nuts sometimes. The past few nights I try to not sit down for about 10-15 minutes after eating and walk around a bit. This was easier in Florida where it is warm outside but it does seem to help. Then take one of my Garden of Life Probiotics and call it a day. I do find I'm hungrier though right before bed so if that is the case, I have another snack after dessert so I can sleep soundly.
Bub is starting to respond and move when we talk about him – This really just started happening when we were in Florida. My parents know the baby's name so they will ask "how is X feeling?" and I will respond that he is pretty quiet right now, nothing crazy. Next thing you know the contractions start and he is doing summersaults in there! Whenever we start talking about him in general he moves, which is really one of the coolest things. I also think he recognizes my parent's voices after spending a lot of time with them and moves around when he hears them. It is so cute!
Getting out of breath very quickly – Did I just run a marathon? Nope. Just walked to get some water or up a flight a steps and let me tell ya, I am WINDED. Also whenever I talk a lot (aka always) and move around at the same time, I tend to run out of breath easily. This is pretty common so I try to slow down as much as I can, which lately hasn't been an issue..
Slow as a turtle moving around – Speaking of slowing down. If you are stuck in an alley way and need someone to come save you, I don't recommend calling me right now unless you have plenty of time for my waddling tush to get there. My morning walks have become longer in time but shorter in distance. I don't have the same stamina as before (obviously) and it takes me a lot longer to get from one place to another. I also am really trying not to rush to anything because I tend to forget things then or get out of breath. It's been kind of nice being slow though. Unless you are going for a walk with my Mom who basically glides on the sidewalk because she walks so fast. Taking a couple weeks off from working out and working in the kitchen while in Florida was glorious and really felt good on my body. Also I have to say my ankles and feet were looking "normal" again from less pressure on them.
Beyond thirsty all day – The doctor says not to think of pregnancy as eating for two, but I am 100% drinking for two. As someone who has always drank a ton before pregnancy, it is crazy how much more I have been drinking all pregnancy. Drink, pee and repeat. It does definitely help to increase fluids though for the swollen ankles and keeping my bowel movements regular.
A few of my recent fave products and things:
More updates, info + fun things:
Due date: February 22nd
Size of baby: About 4lbs and 10 ounces or so
Name picked out? Yes! But not sharing with everyone until he's born. Only our parent's know and my brother (oh and the few friends I accidentally told – oops!)
Sleep: sleeping About 8 hours a night, but peeing pretty much every hour at this point and wake up early to go to bathroom (but no complaints there as long as I am going…)
Missing anything? The ability to eat a big meal and not want to pop my stomach with a toothpick after
Exercise: going for a walk each morning. Took a couple weeks off from all other work outs in Florida and it felt really good to relax a bit more
Food cravings: Nothing really fun. I haven't had many cravings all pregnancy. Just eating more in general and more frequently!
Feeling sick? No morning sickness at all, so lucky!
Belly button: In and out all day. It is very confused and looks like lips making a kiss face
Feelings on bump: I keep saying I don't know how he will get any bigger but he just keeps on keeping on!
A few other helpful blog posts:
xx, Rach
Thank you Bloomlife for sponsoring this post!