Oh helllooooo 31 weeks! But really, where is the time going?!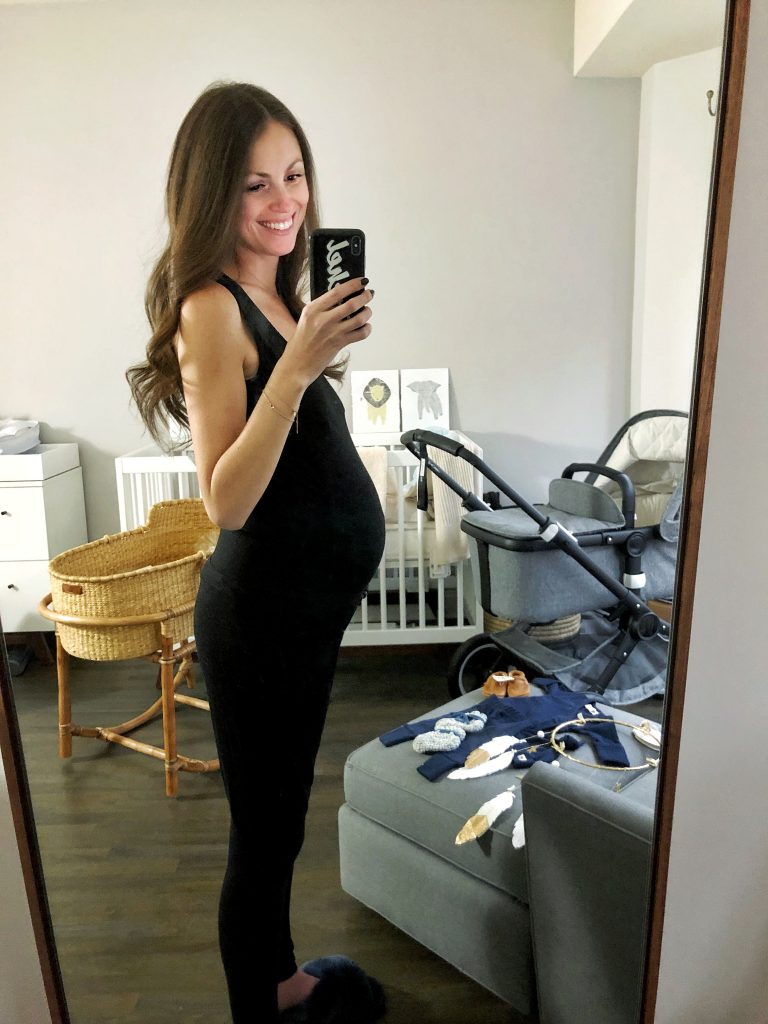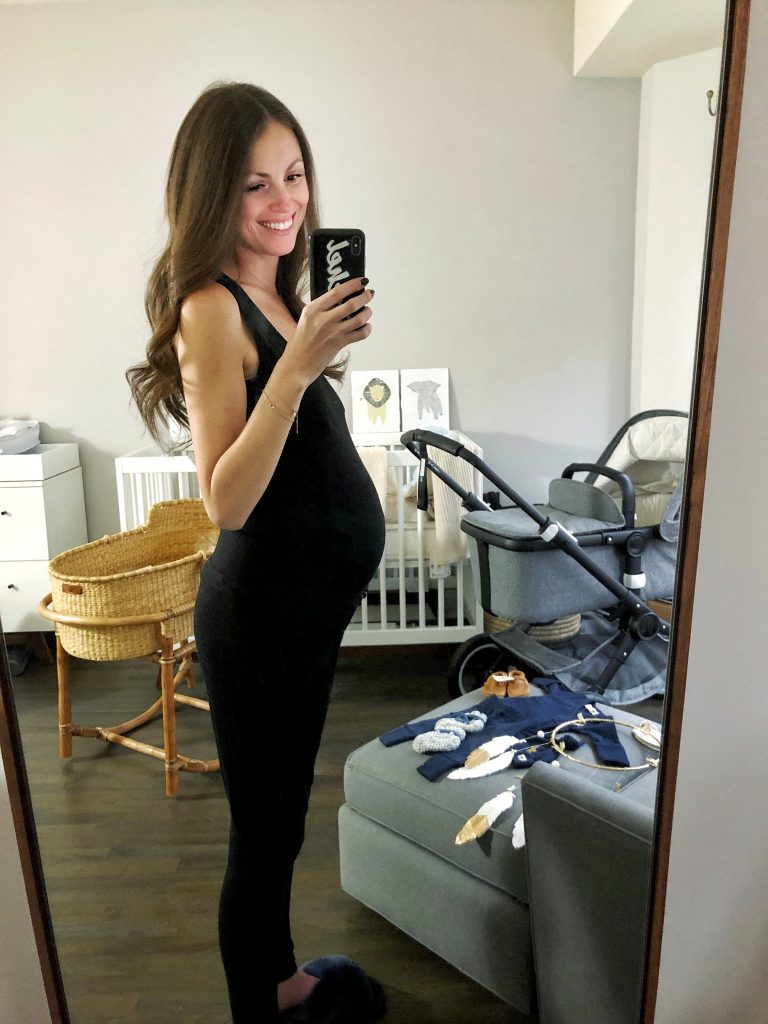 The bump updates are going to be more and more frequent over here since there is a ton going on and so many changes happening in my body every single week. Until 26 weeks or so, everything was pretty status quo besides the bump itself growing. But once we hit that third trimester – wow – this ISH is getting very very real and time is flying by.
Since we last spoke at the 29 week bump update, we have made some progress on what I mentioned we were looking into. There have also been a few bodily changes and shifts happening in the past two weeks. I feel like everyday I wake up and something new is going on. It is all exciting, but as the third trimester exhaustion hits, ya kind of just want everything to slow down but it is seriously go time over here. Especially prepping all my blog work for the next few months. My goal is to have all of January, February and March recipes ready to go and share with you guys when I am in full on "nesting" mode come Feb 1. That term still makes me giggle..
A few things we have done to prep for the babe:
Wrote our birth plan – Put this together to share with the doctor for the next visit. I have mixed feelings on this as you can't really plan for labor and I have zero idea how the little bub will want to make his appearance, but it was strongly encouraged by our doctor. I did find a really helpful outline on the hospital's website where we are delivering, and I used this as a guide and filled it things that are personally important to Jord and I to try to do during the labor process. They asked pretty random questions from what kind of lighting I prefer to if I will want the Jell-O when I am in labor (went with no on the later). I did include things like the delayed umbilical cord clamping for a few minutes once he is born, saving the placenta to be encapsulated (will share more on this at a later date), skin-to-skin with the bub and I for the first hour he is born, having both Jord and my Mom in the room during delivery and so on. The birth plan really needs to be flexible and we know that there is a possibility not everything will go according to plan but nice to have the doctor aware of what is important to us.
Made an appointment with Lactation Consultant – I had no idea insurance (at least ours) covers this! I made an appointment with someone locally here in Hoboken that we read amazing things about online. They recommend coming in at around 36 weeks for a prenatal appointment then again once the baby is born. I highly recommend chatting with your insurance company and seeing if they cover this too. We have about 6 sessions covered and from what I heard, it is tremendously helpful to have someone to call. I have zero clue what I am doing and I know it is not going to be as easy as milk to nipple to baby.
Ordered a breast pump – Another thing insurance mostly covered for us. We had some out of pocket expenses for it because I wanted one that can travel easily with a battery but all in all it isn't very expensive. They said it'll only cost us somewhere between $30-$100 (wide range .. I know). We went with the Spectra S1. A pump is very personal to pick and I am sure there are others that work better for some but for now this is the one I decided on. I will report back if it works well for me once I put it to use!
Flu shot + Tdap – I cannot remember the last time I got a flu shot, but living in the NYC area and taking public transportation daily definitely puts me at risk. Plus I'm delivering in the middle of flu season. I got this shot at my 30 week visit and Jord also got one too. I did the no mercury shot (recommended for pregnancy). We also are getting the Tdap vaccine next week at our visit. It is recommended for pregnant women and any close family members to get this. It is for whooping cough and it should be administered between 27 and 36 weeks. These are two personal choices and something we were both comfortable getting. Our parents are all getting it too per doctor's request and our own research.
A few things we are still looking into/planning for bub:
Pediatrician in Hoboken – I heard Tenafly Pediatrics is great so planning to call them after the new year and see what we can do ahead of time to meet with the doctors there and get the bub set up!
Hospital packing list – mmmmkay this list just keeps on getting larger and it is somewhat insane. If you guys have any recommendations please let us know! I have things on there from extension cord to snacks to essential oils and cozy socks. I did hear that they hospital gives comfy underwear for post birth so at least that is taken care of! I will be doing a blog post on what I am packing as soon as it is actually packed and ready to go! Aiming to have this done over next couple of weeks once we are back from Florida in mid-January.
CPR class – We are planning to get together with a few friends in Hoboken and do a group class together. Make it more of a social parenting event of sorts and we are aiming to do this first week of Feb. As of now this is the only class we are signing up for (and the only one my doctor strongly encouraged!)
Figuring out how to flip this babe – Yup, he is in breach position! Our doctor isn't too concerned yet as we have some time for him to flip but I am currently looking into acupuncturists and a chiropractor to start seeing soon to help flip him. If anyone has any other tips, please let me know!
Organizing the nursery because OMG – Remember Jamie from Horderly who we basically adopted for a couple days to help us settle into the new apartment? She's coming back in Feb and I am SO excited to have her work her magic to get the room in order.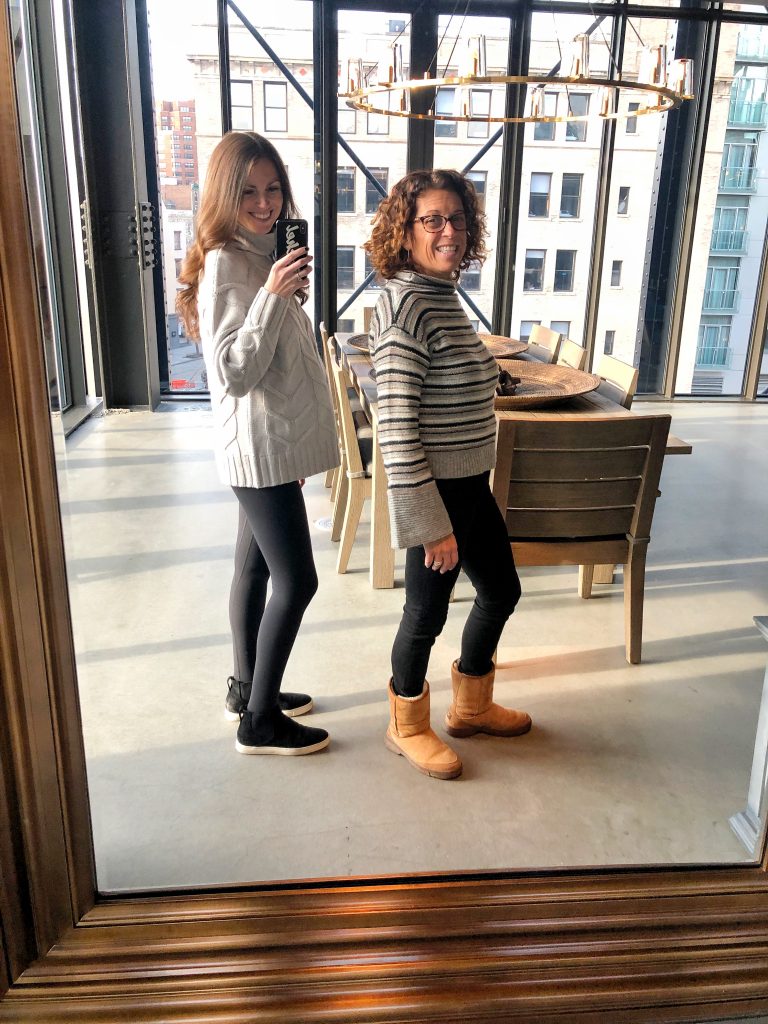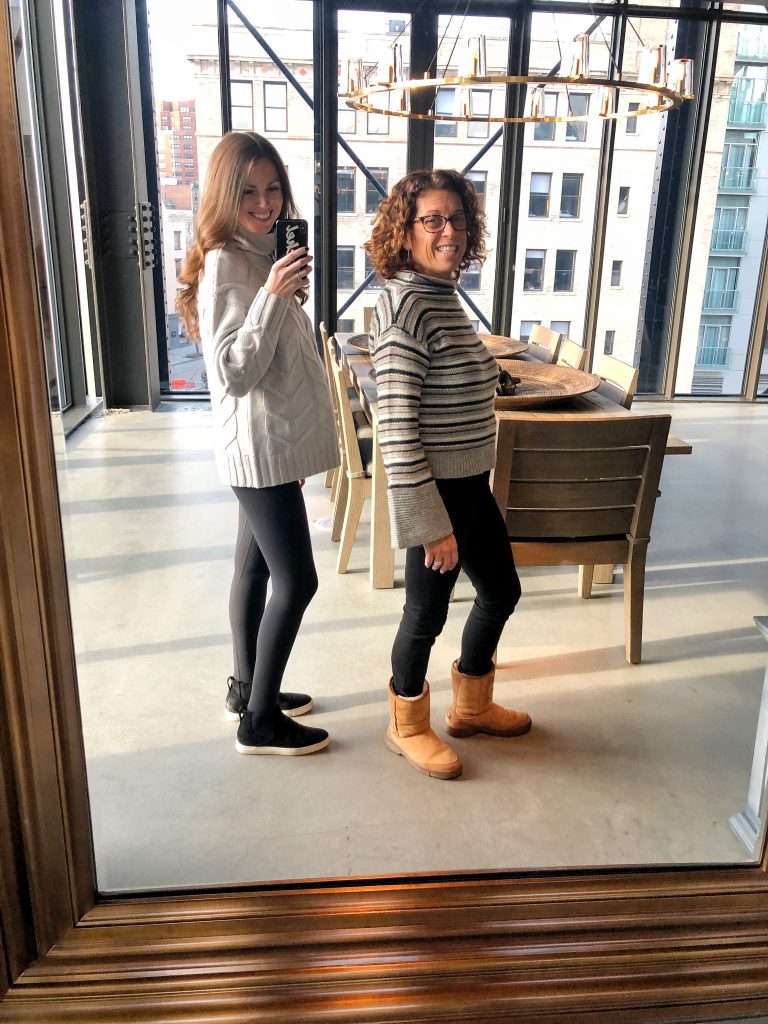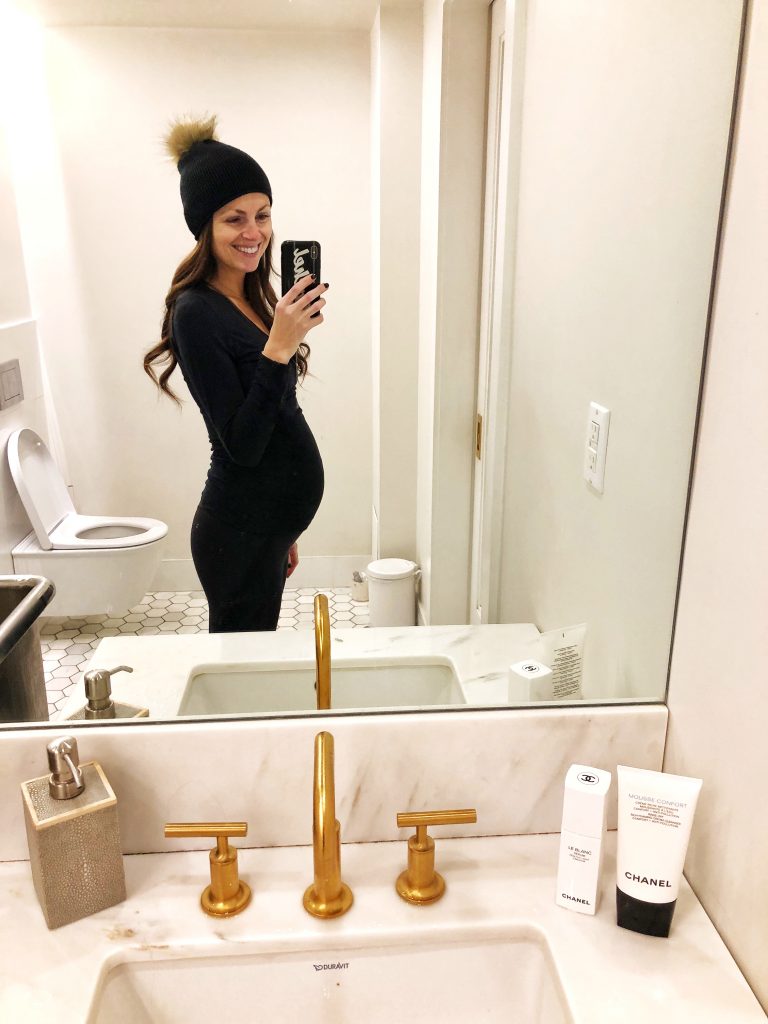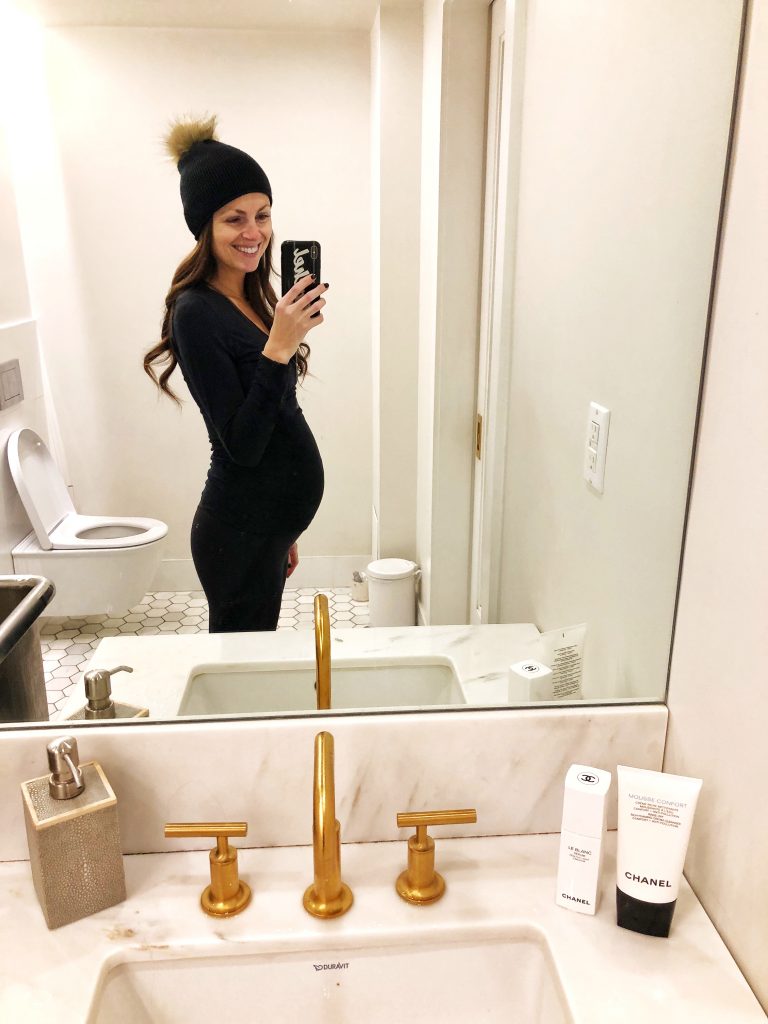 How my body + baby have been feeling the past couple weeks:
Swollen ankles – just as I thought I got the hang of the whole swollen ankles thing, they came back bigger than ever. With a job that requires me on my feet most of the day (aka in kitchen and photographing), it has been really challenging for me to get as rest as I would like to. I aim to be on couch elevating my feet with my laptop and taking work calls from there at 3pm daily. This isn't always easy with other life things happening, but I notice the days I do this, my ankles are so much better. I also have been taking warm baths (not too hot) to soak my ankles a bit a few days a week and drinking TONS of water. Fluids are key here. I also tried a lymphatic massage this week. Not sure if it was just where I went, but I didn't think anything was too crazy about it. I didn't feel different after and it was much more gentle than I was told it would be. Going to do some more research on places to go and try another one to compare.
Hungry, full + hungry again – Sometimes I feel like I am going to the electric chair and I eat everything in sight because I am so hungry. Then I will be eating something and feel so incredibly full that if my stretchy pants could unbutton, I would do that. Then an hour later I am hungry again! It is so crazy and truly makes me appreciate knowing how to listen to my body. Even if that means snacking on something every hour and eating whenever the hunger strikes. Still no cravings yet so I have a feeling I will be making it the whole pregnancy with no funny cravings of sorts!
Varicose veins – I have never had these before but last Sunday I got my first big a$$ varicose vein. I'll spare you the intimate details because it is in a personal area but wow that does not feel good nor does it look pretty. I spoke to my doctor and it can happen from being too active or sitting too much. Going to assume it is from being too active so another reason why 3pm couch time must become part of the routine. I heard they will go down and flare up as the pregnancy progresses. At least I can hide it easily (although it looks gross when I see it!).
Sleeping is my favorite past time – I cannot stay up past 10pm. We went to dinner with my parent's this week for my Mom's birthday and I was fully not functioning by 9:30pm. By the time we got home, changed, etc. it was past 10pm and I said to Jord "this isn't happening anymore". My body felt so weak and I really felt like I was hit with a ton of bricks. I also cannot sleep past 7:30am so even if I go to bed late, I'm still up at the same time. Sleep is already one of the most important parts of my wellness routine (at least 8 hours always) and I want to soak these hours in as much as I can until the bub is born and my boobs become a feeding factory at night.
Body hair changes – Ok ok this is going to be really random and part of me is confused why I am even talking about this but has anyone else's leg hair stopped growing during pregnancy? I don't have to shave more than once a week and before this I used to shave daily! It is the craziest thing and I am assuming it is from hormones. Still no hair on stomach really either or dark line! Just a weird belly button who can't decide what to do.
A few of the things we stocked up on for the bub:
A few of my maternity must-have's:
More updates, info + fun things:
Due date: February 22nd
Size of baby: 3 lbs 10 ounces! I asked doctor to measure
Name picked out? Yup! But not sharing with everyone until he's born 🙂
Sleep: sleeping About 8 hours a night! Peeing 2x each night and wake up early to go to bathroom (but no complaints there as long as I am going…)
Missing anything? ENERGY! And my not swollen ankles and vein-y legs
Exercise: going for a walk each morning and working out about 1x a week at The Class by TT (modifying lot) then barre3 2-3x
Food cravings: Nothing really fun. I haven't had many cravings all pregnancy. Just eating more!
Feeling sick? No morning sickness at all, so lucky!
Belly button: In and out all day. It is very confused…
Feelings on bump: He just keeps on bumpin! Kid is getting big and my stomach is growing rapidly with him.
A few other helpful blog posts:
xx, Rach