Paleo Zucchini Lasagna made with just 6 ingredients. A healthy gluten-free and dairy-free dinner recipe for the whole family. Plus no noodles needed!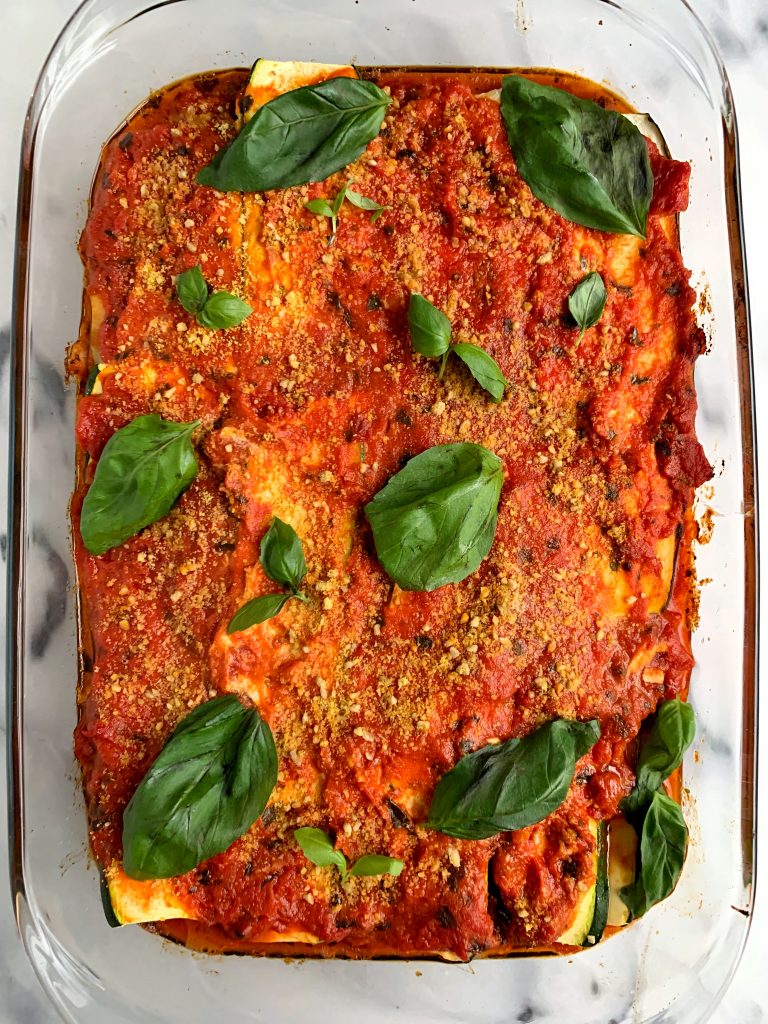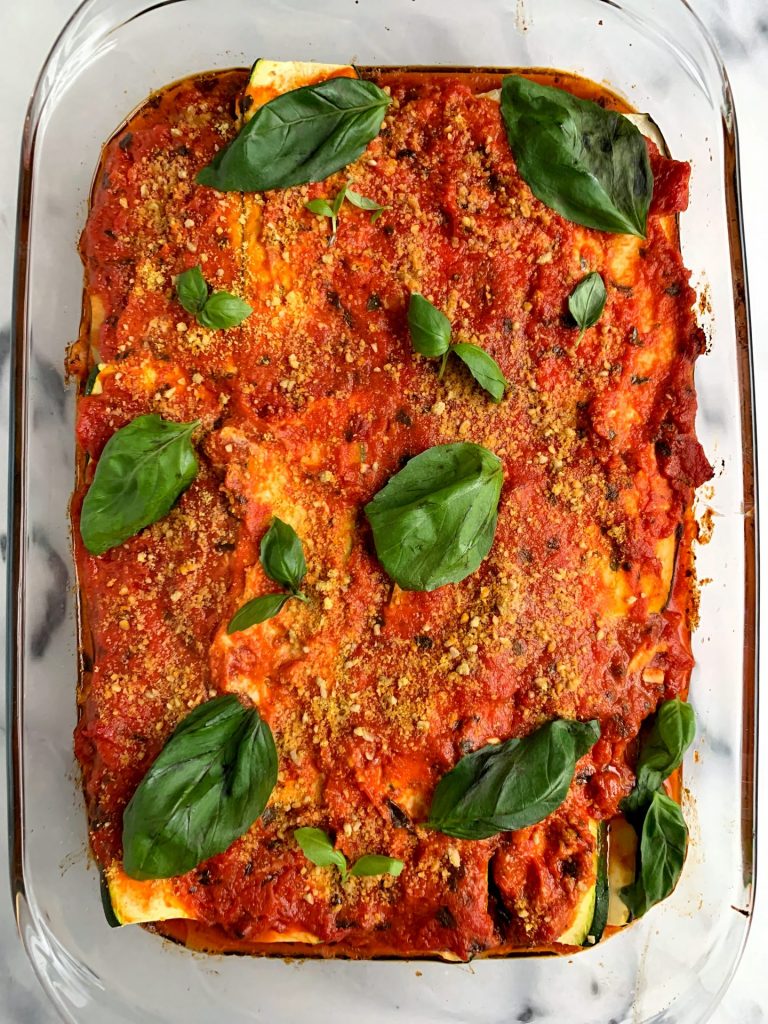 Get ready for boat loads of new meal ideas my friends.
After flooding your feed with every single one of my favorite cookie and dessert recipes for a couple months, I gotcha covered for meals now too.
And this healthy Zucchini Lasagna is just one of the many new delicious entrees coming atcha.
So when I first told Jordan that I was making a zucchini lasagna, he rolled his eyes. He's not the most interested in "mock"type of recipes. Also known as food that is meant to be something else. Like grain-free pizza or veggie meatballs, etc. He loves the classics.
But Jordan also loves eating a Whole30-ish kind of diet. He craves meats and veggies during the week for meals for work. So I am always trying to think of some new ideas or things for us to make for dinner. And that he can pack with him for lunch.
This Whole30-friendly Zucchini Lasagna wowed us all though. And you only need 6 ingredients to make it!
There are no noodles involved in this recipe (although you can totally add some if you'd like!). We use zucchini strips instead and they make this lasagna a bit lighter and healthier than the usual fare. I use a delicious cultured cashew cheese as the "cheese". There are a variety of non-dairy cheeses at the store you can use here. I personally don't like to eat soy so I try to look for nut-based cheese alternatives. But you can also use actual cheese too (we did this another time!).
Ingredient run down for Paleo Zucchini Lasagna:
Organic zucchini. The main star of the show. Zucchini makes for a great noodle alternative (hello zoodles) for anyone on a Whole30 or just trying to sneak in extra veggies. You can also combine this with actual noodles too!
Pasta sauce of choice. I used an entire jar here. Once I used a non-dairy vodka sauce mixed with marinara and it was so good! Added a little creaminess to the mix.
Non-dairy cheese. I use a basil cashew cheese and WOW it is so good. The extra flavor of basil in the mix is unreal.
Grass-fed beef. I personally love using grass-fed beef here, but really any ground meat will be great.
Organic onion. Mix it in with the meat when it cooks for extra flavor.
Olive oil or avocado oil. A must to grease the skillet before cooking the meat and the onion.
If anyone is doing Whole30 this month, or just looking for some more wholesome healthy recipe ideas – head on over to this blog post.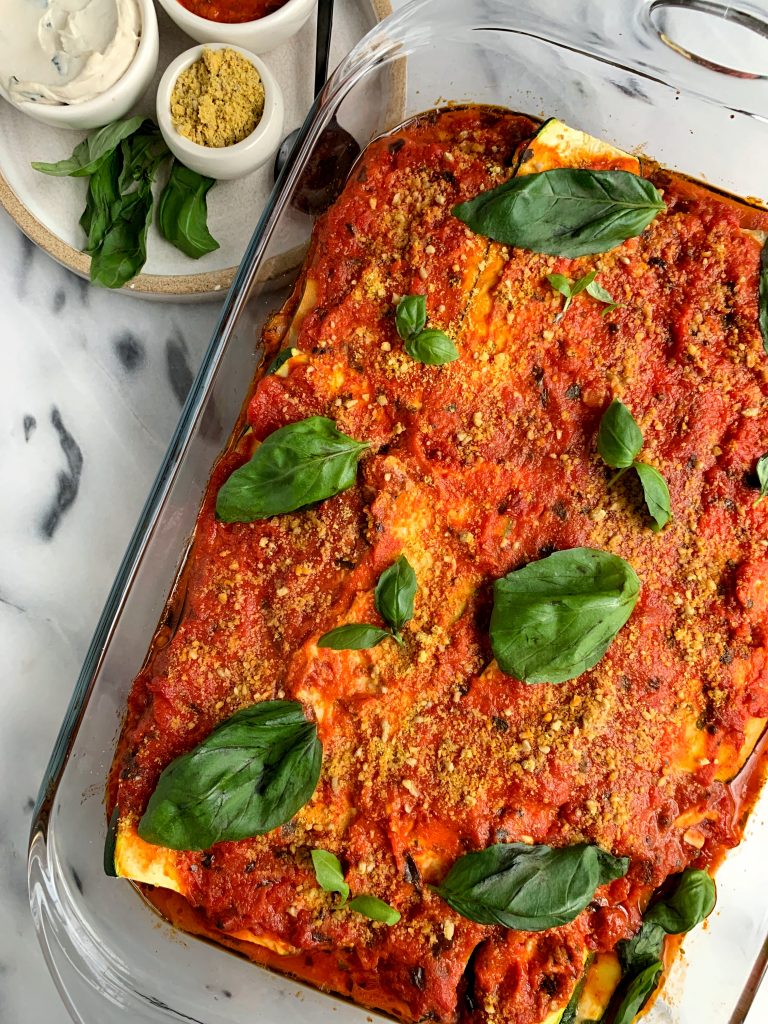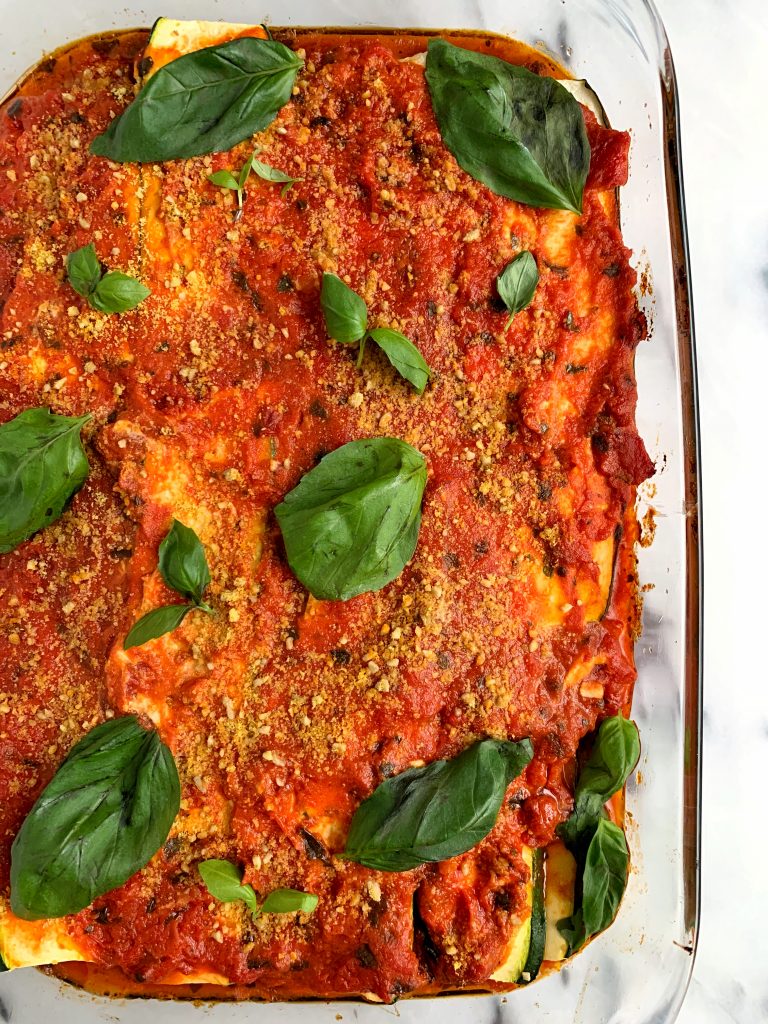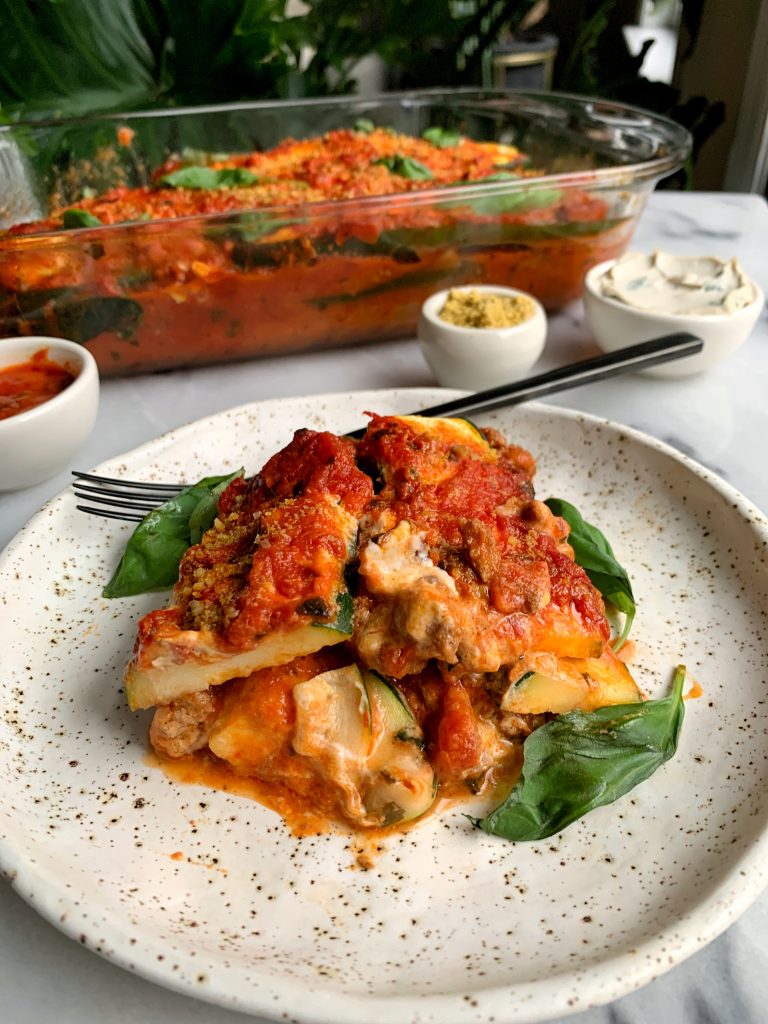 Print
6-ingredient Paleo Zucchini Lasagna (dairy-free + no noodles)
A delicious and healthy Paleo Zucchini Lasagna made with just 6 ingredients. This recipe is also Whole30-friendly and it is gluten-free and dairy-free.
Prep Time:

5 mins

Cook Time:

45 mins

Total Time:

50 mins
Olive oil

1

small onion, chopped

1

lb grass-fed beef (or any ground meat you'd like!)

24

-ounce jar of organic tomato sauce

3

large organic zucchini

Non-dairy cheese (something like a mock ricotta or mozzarella or use regular cheese if not df)

Topping: organic basil, nutritional yeast, anything!
Instructions
Preheat oven to 375 degrees and take out your 9×13 baking dish
Heat a large skillet with oil and cook the onion over medium heat for 5 minutes
Add in the beef and break it up with a wooden spoon so the beef cooks evenly (about 5 minutes)
While beef cooks, slice the zucchini into long pieces, long ways (can use a mandolin but I used a knife) then sprinkle sea salt on the zucchini and let it sit for a few minutes and press paper towel into it to help drain the excess water
Once the beef is cooked, remove from heat then gently drain the excess oil then add in the jar of sauce to the skillet and mix well
Pour a little bit of the beef/sauce mixture to the bottom of the baking dish
Then add a layer of zucchini, sprinkle the non-dairy cheese on top of zucchini then add more sauce. Repeat a couple of times until zucchini is used (make sure the top of the lasagna is sauce!)
Add to oven and bake uncovered for about 40 minutes
Top with any desired basil, nutritional yeast, slice and enjoy!
Notes
*Store leftovers in the fridge for 5 days (I don't recommend freezing)
xx, Rach