Almond Butter & Jelly Breakfast Bars, completely plant-based & gluten-free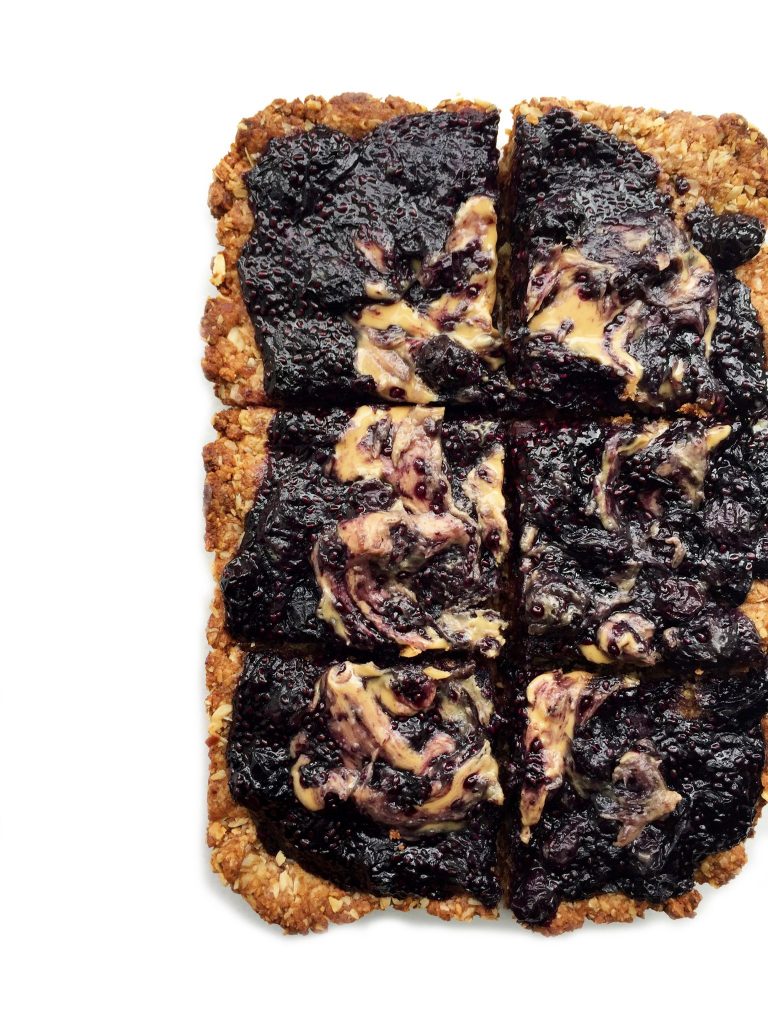 Half way through this recipe I thought I really messed these bars up. They started to smell in the oven like I was burning them and they were over cooked. But because I am so stubborn, I clearly kept going to see how they would turn out anyways and I seriously happy I did.
It turns out overcooked dates, oats and almond butter crust tastes amazing. Seems like there is nothing this combo can't do.
I wanted to make a clean and flipping delicious way to nosh on almond butter & jelly first thing in the morning. A grab & go type of deal that we can eat on our way to work, the gym, anywhere.
These bars by far exceeded any expectation I had. They are made with a crispy oatmeal crust and with very few ingredients like oats and dates. They're topped off with a homemade blueberry chia jam (see this recipe for how to make jam) and dreamy creamy almond butter. The almond butter in the oatmeal crust gives it that extra flavor and a healthy boost of fats and protein for us.

For the almond butter, I used Barney Butter in this recipe. It is 100% peanut free and is hands down the creamiest almond butter on the block. I always recommend it as the "starter jar" to your almond butter addiction. Even my friends and family who hate almond butter love Barney Butter. I used Barney Butter Bare Smooth because it doesn't have any added sugars or salts, so it is perfect for baking and cooking.
You definitely recognize Barney Butter from a handful of my previous recipes on the blog. Needless to say, it is a staple in our kitchen. I may or may not spoon it from time to time as my bedtime snack and smear it on my favorite cracker or two.
These Almond Butter & Jelly Breakfast Bars can be enjoyed as a breakfast bar or a sweet snack and dessert. You can keep them in the fridge for about a week or the freezer for longer. The crust is amazing cold and crunchy so definitely freeze at least one for later. Finally, you definitely need a food processor or blender of sorts for this to make the crust. The oats, dates, etc. need to broken down and combined into a dough of sorts.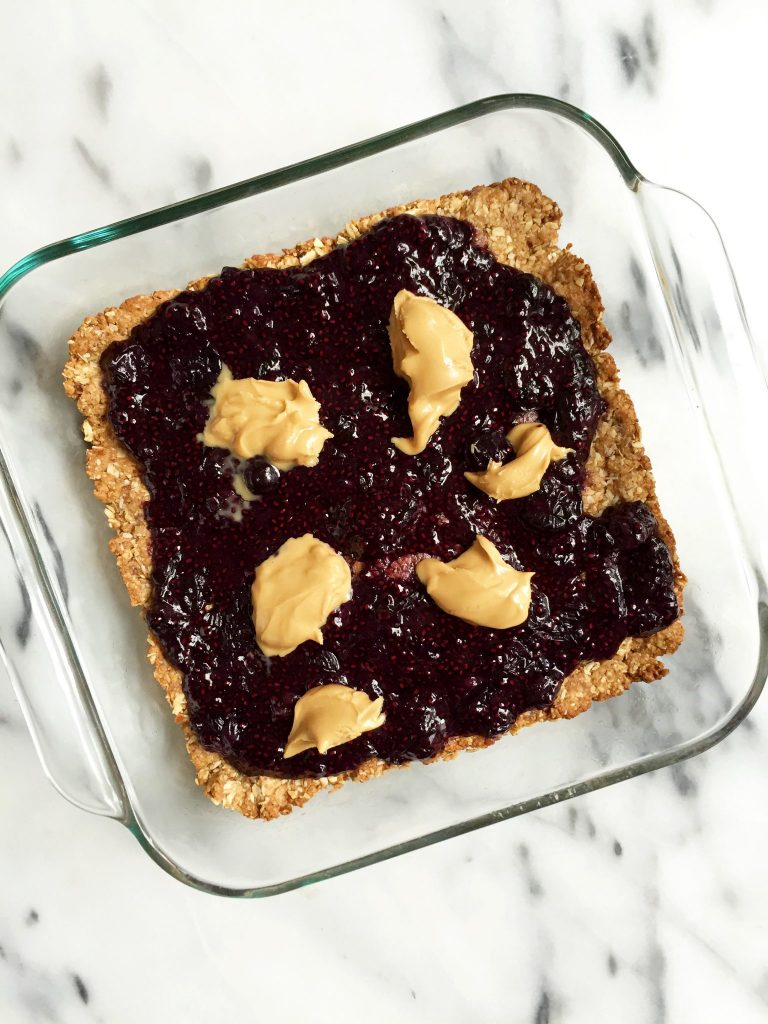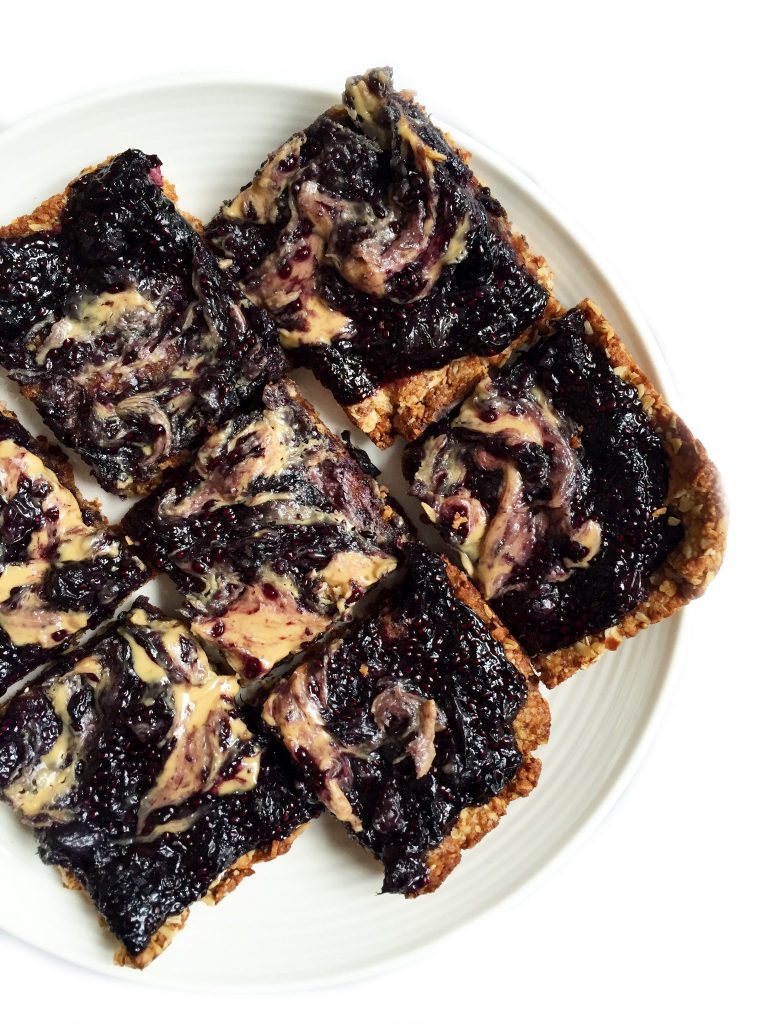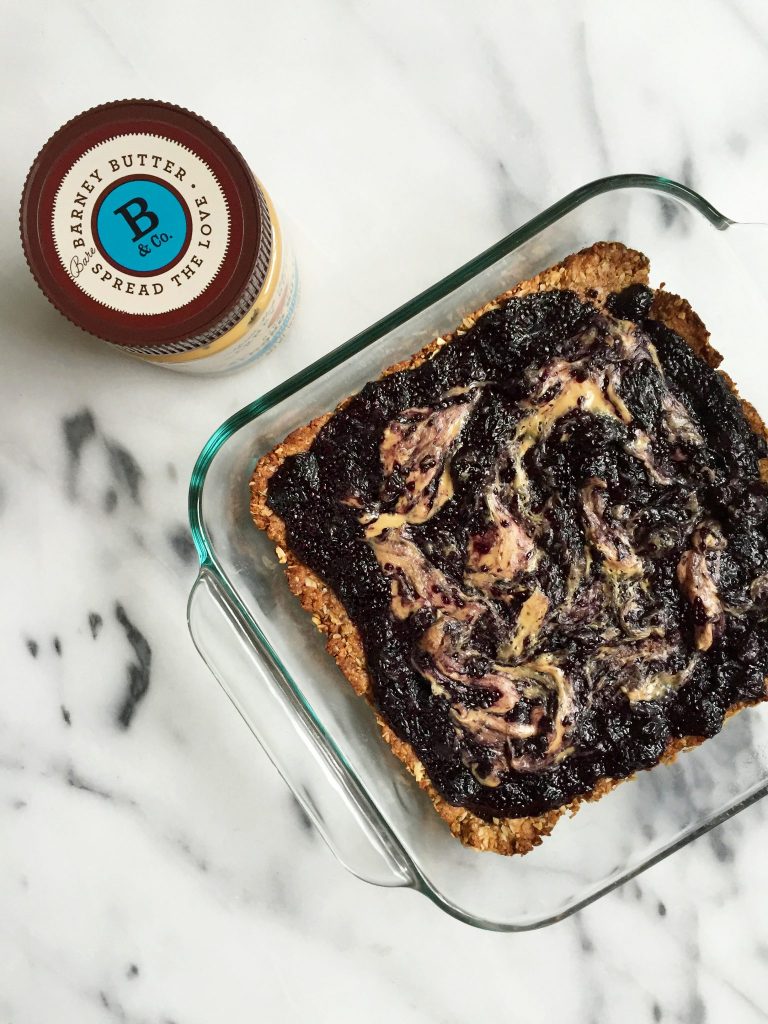 Print
Almond Butter & Jelly Breakfast Bars
Crust:

1 cup

of old fashioned oatmeal

1 cup

of pitted dates

1/3 cup

coconut flakes

1/4 cup

Barney Butter Almond Butter Smooth

2 tablespoons

of coconut oil

2 tablespoons

of raw honey or maple syrup

1 teaspoon

baking powder

1 teaspoon

cinnamon

Topping:

1 cup

of Blueberry Chia Jam (see blog post for link to recipe)

6 teaspoons

of Barney Butter Almond Butter Smooth
Instructions
Preheat your oven to 350 degrees and grease 8×8 baking dish
Add crust ingredients to food processor and pulse until well combined in a dough
Bake in oven for 15-20 minutes
Spread blueberry chia jam evenly on top of the bars once baked
Add 6 teaspoons of almond butter across the bars and use the end of your spoon to swirl it all together
Bake in oven for additional 10-15 minutes
Leave in fridge for up to 7 days or freezer for longer
Author:
Category:

gluten free friendly, vegan friendly, dairy free

Cuisine:

breakfast, dessert, snack
xx, Rach

SaveSave