Blueberry Oatmeal Crumb Pie Bars made with vegan, gluten-free ingredients for and easy and delicious blueberry dessert!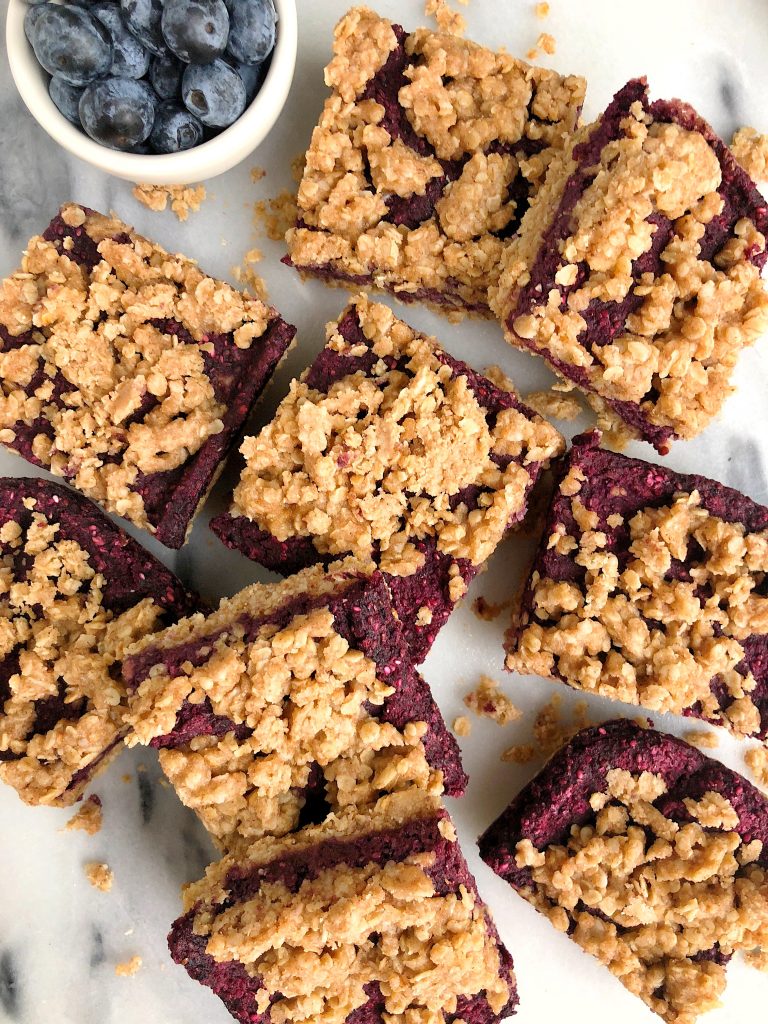 A new dessert is here friends. And for once it doesn't involve chocolate (shocker, I know).
These Blueberry Oatmeal Crumb Pie Bars are absolutely insane and they're perfect for summer with all the fresh organic juicy blueberries around. But let's be real, I will be making these all year around.
I'm not usually one to crave fruity desserts unless it involves banana aka because then it involves chocolate. But these blueberry pie bars are hands down one of the best desserts I have made in awhile. I wish I saved them for my book but lucky you, you will get them on the blog.
This recipe is completely plant-based, gluten-free and nut free-friendly. Plus it doesn't require a million different ingredients. If you are a usual reader of the blog or like to cook healthier recipes, you will likely have all of these ingredients on hand.
When Jord came home from work and saw these bars on these Blueberry Oatmeal Crumb Pie Bars on the counter, he said "uhh are these fair game?". Usually I am forcing him to eat dessert with me but with these he was voluntarily asking (I call that a win).
If you make these bars, I recommend storing them in the fridge and warming up when you eat. They last longer in the fridge (about a week) or even longer in the freezer.
Don't forget to share your Blueberry Oatmeal Crumb Pie Bars with me on social!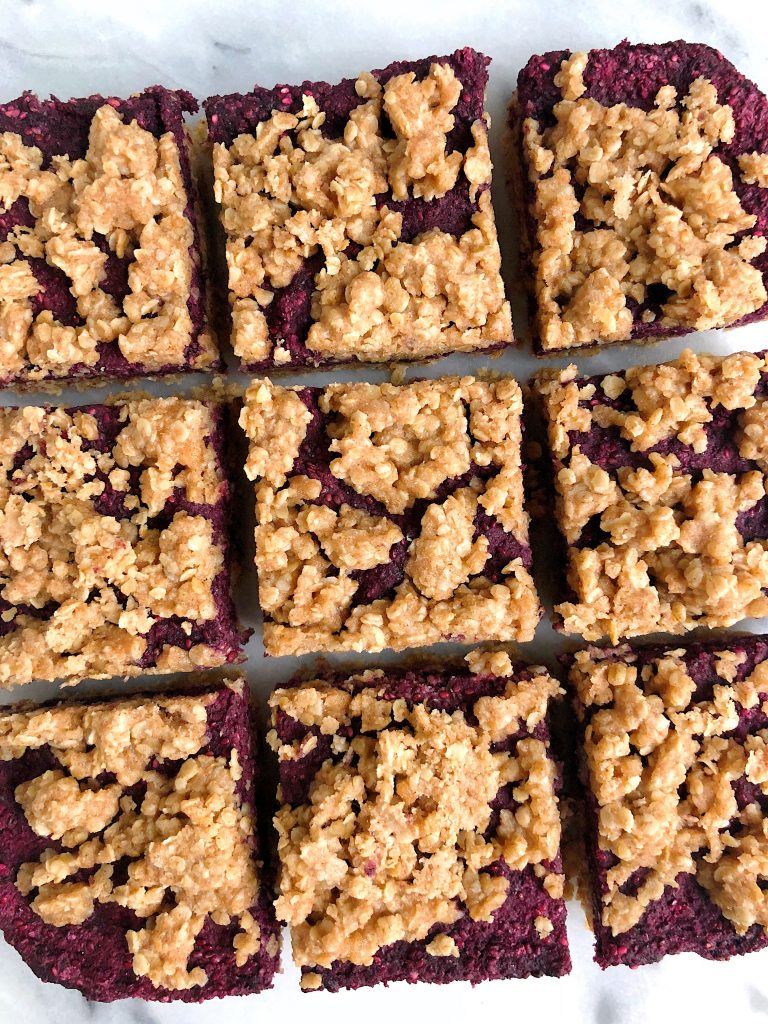 Print
Blueberry Oatmeal Crumb Bars
Blueberry Oatmeal Crumb Pie Bars made with vegan and gluten-free ingredients for and easy and delicious blueberry dessert!
Crust + Crumble:
Blueberry filling:
2 cups

organic blueberries (fresh or frozen)

1/2 cup

unsweetened applesauce (or

1/2 cup

mashed banana)

1 teaspoon

vanilla extract

3 tablespoons

chia seeds

2 tablespoons

coconut flour
Instructions
Preheat oven to 350 degrees and line a baking dish with parchment paper or grease well
In a large bowl, mix the oats, flour, coconut sugar, baking powder and cinnamon
Then mix in coconut oil and mix again
Add 2/3 of the crust to the baking dish and press down firmly with your hands
Add the blueberries, unsweetened applesauce and vanilla extract to blender or food processor and blend well
Add blueberry mixture to bowl and fold in chia seeds and coconut flour
Sprinkle the crumble on topping and bake for 20-25 minutes
Allow the bars to cool for a few minutes then slice and enjoy
Notes
Store in fridge for up to a week or freeze for longer!
xx, Rach
Thank you Better Body Foods for sponsoring this post! It means so much to me to work with brands I love and believe in!