Sharing my 3-minute Paleo Peach Crisp For One made with all gluten-free and vegan ingredients for a single serving healthy crisp recipe.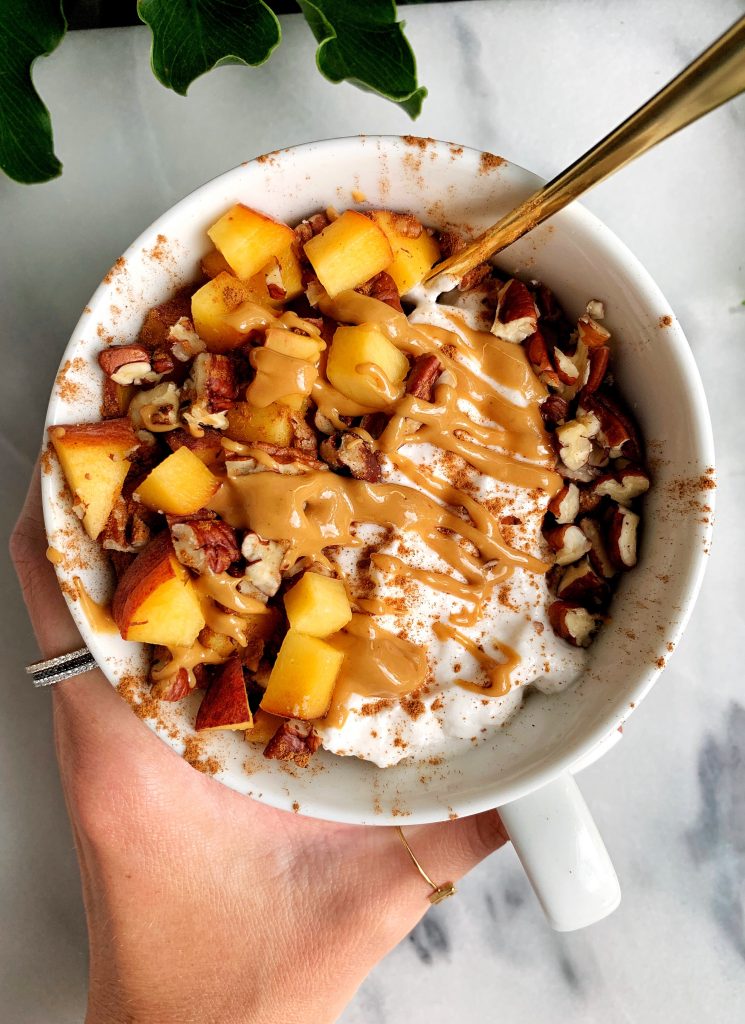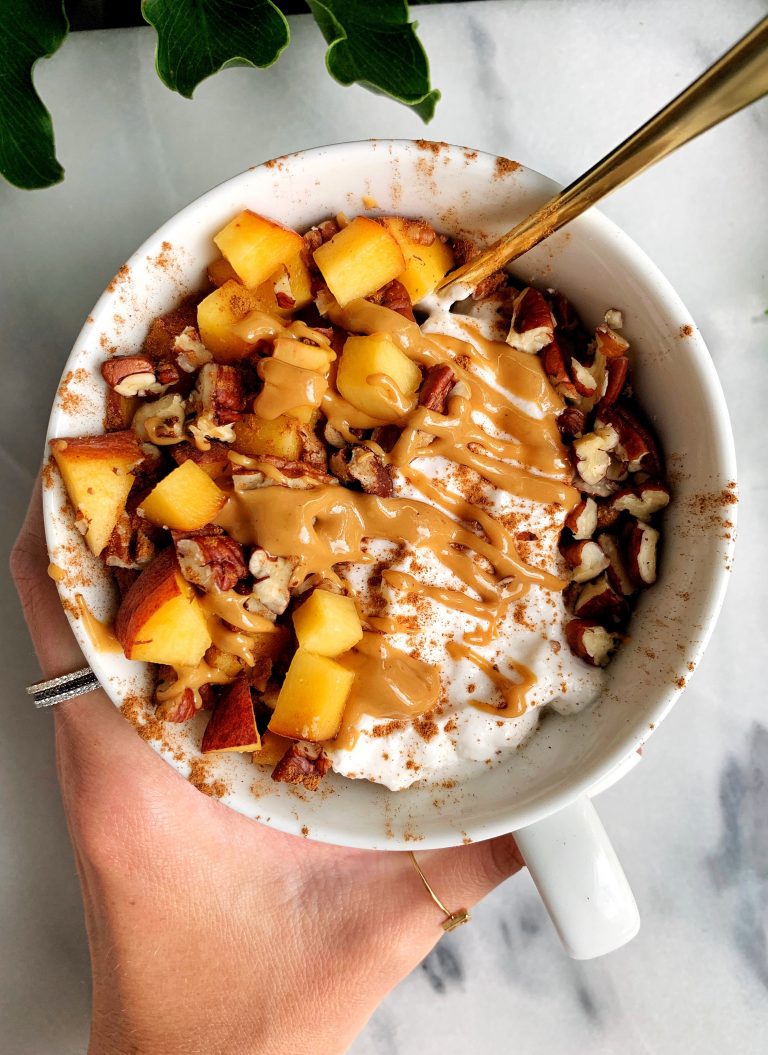 This is one of those "I have extra groceries I need to get rid of" kind of recipes and I am here for it.
It likely won't come as a surprise when I tell you that I'm not a huge fan of fruit-based desserts. I'm more about the chocolate craving and to me dessert needs to have some dark chocolate involved every single day.
Healthy fruit crips is at your fingertips…
I made this 3-minute Paleo Peach Crisp For One and ate it for breakfast yesterday and was very into it. It used up some of the fresh foods in the fridge before our trip this weekend and it tasted so good that I couldn't not share with you.
For starters, this recipe is ready in 3 minutes flat. That is it! It uses a few simple ingredients like organic peaches, pecans, coconut flour and a couple others for a lightly sweetened peach crisp you can enjoy with you and yourself. No need to share and no need to feel guilty (even though we should never ever feel guilty for eating anything) when you eat the whole thing.
All of the ingredients are vegan and paleo so there are no grains or refined sugars involved here.
I hope you guys love it as much as I do!
Here are a few of my other favorite fruit recipes too from the blog: Healthy Homemade Blueberry Cinnamon Rolls, Blueberry Oatmeal Crumb Pie Bars and Vegan Lemon Blueberry Breakfast Bread.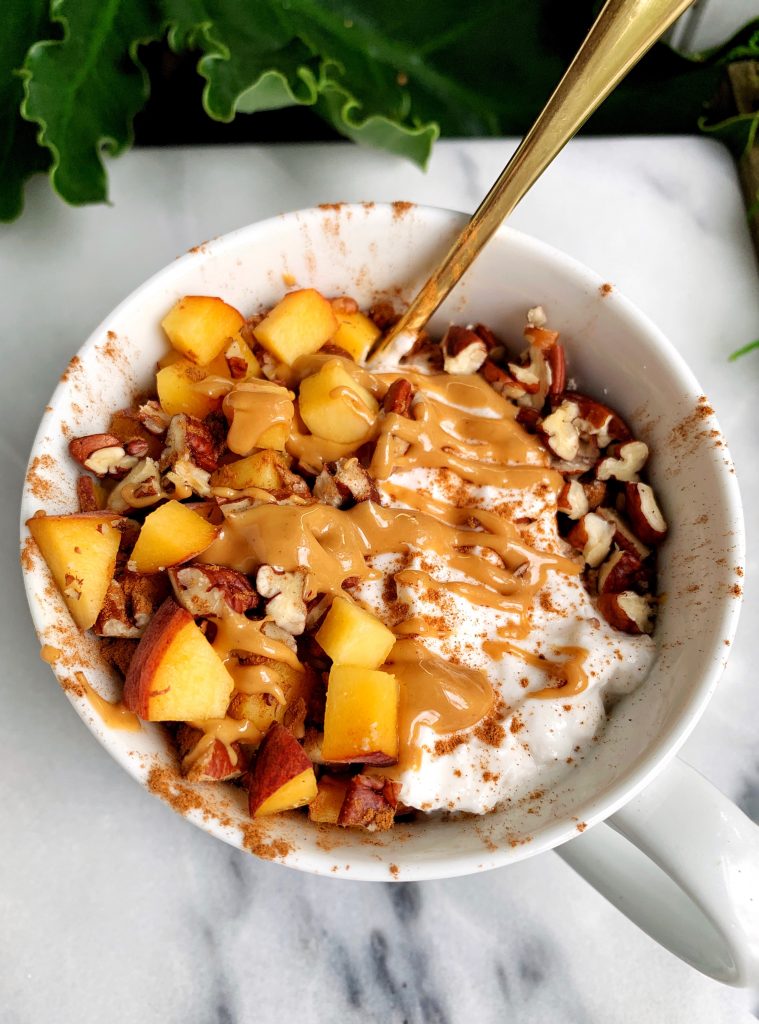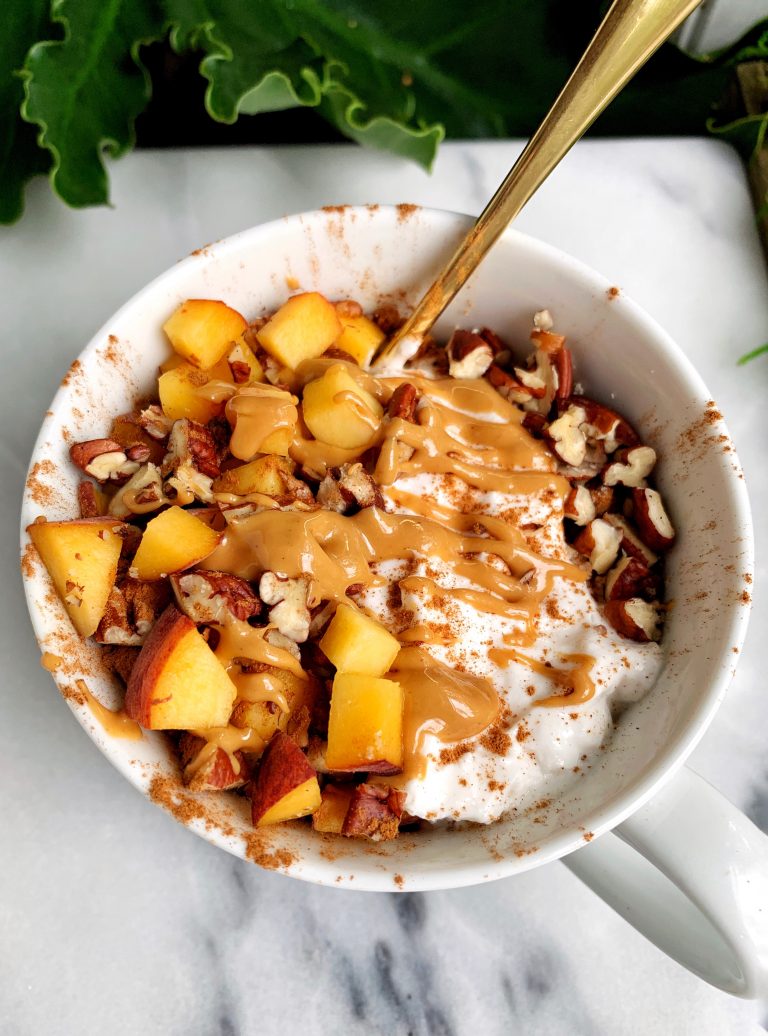 Print
3-minute Paleo Peach Crisp For One
Sharing my 3-minute Paleo Peach Crisp For One made with all gluten-free and vegan ingredients for the an easy and healthy peach crisp recipe!
Prep Time:

5 mins

Cook Time:

3 mins

Total Time:

8 minutes
1

organic peach, chopped into

1/2

inch pieces

1 teaspoon

coconut oil

1/2 teaspoon

coconut sugar

1/2 teaspoon

coconut flour

1/4 cup

chopped pecans

1 tablespoon

coconut shreds

1 teaspoon

maple syrup

Splash of vanilla extract

Sprinkle of cinnamon
Instructions
In a small bowl or mug, mix together the peach, coconut oil, coconut sugar and coconut flour
In another small bowl, mix together the coconut shreds, maple syrup, vanilla and cinnamon to make the crisp
Sprinkle the crisp on top of the peach then microwave for 3 minutes (you can alternatively bake at 350 for about 5-10 minutes in a oven-safe bowl)
Top with extra peaches, coconut yogurt, anything!
Notes
*Will stay good for 5 days in the fridge and is a delicious breakfast if you ask me!
xx, Rach