These Brown Butter Brownies are the ultimate gluten-free fudgy brownie recipe with crispy edges, ultra rich flavor and gooey chocolate inside.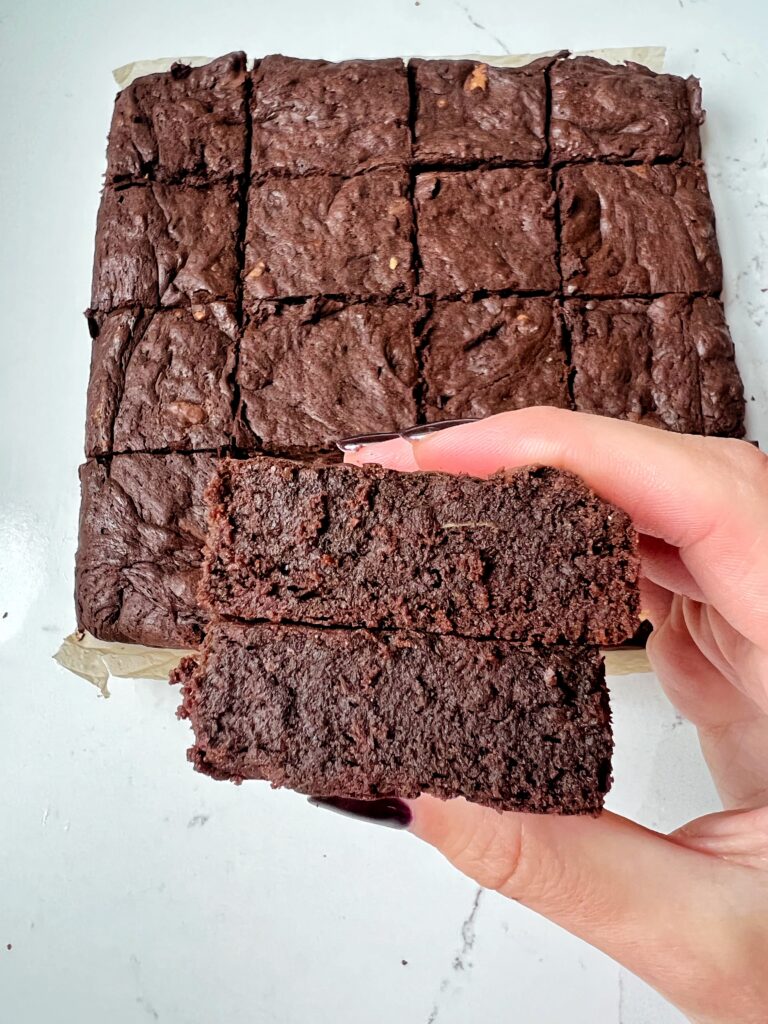 This brown butter brownie recipe is taking brownies to a whole knew level baby.
BROWN BUTTER + BROWNIES is completely insanity in the best way ever. You guys are going to fall in love with this recipe because it is a one-bowl brownie that has no refined sugar, they're gluten-free and some how taste ultra rich and delicious and completely perfect.
The taste of the brown butter and coconut sugar give these brownies SO much flavor. And don't even get me started on the texture of these. They're fudgy, slightly chewy and completely melt in your mouth. Plus even with all the brown butter and the extra step that brings, it is still a very easy brownie recipe to make. And you will only dirty one bowl to make them.
Tip: use a mix of semi-sweet chocolate chips and dark chocolate to give these brownies extra flavor and richness.
What ingredients are in gluten-free brown butter brownies:
Unsalted butter – you'll need about 1 1/2 sticks total and it's okay if its from the fridge because we are browning it over the stove
Dark chocolate – you will need a mix of chocolate chips and dark chocolate bars
Coconut sugar – I use this instead of a mix of cane sugar and brown sugar so they are actually refined sugar free
Eggs – I haven't tested flax eggs here or an egg replacement
Gluten-free all purpose flour – I don't recommend another flour here besides all purpose flour if not gluten-free
Cacao powder – I use this and not cocoa powder but you could use that as well if you want
How to make brown butter brownies:
Preheat oven to 350 degrees F and line an 8-inch square pan with parchment paper and grease well
In a small saucepan set over medium low heat, melt the butter. Stirring occasionally, continue to cook the butter, increasing the heat to medium. You will see after a few minutes the butter develops a nutty aroma and brown bits start to form at the bottom. Once the bits are amber (about 2-3 minutes later), remove from heat
Add in 4 ounces of dark chocolate and stir until melted
In a large bowl, combine coconut sugar, eggs, and vanilla and mix until completely combined
Gradually pour in the warm brown butter chocolate mixture into the bowl and continue to mix
Stir in flour and cacao powder until just combined then stir in the chocolate chips
Pour into prepared pan and smooth out with a spatula
Bake in the oven for 22 to 25 minutes then let cool in pan completely before slicing and serving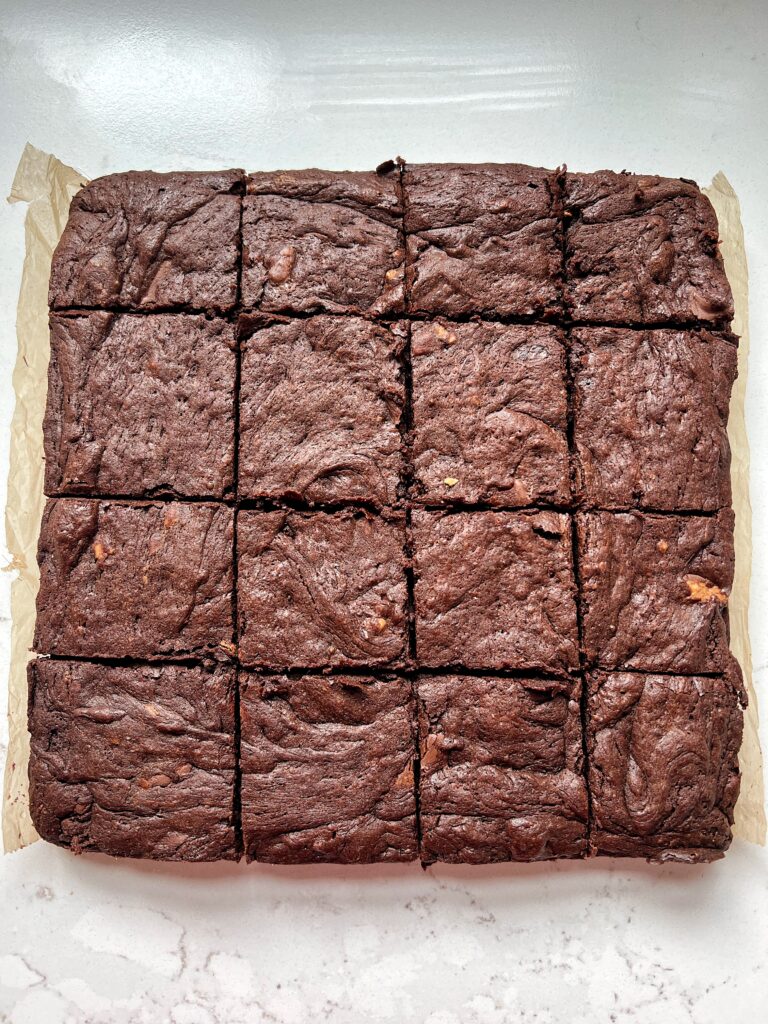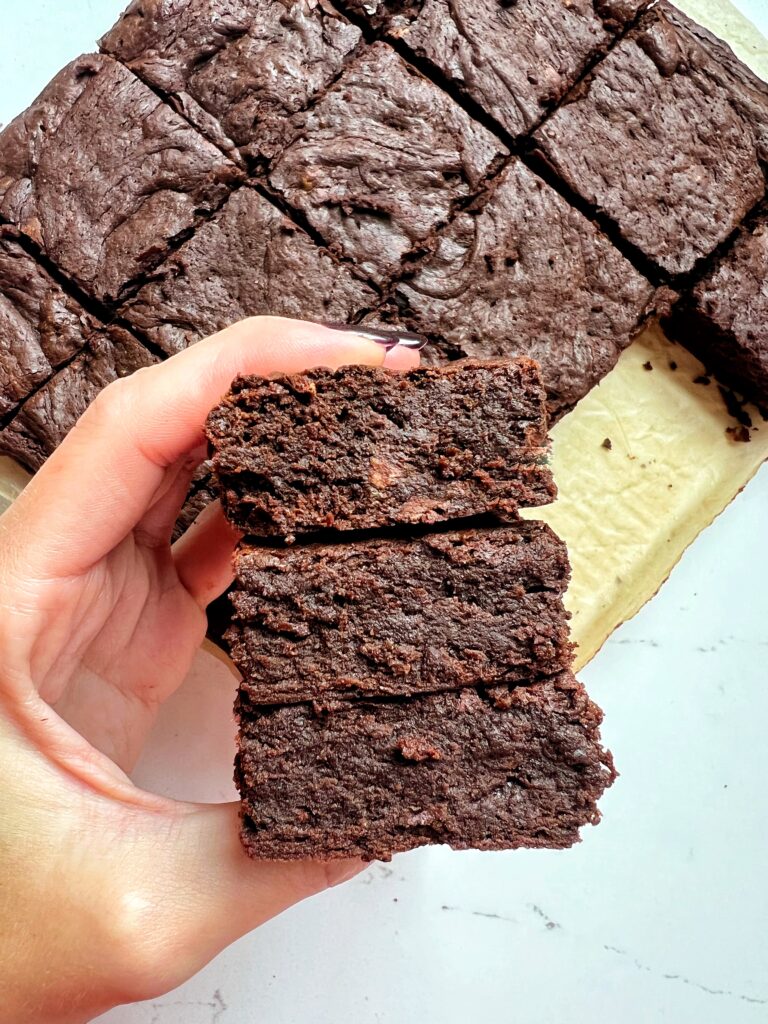 Tips for success:
Take the brownies out after 25 minutes max of baking. You don't want to overcook these and you also want the brownies gooey and most. I stick a toothpick in and I look for some moist crumbs to be attached to it
If you want to get *real* crazy making these brownies, you can also double the recipe and bake it in an 9×13 baking dish for about 30 minutes!
Once the brownies come out of the oven, let them cool for a few before slicing them!! That way they stay together well too
When it comes to storing these brownies, keep them in an airtight container for 5 days max. I personally like to keep mine in the fridge or freezer because they are even more fudgy when chilled
A few other chocolatey dessert recipes to make:
Paleo Chocolate Pudding Cake (vegan)
Epic Gluten-free Chocolate Cake Mix Cookies
Paleo Flourless Chocolate Cake (gluten-free)
The Best Paleo Brownie Crinkle Cookies (nut-free + gluten-free)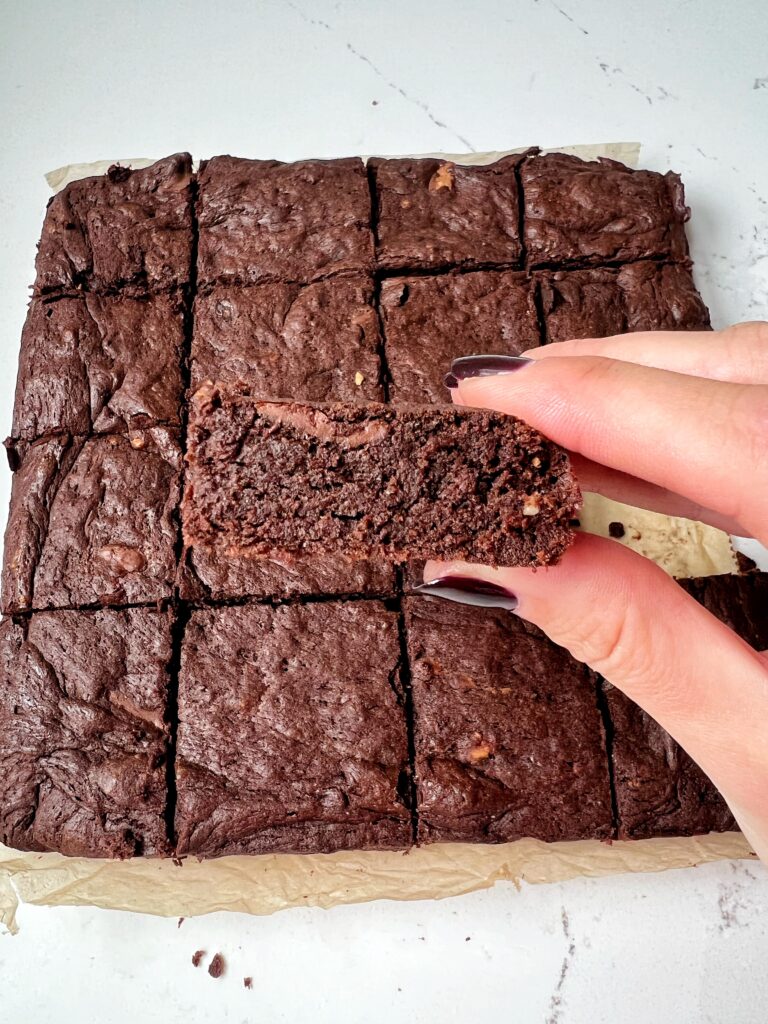 Print
Brown Butter Brownies (gluten-free)
These Brown Butter Brownies are the ultimate gluten-free fudgy brownie recipe with crispy edges, ultra rich flavor and gooey chocolate inside.
Prep Time:

10 mins

Cook Time:

22 mins

Total Time:

32 minutes
Yield: Makes 9-12 brownies 1x
Instructions
Preheat oven to 350 degrees F and line an 8-inch square pan with parchment paper and grease well
In a small saucepan set over medium low heat, melt the butter. Stirring occasionally, continue to cook the butter, increasing the heat to medium. You will see after a few minutes the butter develops a nutty aroma and brown bits start to form at the bottom. Once the bits are amber (about 2-3 minutes later), remove from heat
Add in 4 ounces of dark chocolate and stir until melted
In a large bowl, combine coconut sugar, eggs, and vanilla and mix until completely combined
Gradually pour in the warm brown butter chocolate mixture into the bowl and continue to mix
Stir in flour and cacao powder until just combined then stir in the chocolate chips
Pour into prepared pan and smooth out with a spatula
Bake in the oven for 22 to 25 minutes then let cool in pan completely before slicing and serving
Notes
*Store in airtight container for 5 days or freezer for 2 months