Chocolate Banana Collagen Snack Bars made with gluten-free ingredients for a healthy collagen-filled snack!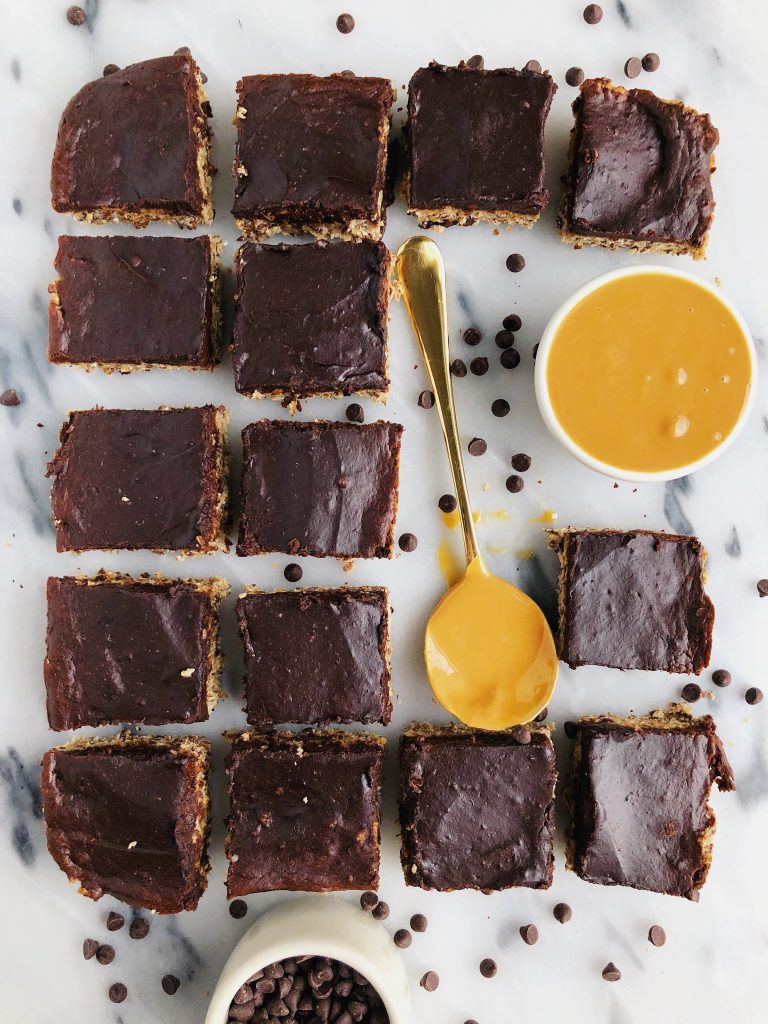 Chocolate Banana Collagen Snack Bars, oh my gosh. You won me over as soon as I suck my teeth into these gems.
Filled with creamy nut butter, mashed bananas, chocolate and the real star of the show – collagen peptides.
Collagen peptides have been a key ingredient here on the blog in many many recipes. I use them in a variety of foods like my egg-free Zucchini Brownies, Homemade Collagen Bread and more. It is a staple in my daily life, whether I add it to my hot tea or smoothie or bake and cook with it. It is also something I do recommend investing in. I know collagen peptides aren't the cheapest item to purchase, but you get a solid bang for your buck.
I use Vital Proteins Collagen Peptides, which comes from grass-fed cows and their Marine Collagen from wild caught fish. They make a variety of amazing collagen products and even have some flavored offerings.
By adding collagen into my daily eats, I am giving an extra boost of protein to the recipe, benefiting my hair skin and nails, joint health and digestion. Told ya it is worth the investment. I have Jord, my Mom and my Mother-in-law now all hooked too on Vital Proteins.
When you add the collagen peptide (or marine collagen) to this recipe, you don't even taste it! I recommend using the unflavored varieties for this so you really taste the banana and chocolate flavors of the bars.
These Chocolate Banana Collagen Snack Bars are gluten-free, dairy-free and egg-free. They stay well on the counter and if you leave in the fridge, they are good for about a week! I also froze some and have been defrosting them to add to my yogurt bowls with granola for breakfast (so good!).
WHAT YOU NEED
Ground flaxseed
Vital Proteins Collagen Peptides
Sprouted rolled oats
Oat flour
Banana
Maple syrup
Nut milk
Creamy nut butter
Cacao powder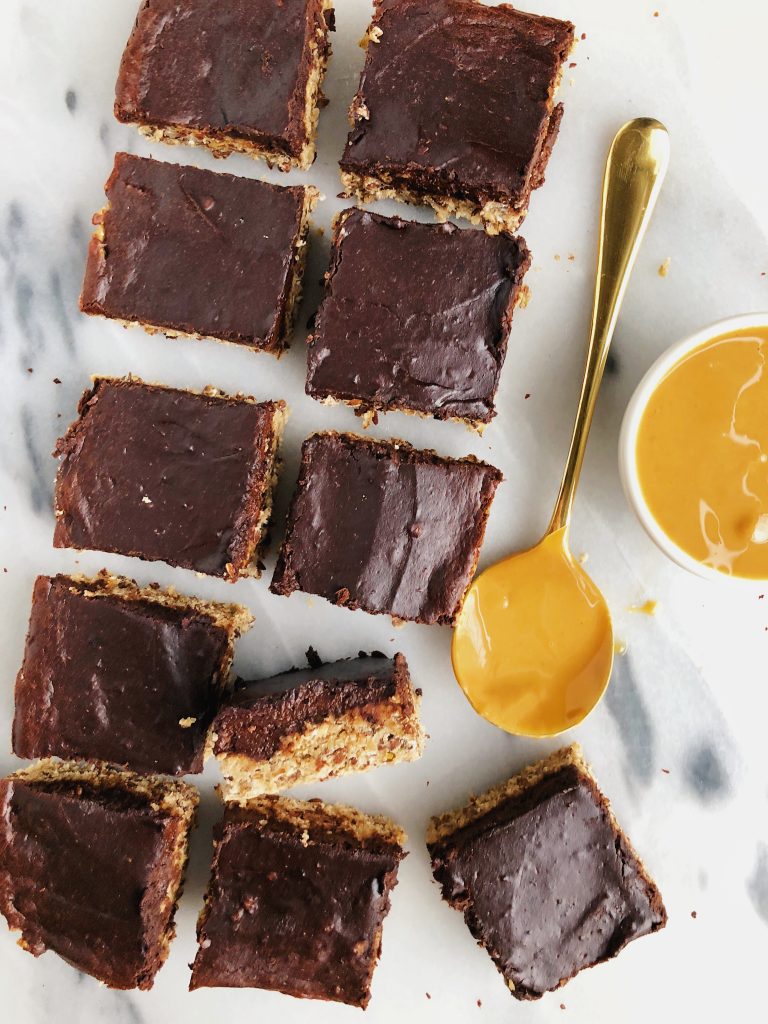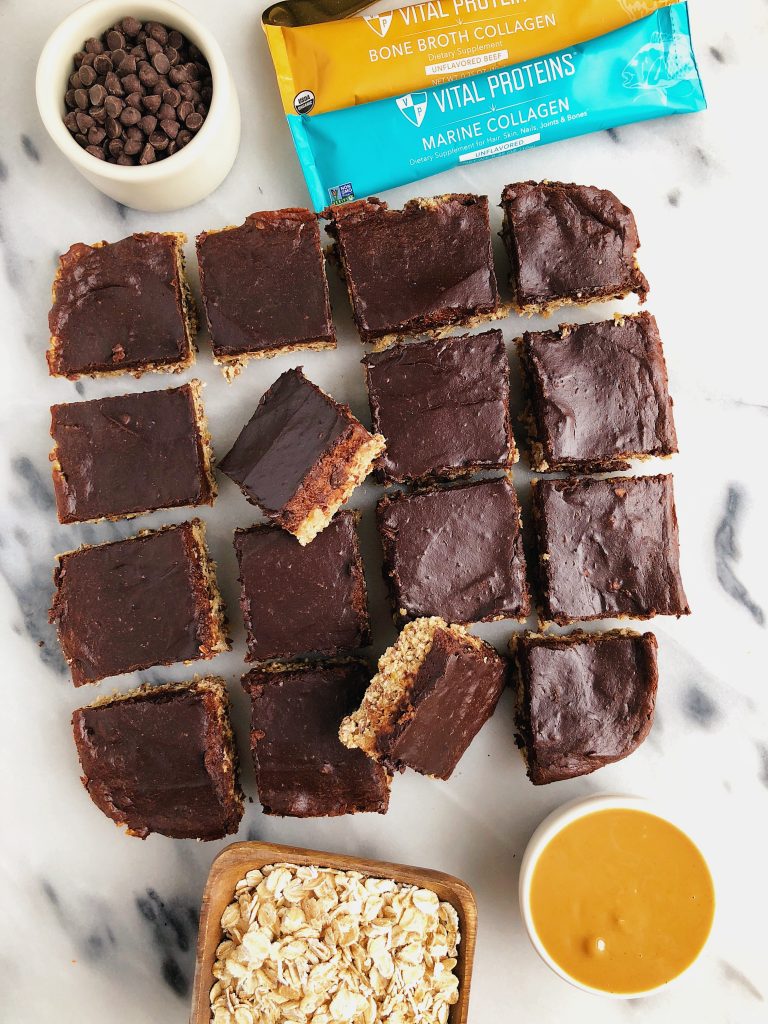 SaveSaveSave
Save
Print
Chocolate Banana Collagen Snack Bars
Bottom layer:
Chocolate banana layer:
Instructions
Preheat the oven to 350 degrees and grease an 8×8 baking dish with coconut oil or line with parchment paper
In a food processor, add the bottom layer ingredients and pulse until well combined (dough will be a bit sticky!)
Add dough to the baking dish and press down well
Wipe out the food processor and add in the chocolate banana layer on top
Pulse until creamy then add chocolate layer on to the bottom dough layer and evenly spread it across
Bake in oven for 20 minutes then enjoy! I recommend waiting about 10 minutes to cut and store these in the fridge for up to 5 days or on counter in air tight container for up to 3 days
xx, Rach
Thank you Vital Proteins for sponsoring this post! It means so much to me to work with brands I love and believe in!
SaveSave
SaveSave
SaveSave
SaveSave
SaveSave
SaveSave
SaveSave