Crunchy Caesar Salad with Brazil Nut Parmesan for a simple and healthy vegan caesar salad!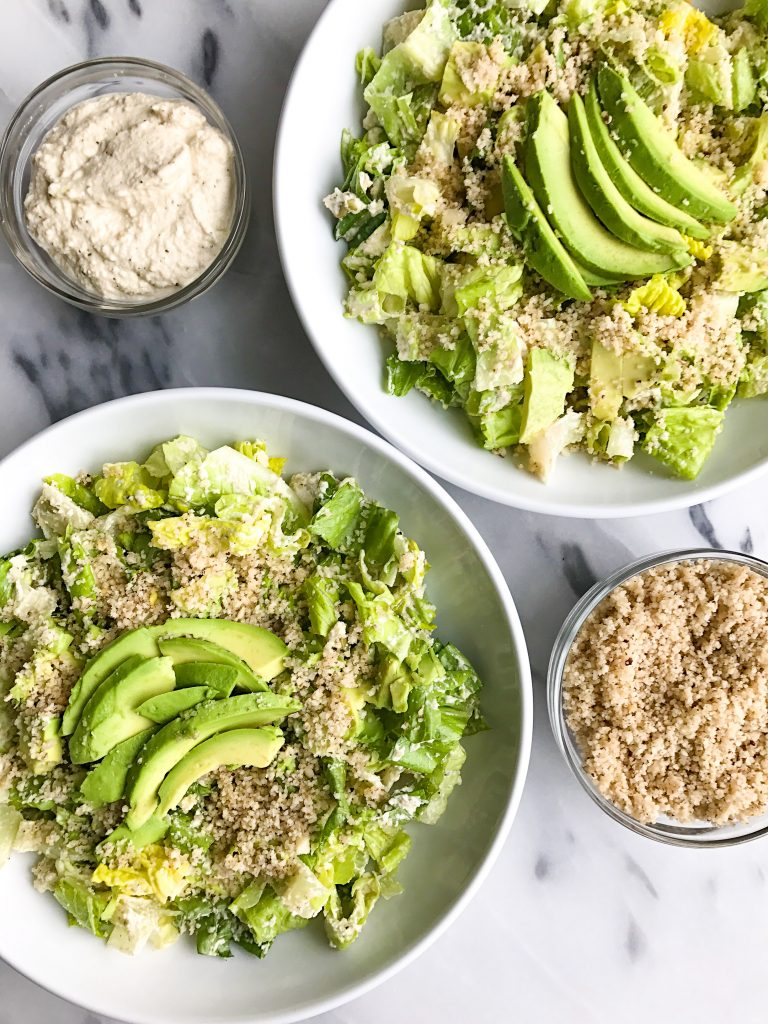 Brazil Nut Parmesan me every single day, puh-lease. But for realz, you guys are going to go crazy over this.
When I was in LA this summer for a few days, I went to Gracias Madre with a few of my blogging gals. 3 out of 4 of us ordered this spicy kale caesar salad that was on the menu.. Shocker, I know, we all ordered basically the same thing. Basic white chicks at their finest.
But this salad was seriously heavenly. It had this caesar dressing that was so flavorful and a nut-based cheese. It was all mixed into crunchy romaine lettuce with avocado. Completely fatty goodness on a plate. In fact, it was so good that I went back the next night and ordered it again (true story). I stared at the menu for a solid 20 minutes as my parent's patiently waited for me to decide. And of course in the end I order exactly what I got the last time.
Does anyone else do this? Whenever I go to a restaurant and love the meal I have such a hard time ordering something new the next time. It's like I am afraid it won't meet my expectations from the last time. Anyways, since I had this salad in August, I have not stopped thinking about it. The nutty-plant based cheese, bomb caesar dressing was too die for, MMM so good. I usually don't like many all vegan meals, but this one made a place in my heart (and stomach).
After a handful of attempts to recreate the salad, it finally has been perfected. The homemade nut cheese, caesar dressing, everything. I was so excited to bring a taste of Gracias Madre home to Jord too and now I can whip this up in minutes anytime I am craving.
I use my go-to greens of course as the base. Organic Girl romaine heart leaves is seriously unlike any other. When my grocery store runs out, I border-line have a panic attack. It is so crunchy, so fresh and 100% organic. All of their greens are staples in my recipes here.
I head back to LA in a few weeks for Expo West and already have a reservation at Gracias Madre for the weekend I am there. I won't even need a menu when I sit down. Tequila on the rocks with lime, chips and guac and kale caesar for me.
You babes are going to LOVE this recipe. I am going to try it with some grilled chicken next time I make it for a little extra protein too… NOM
YOU WILL NEED
Organic Girl romaine heart leaves
Avocado
Brazil nuts
Sea salt
Garlic
Cashews
Lemon
Water
Black Pepper
QUICK NOTES
The caesar dressing stays good for about 5-7 days in the fridge but I do not recommend adding to your greens until day of or right before eating (salad will get soggy)
Cashews work best for this dressing, same for the brazil nut parm so I do not recommend subbing another nut. If you do and it works, definitely let me know 🙂
Feel free to get creative with toppings and add chicken, veggies, etc. Or some homemade croutons, YUM!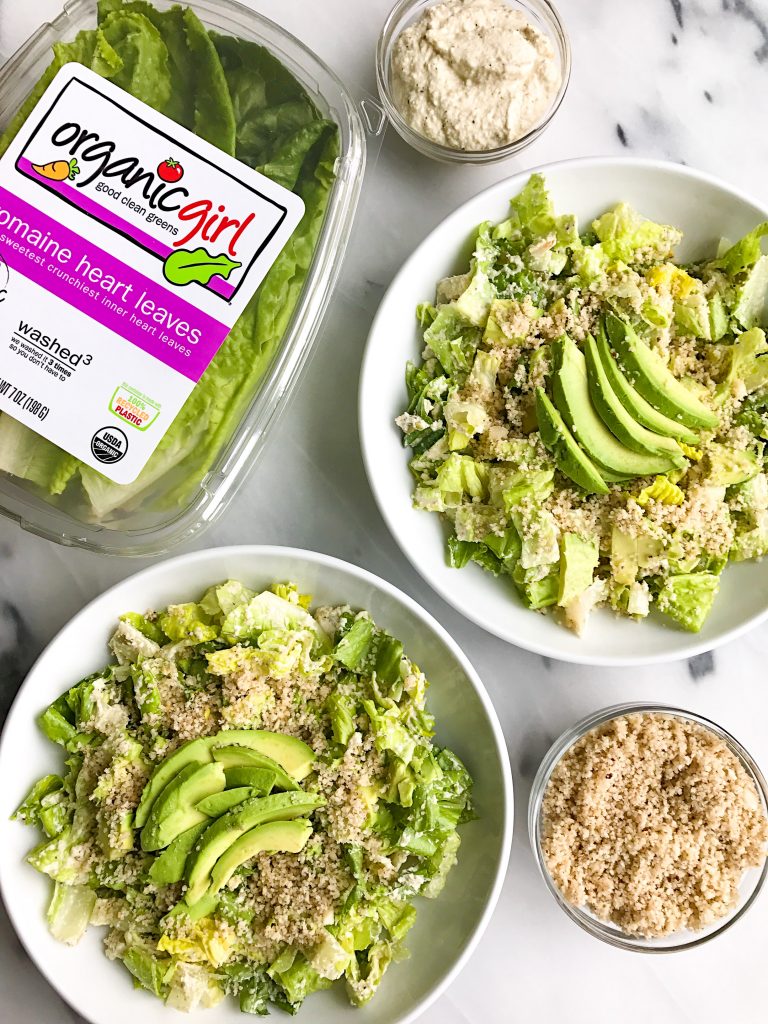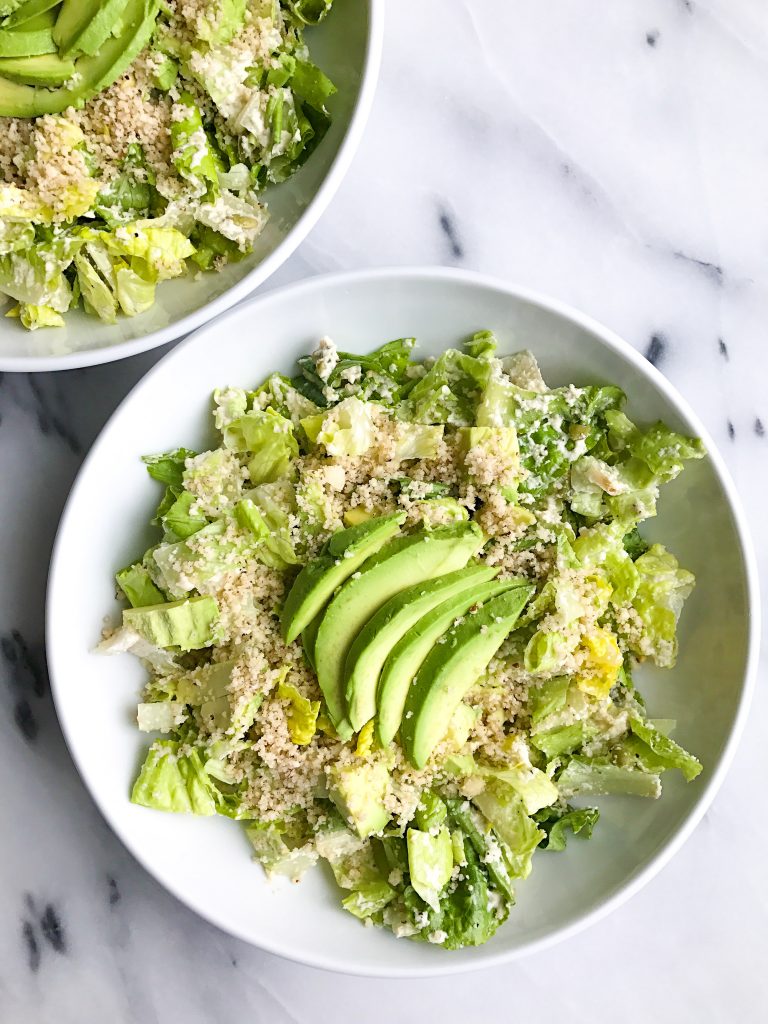 Print
Crunchy Caesar Salad with Brazil Nut Parmesan (vegan)
Prep Time:

10 mins

Total Time:

10 mins
Brazil Nut Parmesan:

1 cup

brazil nuts

1/2 teaspoon

sea salt

1

clove garlic

Caesar Dressing:

1 cup

soaked cashews (overnight in warm water or soaked in boiling hot water

10

min)

1/2

lemon, juiced

1/2 cup

water

2

cloves garlic

1/2 teaspoon

black pepper

Salad:

1

container of Organic Kale Romaine

1

avocado, sliced

3 tablespoons

hemp seeds (optional)
Instructions
Begin making the brazil nut "parm" first by placing ingredients in food processor and pulse until crumbled consistency
Remove from food processor and set aside
Next begin making dressing by combining ingredients in food processor and blend until creamy (if too thick, add more water)
Chop romaine and begin making salads by adding romaine, brazil nut parm, avocado and hemp seeds
Add desired amount of dressing and toss!
*You will likely have left over dressing and it will stay in fridge for 5-7 days
Author:
Category:

vegan, gluten free, grain free

Cuisine:

lunch, dinner, salad
xx, Rach

Thank you Organic Girl for sponsoring this post. It means so much to me to work with brands that I love and who support rachLmansfield!