Family food prep! Sharing our food prep tips on how to efficiently prep food for you and your family to fuel everyone all week long.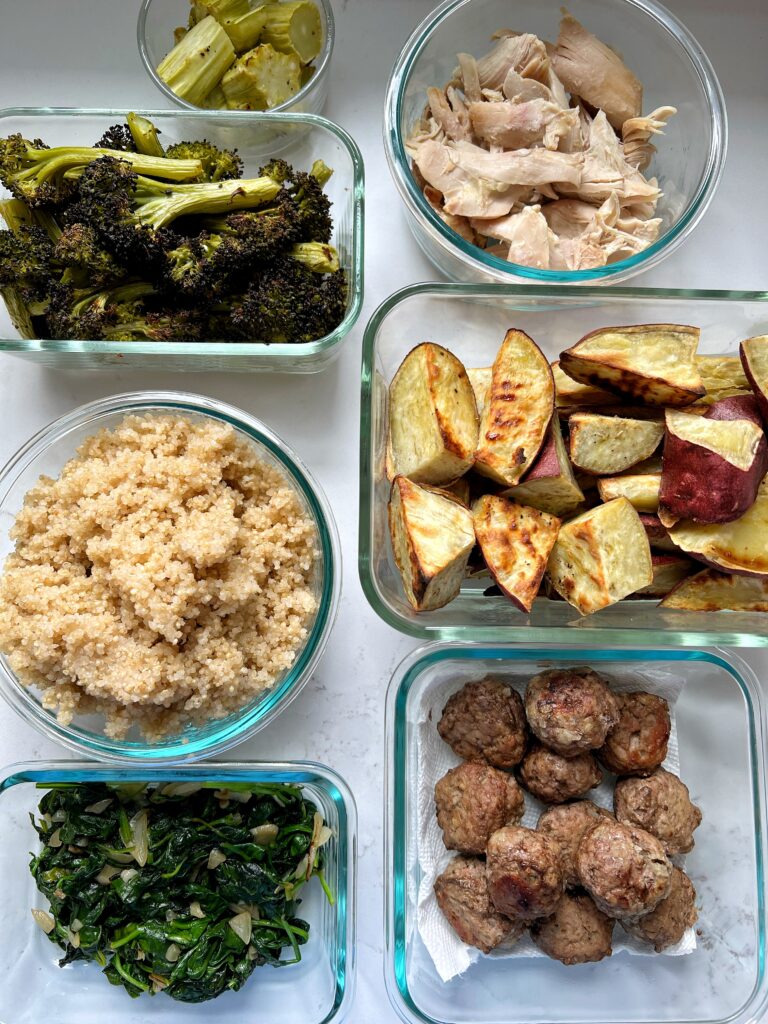 Prepping food in the beginning of the week has been a KEY part of our lives for years now. It sets us up for a week of healthy meals for not just ourselves now, but our kids too. And by putting in just 2 hours one day a week, you will be able to get a healthy, nutritious and tasty meal on the table each night with barely any effort. If you were to cook dinner for 30-60 minutes each night during the week, it would take longer than meal prepping for just one day.
Our approach to food prep is little different than others. We like to make things that we can mix and match all week long. And we keep things as basic and simple as possible so if the craving for tacos hits one night and the next you want pasta – you have ingredients in the fridge cooked and ready to go to make either of those happen.
These meal plans and our food prep series is designed to make your life easier. And fuel your entire family. You won't see a bunch of specific recipes. But instead a mix of various ingredients and showcasing how you can eat similar items every night but somehow spice things up and not get sick of this.
Skeptical? Just keep reading..
Here's how food prep for your family works:
Step 1: Pick out 2 types of protein you want to cook, 1 grain and at least 3 veggies to make. Optional: pick how you want to spice them up each night (use this week's meal ideas as a guide).
Step 2: Make a list of the ingredients you need to prepare each one. Keep in mind the number of people you feed will dictate the quantities of what you make. We do ours for a family of 4 but 2 adults and 2 young kids so what we prep differs from someone with 2 adults and 2 teenagers.
Step 3: Go to the grocery store or schedule your groceries to be delivered to save time/energy.
Step 4: Begin cooking. Set a timer so you actually see how long it takes you. We clocked ourselves and it took 1 hour 30 minutes this week. You will get quicker over time.
Step 5: Add everything to your tupperware or food storage of choice and store in the fridge until meal time.
This week's family food prep line up:
Protein 1: Slow cooker chicken OR roasted chicken if you want to get it done – for slow cooker chicken, I add a mix of chicken breasts and thighs to a slow cooker and cover in cooking broth (I use this one – code RACHL) and slow cook for about 6 hours or so.
Protein 2: Lamb meatballs – you can use ANY ground meat here!!
Grain 1: Quinoa cooked in half water and half broth (I use the extra from the chicken)
Veggie 1: Roasted broccoli – we roast in oil and spices at 425 degrees for about 20 minutes
Veggie 2: Sweet Potato fries/wedges – we roast in oil and spices at 425 degrees for about 40 minutes, flipping at the 20 minute mark
Veggie 3: Sautéed spinach – cooked in garlic and oil. I also like to under cook it a bit so it's not too soggy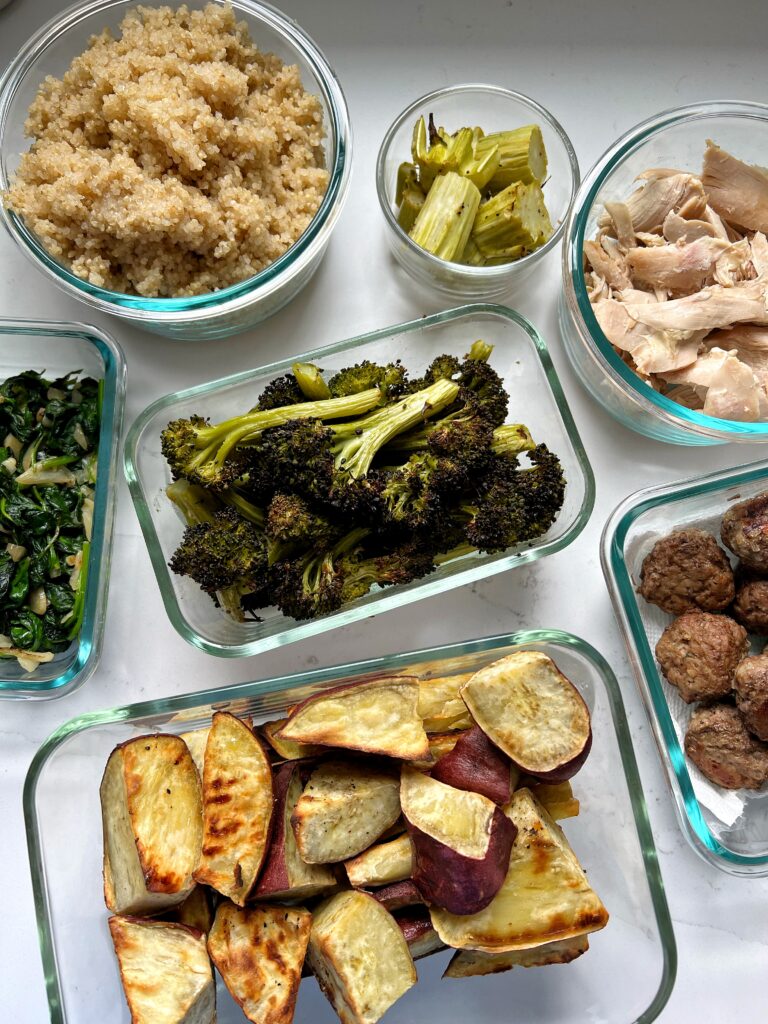 Four meal ideas to make with these items:
Meal idea 1: Greek-inspired lamb bowls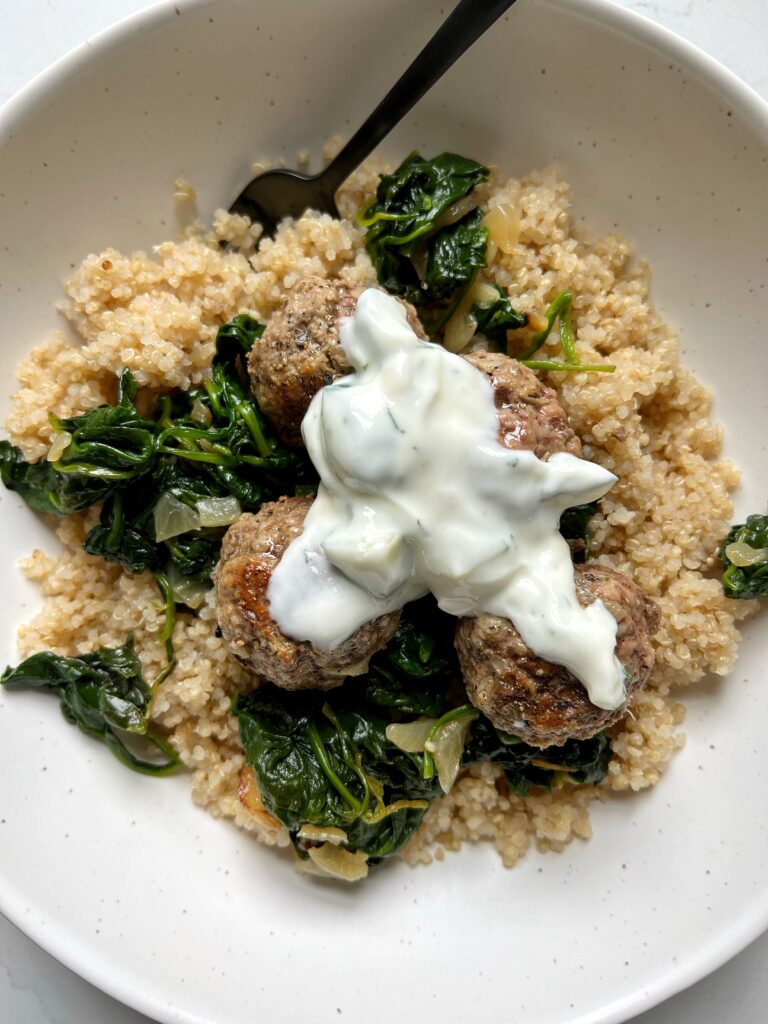 For this bowl, we add the quinoa, spinach and lamb meatballs together. I also love adding in some hummus or my homemade tzatziki sauce to it to dress it up a bit. You can also serve this bowl with some pita chips if you want.
Meal idea 2: Epic 5-minute quesadillas served with sweet potato fries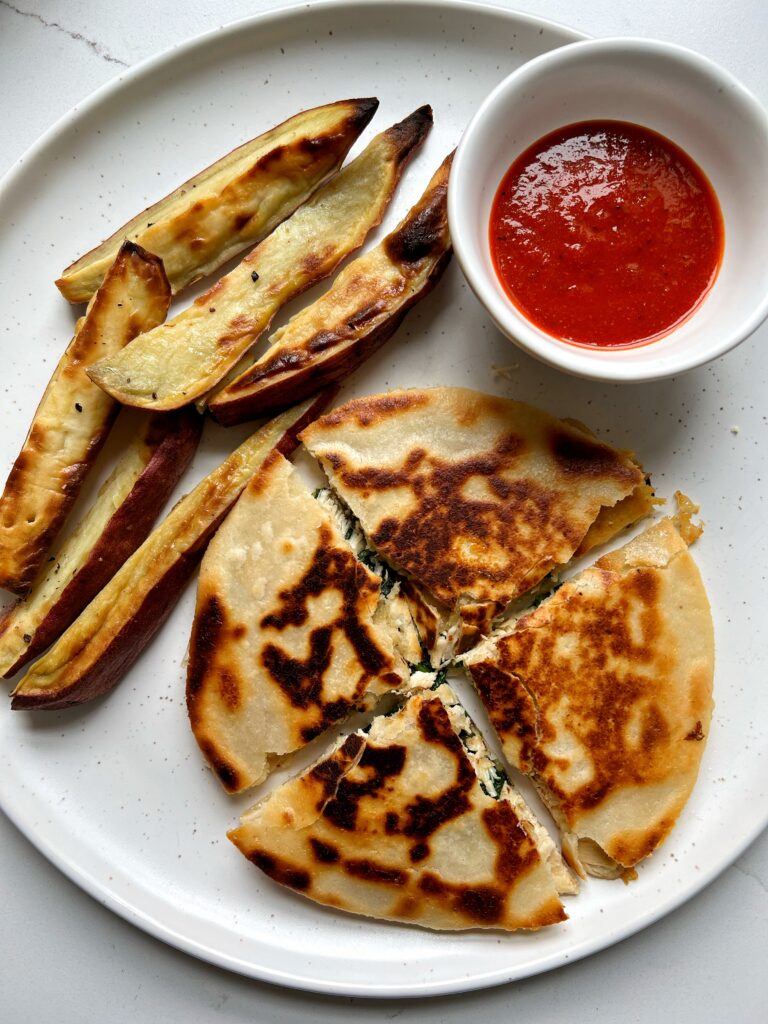 For this meal, you will need 2 tortillas per quesadilla. Spread hummus across one, add some of the spinach, chop up some chicken and add it on top and sprinkle some cheese and avocado if desired on the other side so the tortilla sticks to it then cook!
Meal idea 3: Traditional-style dinner bowl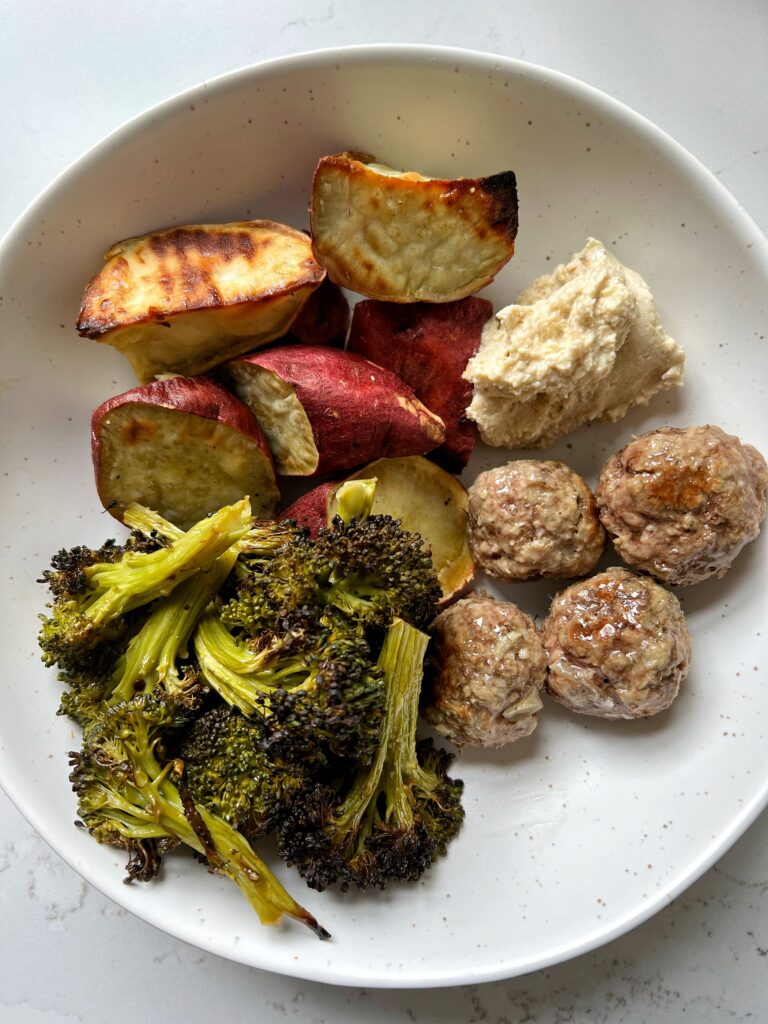 For this bowl, we take some of the sweet potato wedges, broccoli and lamb and have what I call a "traditional" looking dinner plate. You have the carbs, protein and veggies here. We also love adding sauces or dips to everything we can.
Meal idea 4: Quinoa "Fried Rice"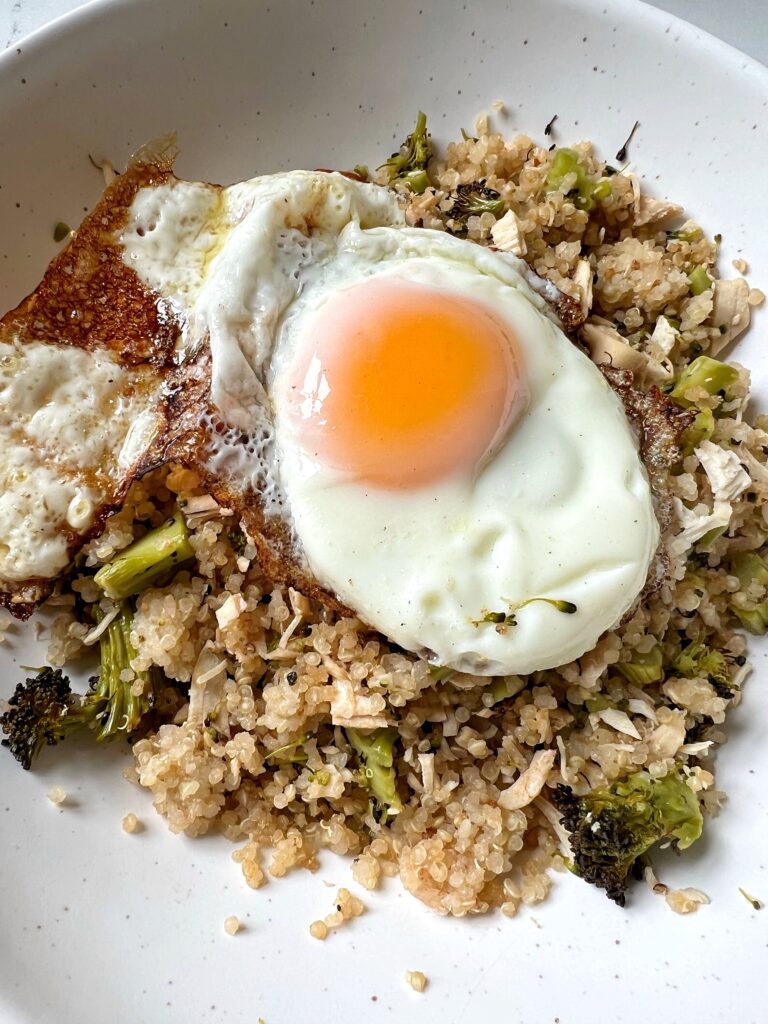 This is one of my favorites!! Take some of the quinoa and warm it in a greased skillet with some chopped broccoli and the chicken. Drizzle coconut aminos on top then if you're feeling fancy fry an egg on top for the ultimate meal.
FAQs on meal prepping for your family:
How long can food last once prepared?

I live my life by the 5 day rule. Add it to the fridge and eat within 5 days!

How can you make food taste fresh and not like it's leftover?

I prefer reheating it all on a greased skillet! It gets a little crisp to it then and doesn't get soggy or dried out either.

Do your kids eat everything you eat too?

Yup! These meal plans are designed to feed you AND your family

What is a realistic budget for weekly food spending?

This really depends on a few things such as: Do you buy organic? Where are you shopping? How many people do you cook for? We can definitely dive into this in another post and share more on budgeting as we get going with the new series.
Here is a link to the weekly family food prep grocery list!