Flourless Dark Chocolate Peanut Butter Cup Banana Bread made with 8 ingredients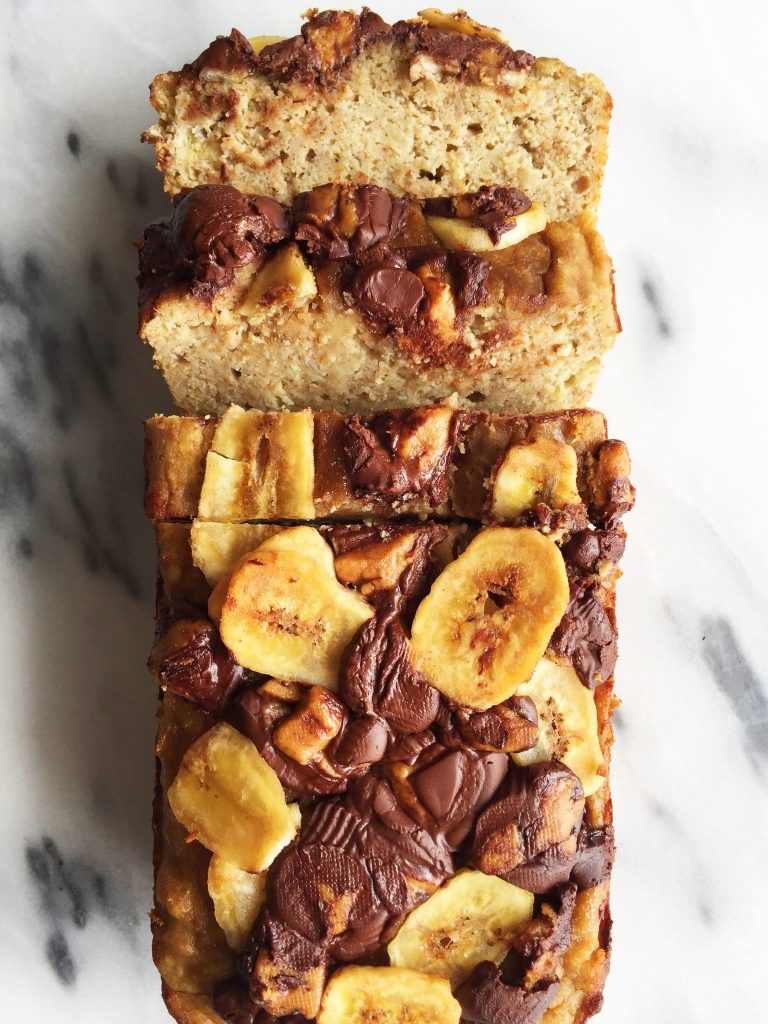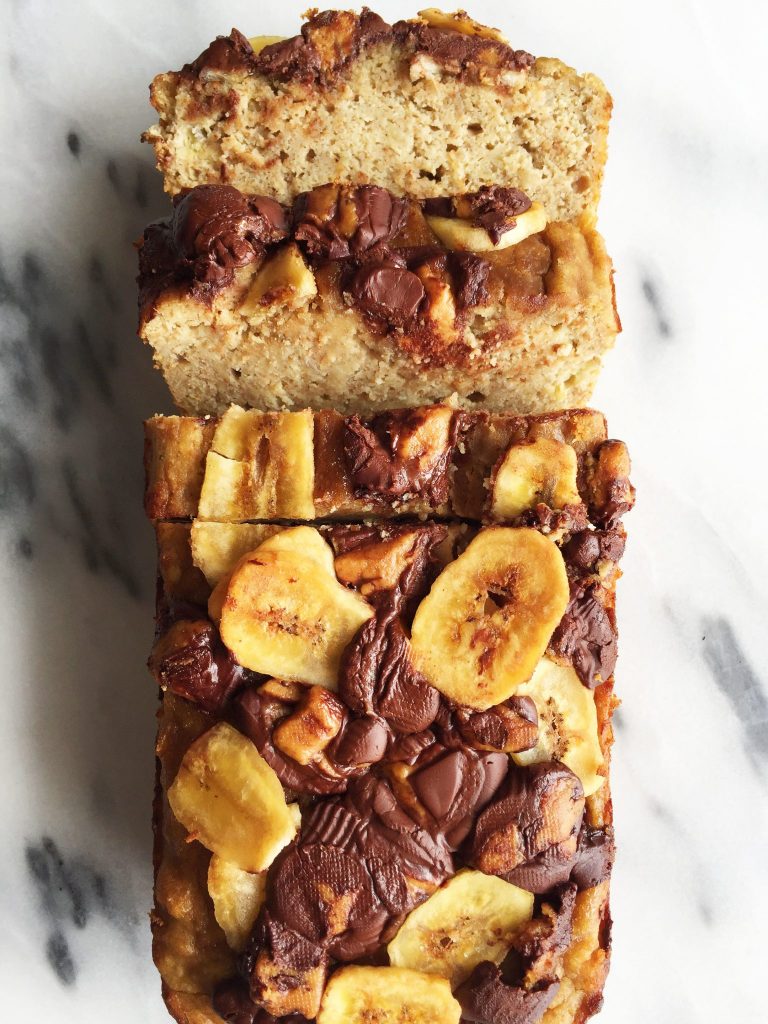 I have tingles inside right now typing this blog post to you.
I mean, Flourless Dark Chocolate Peanut Butter Cup BANANA BREAD? You guys, I am calling this the Justin's trifecta.
If you are a long-time reader (and by long I mean a year) of the blog, you know that my love for Justin's runs deep. So deep that we served mini dark chocolate peanut butter cups and my bridal shower (thanks mom) AND you better believe they were also in my bridal suite getting ready and served at the wedding for dessert. The venue had never had a black tie wedding served with peanut butter cups before, but we had no shame.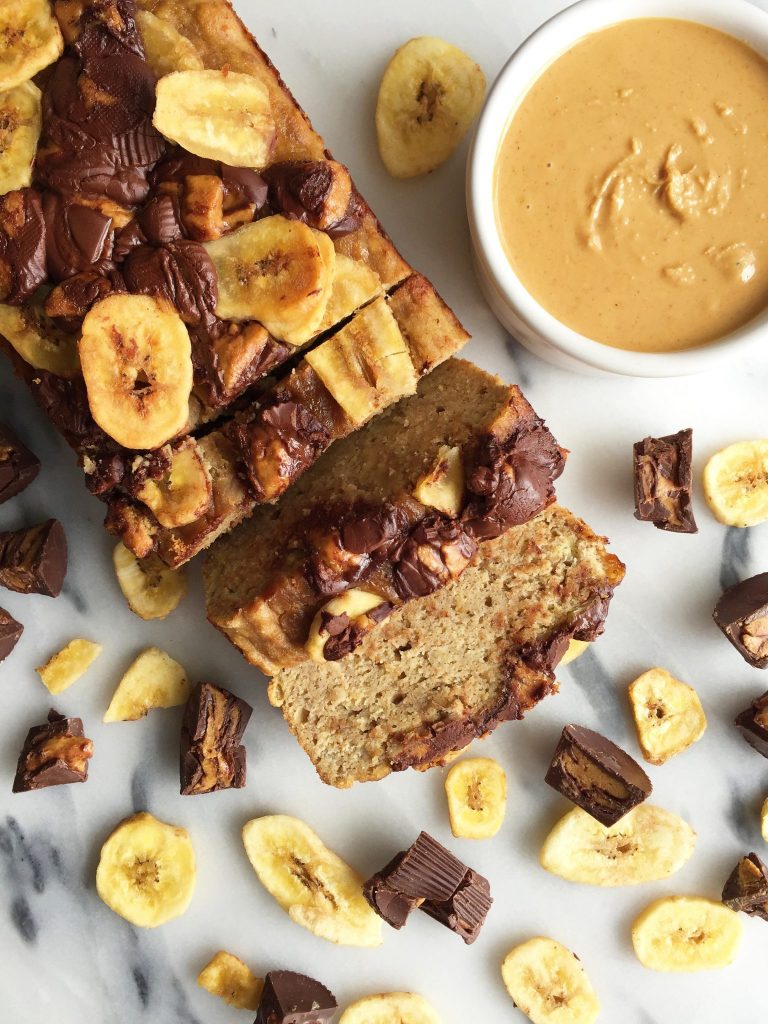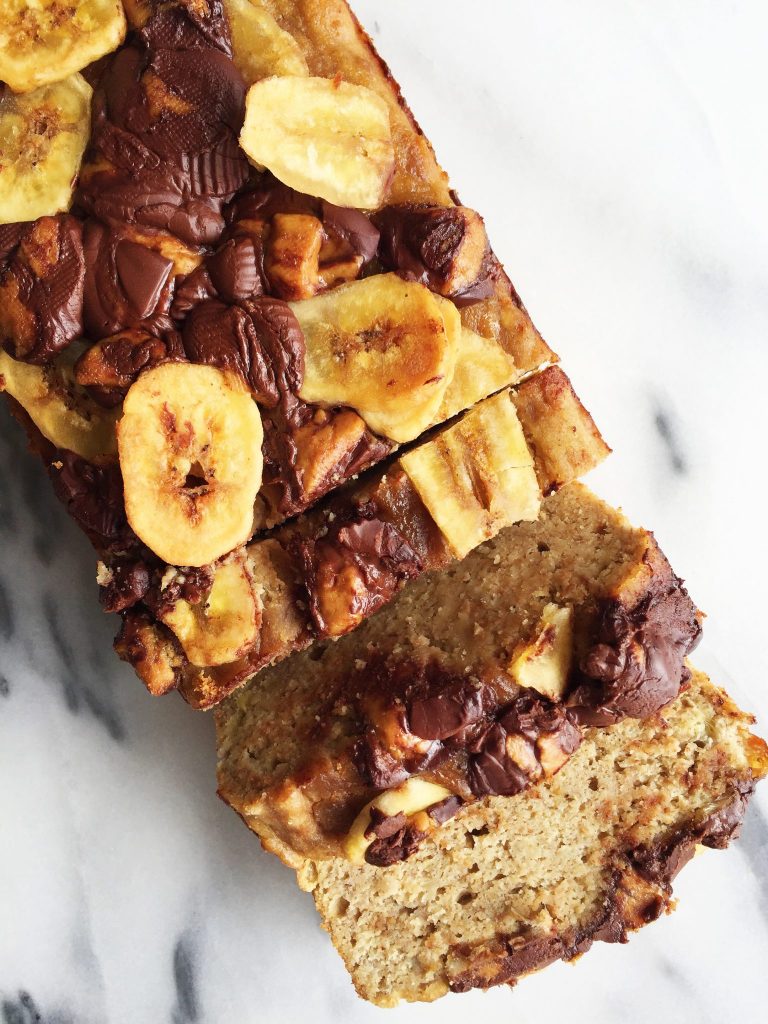 I am pretty sure my love for Justin's began when I started to eat "cleaner" and pay attention to what I was putting in my body. I grew up pretty addicted to all things peanut butter and chocolate related (hello Reese's and Skippy) and there was no way I was sacrificing those two just to live a healthier lifestyle. Then Justin's fell into my life. I like to call it love-at-first-sight. Better-for-you peanut butter and peanut butter cups with no additives and I was SOLD.
We started our relationship with the creamy peanut butter and dark chocolate peanut butter cups. Then took it to the next level with the vanilla almond butter (otherwise known as crack butter) and maple almond butter. Next thing you know I have over 6 jars of Justin's opened at one time. How does one need so much nut butter you may ask? Well they all have different purposes in my life.
Have a rough day? Spoon vanilla almond butter
Need to dip my apple slices? Grab that honey peanut butter
Want a drizzle on those pancakes? Melt a little maple almond butter
..And well you get the point.
Justin's and I have been together for about 3 years now and I have been pretty much stalking them since then. When I found out they were in Target's made-to-matter series, I was so proud. When I received a large blow up banana balloon at my door, I knew it was Justin's. Who else would have the same odd sense of humor as me? When I hear of a new innovation from their team, my stomach growls instantly.
My dream would be to make this Flourless Dark Chocolate Peanut Butter Cup Banana Bread for the man himself (Justin) one day just so he can taste what these amazing products can inspire everyone to create. This banana bread is my favorite (sorry don't tell the other banana breads here) and it is made with THREE Justins' products: banana chips, honey peanut butter and mini dark chocolate peanut butter cups on top. Are you drooling yet?
But the best part is how it really isn't as indulgent as it sounds. I used coconut flour, no butter, not added sugars.. you know how I roll by now.
Now go make this and once you are about to take your first bite, inhale one deep breath and just thank Justin for making this possible.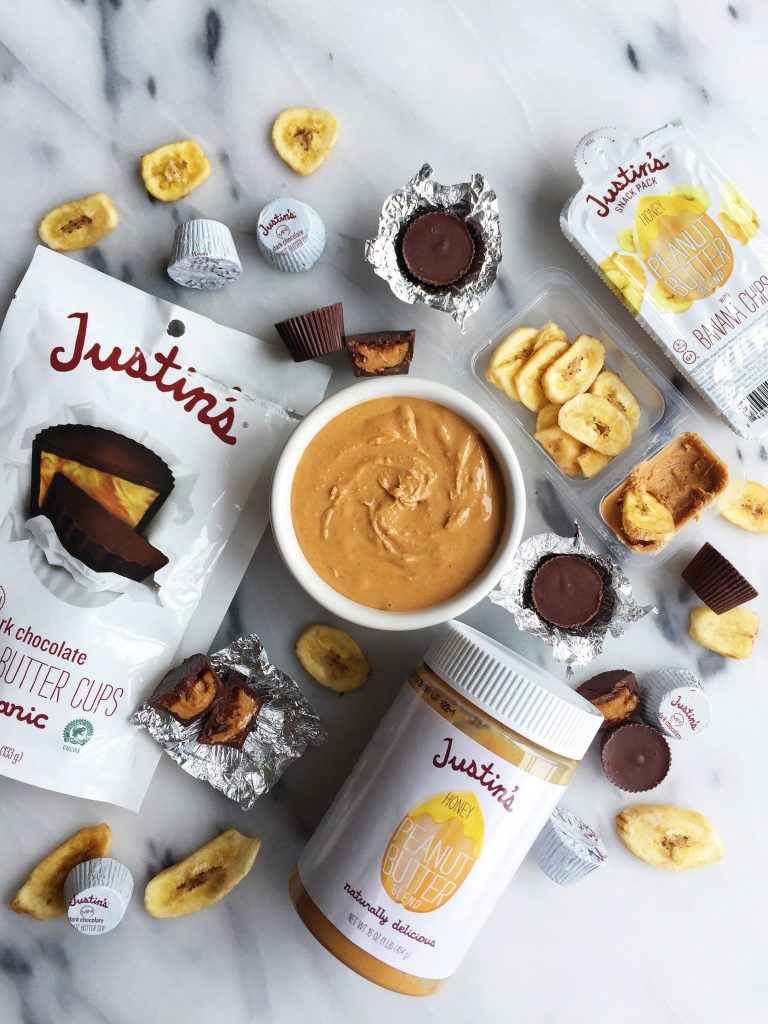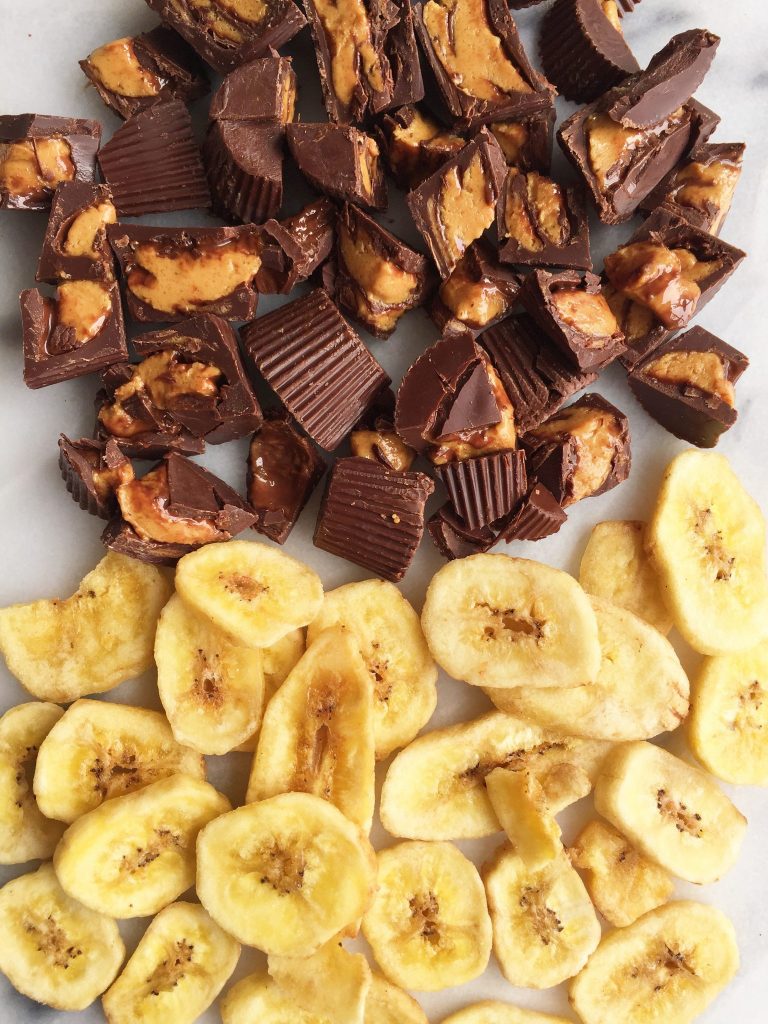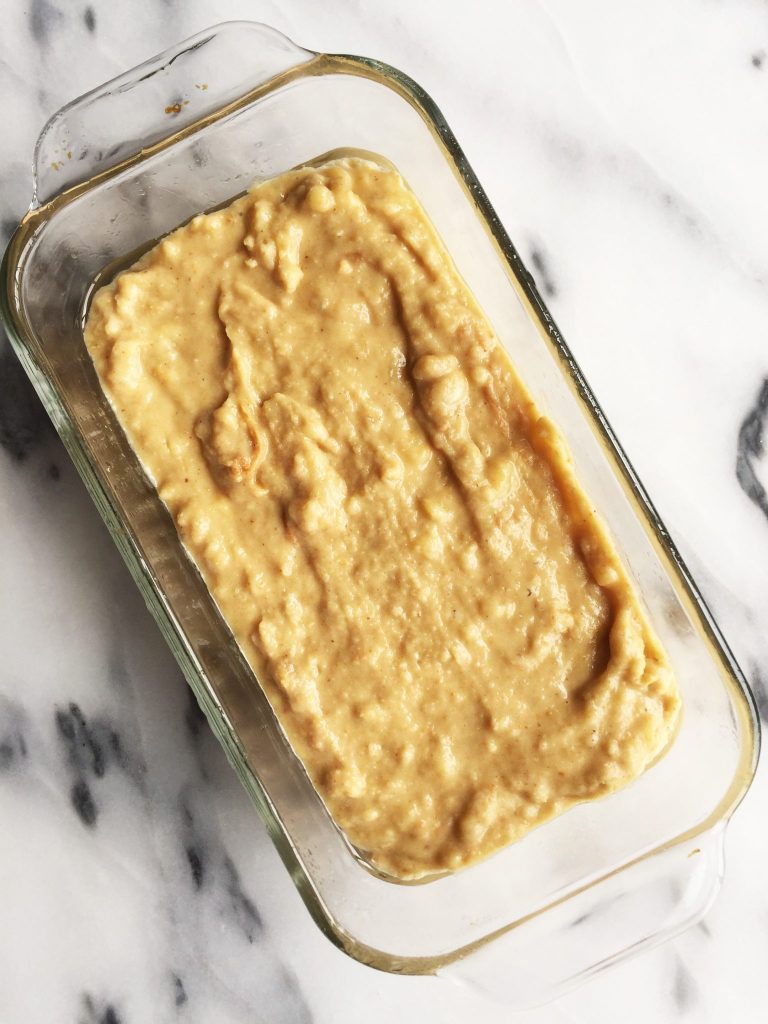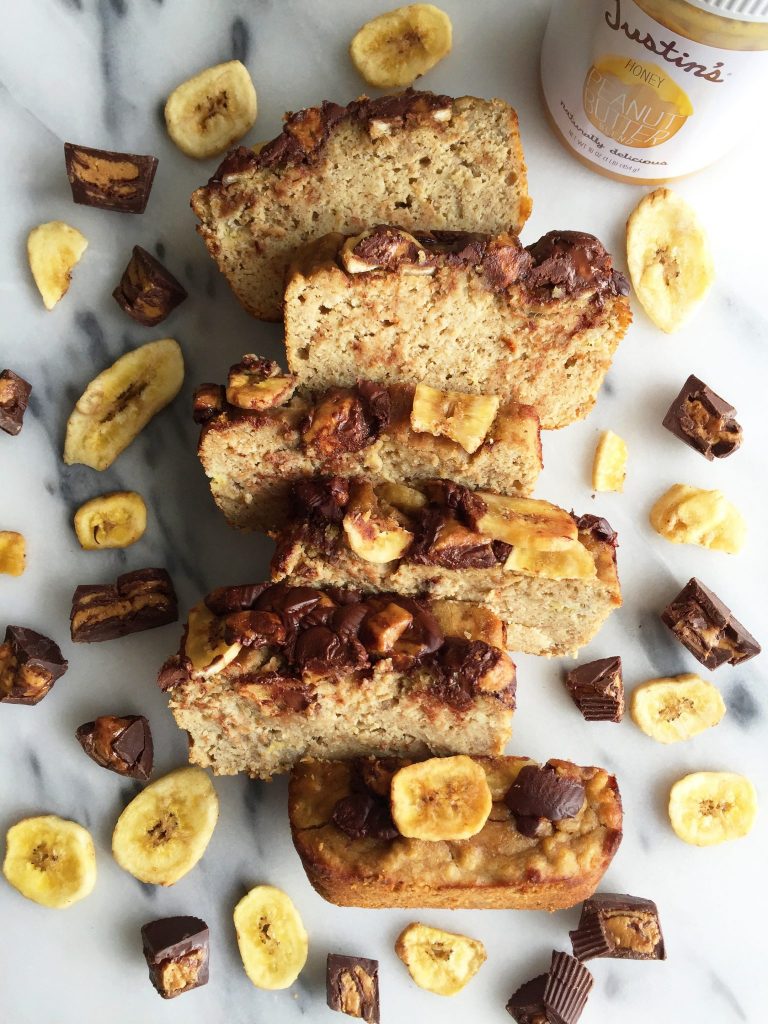 Print
Flourless Dark Chocolate Peanut Butter Cup Banana Bread
Prep Time:

10 mins

Cook Time:

40 mins

Total Time:

50 mins
Wet ingredients:

3

medium/large ripe bananas mashed

½ cup

Justin's Honey Peanut Butter (or your favorite peanut butter of choice)

3

eggs at room temperature

1 tablespoon

maple syrup

1 tablespoon

melted & cooled coconut oil

Splash of vanilla extract

Dry ingredients:

⅓ cup

+

2 tablespoons

coconut flour

½ teaspoon

of baking powder

Sprinkle of cinnamon

Topping:

½ cup

of Justin's Dark Chocolate Peanut Butter Cups cut into small pieces (you can use the mini's or regular sized)

1/3 cup

of Justin's Banana Chips (about

2

packages)
Instructions
Preheat oven to 350 degrees and spray your bread dish with coconut oil OR line it with parchment paper
In a medium mixing bowl, mix together wet ingredients with Kitchen Aid (if you don't have Kitchen Aid just mix well with spatula)
Once creamy, add in dry ingredients then mix together until well combined, make sure there aren't any chunks of coconut flour in the mixture
Pour into bread dish and bake for 20 minutes
While the bread is baking, chop up dark chocolate peanut butter cups (I cut each 4 ways)
After the bread has been baking for 20 minutes, top with chopped peanut butter cups and banana chips
Bake for another 20 minutes then cool for a few minutes and enjoy!
Will stay good for about 5 days in fridge or you can freeze for longer*
Author:
Category:

dairy-free, gluten-free

Cuisine:

dessert, snack
xx, Rach


Thank you Justin's for sponsoring this post. It means so much to me to work with brands that I love and who support rachLmansfield!