Fudgy Brownie Batter Truffles (made with chickpeas!) for a vegan and grain-free dessert!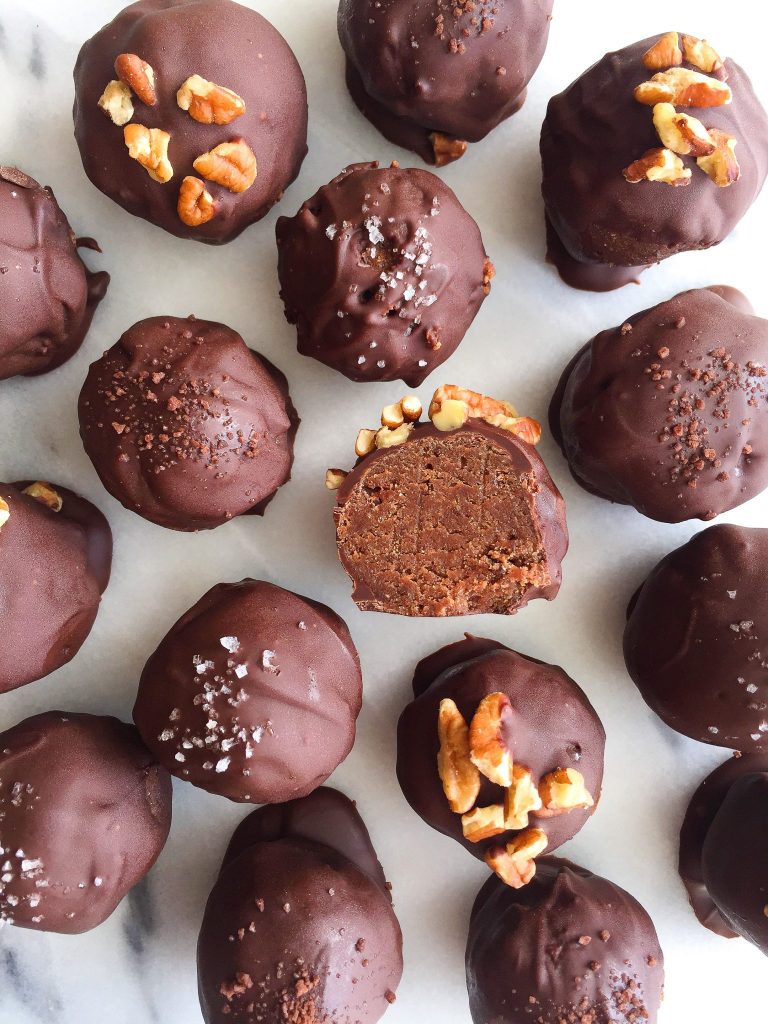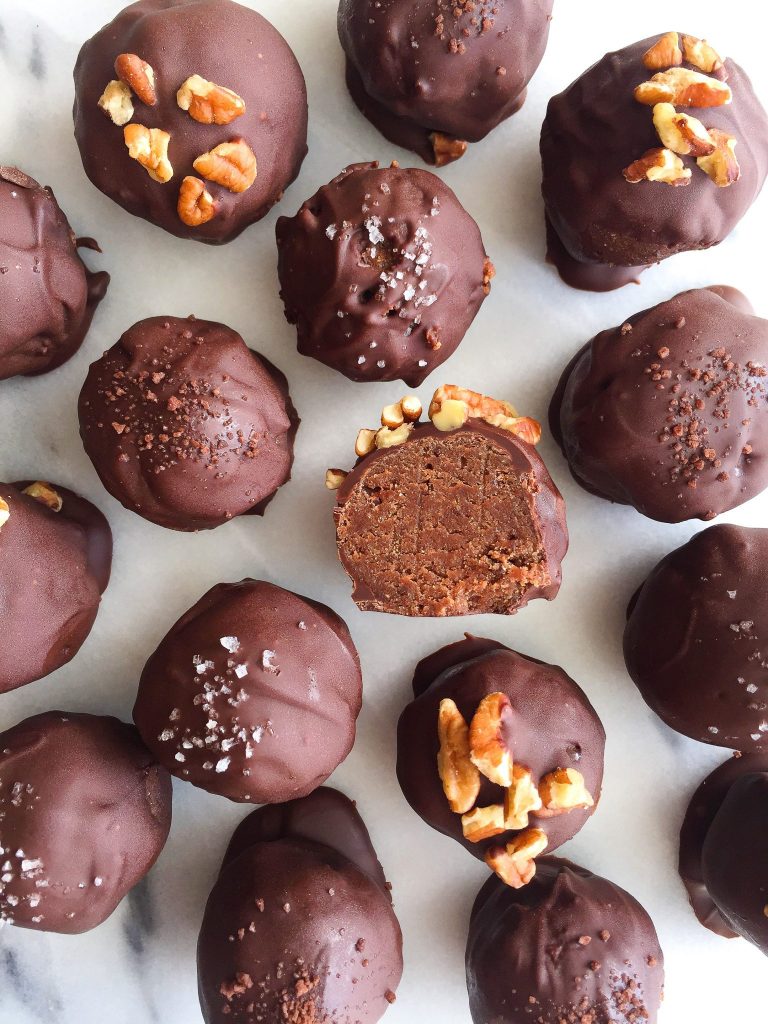 I have a new favorite game.
I make a really yummy dessert with a "secret" ingredient in it and then ask Jord to eat it and see if he notices and can guess the ingredient. I swear it is a lot more fun than that just sounded (lolz). But you should 100% try it with these dreamy Fudgy Brownie Batter Truffles. I swear no one will know there are flipping CHICKPEAS in them.
Jord had ZERO clue..the game just keeps on getting better.
It all really started with the Nutty Chocolate Chip Hummus Blondies that were made with chickpeas. I was so impressed with how fudgy they were. I wanted to make a super chocolatey and brownie-like truffle and knew that chickpeas would be perfect in them. Just in time for the holidays 🙂
It wasn't until recently that I thought about making desserts with random veggies and pulses. Incase you are catching your head asking "what in the world are pulses?", here are the details..
Pulses are the dry, edible seeds of plants in the legume family. They are a category of superfoods like lentils, dry peas, chickpeas and other bean varieties! The United Nations declared 2016 as the International Year of Pulses (IYP) too to help rise awareness about them throughout the world. Think pulses as the new and "it" superfood. They are loaded with protein (twice the amount as quinoa), fiber, vitamins and minerals. As someone who doesn't eat meat, I am always looking for new ways to eat iron and protein and pulses are perfect. And adding them to desserts? Well that my friends, is just heavenly.
Pulses are also good for the environment. They have a lower carbon footprint the almost any other food group, are water efficient and enrich the soil where they grow, receding the need for chemical fertilizers that contribute to greenhouse gases.
I recently even took the Pulse Pledge! Aka committing to eat pulses at least once a week for 10 weeks. You can too by signing up here: Take the Pulse Pledge. Afterwards you have to make these Fudgy Brownie Batter Truffles. They are the ultimate holiday dessert too and a guaranteed crowd pleaser.
These truffles are made with just 7 ingredients and they are vegan and grain-free!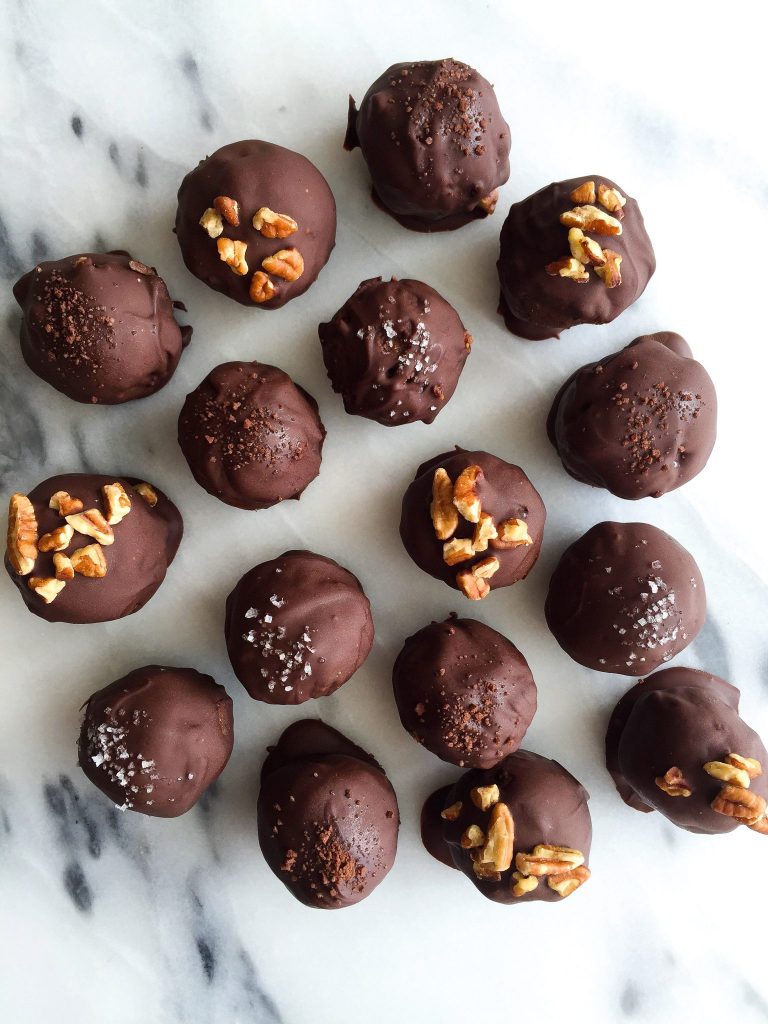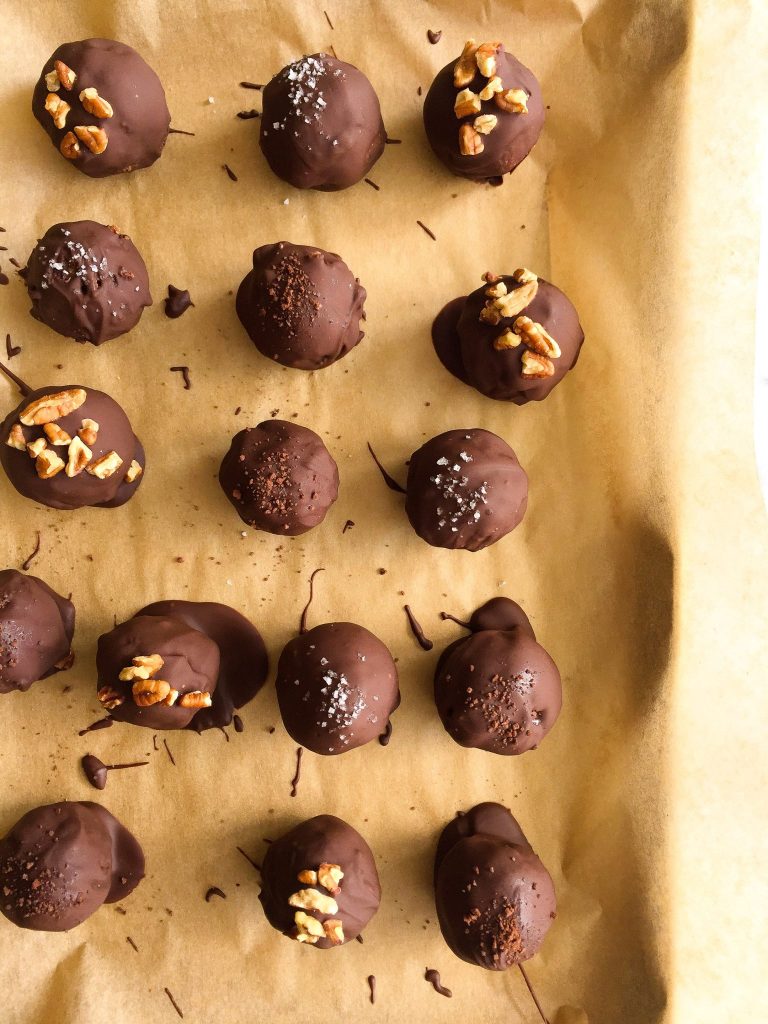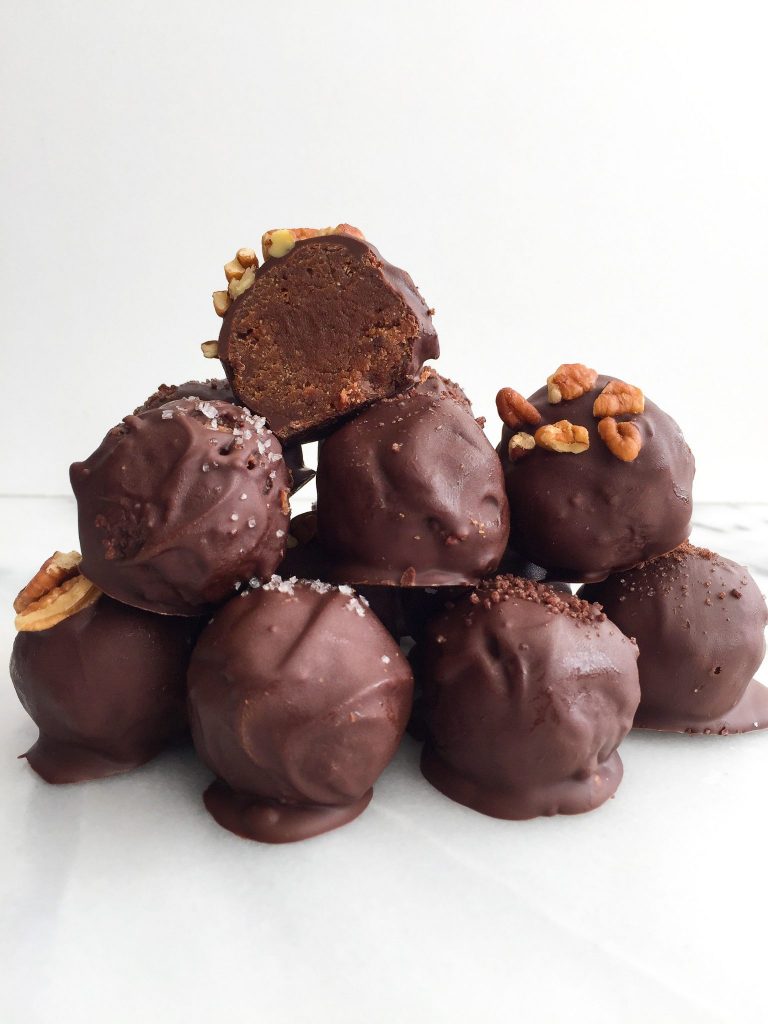 Print
Fudgy Brownie Batter Truffles (made with chick peas!)
Truffle:

3/4 cup

chickpeas pulsed into hummus-like consistency

3/4 cup

chocolate nut butter (or any nut butter)

1/4 cup

maple syrup (can sub honey or agave)

1/2 cup

dark chocolate chips

1/2 cup

coconut flour

Chocolate layer:

1/2 cup

dark chocolate chips

2 teaspoons

coconut oil

Optional: 1 tablespoons sea salt, 1 tablespoon pecans for topping
Instructions
Pulse together truffle ingredients together until well combined into a chocolatey dough-like consistency
Line a baking tray with parchment paper and begin rolling the dough into individual truffle balls
Place evenly across baking tray and pop in fridge for about 20 minutes
While truffles are in fridge, melt the chocolate chips in microwave with coconut oil, heating on 30 second increments until fully melted
Dip each truffle individually in the chocolate and place back onto the tray sprinkle with pecans and sea salt
Place back in fridge for about an hour to set (or freezer)
Store in airtight continuer for 5 days in fridge or a couple of months in freezer
Author:
Category:

grain free, vegan

Cuisine:

dessert
xx, Rach


Thank you USA Pulses for sponsoring this post. It means so much to me to work with brands that I love and who support rachLmansfield!