Healthy Homemade Peanut Butter Snicker Cups for an easy gluten-free crunchy treat!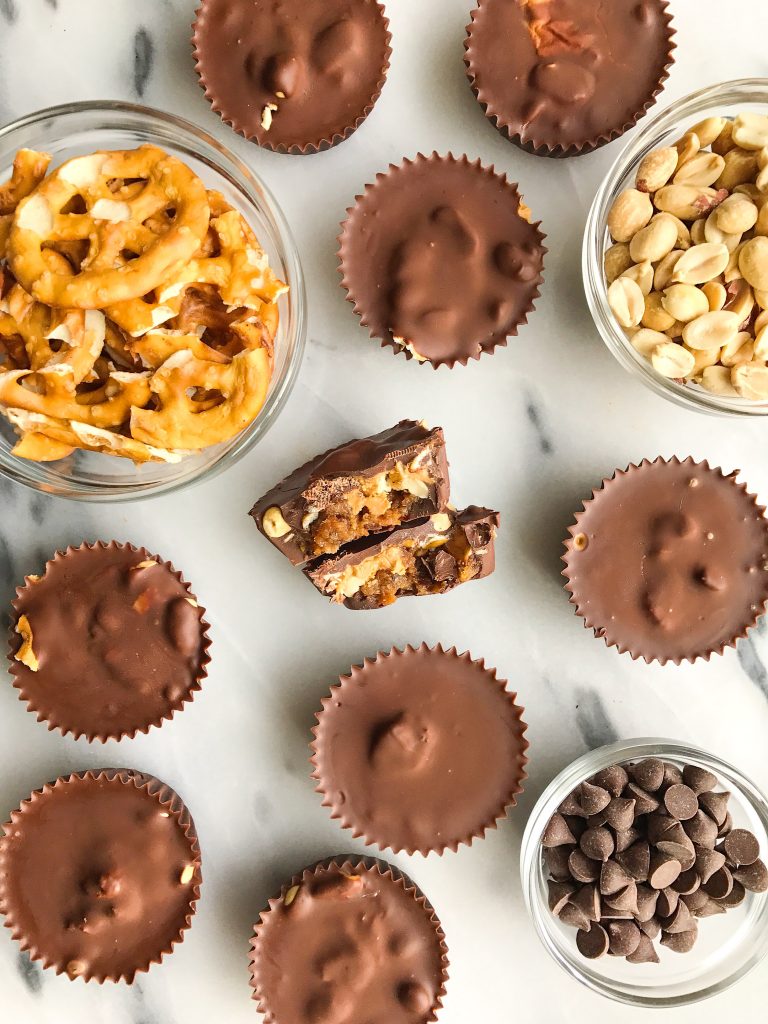 You are hungry. You want something to snack on. The first thing I ask myself is "salty or sweet?". 99% of the time I want something sweet but there are days I'm like "gimme the chips". Then there are days I want salty and sweet at the same exact time. Insert chocolate covered pretzels..
But now these Healthy Homemade Peanut Butter Pretzel Snickers Cups are the answer to the salty and sweet cravings. They are slightly orgasmic. Filled with creamy peanut butter, roasted peanuts and crunchy salty pretzels, your tastebuds are going to go absolutely insane.
They are of course easy to make. No complicated process or yucky ingredients. Dark chocolate shell filled with the goods inside.
To make these treats gluten-free, I use Glutino Pretzel Chips. Pretzel Chips are my absolute favorite type of pretzel. I love how thin and crispy they are and they are the best to dip into hummus and guac by the way. Glutino has oh so many types of pretzels and they are all amazing to use in the most random and delicious ways. Glutino makes a variety of gluten-free items and even sells gf flour. They have been making gluten-free a thing since before it was actually where it is today. I call them the originator of the gluten-free products.
Full disclosure I made these cups for Jord when he was wrapping up Whole30. Snickers and peanut butter cups are his absolute fav and those are two things you most definitely cannot eat on Whole30. He had these waiting for him the day he was back to the wonderful life that includes dessert.
We kept them in the freezer and they are AMAZING cold. I do love my chocolate cold though. I really never eat chocolate at room temperature, which is kind of weird. I didn't realize that until I was typing this blog post.
Okay SO let's get to these cups. And after, go make those pretzel brownies from last month cuz they be like OMG.
WHAT YOU NEED
Dark chocolate chip
Date crumbles
Peanut butter
Peanuts
Coconut oil
QUICK NOTES
These are pretty versatile cups so feel free to sub your favorite nut butter or nuts if peanuts and peanut butter isn't your thing (won't be as snicker-y though)
These cups freeze really well so make a batch and store in freezer and eat as you wish
You can use any type of pretzel you like, but these chips were dreamy in it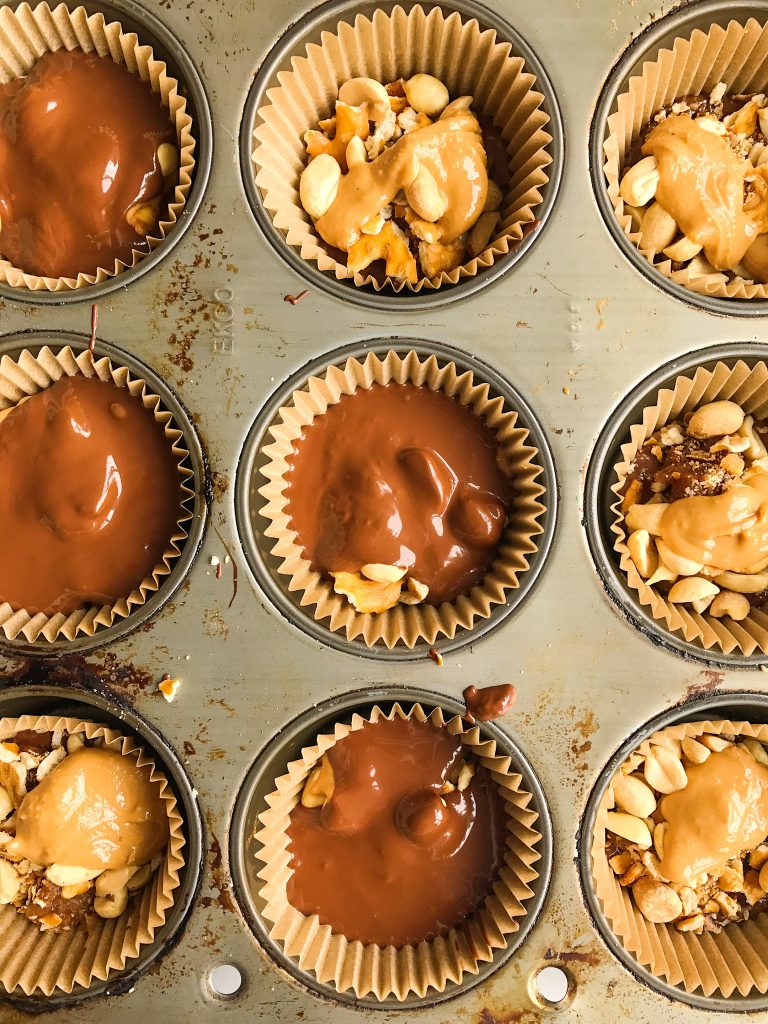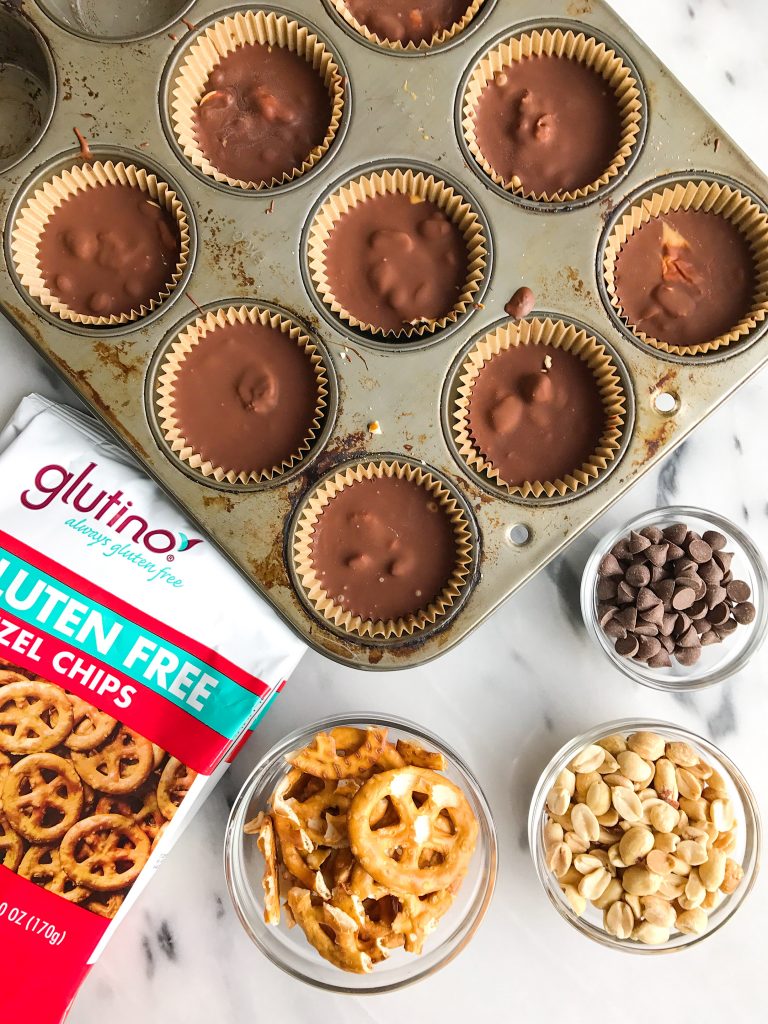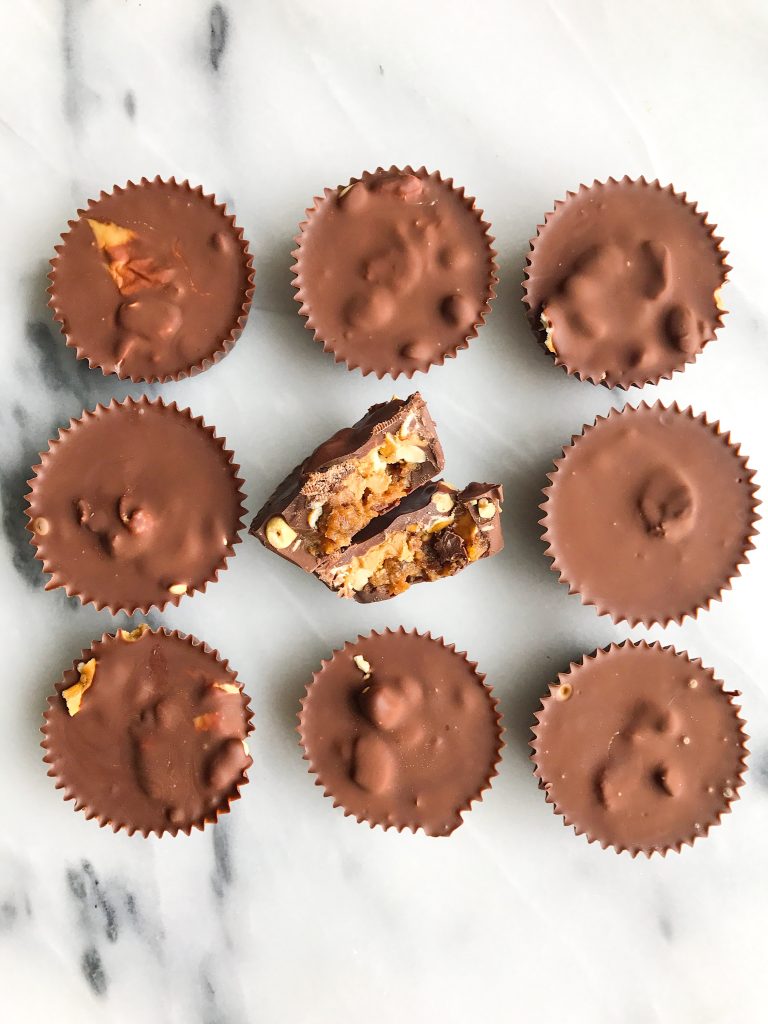 Print
Healthy Homemade Peanut Butter Pretzel Snickers Cups
Prep Time:

15 mins

Cook Time:

30 mins

Total Time:

45 mins
1

ten ounce bag dark chocolate chips (about

2 cups

)

1 teaspoon

coconut oil

3/4 cup

date crumbles (or pitted dates will work but you may need

1 cup

then)

1/4 cup

creamy peanut butter

1/3 cup

Glutino Pretzel Chips

1/4 cup

unsalted peanuts
Instructions
Line a cupcake tin with liners and set aside
Pour the dates into a small bowl and cover with boiling hot water (all the dates should be covered, no specific amount of water) and let it sit for about 10 minutes
While the dates soak, add the pretzel chips to a food processor and pulse for a few seconds to break up the pieces a bit (you can do this by hand if preferred)
Remove the pretzels and set aside (you will need food processor again)
In a small bowl, add 1 cup of dark chocolate chips plus 1/2 teaspoon of the coconut oil and microwave in 30 second increments until melted (stirring in between)
Evenly distribute the melted dark chocolate across the cupcake liners (it should be enough for 9) filling each about 1/4 high, you may want to gently tap the tin on the counter to help distribute the chocolate too
Strain the dates so there is no more water and add the dates to the food processor and pulse for a bit until the date are broken down and are a paste-like consistency
Add about 1 teaspoon or more to each cup on top of the dark chocolate
Next evenly distribute the peanuts, peanut butter and pretzel crumbs across each cup
Melt the remaining cup of dark chocolate just as we did before and top off each cup
Place in freezer to set for about 30-60 minutes then enjoy!
*Store in airtight container in fridge for 7 days or freezer for a couple months
Author:
Category:

gluten-free, vegan

Cuisine:

dessert, chocolate
xx, Rach

Thank you Glutino for sponsoring this post. It means so much to me to work with brands that I love and who support rachLmansfield!