One Giant Fudgy Chocolate Chip Brownie Cookie made with all gluten-free, dairy-free ingredients for a low sugar easy dessert!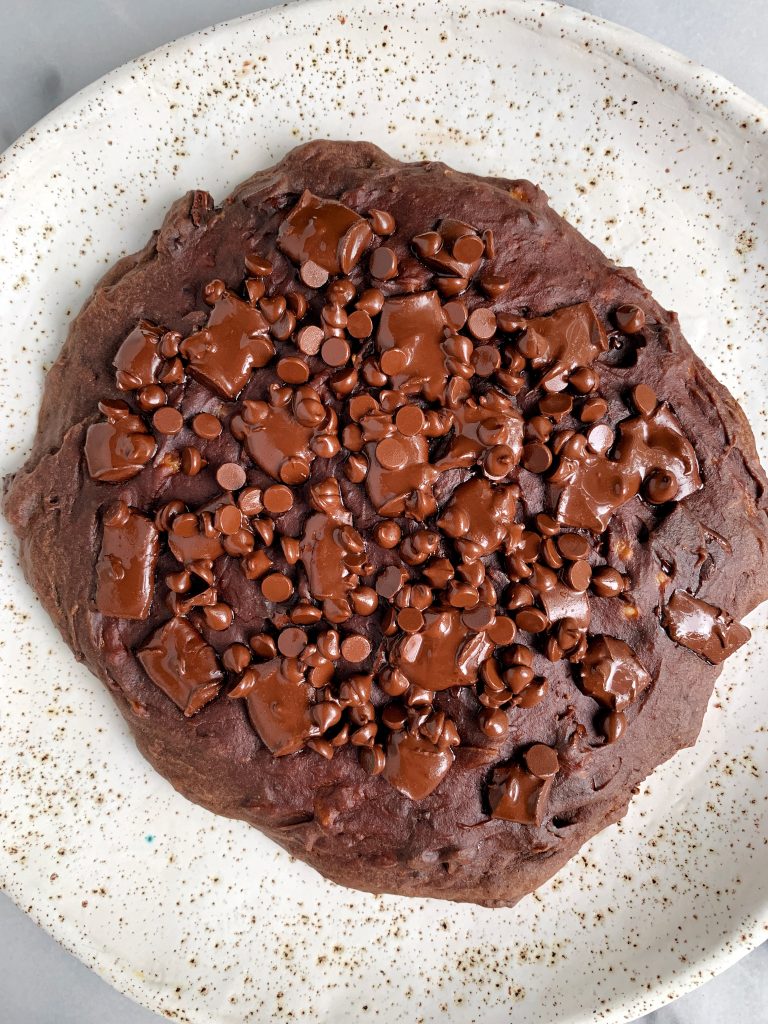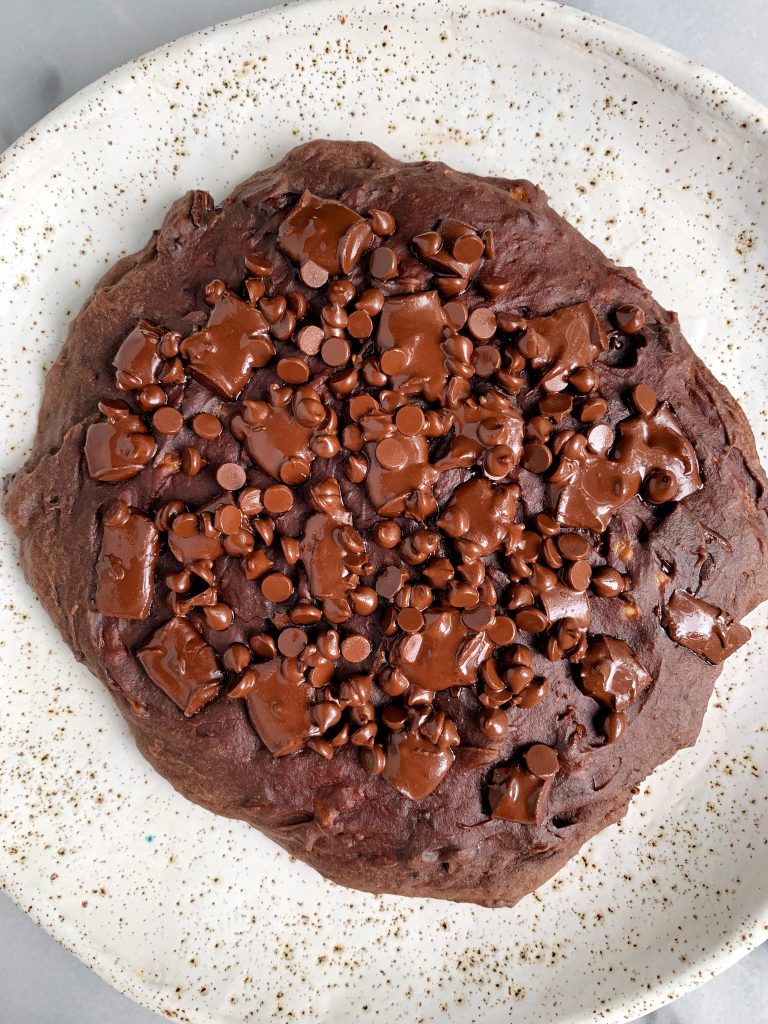 Is there anything better than a big a$$ chocolate chip BROWNIE COOKIE?!
Ya, I'm going to go with a big fat no to that question. Especially when it is extra fudgy like this one. A complete combination of a brownie and a cookie in one recipe. And did I mention that it is just one big serving? Sure you could go ham on this yourself, but it usually serves two over here. I eat one half, then save the rest for later (or share with J if he's lucky).
Let's chat single serving cookies…
This recipe was inspired but my Giant Paleo Chocolate Chip Cookie from a couple years ago. I recently made it again and it was such a hit with you guys. I always know what recipes you enjoy the most when I see how many people are making it themselves and tagging me. This was for sure a winner with the rachLeats community and I'm beyond happy about it. I think you guys will love this Giant Fudgy Chocolate Chip Brownie Cookie just as much.
The recipe itself is gluten-free, dairy-free and is only sweetened with mashed banana and chocolate chips. No other sugar! Plus I add in some of Vital Protein's new Hot Cocoa Collagen Latte, which is actually insane. You can make a beverage with it or you can add it into any of your favorite chocolatey recipes like I did with this one. It adds some extra protein to your dessert and in this case, even more chocolatey flavor.
Collagen itself doesn't change anything in the recipe. It doesn't thicken the batter at all since it dissolves when you put it in the oven (more on that here).
I hope you guys love this recipe as much as I do. I cannot wait to hear what you think!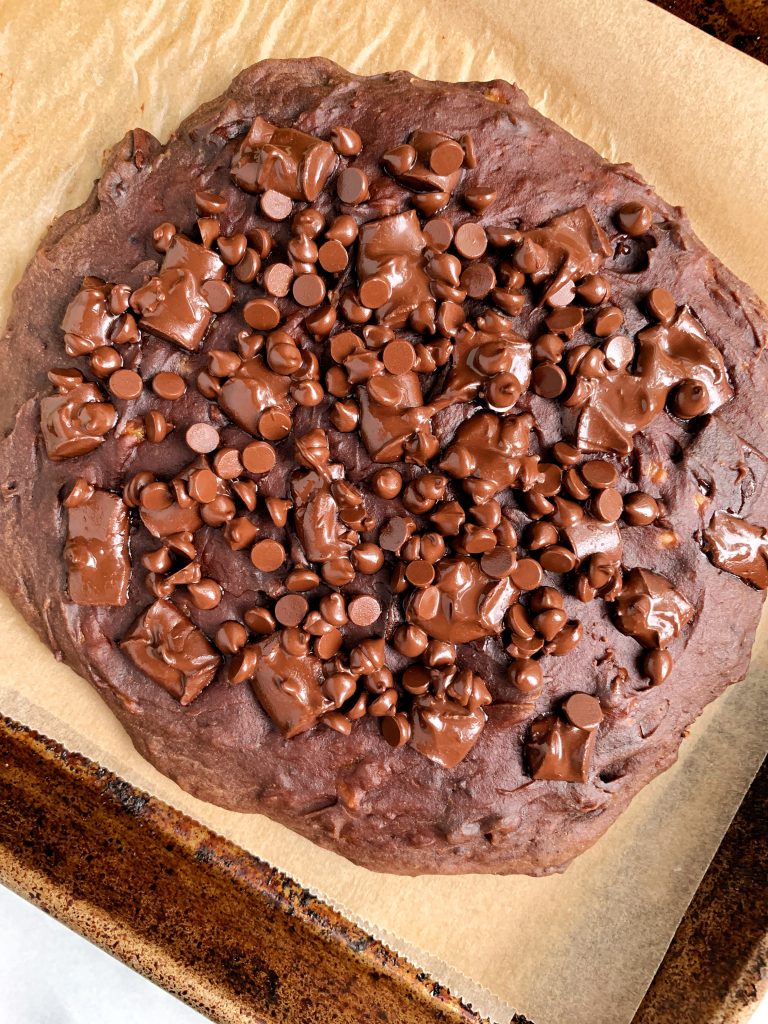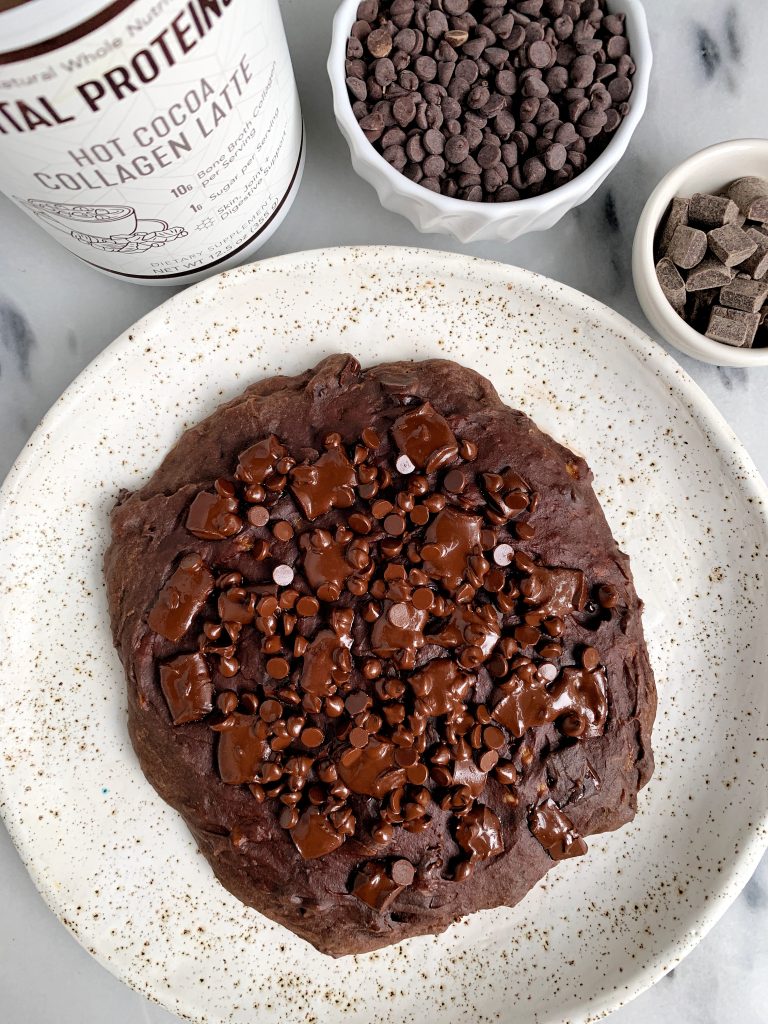 Print
One Giant Fudgy Chocolate Chip Brownie Cookie
One Giant Fudgy Chocolate Chip Brownie Cookie made with all gluten-free, dairy-free ingredients for a low sugar easy dessert!
Prep Time:

5 mins

Cook Time:

10 mins

Total Time:

15 minutes
1

large banana, mashed

1

pasture-raised egg (or sub flax egg)

1 tablespoon

melted coconut oil

1 tablespoon

creamy nut butter

1/2 teaspoon

vanilla extract

1 tablespoon

coconut sugar

1/4 cup

+ 2 tablespoons gluten-free all purpose flour (or sub oat or spelt flour)

1 tablespoon

cacao powder

1/2 teaspoon

baking powder

Dark chocolate chips (code RACHL for free shipping)
Instructions
Preheat oven to 350 degrees and line a baking sheet with parchment paper
In a mixing bowl, stir together the egg, oil, nut butter and vanilla until creamy
Mix in the coconut sugar, flour, cacao, collagen and baking powder until smooth
Fold in chocolate chips then form into one large cookie on baking sheet
Bake in oven for 10-15 minutes and enjoy!
Notes
*Store leftovers in airtight container on counter for fridge for 5 days
xx, Rach
Thank you Vital Proteins for partnering with me for this post! I love using your products in my recipes and everyday life!