One-Pot Creamy Squash Pasta made with 5 ingredients. It's vegan and gluten-free and this meal takes 10 minutes to make.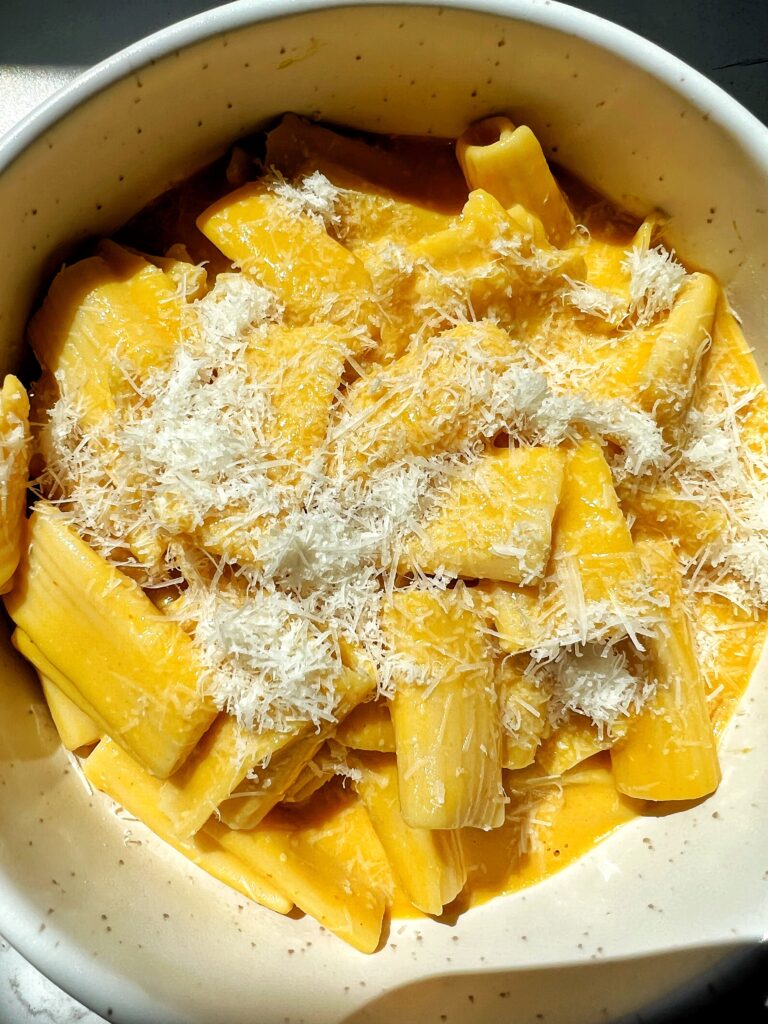 I made this 5-ingredient Creamy Squash Pasta for a fun project a few weeks ago and you guys went CRAZY over it. I didn't think so many of you would want the recipe. And because of the numerous messages and emails asking for the recipe, we are finally sharing it today on here.
We have been eating this pasta recipe so often. It is an easy recipe to make after work or school and requires just five simple ingredients to enjoy it! You only need to dirty one pot, which is the best part so cleaning up is so easy.
This squash pasta is like a macaroni and cheese meets Alfredo sauce except you are evening getting veggies in with the canned pumpkin and arugula on top.
Tip: I have made this recipe with canned sweet potato and pumpkin and both times it turned out great. You can also use butternut squash too. Anything in the puree form would be perfect.
What ingredients you need to make this creamy squash pasta:
Gluten-free pasta of choice – I love these pasta varieties: quinoa, chickpea, and brown rice for gluten-free otpions
Canned pumpkin or sweet potato – either works well! Just make sure it's an unsweetened canned squash puree
Full-fat canned coconut milk – or really any non-dairy milk but I love using the creamy part of coconut milk
Any spices you want like garlic powder, salt and pepper, etc.
How to make one-pot creamy squash pasta:
Add dry pasta and water to a large pot and bring to a boil (you can add chopped garlic cloves too if you wish)
Using tongs or a spatula, store and turn pasta frequently over high heat and cook for 10 minutes (until water is absorbed)
Remove pot from heat and add in pumpkin and coconut milk and mix well until smooth and creamy
Top with arugula, nutritional yeast and another cheese or df cheese if desired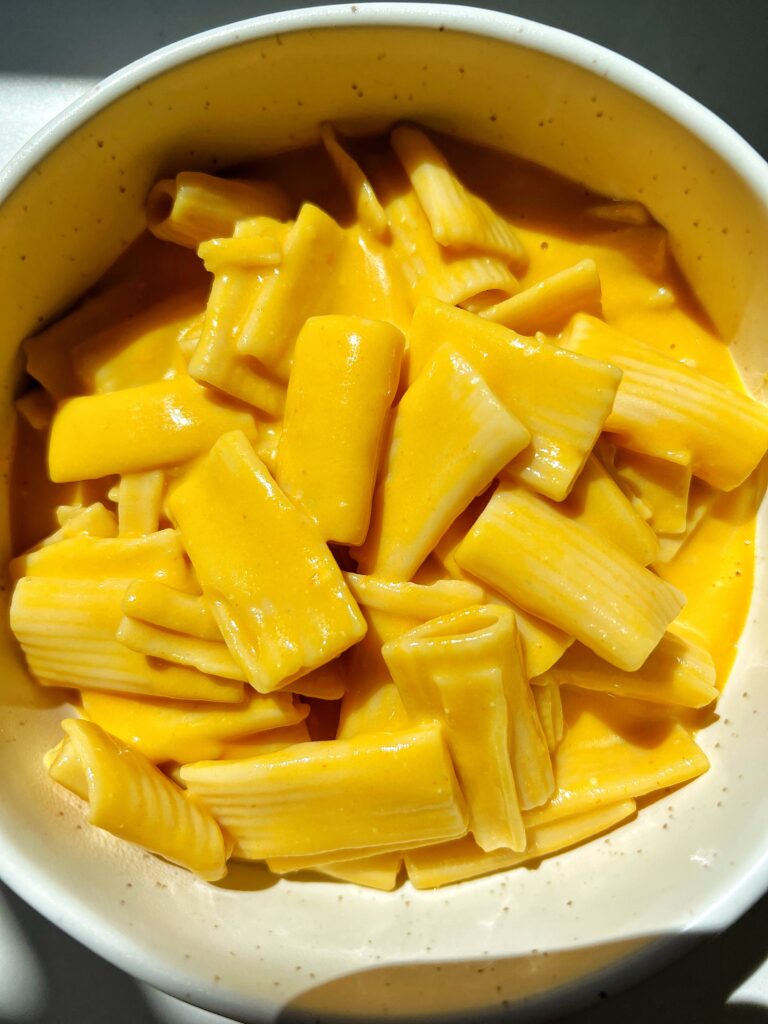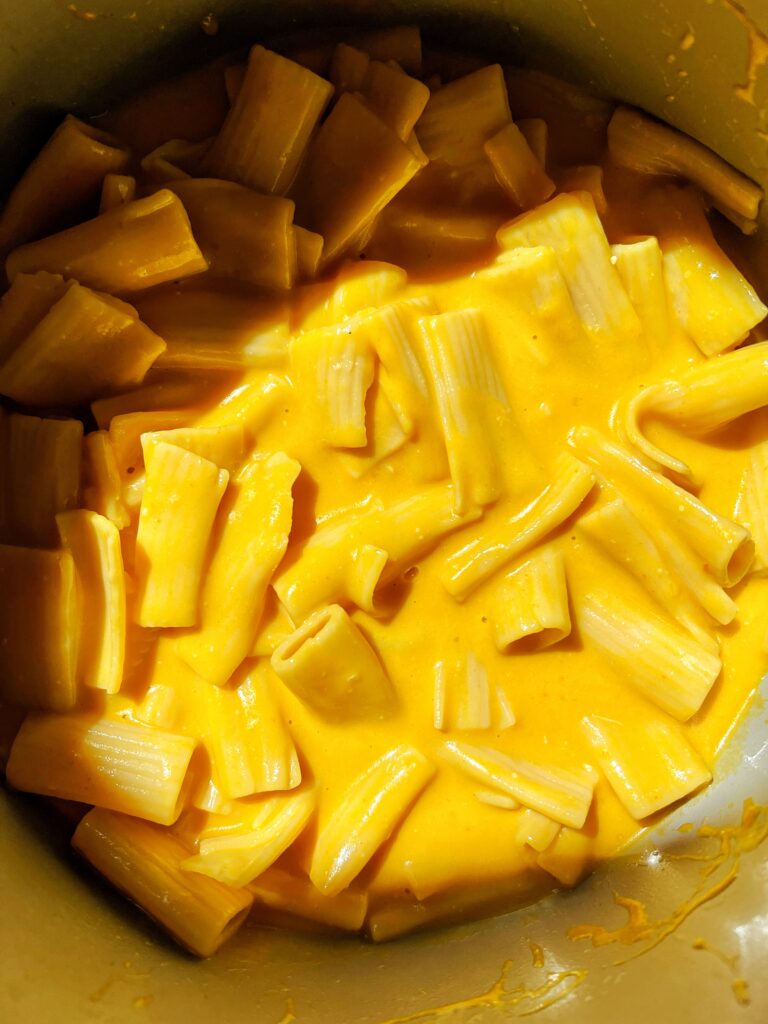 Tips for success making creamy squash pasta:
This dish is great because it's versatile with adding toppings! You can either leave as is or add in some veggies, protein, anything
If you want to add in some grated cheese on top, you totally can. I love adding shaved parm or you can even use a vegan cheese option or nutritional yeast
When you make this recipe, please keep in mind that the pasta sauce may get a little firm when you save the leftovers. When you reheat the pasta just add it to a pot with a little bit of water and it will soften again
A few of my other favorite healthy pasta recipes:
One-Skillet Gluten-free Hamburger Helper
Healthy Vegetarian Enchilada Pasta (gluten-free)
The Easiest No-Boil Baked Pasta Recipe (gluten-free)
6-ingredient Creamy Tomato Basil Pasta (gluten-free + dairy-free)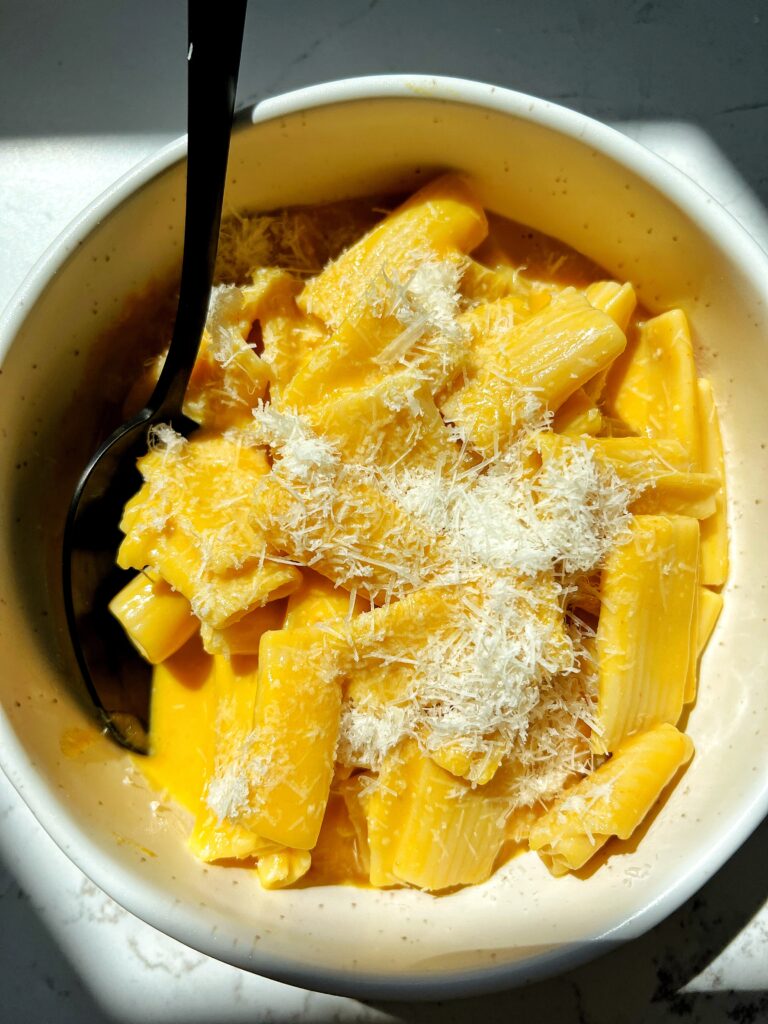 Print
5-ingredient Creamy Squash Pasta (vegan + gluten-free)
The easiest and delicious 5-ingredient Creamy Squash Pasta made with all gluten-free and vegan ingredients. Such a delicious "cheesy" pasta with no cheese!
Cook Time:

10 mins

Total Time:

10 mins
Instructions
Add dry pasta and water to a large pot and bring to a boil (you can add chopped garlic cloves too if you wish)
Using tongs or a spatula, store and turn pasta frequently over high heat and cook for 10 minutes (until water is absorbed)
Remove pot from heat and add in pumpkin and coconut milk and mix well until smooth and creamy
Top with arugula, nutritional yeast and another cheese or df cheese if desired
Notes
*This recipe tastes best day of but when reheating, add some water to the pot when heating up again to help the pasta soften again
Author:
Category:

vegan, gluten-free

Cuisine:

lunch, dinner
SaveSave
SaveSave