Baked Pasta Recipe made with just 5 key ingredients for a healthy gluten-free pasta recipe with no mess in kitchen. No boiling water or dirty pots needed.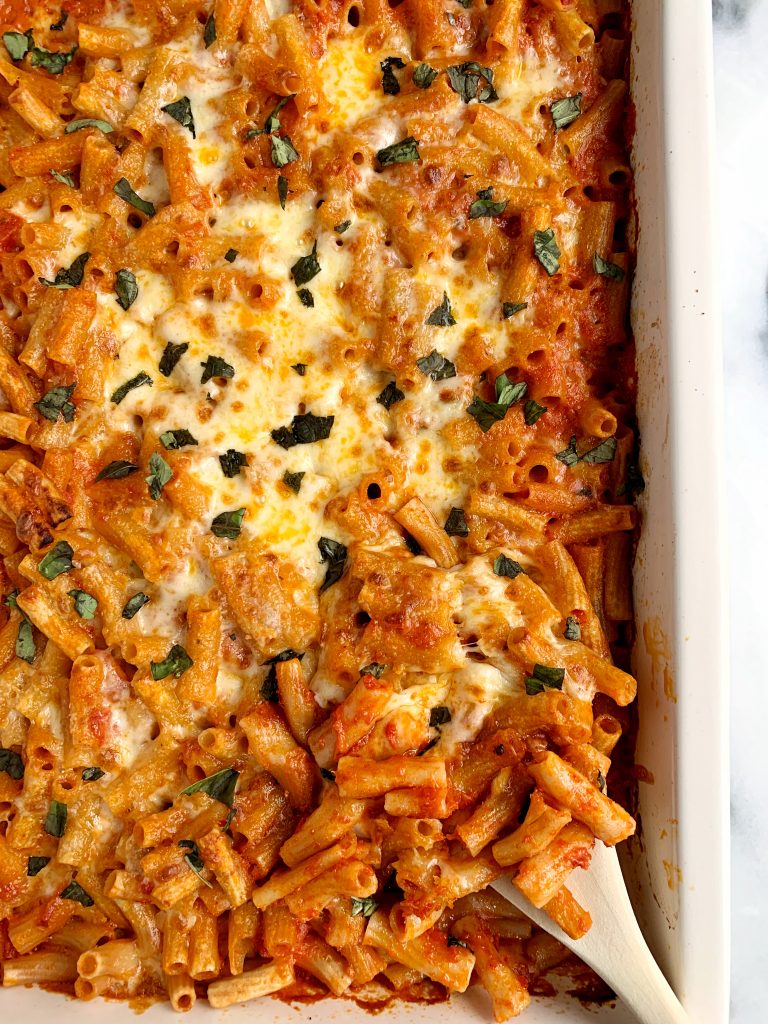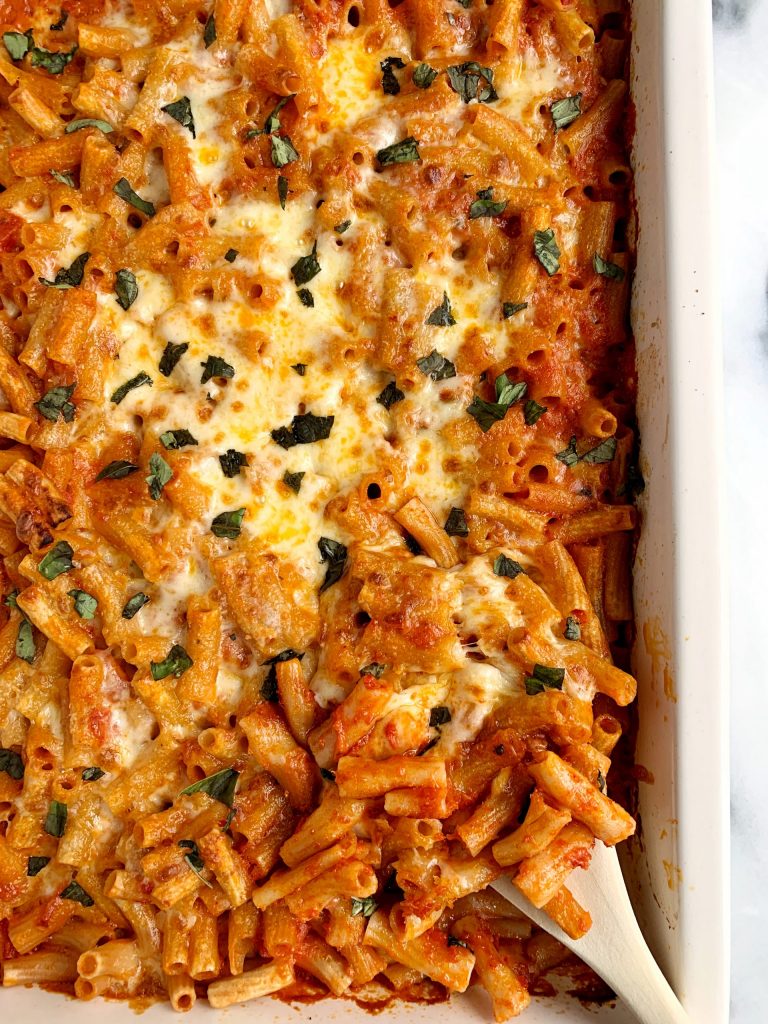 Raise your hand if you are all about the quick and easy meals that don't dirty up the kitchen.. (both of my hands are raised and I am jumping up and down).
Call me crazy or neurotic but I love when I make a meal and there is little to no clean up. Sure cleaning a couple bowls and pots and pans isn't the end of the world. But when it is the end of the day and my energy level is zero and I still have to make dinner, I want something simple.
That is where this pasta bake comes into play.
The easiest baked pasta recipe you will ever find. Plus it is gluten-free and made with 5 ingredients.
This is one of those meals that also uses what you have on hand. There is typically a box of pasta and jar of sauce somewhere floating around my kitchen. I have dairy-based and non-dairy cheeses of some type in my fridge usually too. But I love that this recipe switches things up from a usually bowl of pasta with sauce mixed it.
Plus it doesn't require boiling water (crazy, I know) and make the entire dish in a 9×13 baking dish. And you can even store the leftovers in there like I do.
I first made this recipe when my brother came over for dinner one night. He always comes on Wednesdays to see Ezra after work and we eat dinner together. Truly such a blessing having my family close by so they can see Ez. And it is when I get to ask Seth a million questions about his life and he can fill me in on the latest.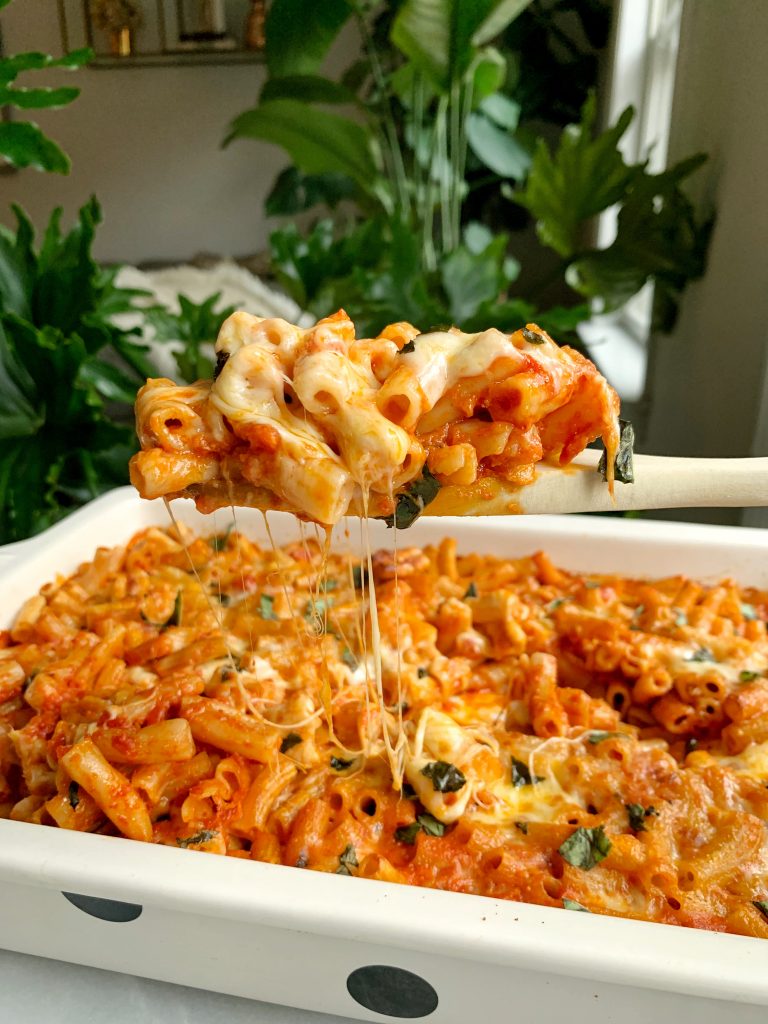 What ingredients you need to make this:
Gluten-free pasta. I used penne-like noodles, which I think work best here. You can of course use a gluten-based pasta too but I know many of my readers do prefer alternatives due to allergies/preferences.
Full-fat coconut milk. This ingredient is my secret weapon here. It is how the sauce gets so creamy and delicious. You can use whatever milk you want but the full-fat coconut one does taste best in my opinon
Marinara sauce – or really any pasta sauce you have on hand and are craving. This would also be good with a little pesto mixed in!
Organic shredded mozzarella – can totally sub a non-dairy cheese too.
Seasonings/spices – I use garlic, onion powder, oregano and top it off with some fresh basil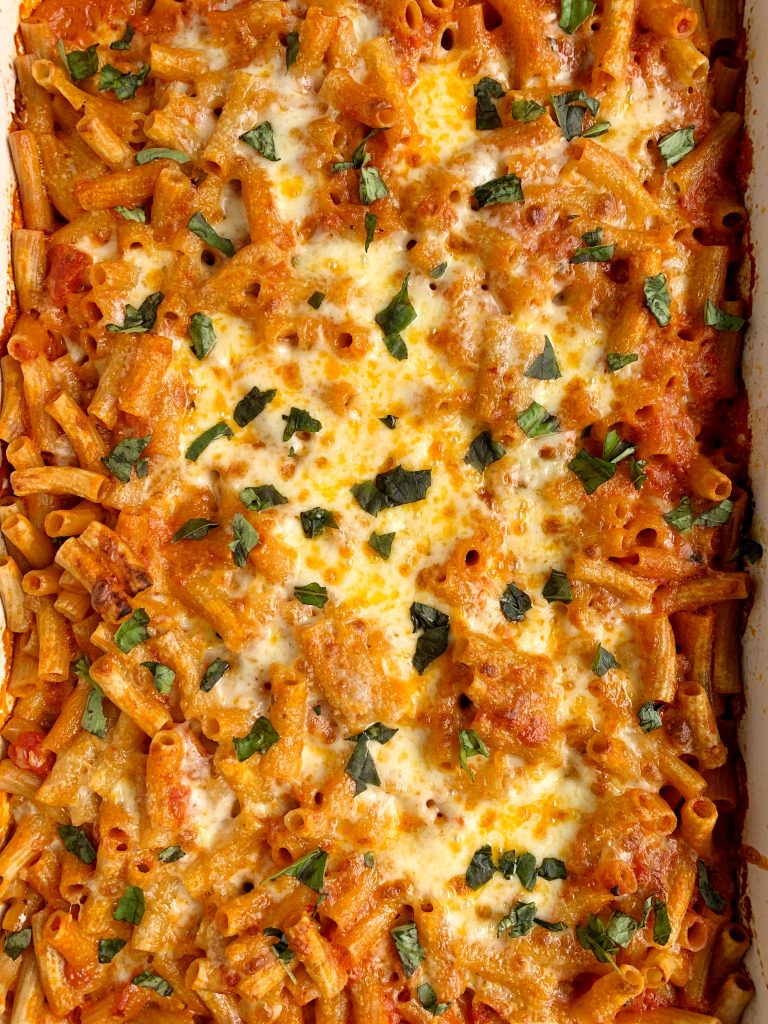 How to make this gluten-free pasta bake:
Preheat oven to 400 degrees and take out a 9×13 baking dish
Shake the can of coconut milk to breakup the creamy parts
Add the pasta to the baking dish and spread it across the dish
Add the milk, garlic, onion, oregano and marinara and mix well to evenly combine
Sprinkle cheese on top then cover the dish with tin foil
Bake in oven for about 35-40 minutes then remove foil and broil for about 90 seconds so the cheese starts to bubble
If you are craving some more pastas, here are a few favorites:
No-Boil Creamy Broccoli Pasta Bake
15-minute Peanut Noodle Salad (gluten-free)
10-minute Creamy Zucchini Pasta (gluten-free)
Sheet Pan Lasagna (gluten-free)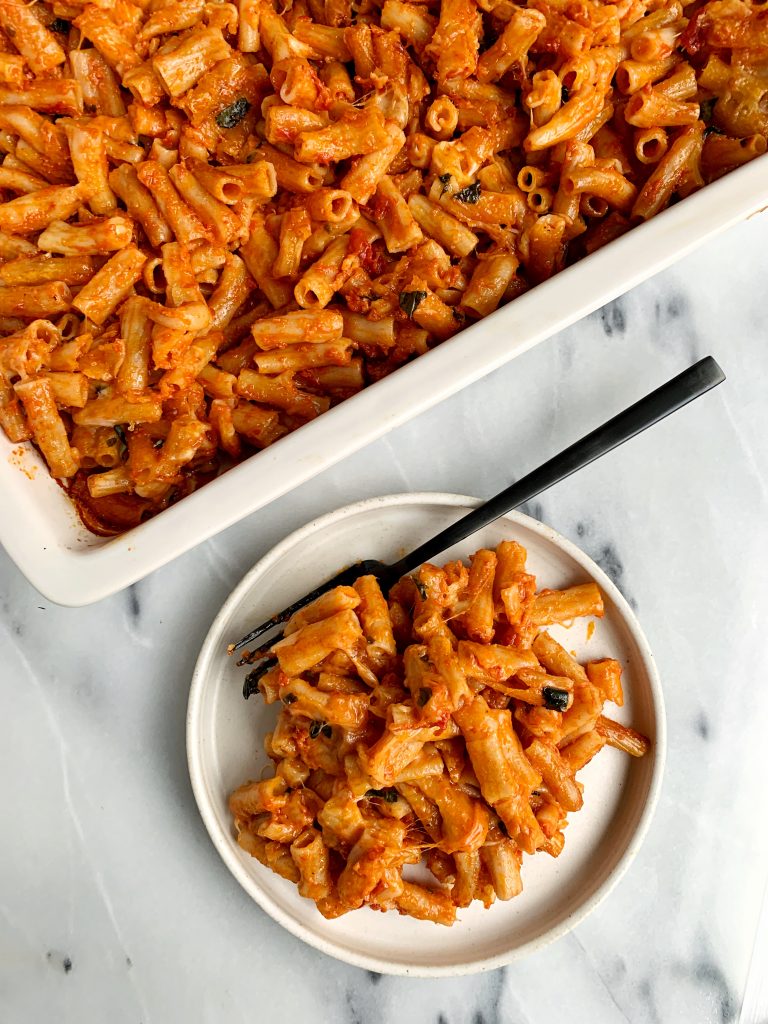 Print
The Easiest No-Boil Baked Pasta Recipe (gluten-free)
A healthy baked pasta recipe made with just 5 key ingredients (all gluten-free and vegetarian-friendly). Plus no boiling water needed!
Prep Time:

5 mins

Cook Time:

40 mins

Total Time:

45 mins
16 ounces

gluten-free pasta (penne-type shape works best)

1

16-ounce can full-fat coconut milk (or any milk – I also sometimes do half broth!)

2

cloves garlic, minced

1 teaspoon

onion powder

1/2 teaspoon

oregano

1

20-ounce jar of marinara sauce*

1.5 cups

shredded organic mozzarella*

Optional: cooked protein like meatballs or sausage
Instructions
Preheat oven to 400 degrees and take out a 9×13 baking dish
Shake the can of coconut milk to breakup the creamy parts
Add the pasta to the baking dish and spread it across the dish
Add the milk, garlic, onion, oregano and marinara and mix well to evenly combine
Sprinkle cheese on top then cover the dish with tin foil
Bake in oven for about 35-40 minutes then remove foil and broil for about 90 seconds so the cheese starts to bubble
Notes
*It's okay if the amount of sauce is a bit more/less but something around 20 ounces
*Sub dairy-free cheese if desired
xx, Rach