Our Home Reveal: Mezcal Entertainment Space! Where we keep the booze, hang with friends and family and pretend we are on vacation.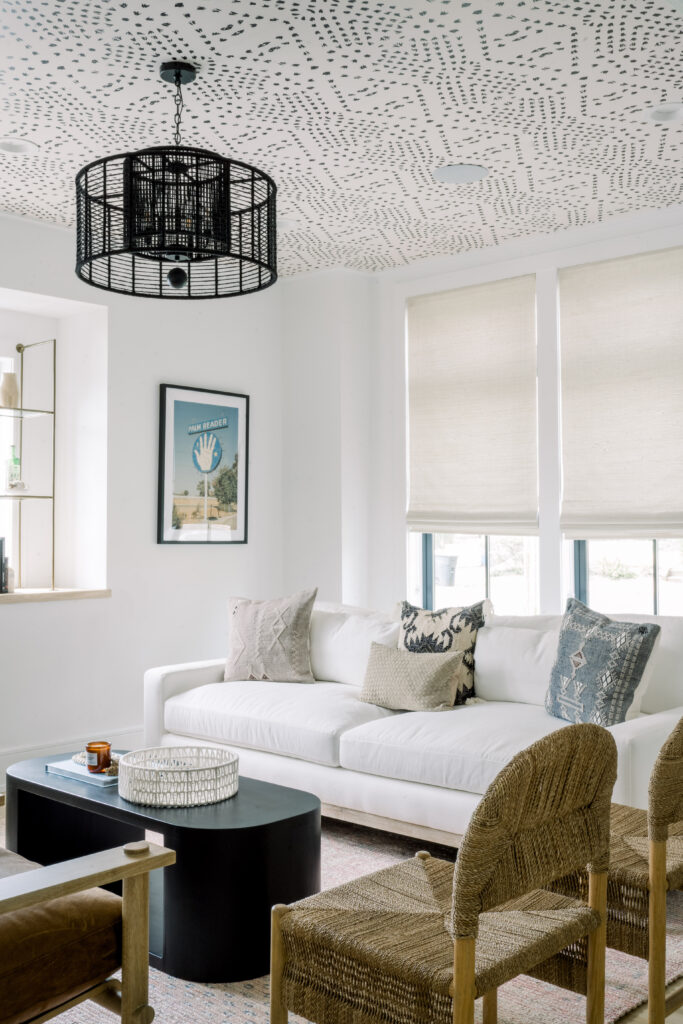 Welcome to one what is our favorite room in our home – our "Mezcal Room".
And if you are wondering what the beep that means, not to worry. We came up with this idea with Arielle Mizrahi when we were mapping out the looks of each room in the house. A spin on a living room/dining room in our new (yet not so new anymore) home.
Traditionally homes having a more formal dining space. What I like to think of as the room you use 2-4x year on special holidays and birthdays (did you get my Parent Trap reference?!). But since we did a larger farm table in our dining area in the kitchen, we didn't feel the need to do a formal dining room. Instead we wanted a space that we can entertain in for pre-dinner drinks, a place to hang out in when our kids go to bed and one that adds a little spunk to our casa. It also is the #1 conversation starter when you walk into our home.
And let me tell you – this Mezcal Room turned out absolutely amazing.
Everything from the wallpaper on the ceiling, (how awesome this that?!), to the custom shelving unit with decor like these lanterns in the window that also happens to be a great way to childproof is completely what we envisioned.
Arielle helped us bring this vision to life and 100% got the vibe of what we were going for. We have worn-looking leather chairs next to woven dining chairs (which also double as extra dining chairs when needed). The chandelier has a black contrast that really pops and also is in sync with the coffee table and ceiling. And the white couch that almost looks too clean to sit on, really fits the look of the bohemian meets Californian-ish feel of the room too. Especially with some accent pillows.
The rug and the art work on the walls give it that pop of color with orange pink and blue tones and it almost looks like a rug you'd find in a vintage shop on Mexico.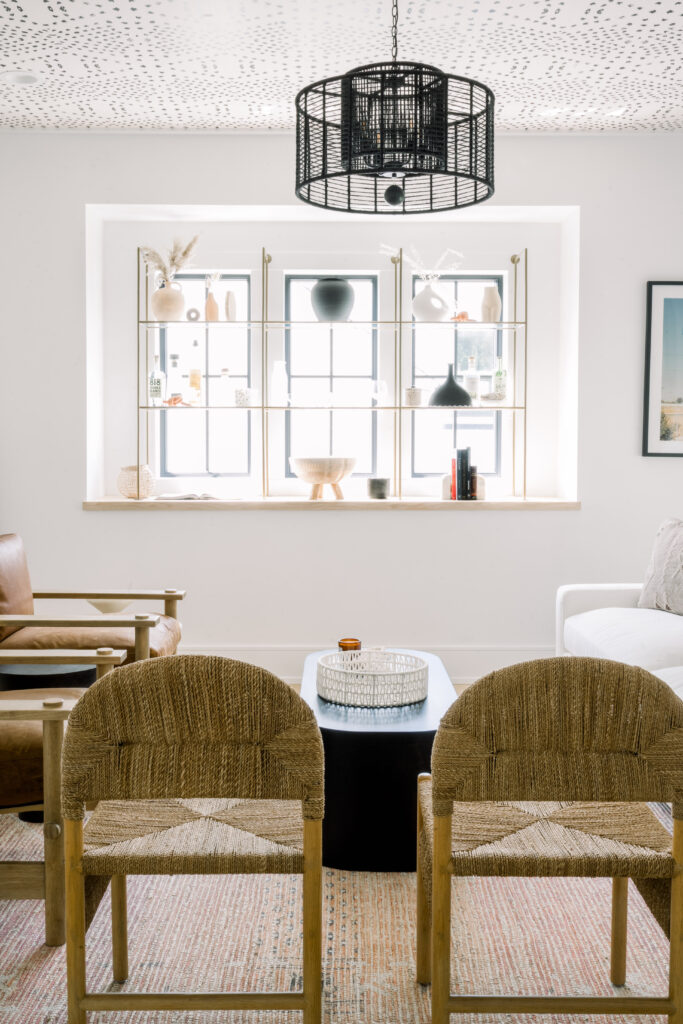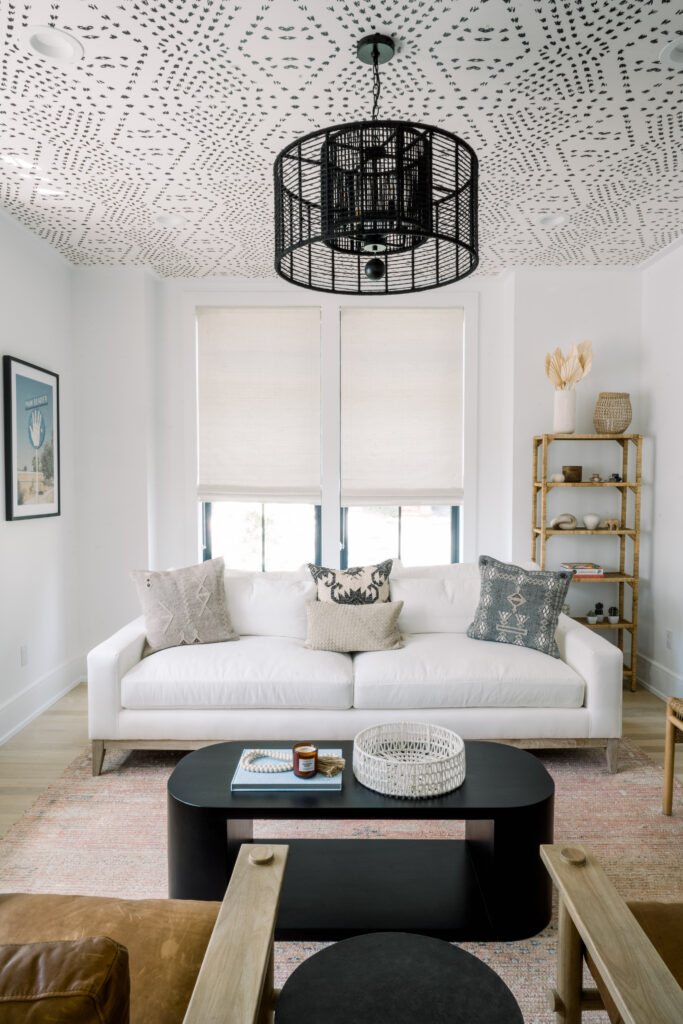 Here's the 411 though on the Mezcal Room for anyone feeling inspired to recreate this at home:
Decor faves on the window shelving unit: I found a lot of budget pieces for this like the black vase, clear bottles and found these adorable wooden vases you see on the top left corner at a local shop near my parents.
I did a strong mix of splurge pieces and budget-friendly items. Not everything needs to be wildly pricey and Arielle knew that was a priority of ours to be budget conscious here. We also used a lot of our liquor as decor on the Iron Abode shelving unit and everything on the wicker shelving unit was found on amazon (wild I know!). But the mini elephants and mini fake cactus and beads were all found on there.
There are two doorways into the Mezcal room – one from our butler's pantry and kitchen and another when you first walk into our home.
The wall color is the same as the rest of the house: Chantilly Lace (Arielle's favorite and we love it)
The mirror in the corner was what we had in Ezra's old room in our apartment. Simple dark wooden edges and we mounted it to the wall so it is child-proof.
Speaking of child-proof, having that shelving unit of decor elevated in the window is a game changer for kids and you'll notice not much is on the coffee table for that purpose.
We also put as many seating options as we could in here without making to too congested. But we can comfortably seat 7-8 in here with couches and chairs.
The accent wallpaper is one of my favorite parts of the house and was a great way to add a pop of contrast and something special to the room! Plus it was more cost-friendly to only wallpaper a ceiling than 4 walls.
These side tables in this room are so unique and go with the room perfectly. We have this black one and these creamier ones.
Our black chandelier is a two-layered shade with an open-weave look. It is rustic, boho fits the aesthetic beautifully (similar one here).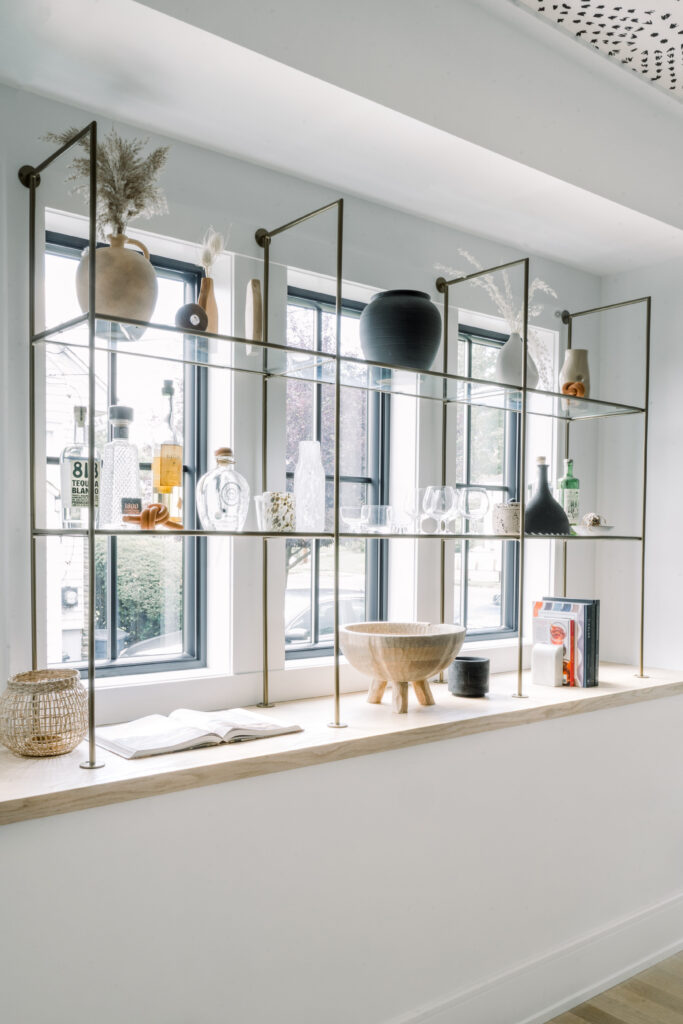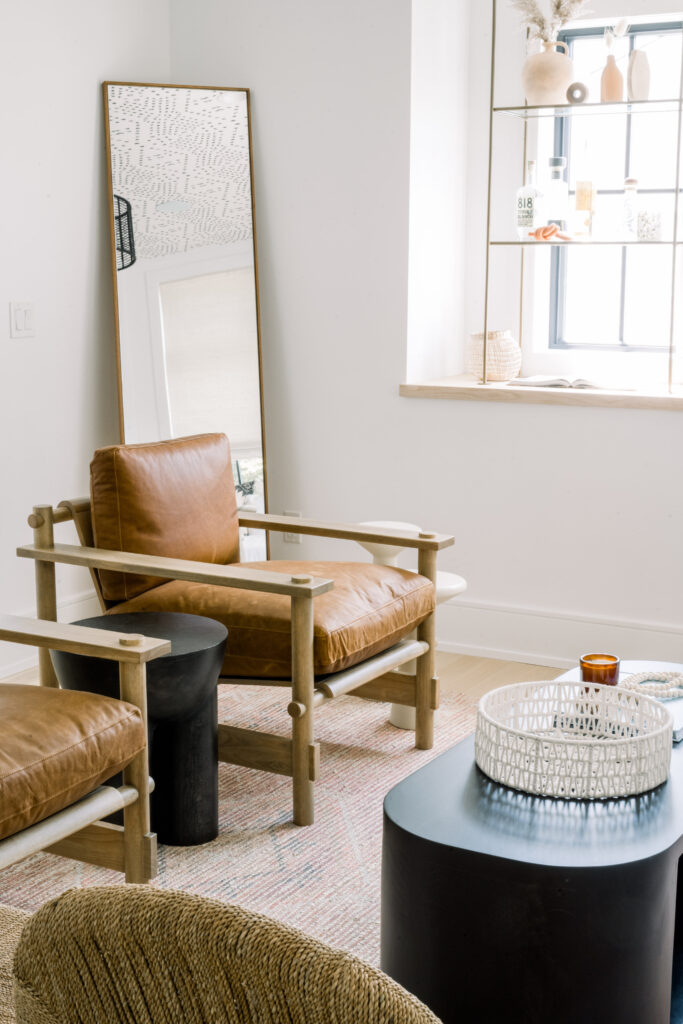 This room was *so* much fun energy to bring to life. If you are looking for a designer and also happen to be in the Short Hills area in NJ, call Arielle to help you bring your vision to your home!
Here are a few of our other spaces in our room to your while you're here:
Our Home Reveal: Playroom Edition!
Kitchen Organization 101 + Organizing Our New Home
Our Home Reveal: All Things Lighting!