This oven roasted frozen broccoli is the ultimate cooking hack! Learn how to make frozen broccoli in the oven.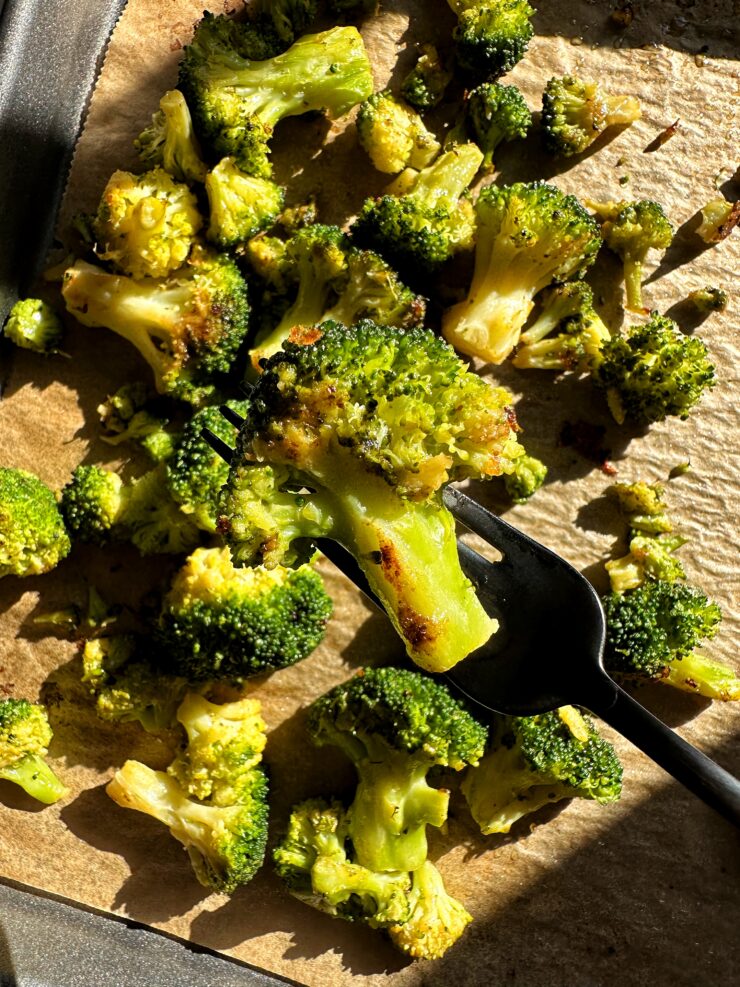 I always assumed that if you cooked frozen broccoli in the oven, it would turn out soggy and wet and just no good. But the other night, my 4 year old actually *asked* for broccoli, which is a first, and all I had was frozen broccoli on hand. He doesn't usually like when I cook it in the microwave or stovetop so I figured I'd try roasting it.
And I am so happy we did! Because cooking frozen broccoli in the oven is the ultimate cooking hack.
It saves time, energy and keeping frozen broccoli in the freezer makes life easier when you want to make a quick healthy meal and don't have fresh produce on hand.
Not only is frozen broccoli generally less expensive than fresh broccoli though, it is also already washed and prepped! This saves time in the kitchen and it is partially cooked too. So less time to roast and generally just less effort.
What ingredients you need to make frozen broccoli:
Frozen broccoli florets – I usually use organic but use any frozen florets you prefer
Olive oil – or your go-to roasting oil but olive oil is my favorite for this
Garlic powder
Freshly grated parmesan reggiano – optional but tastes so good!
Sea salt and black pepper to taste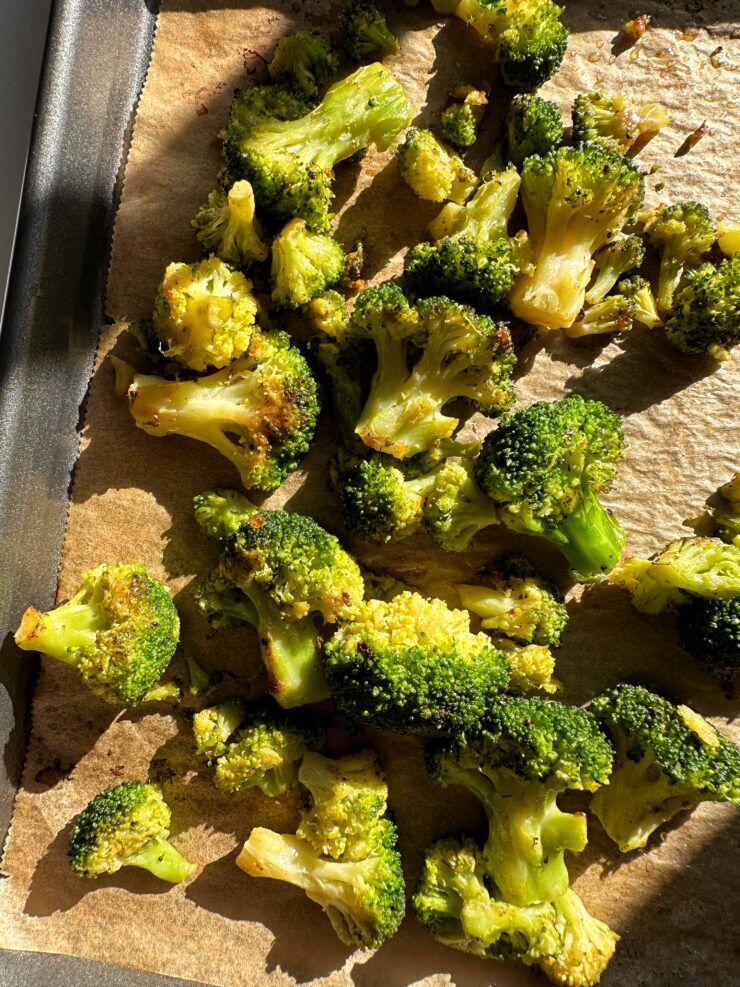 How to make frozen broccoli:
Preheat oven to 400 degrees F and line a baking sheet with parchment paper
Spread the frozen florets over the baking sheet (spread them apart so they're not touching)
Add to oven and roast for about 8-10 minutes or until water is evaporated
Remove from heat and drizzle olive oil over the broccoli, toss in the seasonings and add grated parmesan cheese
Add back to oven and roasted for another 8-10 minutes or until broccoli is browned to your liking (gently turning over the florets halfway)
Serve while warm with desired mains
FAQs on roasting frozen broccoli:
Is roasted frozen broccoli crispy? It has a crisp to it for sure but it's not as crispy as fresh broccoli roasted. But the edges of the florets get a gentle brown color and texture. Plus it is "juicer" in my opinion.
How can you keep the broccoli from turning out wet? It is important to keep the broccoli florets spaced out on the baking sheet and I recommend roasting it without oil for a few minutes to allow the water to evaporate first!
How do you like to season roasted broccoli? Usually I add garlic powder, grated parmesan cheese and some salt and pepper. But you can really add any seasonings you are craving.
Is this frozen broccoli good for kids? Absolutely! My kids actually only eat broccoli if we make it this way.
A few other veggie-loaded delicious side dishes to try:
Crispy Parmesan Brussels Sprouts
Simple Roasted Maitake Mushrooms
Crispy Salt and Vinegar Smashed Potatoes
Print
Oven Roasted Frozen Broccoli
This oven roasted frozen broccoli is the ultimate cooking hack! Learn how to make frozen broccoli in the oven.
Prep Time:

5 mins

Cook Time:

25-30 mins

Total Time:

30 mins
16 ounce

bag frozen broccoli florets (I usually use organic)

2 tablespoons

olive oil

1/2 teaspoon

garlic powder

Freshly grated parmesan reggiano

Sea salt and black pepper to taste
Instructions
Preheat oven to 400 degrees F and line a baking sheet with parchment paper
Spread the frozen florets over the baking sheet (spread them apart so they're not touching)
Add to oven and roast for about 8-10 minutes or until water is evaporated
Remove from heat and drizzle olive oil over the broccoli, toss in the seasonings and add grated parmesan cheese
Add back to oven and roasted for another 8-10 minutes or until broccoli is browned to your liking (gently turning over the florets halfway)
Serve while warm with desired mains
Notes
*Store leftovers in fridge for 5 days and reheat how desired