Paleo Chocolate Chip Brownie Cookies made with all gluten-free and vegan ingredients. And the best part? They only take 10 minutes to bake!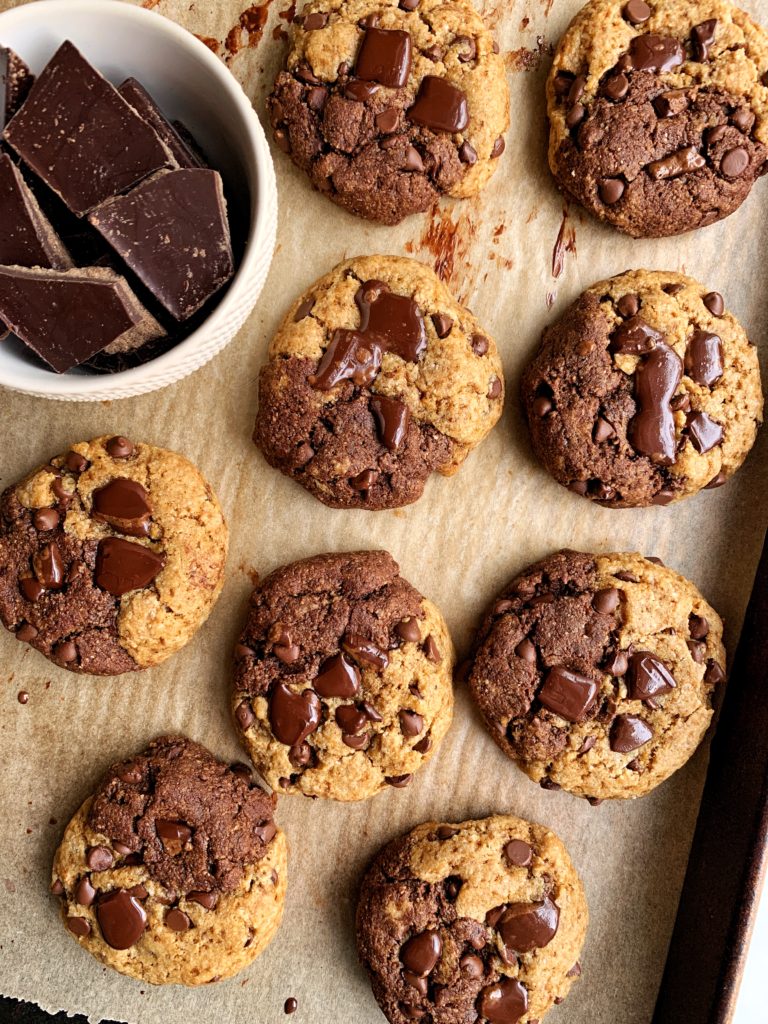 I was originally going to share this recipe with you guys in May. But after taking my first bite of these cookies, I knew I had to share this a lot sooner. And by a lot sooner, I'm talking an hour.
I am usually one to make content then hoard it for a couple weeks then share. It is less pressure to type up a blog post, edit photos, shoot photos, etc. There is a lot of behind-the-scenes that happens from the moment I think of a recipe till the day it gets published. Especially if a sponsored post is involved.
I can share more on that soon but in the meantime, let's make these cookies.
Chocolate chip cookies swirled with some delicious brownie batter to make a healthier gluten-free and vegan dessert anyone would love.
These cookies are basically the two best dessert categories ever swirled into one perfect cookie.
Brownies and cookies fell in love once again. Especially after those Gluten-free Chocolate Chip Cookie Brownies that I shared a couple years ago. They are forever and always a favorite of mine and yours.
I love that these cookies only require a few ingredients and pantry staples. I chat all about my pantry staples in the first section of my cookbook, Just the Good Stuff, for anyone who has it.
What ingredients you'll need to bake these chocolate chip brownie cookies:
Almond flour or almond meal.
Coconut flour as the secondary flour. It's just a little bit, but it is needed to help with the consistency of the cookie.
Creamy or seed nut butter and you can use peanut butter, almond, cashew, anything you have on hand! The creamier the better!
Maple syrup for the sugar. You can also use honey as well, but coconut sugar isn't going to work, it'll be a bit too grainy!
Coconut oil in liquid form or you can melt and cool some solid coconut oil.
Cacao powder to make the brownie batter
Flax egg or egg to help bind this recipe. Either works
Dark chocolate chips because DUH! And you can use the code RACHL for free shipping on these baking gems. They are my favorite.
Once you bake these, head on over to this blog post where I share even more ideas on what to bake!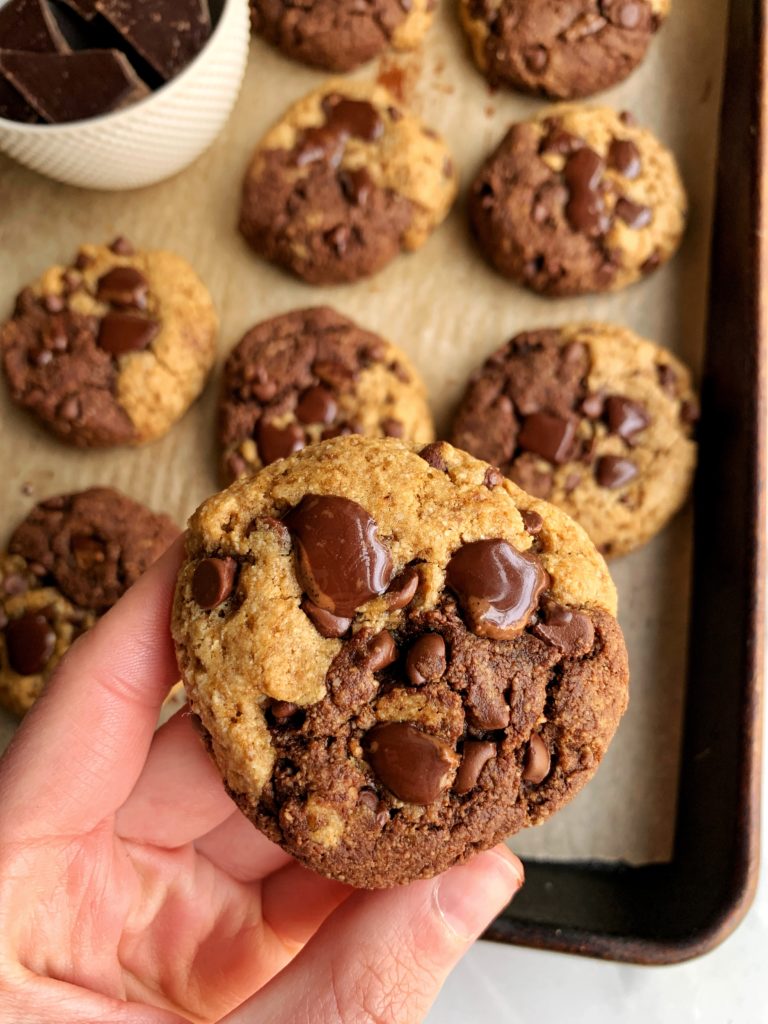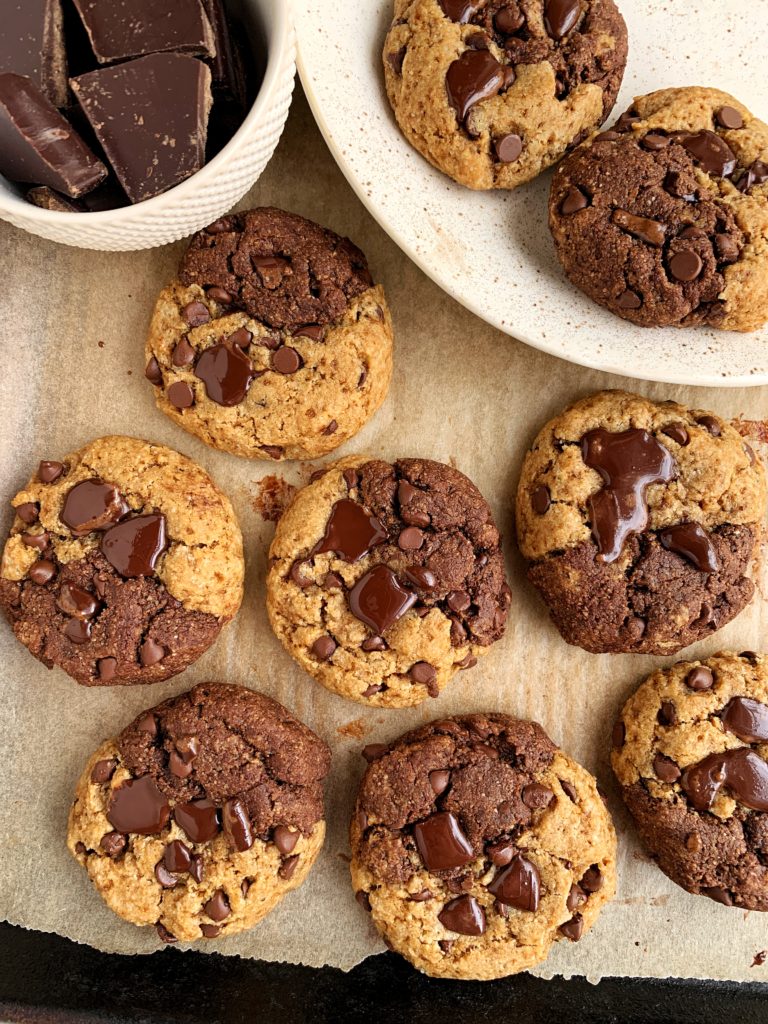 Print
Paleo Chocolate Chip Brownie Cookies
The best chocolate chip brownie cookies made with all gluten-free and vegan ingredients. A lower in sugar cookie option made with healthy ingredients.
Prep Time:

5 mins

Cook Time:

10 mins

Total Time:

15 mins
1

flax egg (

1 tablespoon

ground flax +

3 tablespoons

warm water)*

1/3 cup

creamy nut or seed butter (I love using creamy tahini but anything works)

1/3 cup

maple syrup or honey

3 tablespoons

liquid coconut oil

1 teaspoon

vanilla extract

1 1/2 cup

almond meal or almond flour

3 tablespoons

coconut flour (you can try adding in more almond flour/meal if you don't have!)

2 tablespoons

cacao powder

1/2 teaspoon

baking powder

1/2 cup

dark chocolate chips (code RACHL for free shipping)
Instructions
Preheat oven to 350 degrees and line baking sheet with parchment paper
In a large bowl, whisk together the egg, nut butter, maple syrup, coconut oil, vanilla extract together until smooth
Mix in the flours and baking powder (NOT the cacao yet!) until well combined
Fold in chocolate chips then split the dough into 2 equal balls
Add one of the large balls of dough to a medium bowl and mix in the cacao powder to make brownie dough until it is combined and the dough turned a darker shade (like brownie brown!)
Scoop about 1 tablespoon of chocolate chip cookie dough and roll into a ball and add to baking sheet and repeat for remaining chocolate chip cookie dough
Scoop about 1 tablespoon of brownie dough and roll into a ball and add next to each cookie dough ball on baking sheet
Gently pinch the brownie and cookie dough together, making sure there are no gaps to make the half cookie/half brownie cookie! Leave about 1 inch of space between each
Bake in oven for 10-12 minutes or until ready
Store in airtight container for 5 days or freezer for 2 months