Quinoa Tuna Salad Stuffed Peppers made a few healthy gluten-free ingredients. Perfect for an on-the-go lunch!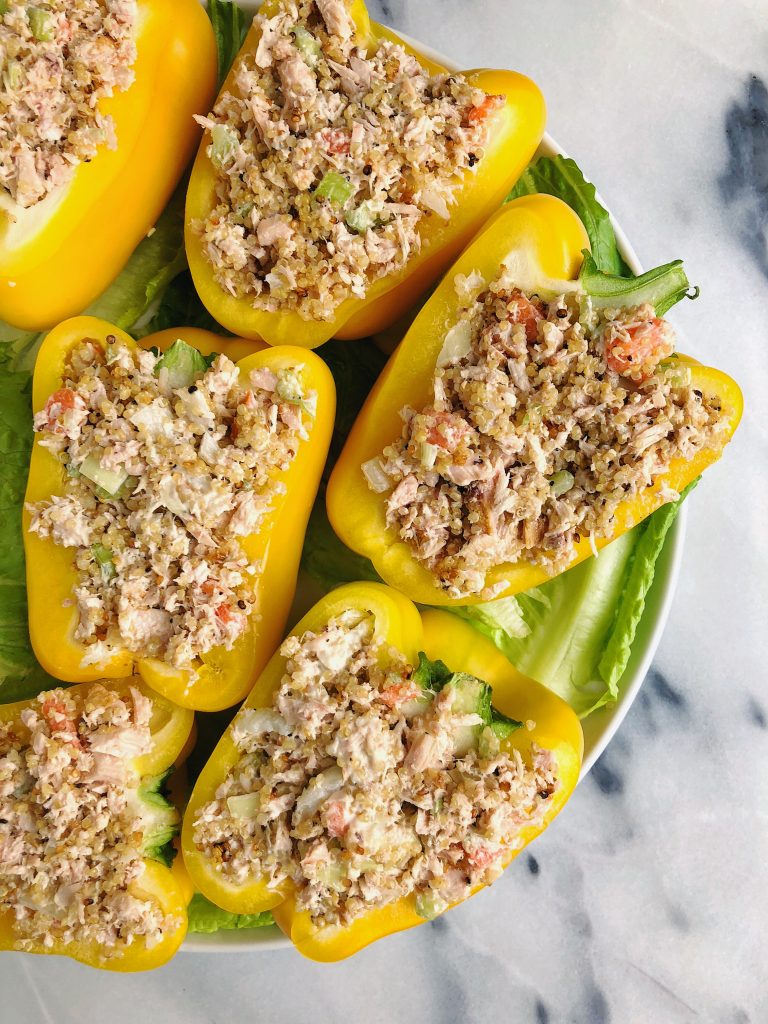 What is it about prepping lunch that we all dread?
I have found that most people complain the most about packing lunch for school or work compared to any other meal. That is likely why many eat out everyday and spend about $15 on their salad or whatever trendy and delicious lunch is that day.
I'm not really for spending money daily on lunch out and I have always been someone who likes to pack their lunch and food to come prepared. This gives me a sense of ease knowing that lunch is waiting for me in the fridge when I get hungry and when I am running from meeting to meeting, I carry food in my bag.
Jord also takes a packed lunch at least 4x a week. His office provides lunch on Friday's (corporate world perk), but every other day I pack food for him. In addition to breakfast, snacks and obviously serving dinner later that day.
I love creating these simple and easy portable lunch recipes like these Quinoa Tuna Salad Stuffed Peppers. After seeing how many of you loved those Tuna Stuffed Avocados, I had to share my other favorite way to eat tuna salad.
I add quinoa to the mix to add extra substance and make the recipe a bit more filling. Plus it is a great way to get in some extra healthy carbs during lunch.
I always use Safe Catch tuna as you know because it is the lowest in mercury and it is the only tuna I trust. Each can or packet has no additives and seriously tastes delicious. I have my whole family hooked on Safe Catch now and we won't eat any other canned tuna! Plus I love how many delicious recipes you can make with just a can of Safe Catch. And they have a ton of delicious tuna flavors to spice things up a bit.
After you guys try these Quinoa Tuna Salad Stuffed Peppers, take a peek at these other Safe Catch recipes from the blog. I think you will love!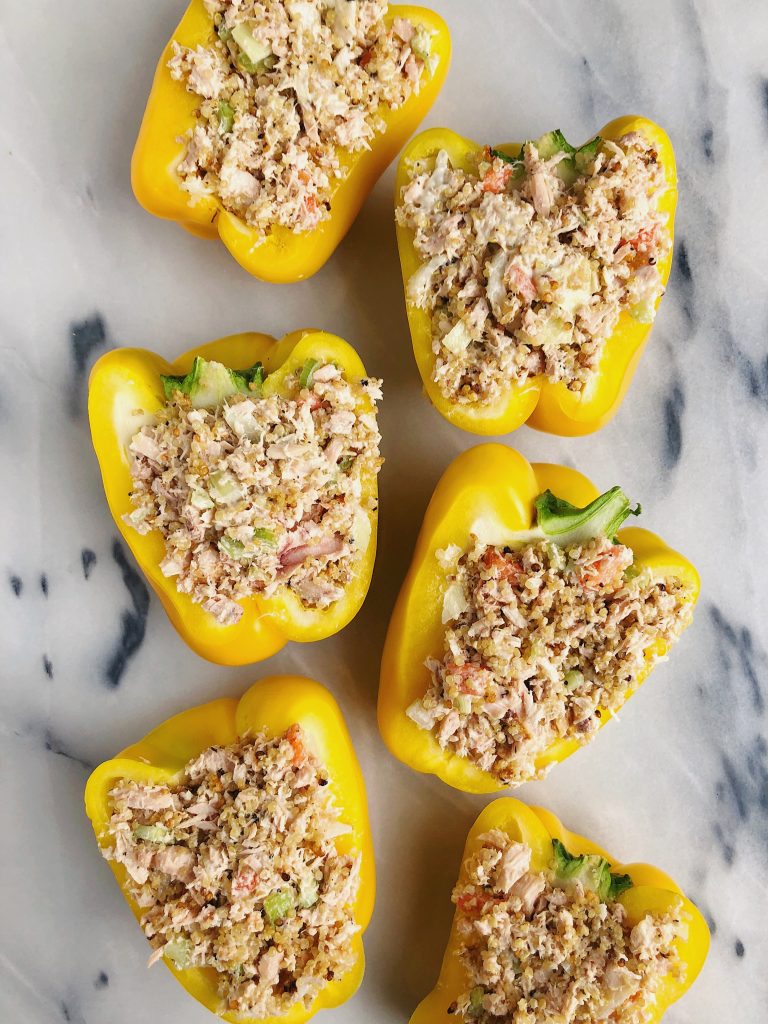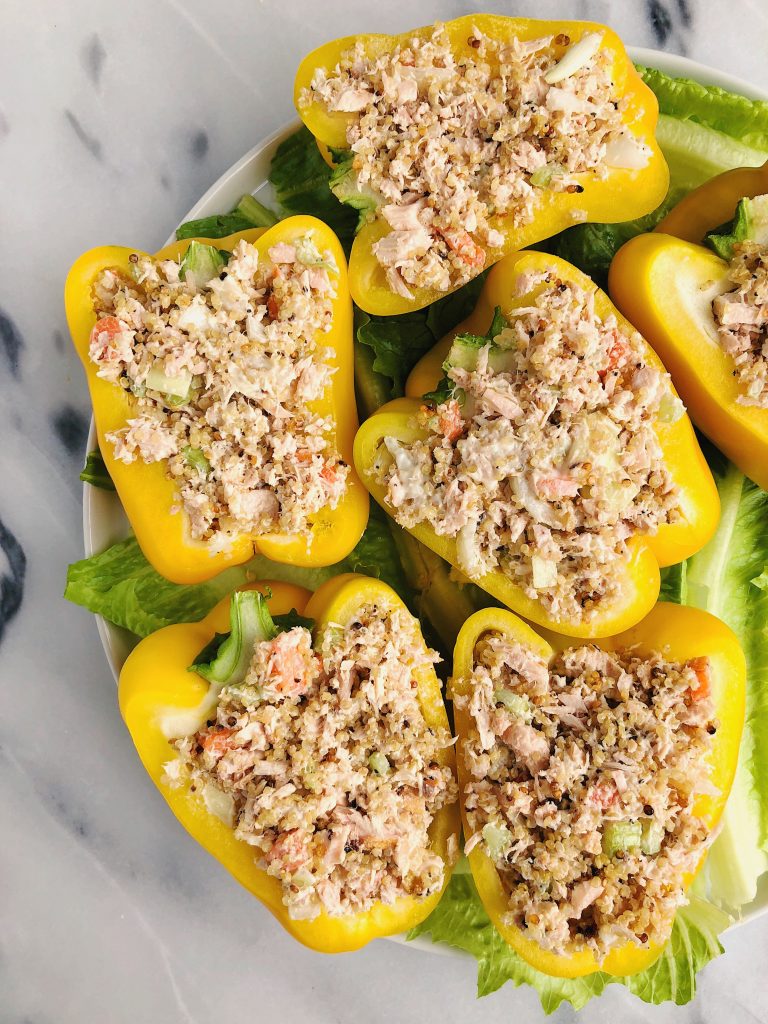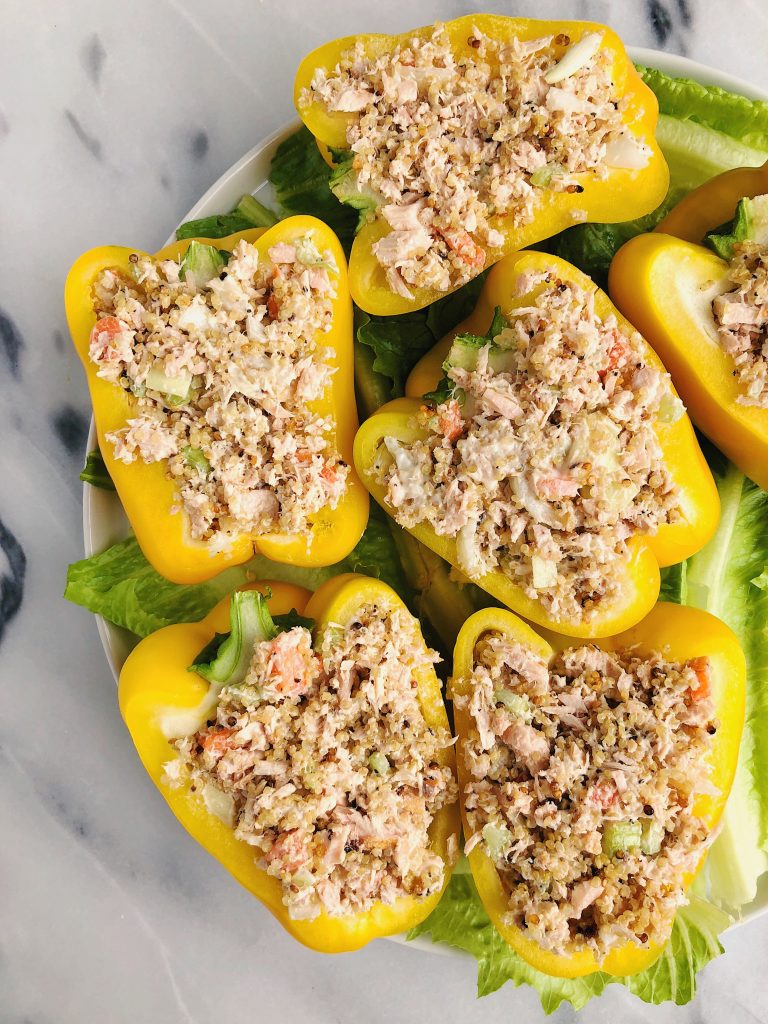 Print
Quinoa Tuna Salad Stuffed Peppers
Prep Time:

5 mins

Total Time:

5 minutes
2

five ounce cans of Safe Catch Tuna

1 cup

cooked quinoa

1/2 cup

mix celery, carrots and onions (chopped)

3 tablespoons

mayo of choice

3

peppers, cut in half

Salt and pepper to taste
Instructions
Hollow out each pepper to take the seeds out

In a bowl combine the tuna, quinoa, veggies and mayo and mash so it is well combined
Add into peppers and enjoy!
*You can prep this ahead of time and bring to work!
xx, Rach
Thank you Safe Catch Foods for sponsoring this post! It means so much to me to work with brands I love and believe in!
SaveSave
SaveSave