Raw Carrot Cake Bars & Cashew Cream Frosting for a vegan grain and gluten-free treat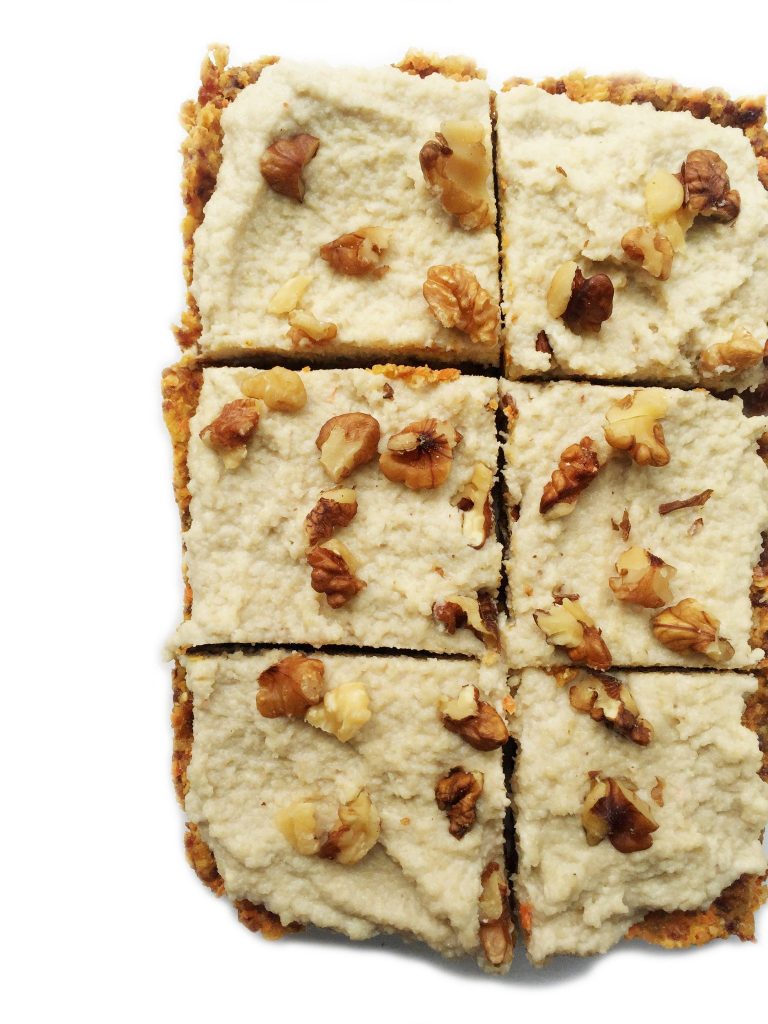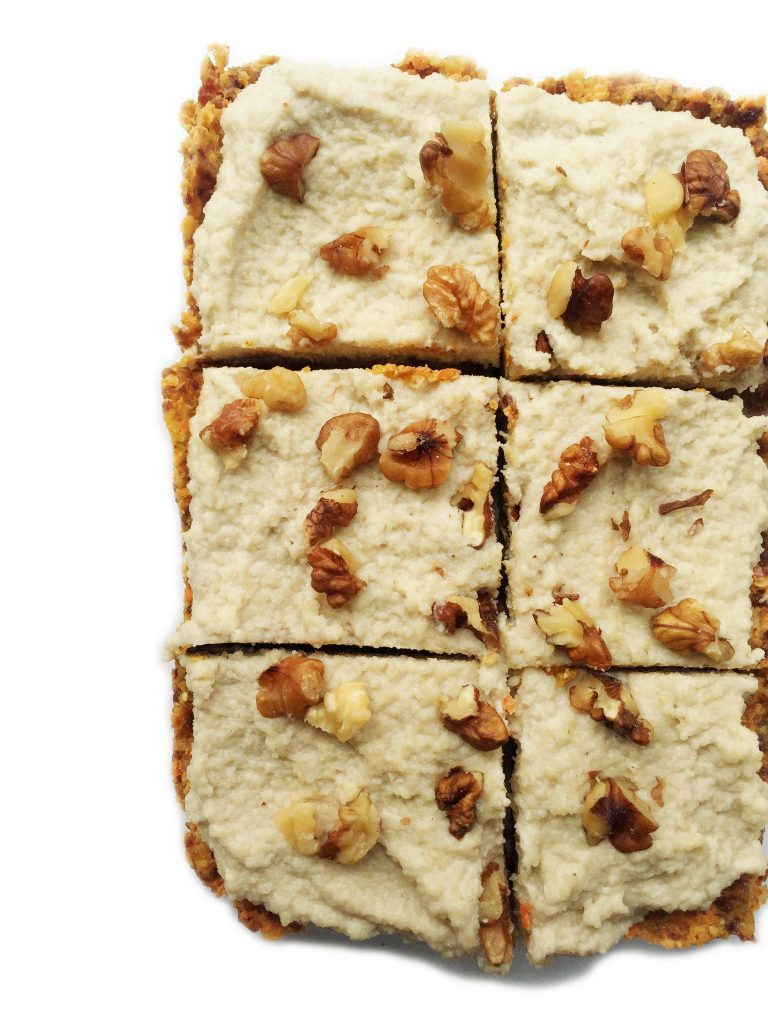 As you babes found out in my Paleo Carrot Cake Pancakes recipe, I am not exactly a huge fan of carrots.
The only way I eat them is when they are hidden in sweet things (like cake and pancakes) so I can barely taste them. I pick them out of salads, hate when they are in my vegetable sushi rolls and no matter how much hummus I smear on top, I just can't eat them!
Carrot Cake is one of my personal favorite desserts plus Jord loves it too. The chunks of walnuts and coconut seriously hits the spot every time.
I had never heard of or had raw carrot cake before and since June is finally here, I am not trying to turn the oven on in my studio when it is hot out. Jord wasn't totally into the whole "raw carrot cake" idea but after he ate one, he was pleasantly surprised.
It only takes a few minutes to prep these Raw Carrot Cake Bars before you pop them in the fridge for a half hour or so. Plus they are smeared with a homemade vegan Cashew Cream Frosting that is actually too die for. I was throwing random things in my food processor hoping it would turn out like a frosting.
I combined Better Body Food's coconut oil and agave with soaked cashews and nut milk to make the frosting extra creamy and flavorful. You definitely need to pulse it in the food processor for a bit so that it gets as creamy as possible.
I am pretty sure Better Body Foods is in 95% of the recipes on my blog. They sell everything we need from quinoa to coconut oil to powder peanut butter and more. Similar to what this blog preaches, BBF also believes in eating food that is good for you and tastes amazing. Needless to say, without this brand, some of these recipes wouldn't exist!
[bctt tweet="Easy No-Bake & Raw Carrot Cake Bars with Cashew Cream Frosting" username="rachLmansfield"]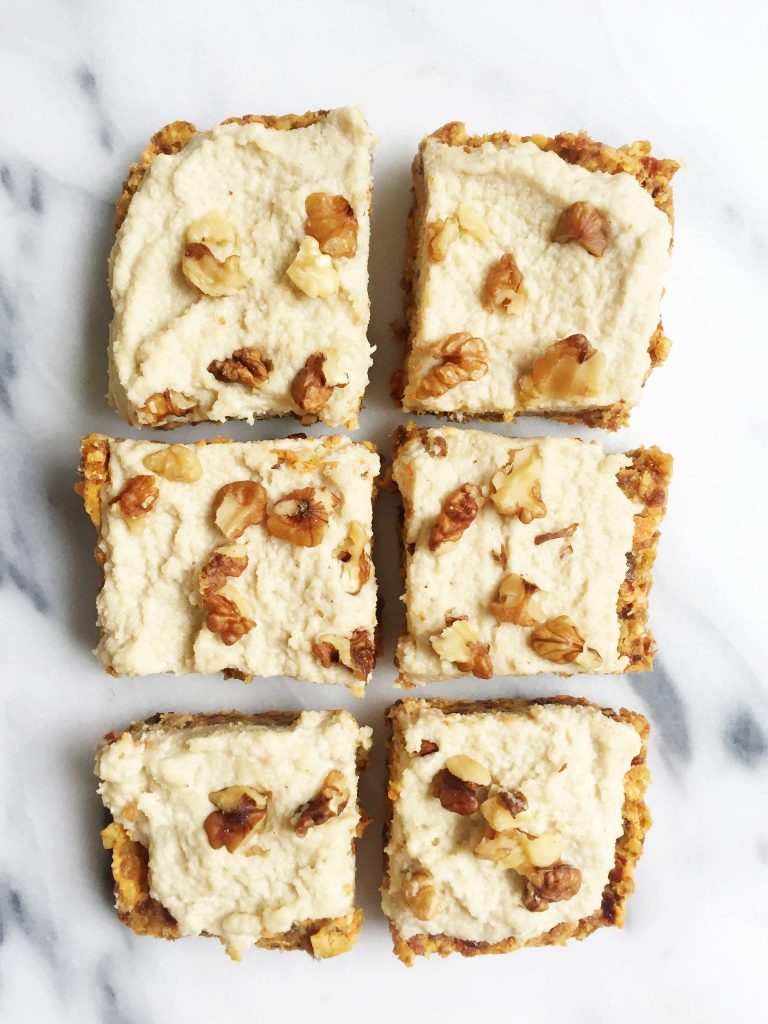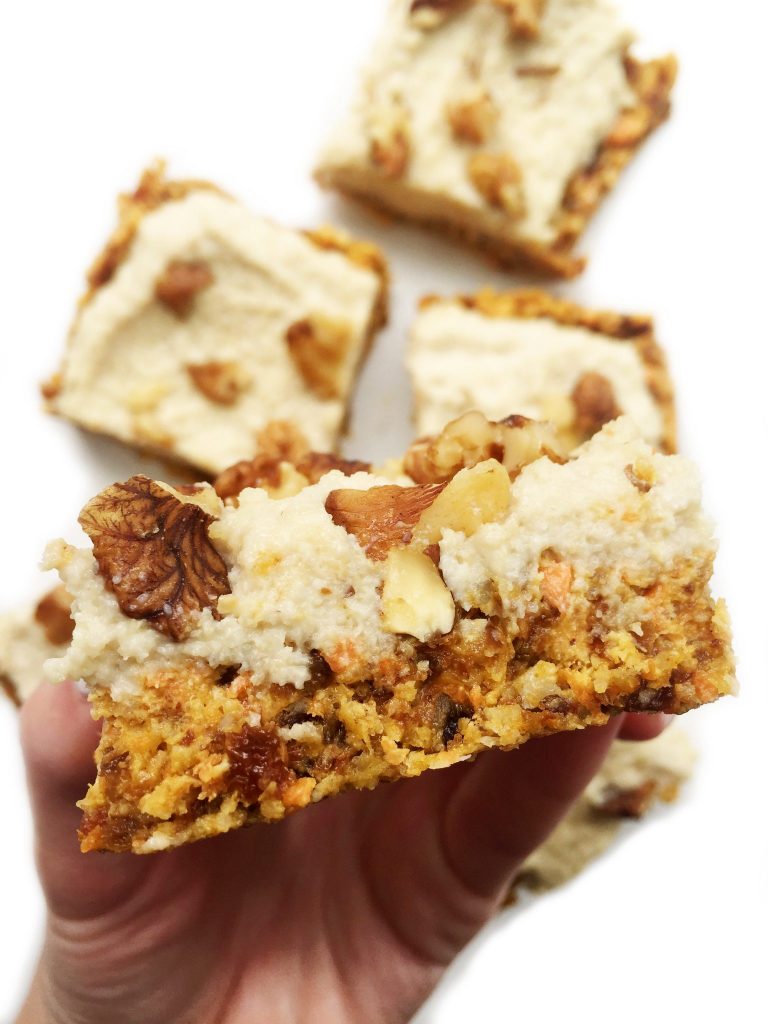 Print
Raw Carrot Cake Bars & Cashew Cream Frosting
Prep Time:

10 mins

Cook Time:

40 mins

Total Time:

50 mins
Carrot Cake:

1/2 cup

of pitted and soften dates

1/2 cup

unsweetened coconut flakes

1/2 cup

shredded or chopped carrots (use organic if possible)

1/2 cup

raisins

1 cup

raw walnuts

Pinch of ginger

Pinch of nutmeg

Pinch of cinnamon

Cashew Cream Frosting:

3/4 cup

raw cashews soaked overnight in warm water

1.5 tablespoons

coconut oil melted and cooled

2 tablespoons

agave (raw honey or maple syrup will work)

1 tablespoons

unsweetened almond milk (or any milk)
Instructions
Carrot Cake:
Add all ingredients to food processor and pulse until dough is formed
Grease an 8×8 baking dish with coconut oil and press dough into the dish to form bars (it will only take up 2/3 of the dish)
Pop into the freezer and begin making Cashew Cream Frosting
Cashew Cream Frosting:
Add all ingredients to food processor and pulse until completely creamy
Layer on top of the carrot cake bars and pop back into freezer for about 30-40 minutes to set
Cut into bars and enjoy!
Will stay good in fridge for 7 days or freezer for months!
Author:
Category:

vegan, gluten free, grain free

Cuisine:

dessert, snack
xx, Rach