The fluffiest Paleo Carrot Cake Pancakes made with 7 ingredients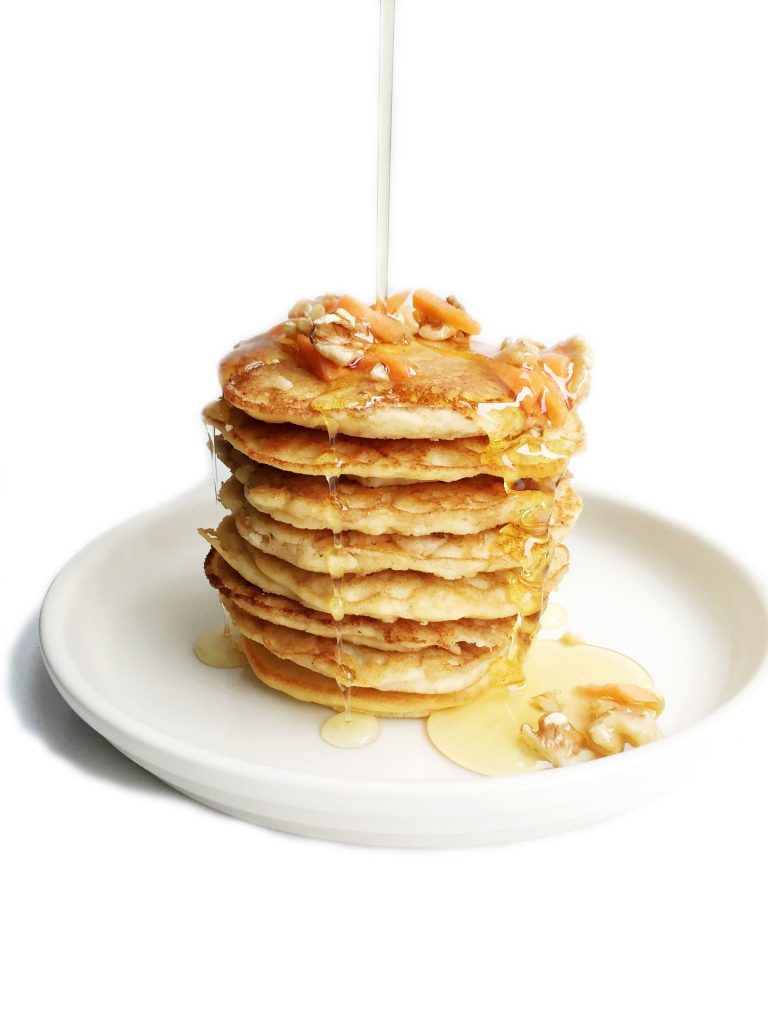 Fluffy
Cakey
Paleo
Carrot
Cake
Pan-
Cakes
Did I mentioned cake yet?
Mid-March means it is Carrot Cake season right? I always associate Carrot Cake with Easter (says the Jewish food blogger). Carrot Cake also reminds me of my husband's Grandmother because he always raves about her homemade Carrot Cake and and how amazingly delicious it is. I personally haven't tried it, but around Easter, he always talks about it.
Even though my family (and Jordan's) don't personally observe Easter, my parents don't miss an opportunity to celebrate a fun holiday with my brother and I, and now Jord too.
We always had Easter egg hunts in our backyard growing up. I personally think it was my parents way of trying to get me to move around a little more as a I was the laziest girl EVER growing up. They would do anything to incentivize me to be a little more active. Plus the Easter egg hunt came with awesome prizes like chocolate & money (hello, who wouldn't participate?). We even still do it do this day. My 26 year old self will travel home for an Easter Egg hunt and the day my parents stop doing it, they know I will be devastated.
Now, to the Paleo Carrot Cake Pancakes. As I've mentioned before, I am a straight up carrot hater, but when it comes to carrot cake, this chick can't resist. I recently made these Carrot Cake Overnight Oats that were such a hit with you guys too, and inspired me to make these Paleo Carrot Cake Pancakes.
I wanted to make the most delicious, healthy, Easter-themed breakfast for you guys to enjoy this holiday season.
As you know, Bob's Red Mill is one of my favorite brands. I recently made a Toast Breakfast Muesli using their products. I love the quality and versatility they offer.
I also tried their Almond Flour/Meal and let me tell you, I was beyond obsessed. I can't wait to start experimenting more with this flour. It's such an awesome alternative to regular flour or whole wheat flour. Almonds are such healthy nuts and provide us with manganese and vitamin E, as well as a healthy serving of monounsaturated fats in each 1/4 cup serving. Almonds are also low in carbohydrates, high in protein and are naturally gluten free. When made into a flour, this can be a serious game changer for anyone with allergies or who want to use a higher protein flour.
For Paleo Carrot Cake Pancakes you will need: Bob's Red Mill Almond Meal/Flour, nut milk (I used pecan), eggs, carrots, walnuts, cinnamon, & your favorite maple syrup.
[bctt tweet="Paleo Carrot Cake Pancakes made with less than 7 ingredients!"]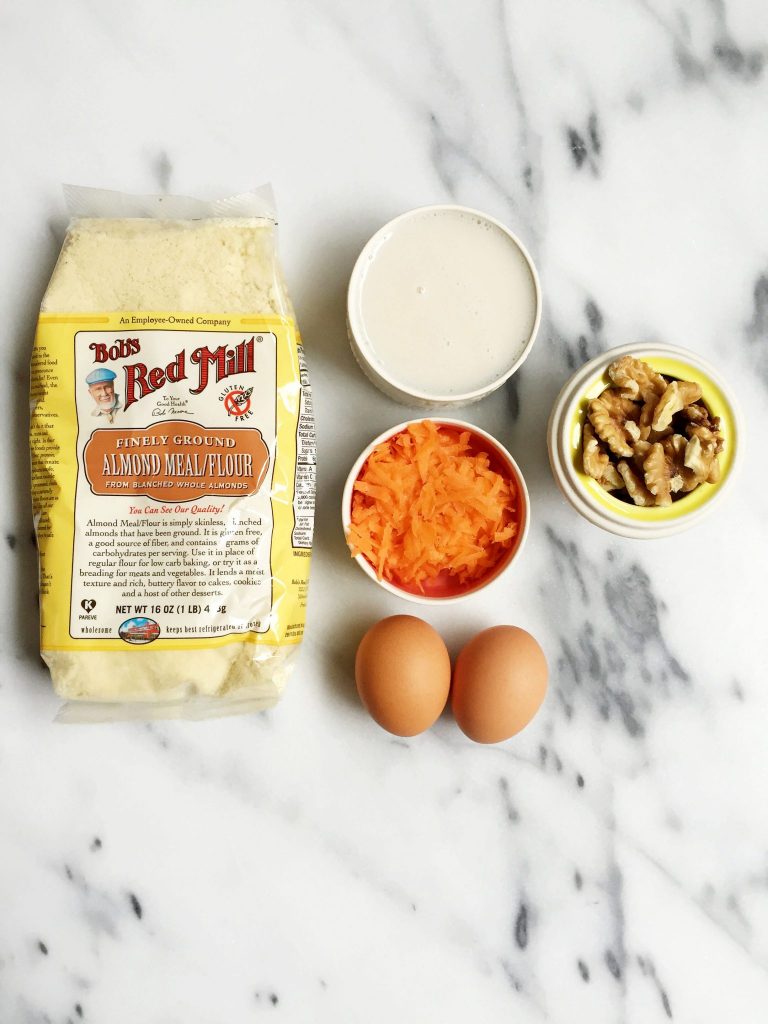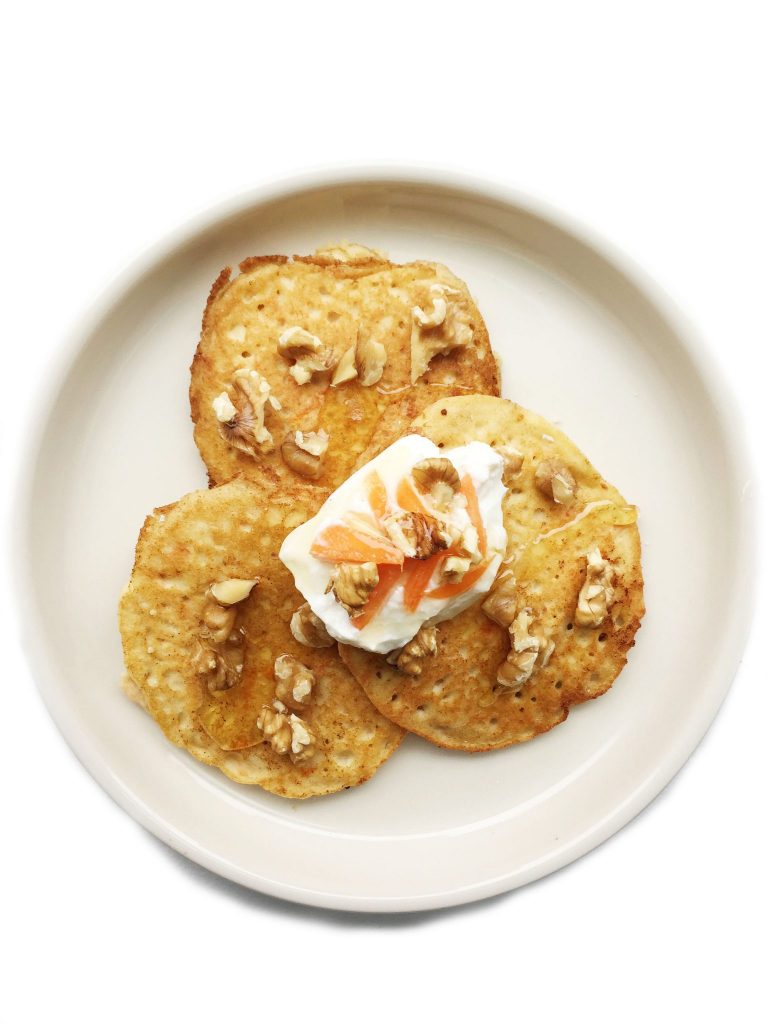 Print
Paleo Carrot Cake Pancakes
Yield: 10-12 small pancakes 1x
1

+ 3/4 cup almond flour (I used Bob's Red Mill)

2

eggs

3/4 cup

unsweetened almond milk

1/4 teaspoon

baking soda (or baking powder if not paleo)

1/3 cup

grated carrots

Sprinkle of cinnamon

1/4 cup

chopped walnuts (I used as topping but you can include in batter, it may just be heavy while flipping pancakes)
Instructions
Grease pan of choice (I used a medium pan) with a little coconut oil
Whisk together eggs and milk in medium/large bowl
Add almond flour, cinnamon and baking soda and mix well
Fold in carrots and walnuts (you can also top with walnuts instead)
Heat up the pan to medium-high heat and let batter sit for 5 minutes or so (if too liquidy sprinkle some more flour in the bowl and mix)
Using tablespoon pour batter onto pan (about 2-3 tablespoons per pancake)
Flip over once the pancake starts to bubble a little (or about 2-3 minutes)
Serve immediately with maple syrup or toppings of your choice (I also used paleo coconut yogurt)
Author:
Category:

paleo, gluten free, dairy free

Cuisine:

breakfast
xx, Rach
I was selected for this opportunity as a member of Clever Girls and the content and opinions expressed here are all my own.
This post contains affiliate links, which means that if you purchase a product through a link you clicked on here, I receive a portion of the sale. Thanks for supporting the blog and making rachLmansfield.com possible! xx