The Best Gluten-free Monster Cookies sweetened with coconut sugar for an epic healthier cookie recipe ready in under 30 minutes.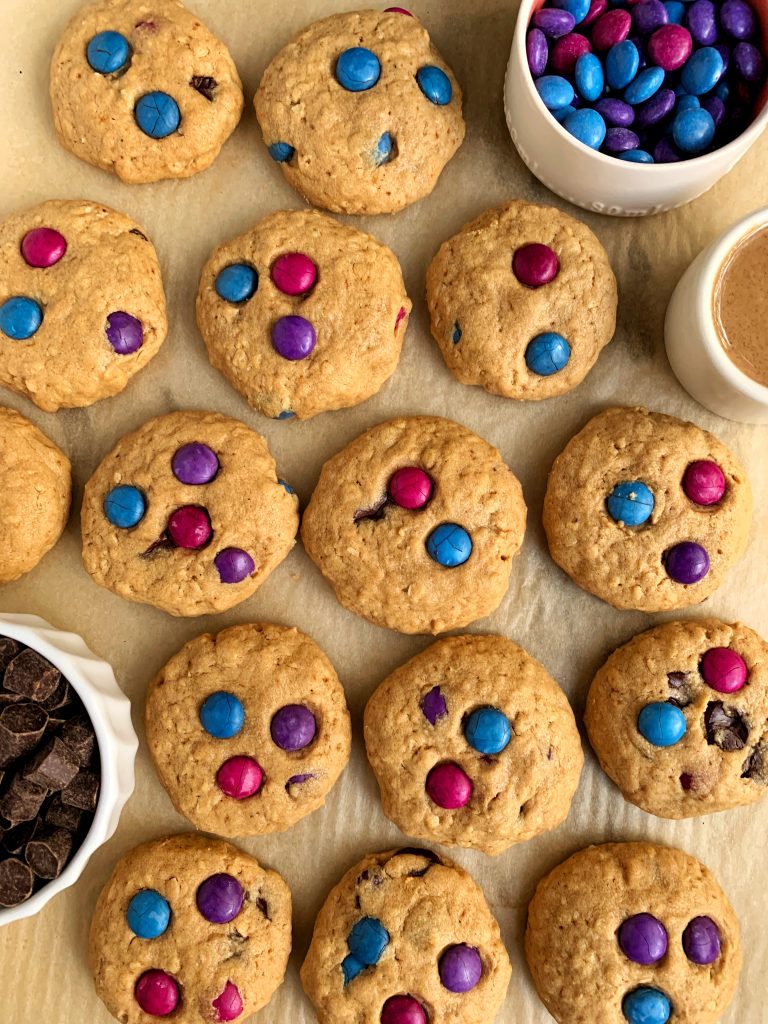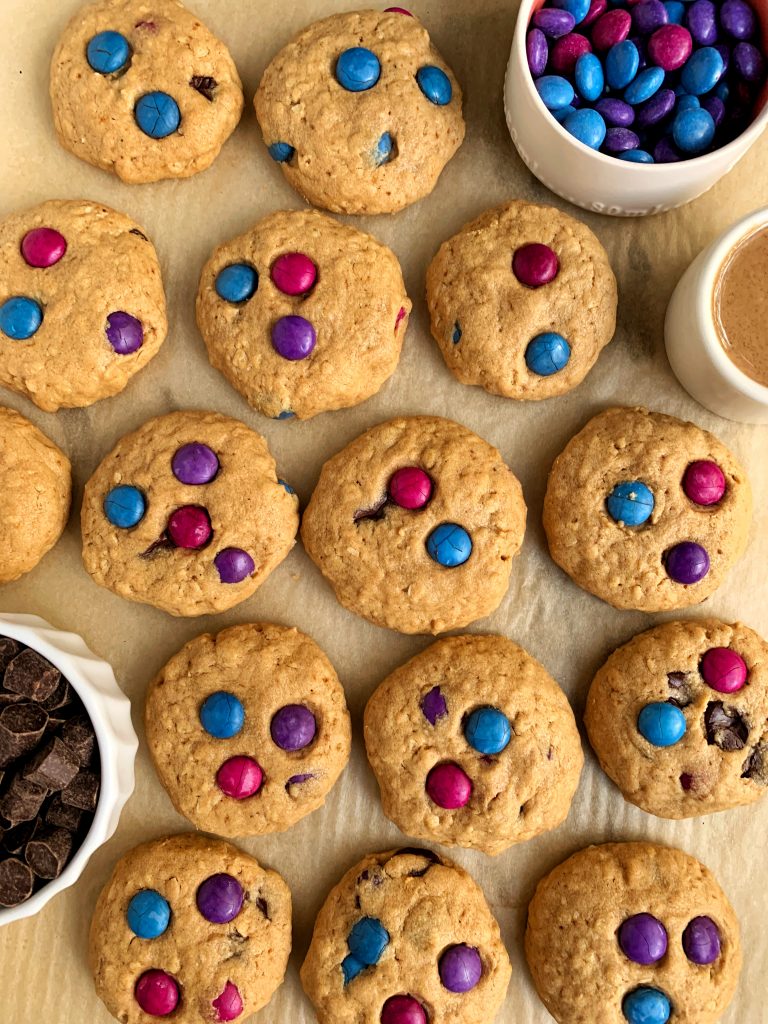 December is fully dedicated to making an insane amount of cookies to bake with you guys.
Starting with these Gluten-free Chocolate Chip Monster Cookies that are so good that Ezra's nanny's grandchildren, my family and my friends have been requesting them over and over and over again.
To be honest, I would refer to these as some sort of kitchen sink or M&M cookie. But after polling my Instagram community about what kind of cookies you guys are craving, everyone said "monster cookies". So whatever you want to call them is cool with me. All that matters is they taste kick a$$ and have the most epic line up of flavors.
These healthier monster cookies are going to be one of those recipes I bake for Ezra and his friends when they are over. Not to mention, they are so simple and easy to make too.
You only need 8 ingredients and 30 minutes to whip these healthier Gluten-free Monster Cookies up.
You will want to stock up on my beloved If You Care baking sheets for all of your baking/cooking needs this holiday season. And really any season if you ask me.
I have been going through their baking sheets and sandwich bags like this is no tomorrow. The sheets help prevent the cookies from sticking. This cookie dough is a little sticky so you will definitely want to line your tray with something. Then I use the sandwich bags when I gift these cookies to friends and family.
If You Care is a total staple around here when it comes to my kitchen. As you see in pretty much every recipe and most recently those 6-ingredient Paleo Blueberry Banana Bread Muffins and The Best Gluten-free Pumpkin Bread Ever.
In addition to baking sheets, here are the key ingredients you will need to bake these cookies.
BUTTER! You can use dairy or non-dairy butter, either works. I love using salted pasture-raised butter in these. It gives them that classic buttery flavor in the cookie and the salted goes so well with peanut butter and the chocolate. You can used coconut oil as well (please see below for instructions)
Egg. you can likely sub flax egg here!
Peanut butter. Creamy creamy peanut butter friends.
Coconut sugar for the sweetener. You can also use a mix of brown and/or cane sugar too but I prefer coconut sugar to keep these refined sugar free (besides the candy M&M looking things)
Gluten-free oat flour. You can sub spelt flour or wheat flour. I haven't tested any grain-free ones in this since we use oats anyways
Gluten-free quick rolled oats. Old-fashioned oats may work too but you may not need as much since they are larger!
Crunchy chocolate candy and dark chocolate. Totally optional to use both but the the beep not!
I hope you guys love these and every other cookie recipe here on the blog as much as I do!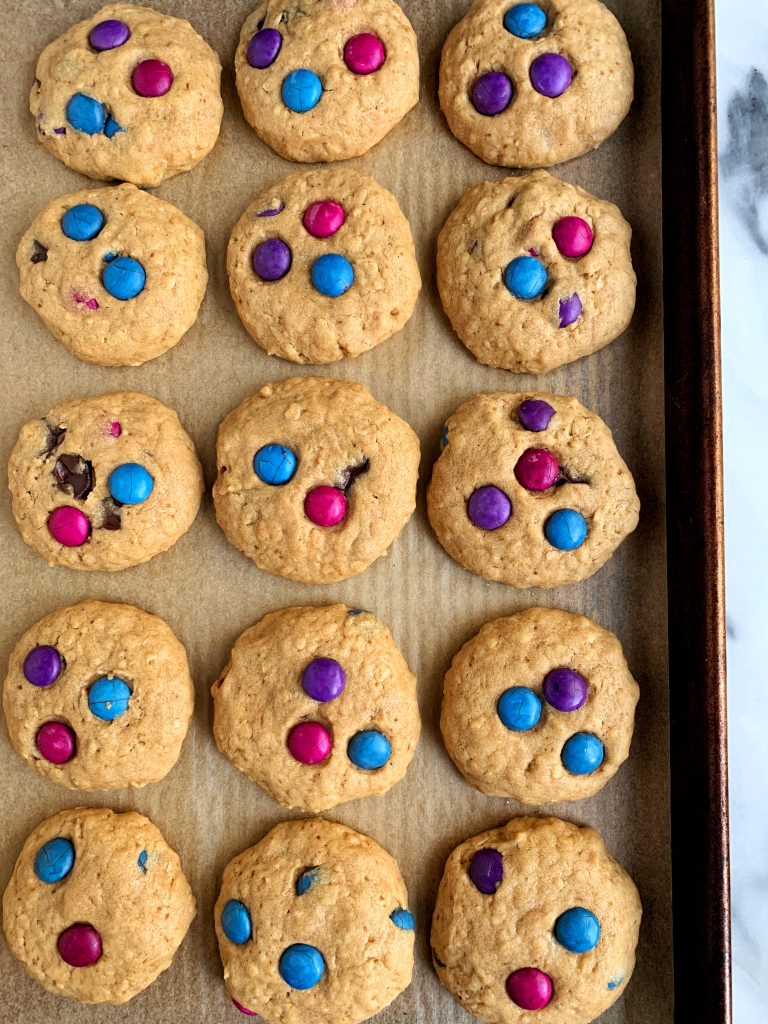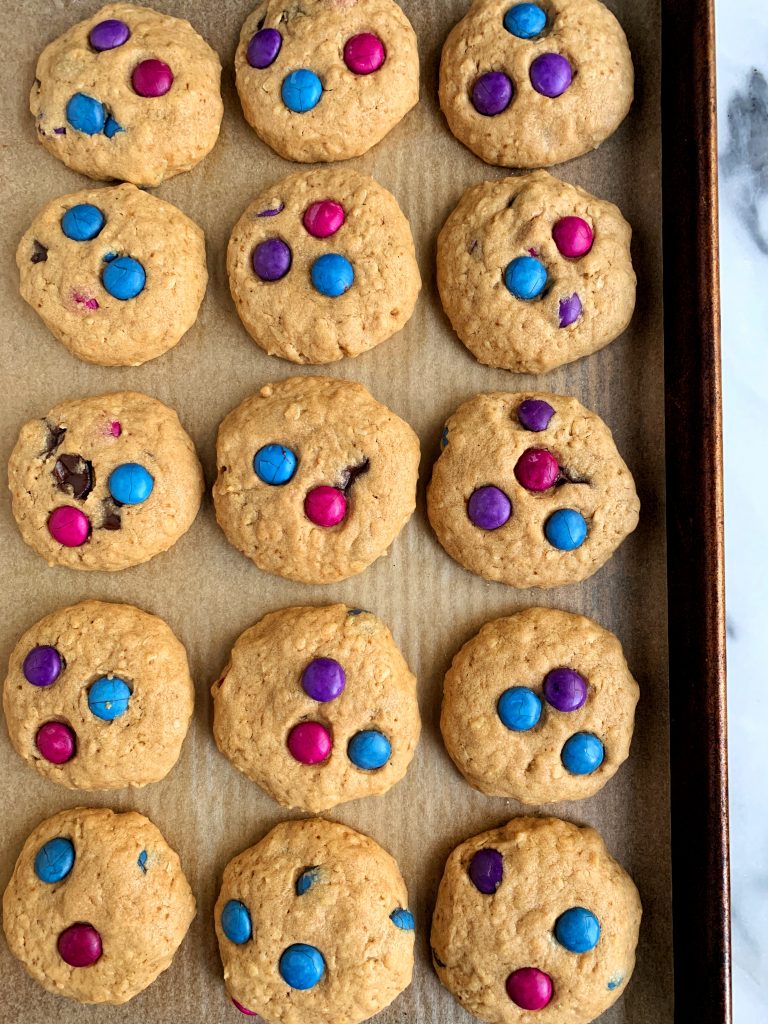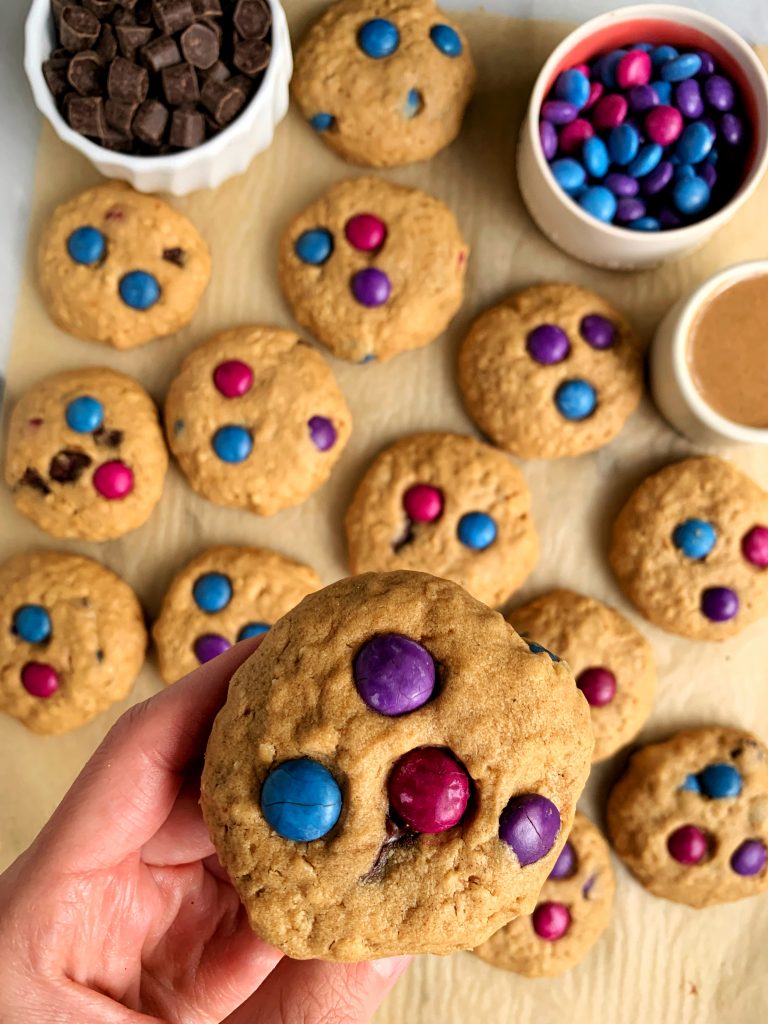 Print
The Best Gluten-free Monster Cookies
The Best Gluten-free Chocolate Chip Monster Cookies sweetened with coconut sugar for an epic healthier cookie recipe ready in under 30 minutes.
Prep Time:

20 mins

Cook Time:

10 mins

Total Time:

30 mins
1

stick (1/2 cup) pasture-raised salted butter, at room temperature*

3/4 cup

creamy peanut butter (or any nut butter)

1/2 cup

coconut sugar*

1

large egg*

1 teaspoon

vanilla extract

1/2 cup

organic gluten-free quick oats

1 1/4 cup

gluten-free oat flour*

1 teaspoon

baking powder

3/4 cup

organic chocolate candy

1/2 cup

dark chocolate chips (code RACHL for free shipping)
Instructions
In a large bowl, cream together the butter, peanut butter, sugar, egg and vanilla until smooth and creamy (I used a hand mixer)
Add in the oats, flour and baking powder and mix in well
Fold in the candy and chocolate then add dough to fridge for about 10 minutes to set
Preheat oven to 350 degrees and line a baking tray with If You Care baking sheets and spray if desired
Form cookies by rolling about 2 tablespoons of dough in your hand and add to tray (these cookies spread a little so leave about 1 inch in-between)
Bake in oven for 10-12 minutes then cool for a few minutes and enjoy!
Notes
Store leftovers in airtight container for 5 days or freezer for longer
*Sub dairy-free/vegan if needed. You can also use 1/2 cup of SOLIDIFIED coconut oil. Melt it to liquid form then let it cool for a bit (measure before melting)
*Can sub cane sugar or date sugar but not honey or maple syrup (no liquid sweeter)
*I haven't tested flax egg but it should work too
*Can sub spelt flour or wheat flour if not gf but I haven't tested any others
xx, Rach
Thank you If You Care for partnering with me for this post! I love using your products in all of my recipes here on the blog!