Sharing our travel experience and tips for traveling to Hershey Park with toddlers.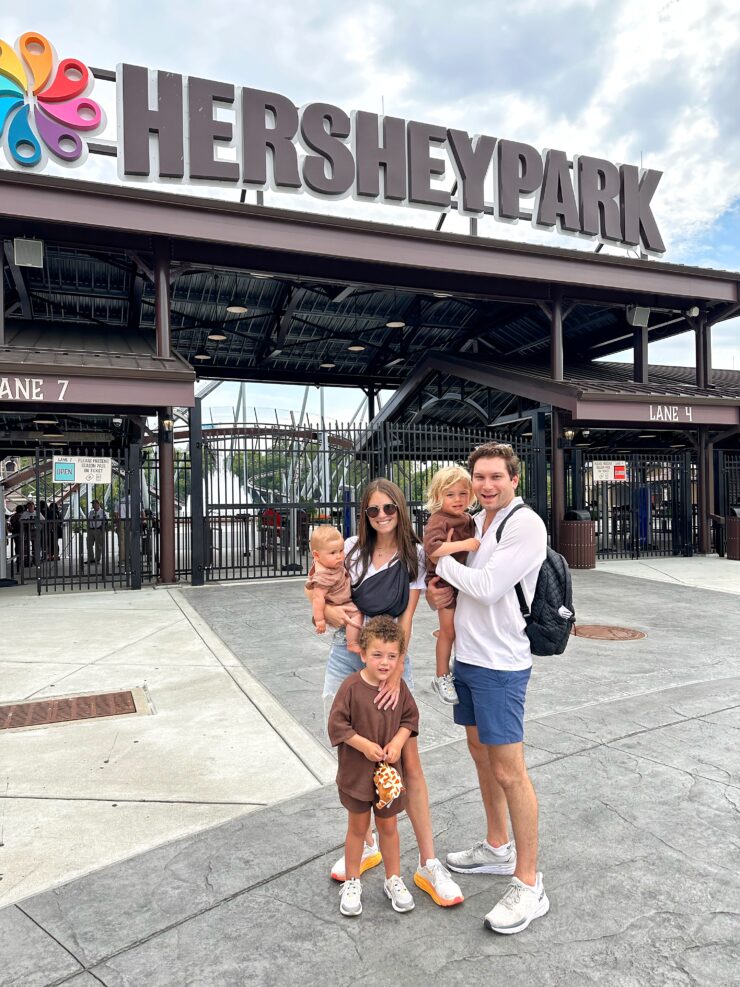 We just got back from Hershey Park with my husband and his family for a few days. We went with my in-laws, Jordan's brother, his wife and 3 year old then my family of 5.
To be honest – I didn't plan on writing a whole recap of our trip. But when I started sharing how we went and some of our trip on Instagram, it quickly occurred to me how valuable a blog post like this would be for families.
When we were doing research on our trip, I was really overwhelmed with all of the tips and suggestions from everyone. I also hadn't been to Hershey Park since I was in 8th grade, so I was a bit rusty on the park itself. But the second we walked through the gates, it all came back to me. I was having flashbacks to going with my family and for school trips.
We currently live about 2 1/2 hours from Hershey Park, so it is a really manageable getaway for us. I wouldn't go for the day with kids but for a couple of nights it was well worth it. We arrived Sunday at 1pm at Chocolate World then left Tuesday at 12pm after brunch.
Preparing for your visit to Hershey:
I made lists of what to pack the week leading up to our trip. We stayed over in the hotel so we had a lot to pack between all 3 kids. Traveling with a 4 year old, 2 year old and almost 8 month old is no walk in the park. But I find that my crazy lists to make things more feasible when preparing.
For these trips, I do think a hotel is best but plenty also stay in an airbnb or rental of sorts and have a great time. With kids, it is tiring enough to travel so having the extra amenities is a plus in my opinion.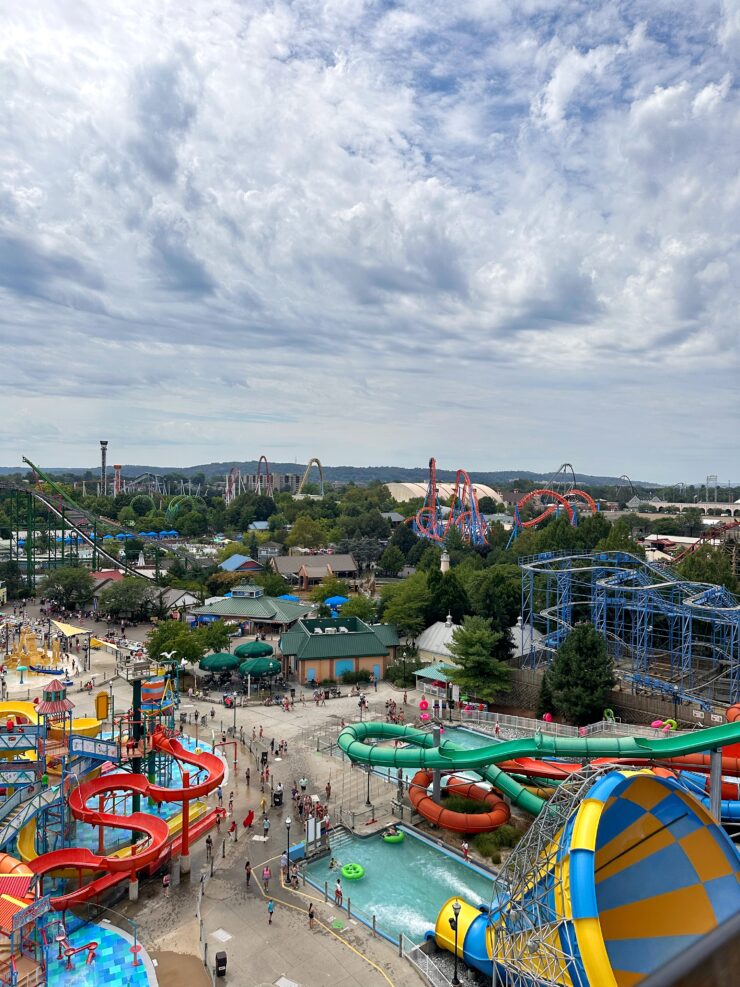 Packing our park bag:
Empty water bottles for adults and kids are a must!
Snacks for everyone – cereal, kid's snack bars, my snack bars, cheese crackers, pouches for Cooper, fruit and meat sticks
Diapers, wipes and changing pad for our infant – I changed him in our stroller or on benches with the changing pad.
Change of clothes and bathing suits – incase we did the water rides, which we did not due to time. I packed water shoes for the kids and we all wore sneakers.
Band aids, sunscreen and hats – my kids refuse hats but I packed just incase.
Before you go to Hersheypark:
Download Hersheypark App – the map is really helpful and you can identify the rides with wait times, dining options and a lot of other helpful info there too. They also don't hand out paper maps so you will need to have map on your phone
Buy tickets ahead of time – kids under 3 don't need a ticket (they're free!), so we only needed tickets for us and Ezra. If you are staying at Hershey properties, ask them for hotel specials for guests.
Reserve parking – you can save $5 I learned. Which we did not do but might as well book it ahead of time if you know you'll park. We paid $25 to park all day and you can then leave and come back, which is great and convenient.
Measure your kids – measure your kid's heights to know what the appropriate rides will be for them. You can make them a profile in the app and track what rides they can go on then. Ezra was a Reese's and Brody I think was a Hershey Kiss. They also have a part in the entrance of the park where you can measure your kids too.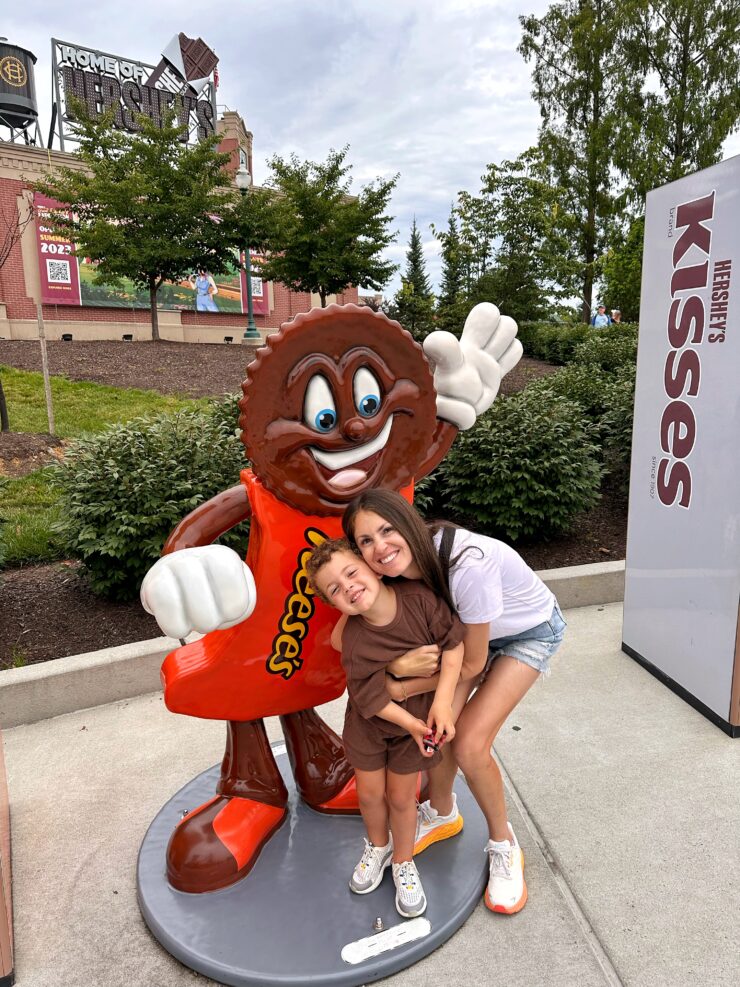 Tips while visiting the park:
Take advantage of the preview! You can enter the park 2.5 hours before it closes the night before for free (as a part of your ticket!). Great way to see the park and get on some rides the night before. We did this with the kids from 7:00-8:30pm! It was aggressive but I'd do it again.
The kid area has very few lines so you don't need a fast track in our experience.
Take advantage of "sweet start" and go in at 9:00am if you're a guest of one of Hershey's hotels. We got there at 8:45am and it was great to get a head start.
Water rides are mostly busy in afternoon and evening so if these are your favorite, start there while the lines are shorter. We skipped all the water rides because we ran out of time. But they also weren't a huge priority for us.
The park is cashless – bring your credit card with you and no need to bring cash.
Start with the popular rides – The Comet, Candymonium, Reese's Cup Fusion and Lafftrack are some of the most popular rides at Hershey.
Head to the back of the park first – then work your way towards the front so it's reverse what others are doing
There are tons of refill drink stations – they sell an all day drinking pass, which is well worth it if you love soft drinks. The water is obviously free but it was horrific tasting. We all couldn't drink it so we unfortunately bought waters while we were there. Next time I'll just bring large bottles in with us.
The park is really allergen-friendly for all allergies. My husband has celiac and it was easy for him to navigate around. There are tons of options to dine but be prepared for long lines! There are a lot of ice cream stands (my kids were in heaven), fast food-like places but not too many "healthy" food options.
Ride the ferris wheel for a great way to show the kids the park. The monorail looked fun too but had a 90 minute wait. The wait for ferris wheel was 10 minutes.
Have zero expectations of a schedule or plan – Cooper takes 3 naps usually and he took 1 nap the entire day from 8:30-9:30am when we got there. He was awake until we left the park at 4pm that day.
It is very manageable for one day but if you want to conquer it all – you need 2-3 full days from opening to close in my opinion.
Toddler rides may need an adult – some you need an adult with the kids and some you aren't allowed. Jordan and I alternated with Ez and B for the rides. Cooper didn't go on any for obvious reasons being an 8 month old.

Hershey's Miniatures – 0-36″
Hershey's Kisses – 36-42″
Reese's – 42-48″

If you want to lock up your belongings, there are lockers around the waterpark and you can secure your things in there. Which is great if you're whole family is going on rides. Since we all couldn't go on everything together, we didn't need to do this.
We used this stroller with the kickstand for 3 kids, which is great and I have this fan to attach – a must if traveling there in warmer months.
Tips while visiting Chocolate World:
It is not stroller-friendly – they don't have anyone watching strollers in the reserved area. So I recommend not having one and using a carrier at Chocolate World.
Chocolate tour line can be quite long – it moves pretty slow. We waited about 30-40 minutes but it was also a Sunday afternoon. It was cute and you get a mini Hershey's bar at the end. My kids liked it! Great intro to Hershey.
Make your own candy bar was cute but not as interactive as I would have thought for young kids. My kids lost patience and just wanted to eat chocolate, not watch a machine make it. I thought they would be involved.
Shop the offerings – there are tons of candies and chocolates that are exclusive to the chocolate world. We bought a bunch of things to take home to try!
There are a handful of activities we didn't have time for like the Stuff Your Cup, Great Candy Expedition and the Trolley Ride. We needed more time there!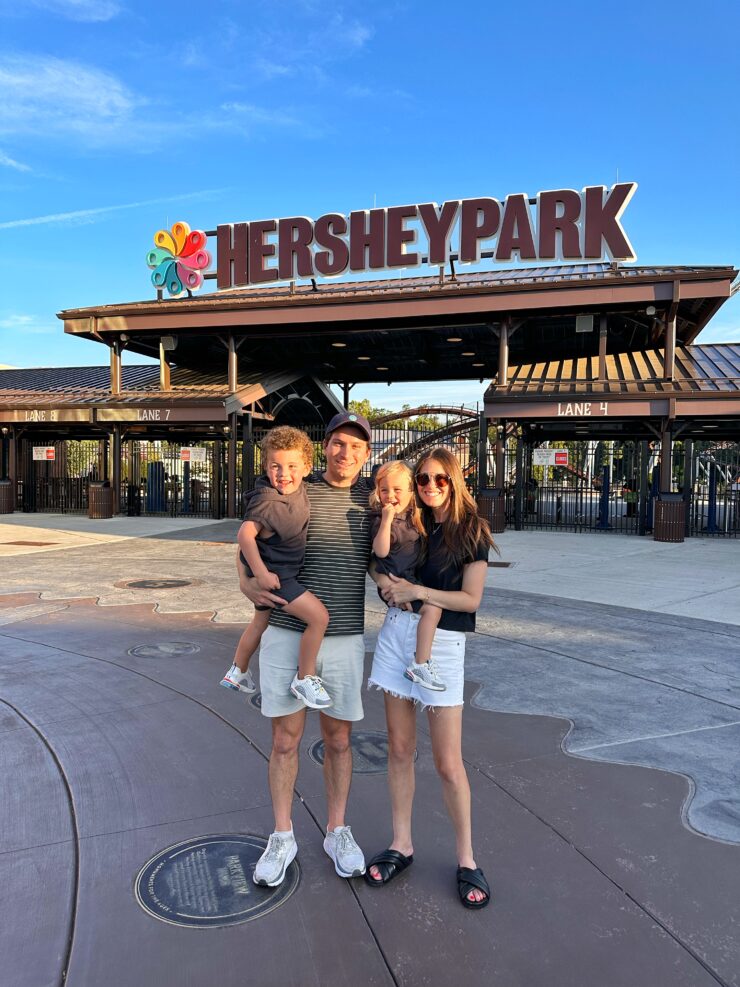 Overall thoughts on Hershey Park for Toddlers:
We had a really great experience. I'd go back again next year. It costs $$$ to do it, but the kids have a great time and it really is a pleasurable experience. Go in with little to no expectations with your kids and you'll be golden.
This post may contain affiliate links, which means that I make a small commission off items you purchase at no additional cost to you.