Vegan Chocolate Chip Gingerbread Loaf with a homemade chocolate crumb topping made with all vegan and grain-free ingredients!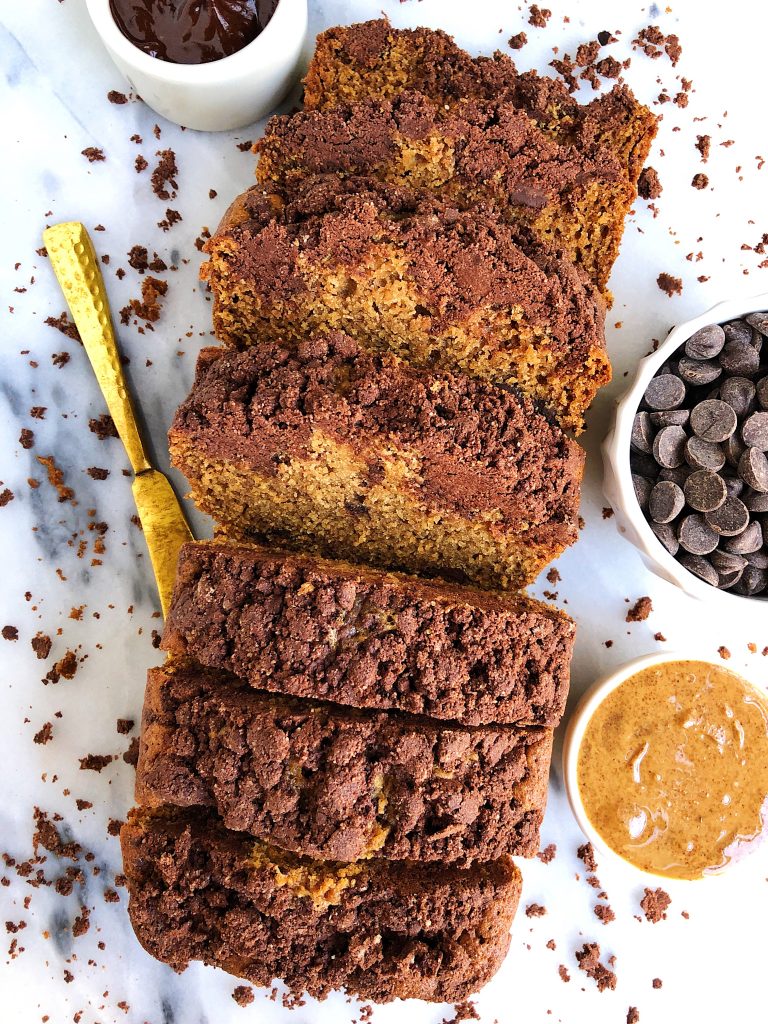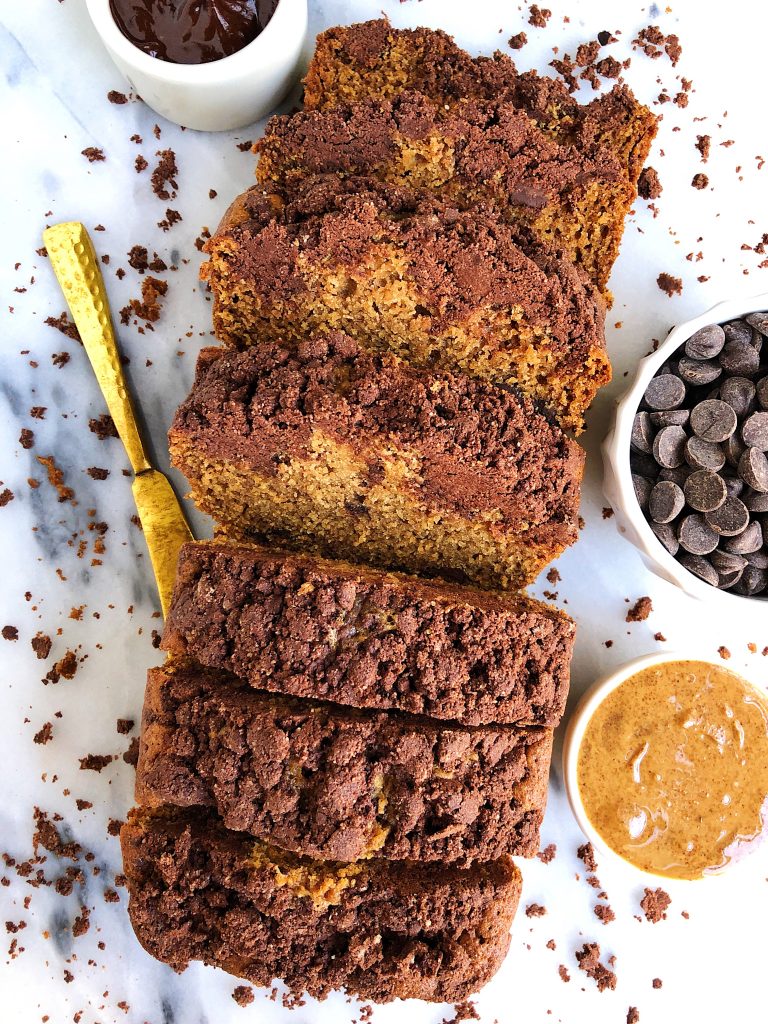 Chocolate Chip GINGERBREAD Loaf is finally here just in time for your binge baking sessions to start in the kitchen, right?!
I don't dabble in the gingerbread world too often but when I had so many requests for gingerbread cookies of sorts, I knew something needed to go down in the kitchen. I decided to switch things up a bit instead of cookies to enjoy gingerbread. Yes, gingerbread cookies are amazing but I also wanted to make something that can be good for a holiday brunch or breakfast type treat too.
This Vegan Chocolate Chip Gingerbread Loaf is gluten-free, grain-free and has just the perfect amount of chocolate to gingerbread ratio. It is topped with a homemade chocolate crumb topping (I can eat the crumb topping solo, it's so good). The crumb topping is also completely sugar-free (no coconut sugar, maple syrup or anything!). I wanted to keep it on the lighter side since the gingerbread loaf itself has dark chocolate chips and is sweetened with coconut sugar already.
For the base of the gingerbread loaf, we are using Simple Mill's Vanilla Cake Mix. Sure, some may say that is "cheating" for a homemade recipe but most are down to cut corners and save some time in the kitchen and I have you covered! Simple Mills makes the most amazing grain-free, refined sugar-free and almond flour-based baking mixes. You are probably rolling your eyes and laughing since if you are familiar with the blog, you know they are a staple in my life.
They make a variety baking mixes for sweet and savory dishes like banana muffin mix, pancakes + waffles, pizza mix (which can turn into bagels!) and more. Then they also have various ready-to-eat cookies and crackers. You cannot go wrong with anything they make – seriously!
You can also switch things up with this Vegan Chocolate Chip Gingerbread Loaf and make it into muffins if you are craving a different type of recipe. I'm most definitely trying that next time.
Here are a few of my other fave recipes using Simple Mills: 5-ingredient Butternut Squash Hummus, Pumpin Peanut Butter Pie and Dark Chocolate Peanut Butter Pie Bars.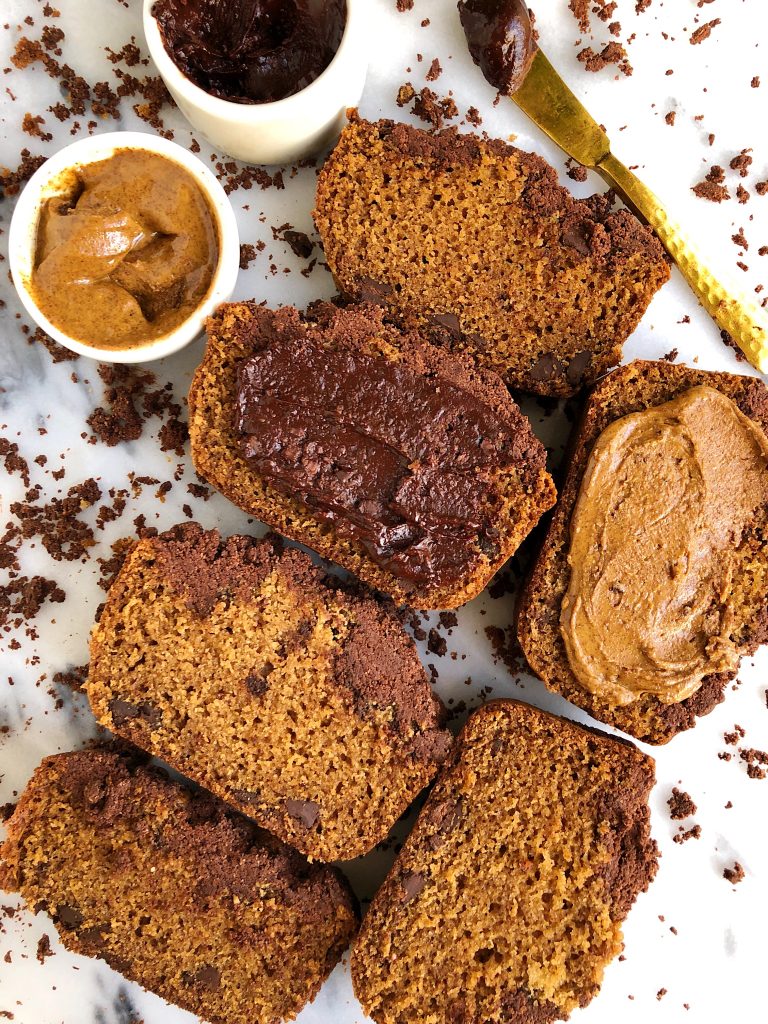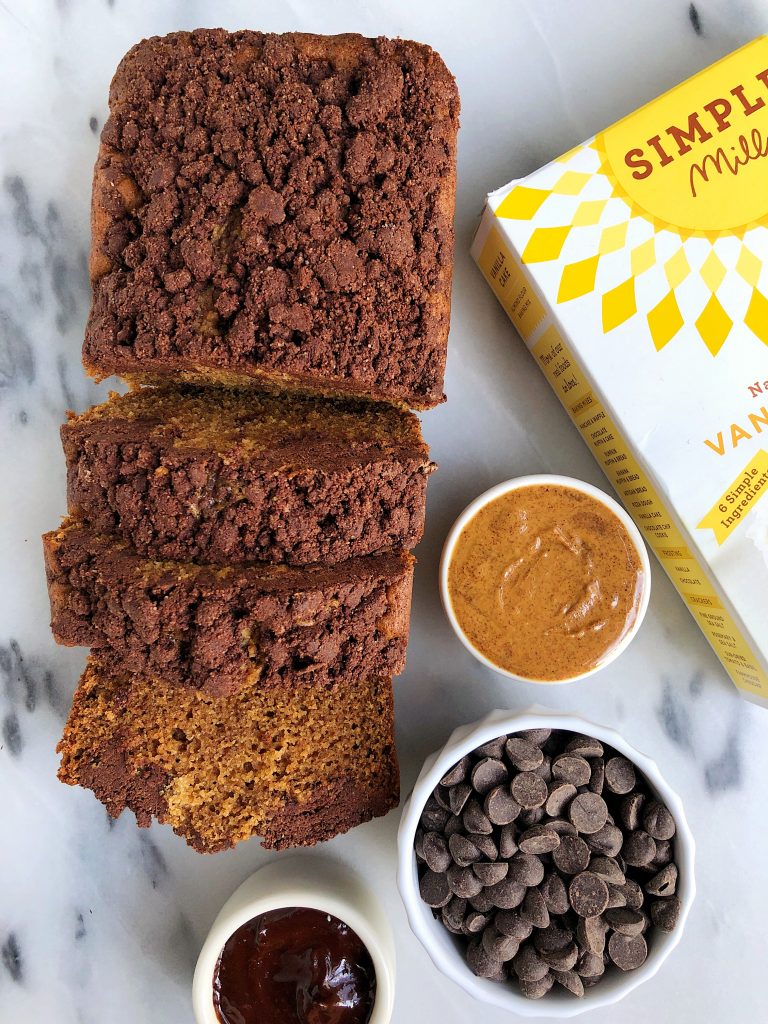 Print
Vegan Chocolate Chip Gingerbread Loaf
Vegan Chocolate Chip Gingerbread Loaf with a homemade chocolate crumb topping made with all vegan and grain-free ingredients!
Prep Time:

5 mins

Cook Time:

45 mins

Total Time:

50 minutes
Gingerbread:
3

flax eggs (

1 tablespoon

ground flax +

3 tablespoons

water = 1 egg)

1 teaspoon

vanilla extract

1/3 cup

liquid coconut oil

1/3 cup

non-dairy milk

1/4 cup

unsulphered molasses

1/4 cup

+

2 tablespoons

almond flour

1/4 teaspoon

nutmeg

2 teaspoons

ground ginger

1 teaspoon

cinnamon

1/8 teaspoon

ground cloves

1/3 cup

dark chocolate chips
Chocolate crumb topping:
1 cup

almond flour

1/4 cup

cacao powder

3 tablespoons

liquid coconut oil
Instructions
Preheat oven to 350 degrees and grease a bread dish with coconut oil and/or line with parchment paper
In a large bowl, mix together the flax eggs, vanilla, coconut oil, milk and molasses until well combined
Mix in the cake mix, almond flour, spices and mix well
Fold in the dark chocolate chips then pour into bread dish
In a small bowl (or use same bowl) mix together crumb topping ingredients and sprinkle on top of loaf
Bake in oven for 30 minutes then cover with foil (this is key or topping will burn) and bake for another 15-20 minutes or until cooked through (use tooth pick)
Allow loaf to cool then slice and enjoy
Notes
Will stay good for 3 days sealed on counter or freeze for 2 months
xx, Rach
Thank you Simple Mills for sponsoring this post! It means so much to me to partner with brands I love and believe in!