Vegan Pumpkin Peanut Butter Pie with Cookie Crust for an easy no-bake homemade pie filled with delicious peanut buttery pumpkin flavors!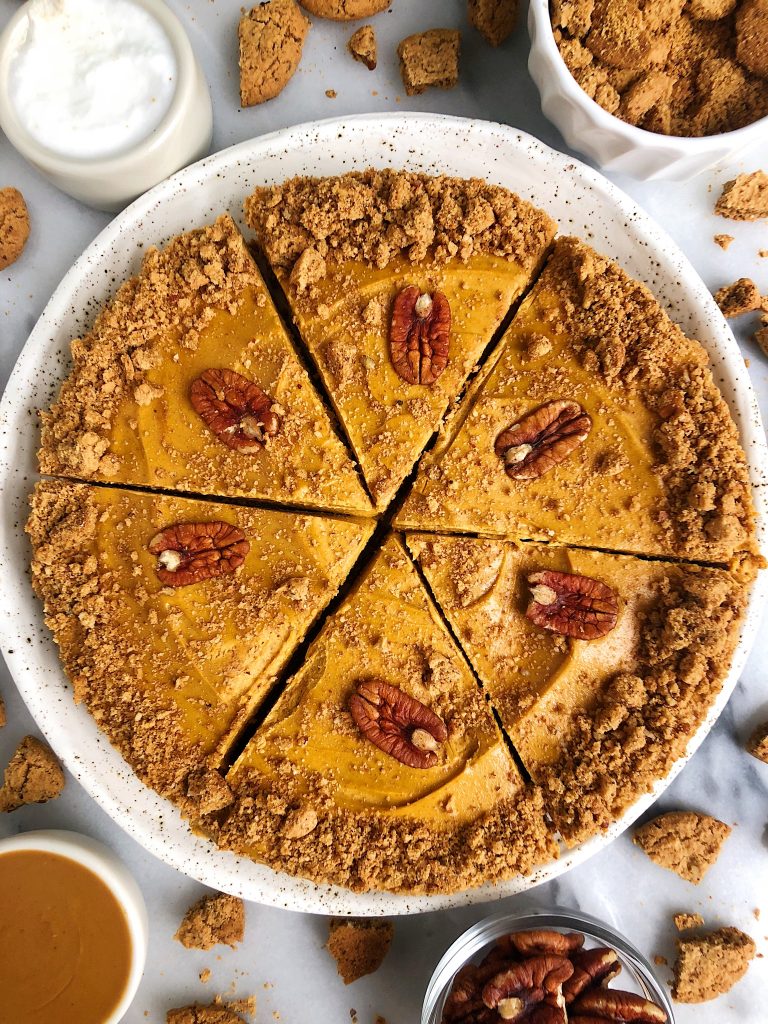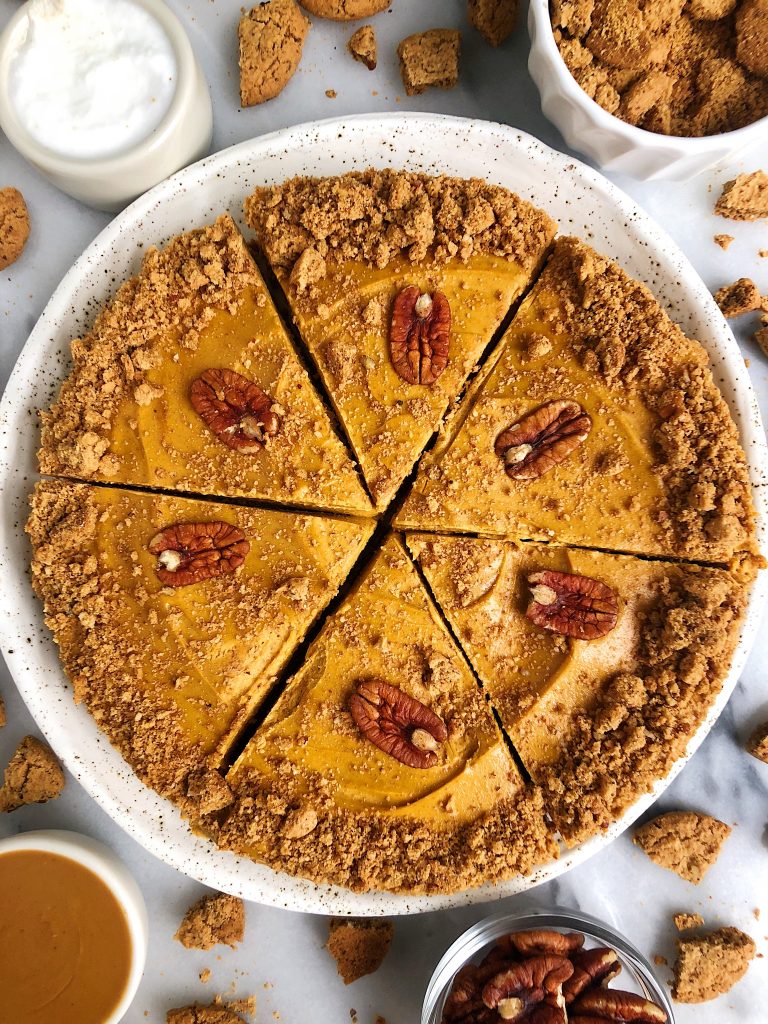 I have been sharing recipes on the blog for almost four years now. Why has it taken me this long to make a homemade pie recipe?! I will forever be perplexed about this.
Sure, we have Chocolate Chip Cookie Pie and a handful of other cakes and such but as someone who loves pumpkin pie pretty much any time of the year, I'm speechless that I haven't never made one for you guys.
This Pumpkin Peanut Butter Pie with Cookie Crust is hands down one of the best pies I have ever eaten though. I don't like to toot my own horn but after epically failing trying to make a "healthier" pumpkin pie a few times, when this one finally came out I was ecstatic.
Why do I love this vegan peanut butter-y pumpkin pie so much?!
So this isn't just a pumpkin pie. It also has the creamy peanut butter texture and flavor combined with a cookie crust. Absolutely unreal. After you take your first bite, you will know exactly what I am talking about. The toasted pecan cookie crust topped with a creamy pumpkin peanut buttery filling that is just the right amount of sweetness. Plus there is no baking necessary for this pie. Just your food processor and a freezer to let it set a bit.
The cookie crust is made out of Simple Mill's Crunchy Toasted Pecan Cookies. We made a yummy crust with their soft-baked variety a few months ago, so I'm excited to have an option using their crunchy cookies now. Their pecan ones are perfect for a fall-ish pie since the pecan compliments the pumpkin flavor oh so well.
You guys know my love affair and obsession with Simple Mills by now but incase this is your first time hearing about them, here's the run down. Simple Mills makes a variety of grain-free and refined sugar-free baking mixes, ready-to-eat cookies and crackers. They use ingredients similar to what I bake with like almond flour, coconut sugar, tapioca flour, etc. AKA all real food that actually tastes good.
Simple Mills was one of the first brands I started eating when I entered the blogging space. I always joke with their social team how I am a groupie of theirs. There isn't a product they make that I won't eat. Especially the pizza dough (omg so good) and turning them into bagels – YES!
Here are a few of my other favorite recipes on the blog featuring Simple Mills:Dark Chocolate PB Pie Bars, Crispy Peanut Butter & Jelly Stuffed Waffles, Gluten-free Blueberry Pancake Scones and Zucchini Bread Brownies.
Don't forget to share this pie with me on Instagram if you make it too! Perfect to bring to a holiday get together or let's be real, on a random day your craving some pie. Even if it's you solo at the kitchen table like I am right now eating a slice.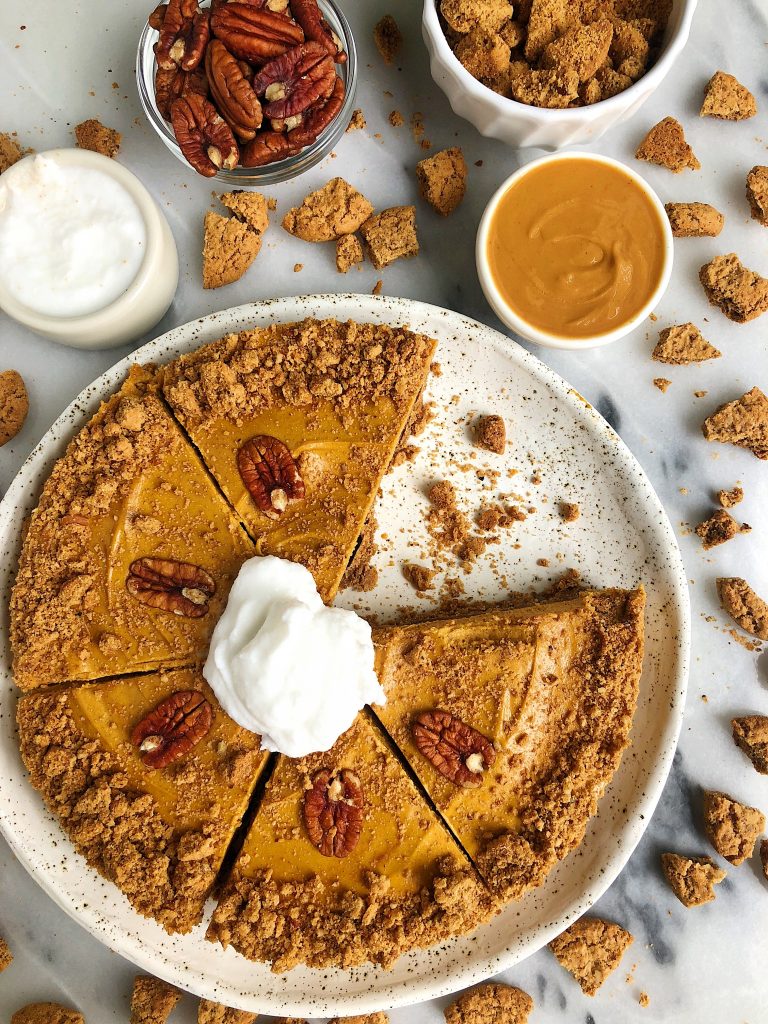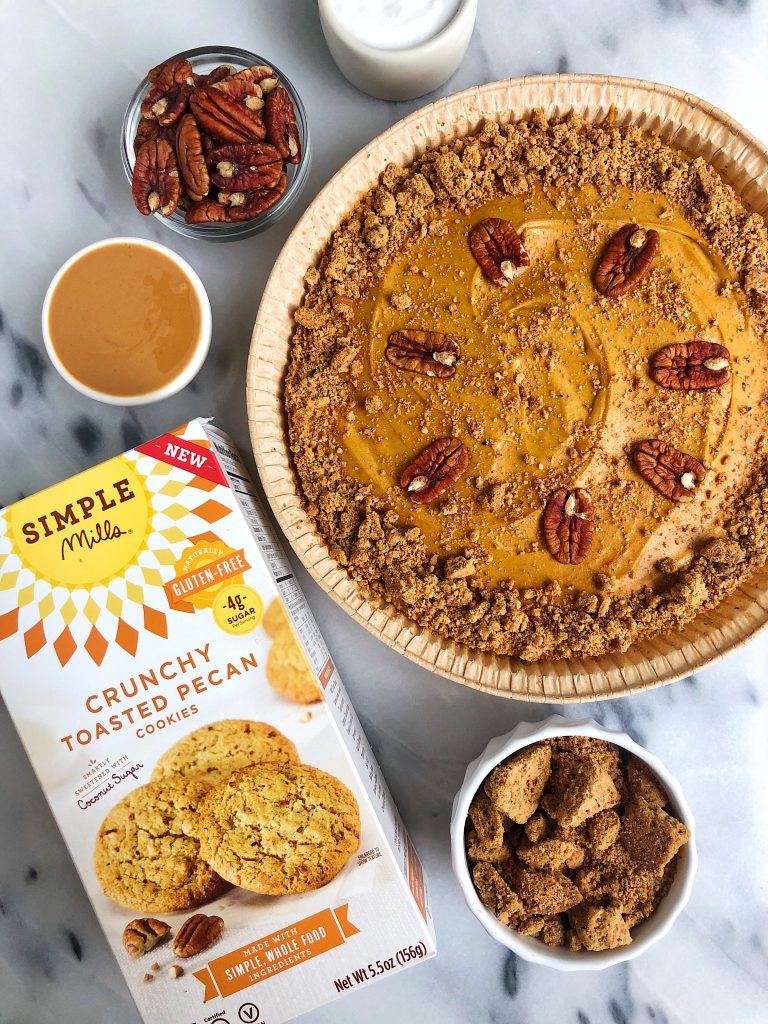 Print
Vegan Pumpkin Peanut Butter Pie with Cookie Crust
Grain-free Pumpkin Peanut Butter Pie with Cookie Crust for a delicious and easy no-bake homemade pie filled with delicious peanut buttery pumpkin flavors!
Prep Time:

10 mins

Cook Time:

2 hours

Total Time:

2 hours 10 minutes
Cookie crust:
Pumpking peanut butter filling:
Instructions
In a food processor, process the cookies until they are in a ground flour-like consistency then add in melted butter and pulse again until well combined
Grease a 9 inch pie dish with coconut oil then press the cookie crust into the pie dish (save any extra to sprinkle on top!)
Add crust to freezer to set and begin making the filling
Wipe out the food processor (no need to go crazy cleaning!) and add the filling to the food processor and blend until smooth and creamy
Add on top of the crust then sprinkle pecans on top if desired and additional crumbs and place back into freezer to set for 2 hours
Slice and enjoy! Garnish with coconut yogurt or anything you prefer
Notes
Leave the pie in the freezer until ready to eat and store leftovers in fridge for up to 5 days or freezer for up to 2 months
xx, Rach
Thank you Simple Mills for partnering for this recipe! It means so much to me to work with brands I love and believe in!