Chocolate Frosted Zucchini Bread Brownies that are grain & dairy-free, so chocolatey and delicious!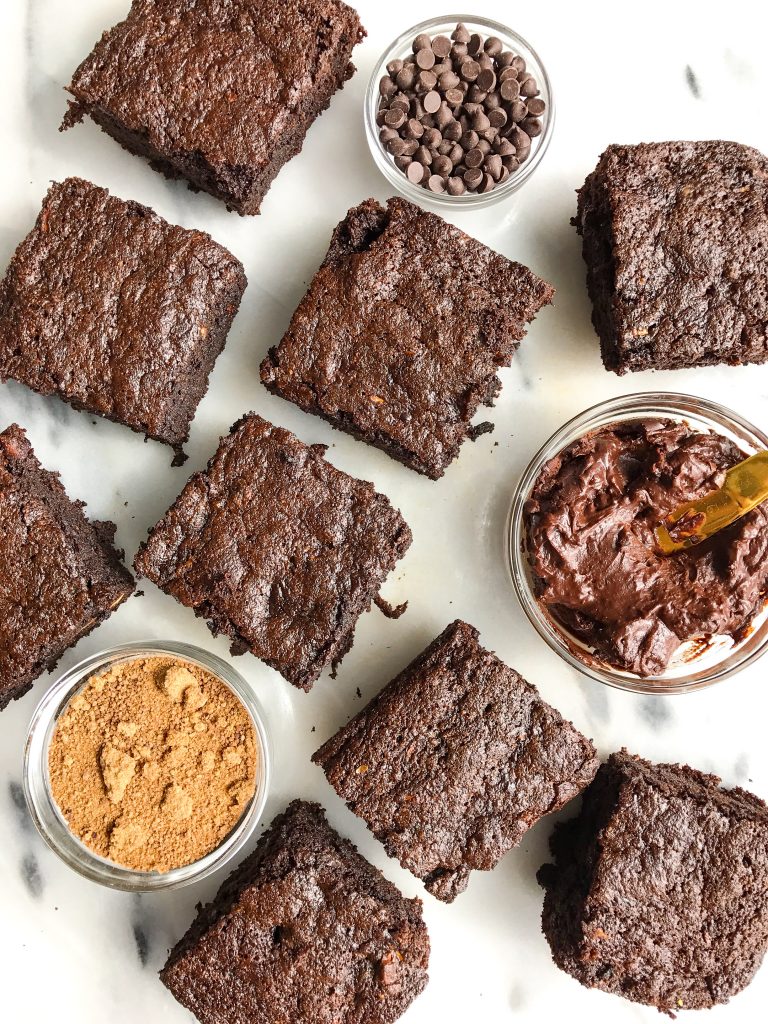 My stomach is growling just looking at these Zucchini Bread Brownies right now. They are for realz one of my absolute favorite recipes for the blog ever.
I am a bit of zucchini freak and eat it every single day. I add it to my smoothies, I eat zoodles like they are nobody's business and apparently I add it to my brownies now. I love how mild tasting zucchinis are and how you can eat veggies and not even know it in recipes like these.
These brownies turned out SO moist (yes, moist) and they are cakey and fudgey at the same time. I made these a few weeks ago when I was taking over Mind Body Green's Instagram stories and shared a little sneak preview and you guys went CRAZY. I couldn't believe the amount of DM's and emails I received asking me when I was sharing the recipe for these gems.Well friends, the day is here and we are eating Chocolate Frosted Zucchini Bread Brownies. I use Simple Mill's Chocolate Cake Mix as the base for the brownies. The mix is made of almond flour, coconut sugar, cacao powder, arrowroot, coconut flour, baking powder and sea salt. THAT IS ALL FOLKS! Literally a dream mix.
What I love about these mixes is that you can of course make standard cake and cupcakes with Simple Mill's mix or you can get creative and make the most unexpectedly delicious dessert ever. Like these Zucchini Bread Brownies. We add a few extra goods to the mix and there ya go.
Simple Mills is in a ton of grocery stores throughout the country but if for whatever reason you cannot find this mix or order online (Amazon even has it!), I recommend making your own mixture of almond flour, coconut flour, baking powder and cocoa. Not 100% sure on the measurements but aim for about 1.5 – 2 cups total of a mixture of sorts. Keep me posted if you do make your own. I will too 🙂
We top these brownies with a super simple frosting too. It is more of a ganache but when I made it, I left it out for a bit and it got to be more of a frosting-like consistency except no refined sugars. WINNING.
WHAT YOU NEED
Simple Mills Chocolate Cake Mix
Butter/Coconut oil
Eggs
Zucchini
Vanilla extract
Coconut sugar
Dark chocolate chips
Nut milk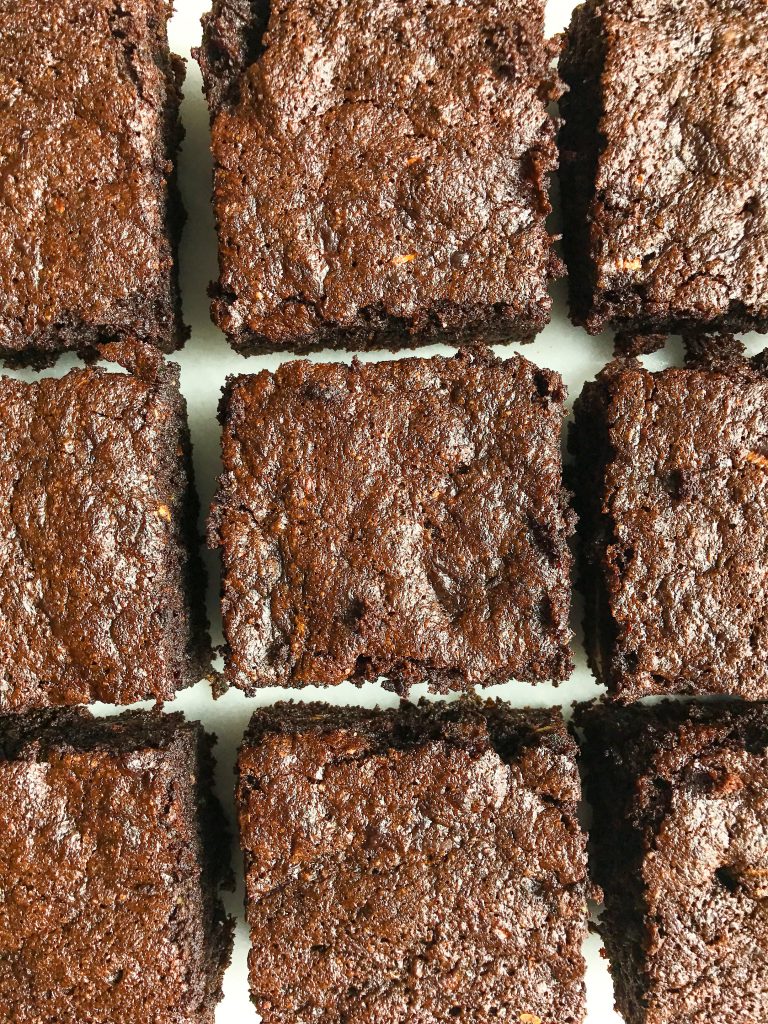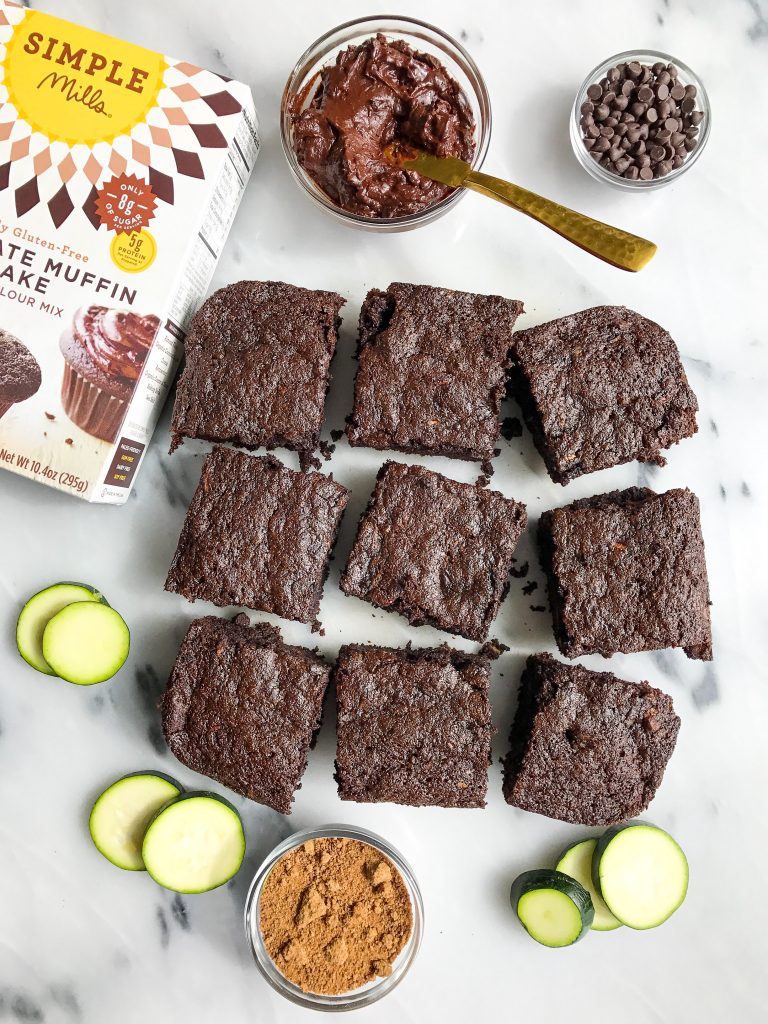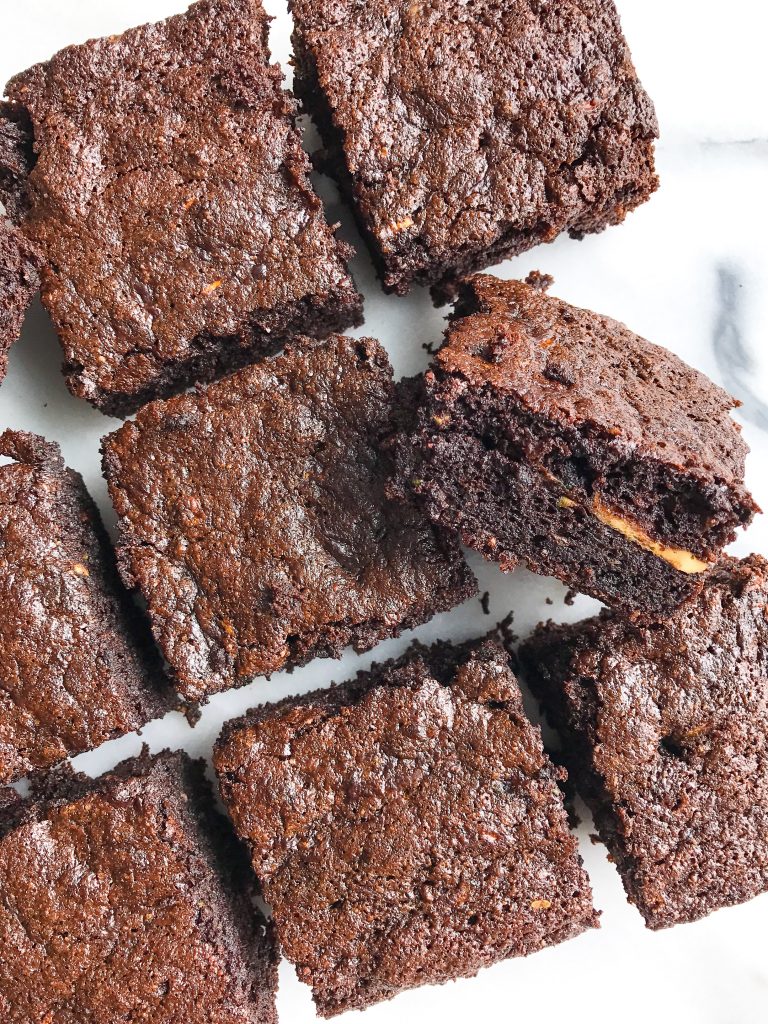 Print
Chocolate Frosted Zucchini Bread Brownies (grain & dairy-free)
Zucchini bread brownies:

6 tablespoons

of butter or ghee (butter works best)

3

organic eggs

1 tablespoon

of vanilla

1.5 cups

shredded zucchini (squeezed really well to get rid of moisture)

1

box of Simple Mills chocolate cake mix

3/4 cup

of coconut palm sugar

1/3 cup

dark chocolate chips

Chocolate frosting:

1/2 cup

dark chocolate chips

2 tablespoons

nut milk

1 tablespoon

coconut oil

1/2 teaspoon

vanilla extract
Instructions
Preheat oven to 350 degrees and grease an 8×8 baking dish
In a medium bowl, whisk together eggs, vanilla and butter
Mix in zucchini then fold in chocolate cake mix and coconut sugar
Mix well until there are no clumps and batter is smooth
Fold in dark chocolate chips and bake in oven for 35-40 minutes (until toothpick turns out clean)
Now begin making the chocolate frosting
In a small saucepan over medium-low heat, mix together the chocolate chips, milk, coconut oil, vanilla extract
Stir until melted and completely smooth and creamy
Let the pan cool for about 15 minutes, you can also place in fridge to harden but I like mine smooth and more melted-like (it hardens easily!0
Spread on top of brownies once brownies are done and cooled and enjoy!
Brownies will stay good for 5 days or so in airtight container on counter or in fridge and leftover frosting should be stored in fridge
Author:
Category:

grain-free, dairy-free, gluten-free

Cuisine:

brownies, dessert, snacks
xx, Rach

Thank you Simple Mills for sponsoring this post. It means so much to me to work with brands that I love and who support rachLmansfield!
SaveSave