Crispy Peanut Butter & Jelly Stuffed Waffles made with vegan and gluten-free ingredients for a dreamy brunch recipe!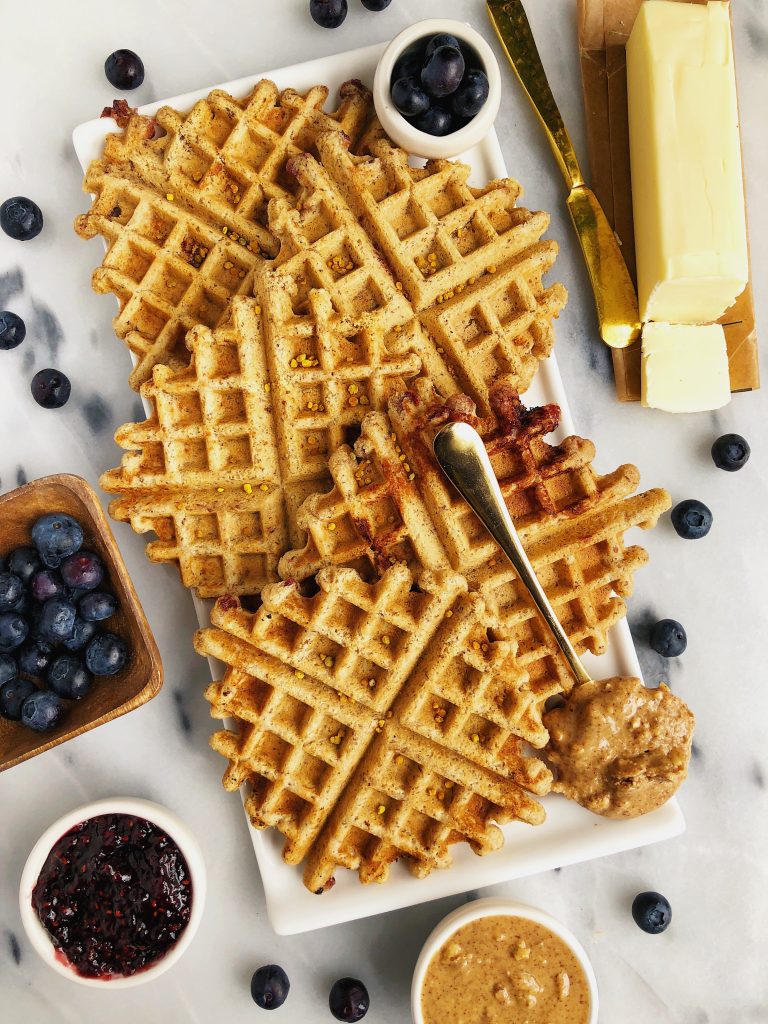 When I chatted with my Simple Mills family about our April recipe, they requested waffles.
And let me tell you, there wasn't one ounce of hesitation from me about making some new waffles for you guys. As you see on the blog and my Instagram, waffles and pancakes are a staple in mine and Jord's breakfast line up. Or let's be real, they are good any time of the day.
These Crispy Peanut Butter & Jelly Stuffed Waffles are insane, in the best way possible. The ultimate grain-free and plant-based waffle recipe that you can serve at your next get together, brunch or even yourself when you are craving something fun in the morning.
You 100% need Simple Mill's Pancakes & Waffles Mix to make this recipe. I love their mix so much because it is grain-free, refined sugar-free and is made from ingredients like almond flour, coconut flour and sweetened with coconut sugar. Their original recipe on the back calls for eggs but I was easily able to make this vegan for us by using flax egg. You can absolutely sub egg (you may need about 3-4 for the recipe).
These waffles turned out extra crispy than my usual stack too. They aren't as fluffy as your usual waffles and they have this delicious crisp to them. Plus they are stuffed with peanut butter and jelly (directions below on how to add) for added flavor and fun. Peanut Butter & Jelly anything has my name all over it, you guys know that.
After you make these waffles, check out my Dark Chocolate Sweet Potato Loaf, Peanut Butter Brownie Loaf, Homemade Chocolate Ice Cream, Homemade Paleo Bagels and those Zucchini Bread Brownies. You can't go wrong with any of Simple Mill's products but if you are looking for a few to start with I recommend: Pancake & Waffle Mix, Chocolate Cake Mix (it tastes like healthy devil's food cake!), Pizza Mix and their ready-to-eat Crackers!
WHAT YOU NEED
Simple Mills Pancake & Waffle Mix
Ground flaxseeds
Water
Nut milk
Coconut oil
Peanut Butter
Jelly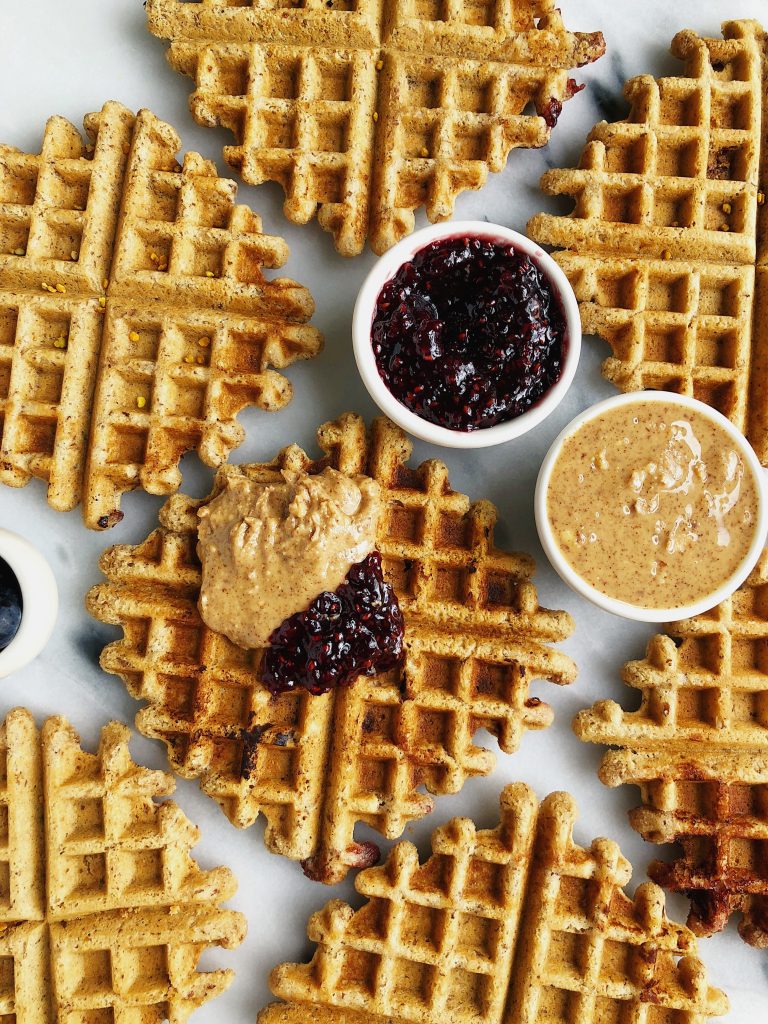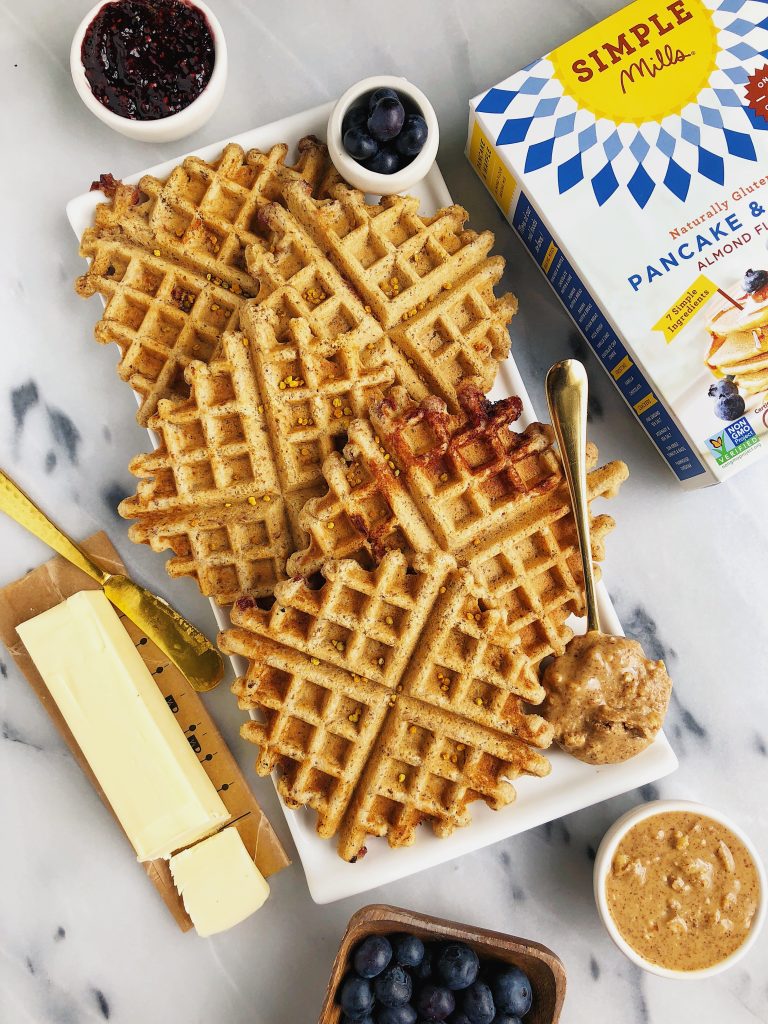 SaveSaveSaveSaveSaveSave
Save
Save
Print
Crispy Peanut Butter & Jelly Stuffed Waffles
5 tablespoons ground flaxseeds + 7 tablespoons warm water

1/3 cup + 2 tablespoons cup almond milk

3 tablespoons liquid coconut oil

8 teaspoons of peanut butter (creamy or chunky)

4 teaspoons jelly of choice
Instructions
Heat your waffle iron according to instructions and grease well with coconut oil
In a small bowl, mix together the flaxseed meal and water and set aside for a few minutes to form the
egg"
In a large bowl, add the flax egg, almond milk and coconut oil and mix well
Add in the pancake and waffle mix from Simple Mills and mix well
Add about 2 tablespoons of batter to the iron, followed by 1 teaspoon peanut butter and 1/2 teaspoon jelly then another spoonful of waffle batter on top to seal the waffle
Cook waffle until ready, and repeat steps for remaining batter
Enjoy with toppings of choice!
xx, Rach
Thank you Simple Mills for sponsoring this post. It means so much to me to work with brands I love and believe in!
SaveSaveSaveSaveSaveSave
SaveSave