Vegan Microwave Apple Crisp for One! This easy dessert takes less than 5 minutes to make and it's made with gluten-free and dairy-free ingredients.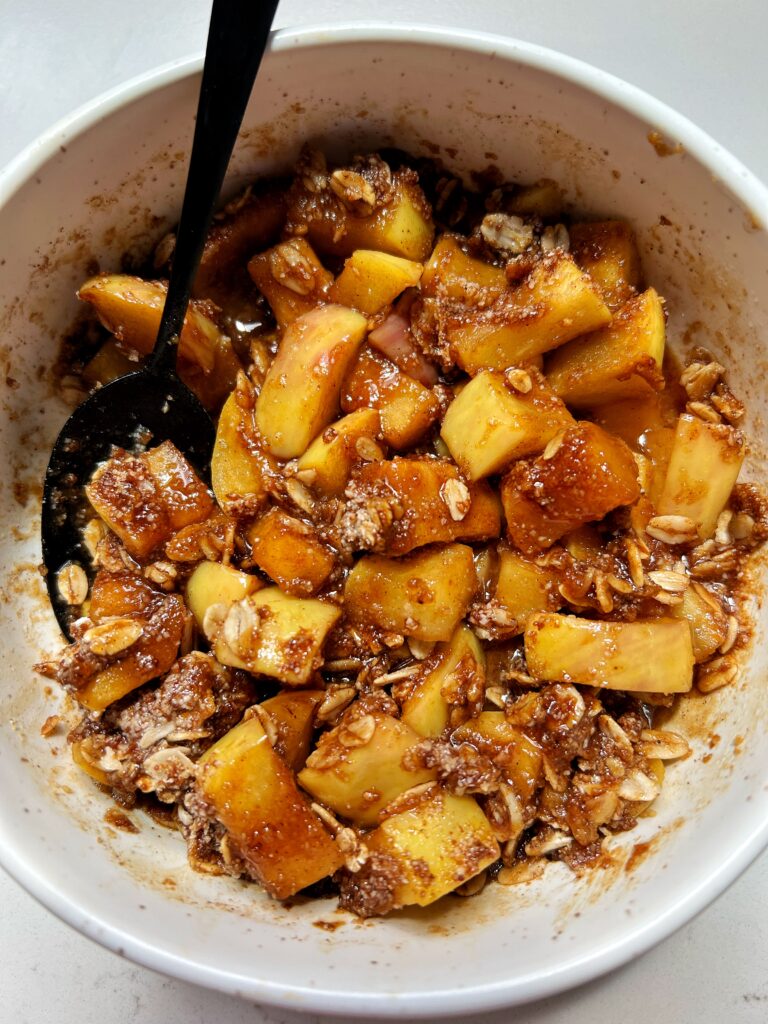 This is the ultimate recipe to make to kick start fall and apple season and satisfy your apple pie cravings!! This is a recipe I make all year around, but especially during the peak of apple season. Which is 100% my favorite season ever for food.
You can use any apples you want in this recipe. Honey crisp, granny smith, fuji, whatever you have on hand! I also don't peel the apples but you totally can if you prefer. I love the combination of flavors in this recipe from the crumb topping and the apple together. It is truly so delicious and satisfying. And this recipe pairs so well with hipped cream and vanilla ice cream. Or you can have it as is too. This could also be a sweet breakfast recipe to make when you are craving something different from the bowl of oats.
Tip: you can make this in 5 minutes so it is the perfect post dinner dessert or snack to make. Takes little effort and just a few minutes to make!
What ingredients you need to make vegan apple crisp for one:
Softened coconut oil – or use a butter if you prefer as well
Coconut sugar – this is the form of sugar we use in the recipe! You could also use maple syrup if you prefer
Gluten-free rolled oats – or sub regular rolled oats if you don't need gluten-free
Almond flour – I haven't used another flour but I think an all-purpose would be fine too!
Cinnamon – you can also add in other spices like nutmeg or pumpkin pie spice too
Apple – diced in about 1/4-inch cubes. I did not peel mine, peel if you wish and use any apple you'd like!
How to make apple pie crisp for one:
In a small bowl, combine all crumble topping ingredients and stir together with a fork until combined
In a small to medium-sized microwave-safe bowl or baking dish, add apples and top with coconut oil
Cook for 1 minute on high power to soften apples
Remove bowl from micro and add the coconut sugar, almond, cinnamon, optional other spices, and stir to combine and coat evenly
Evenly sprinkle on top of the apple with the crumble topping
Cook for about 2 minutes then remove from microwave with oven mitt and enjoy! Feel free to add ice cream or whipped cream on top too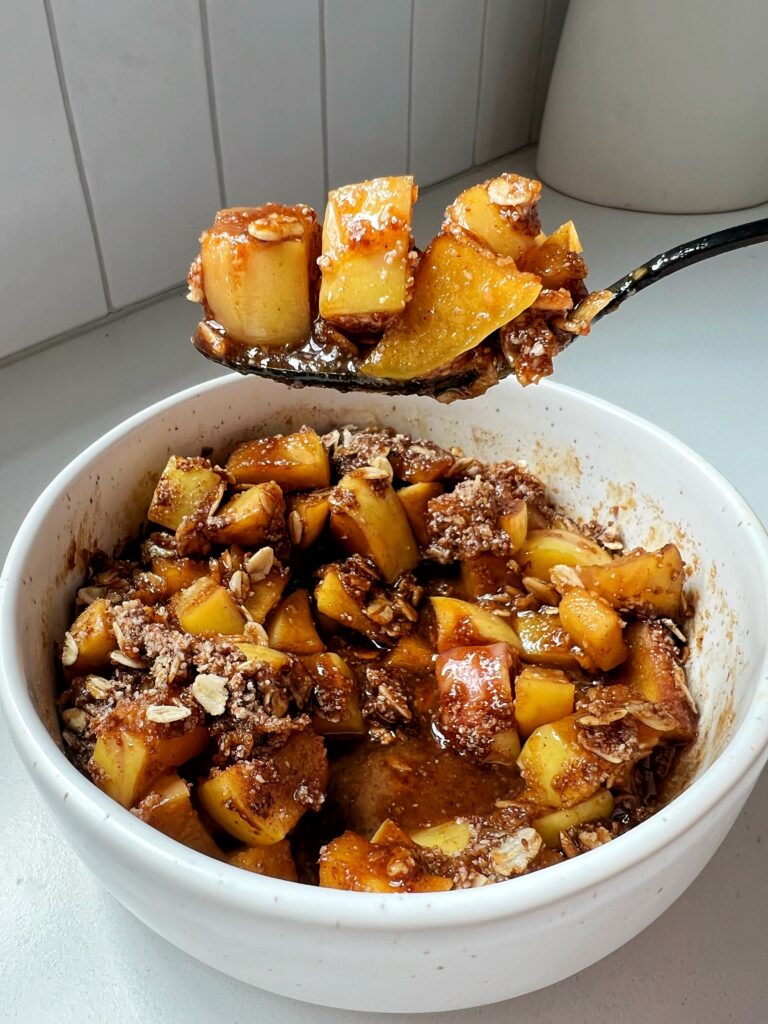 How to store leftovers of this microwave apple pie:
So in the rare case you have some leftover, you can store it in the fridge and warm back up in the microwave before eating! Or spoon cold. I love this dish cold too (I am crazy, I know).
Best tips for success:
Use any apples you'd like to make this. Macintosh, granny smith, gala, fuji, whatever you are craving or have on hand
If you want to take this up a few more levels, add a spoonful of vanilla ice cream on top or some whipped cream!
Looking to make this lower in sugar? Omit the coconut sugar. Totally optional and you can make it on the less sweet side!
A few other crave-able apple recipes:
Easy and Delicious Paleo Caramel Apples
Crazy Good Vegan Apple Cobbler (gluten-free)
Loaded Hot Honey, Apple and Brie Pizza!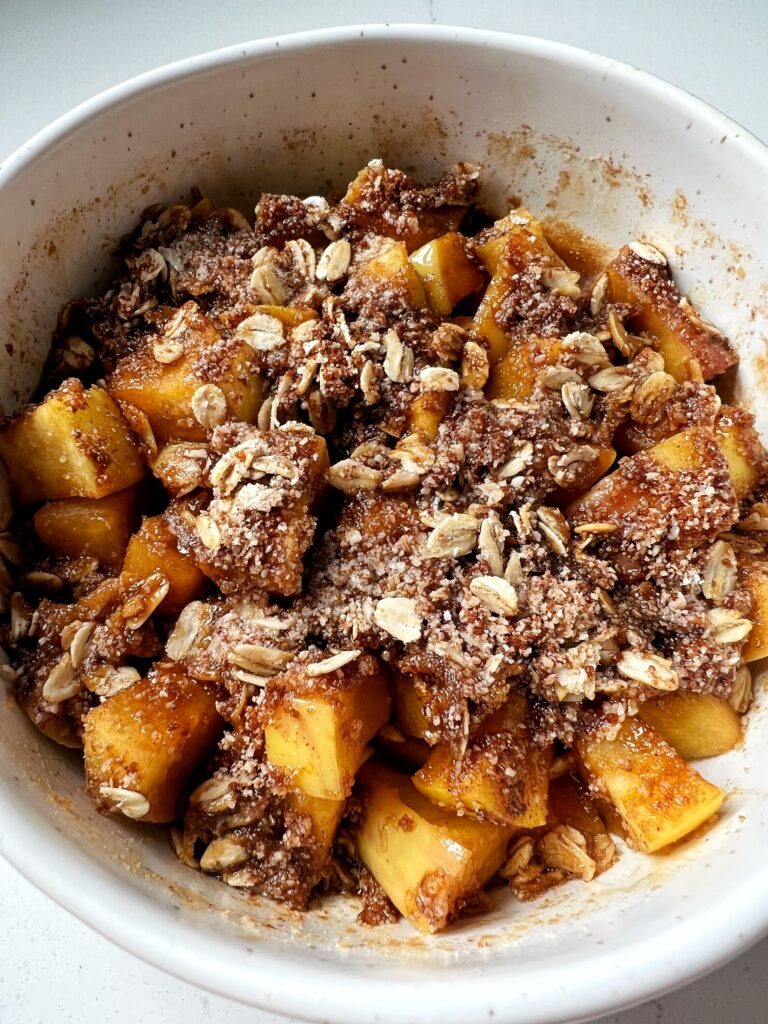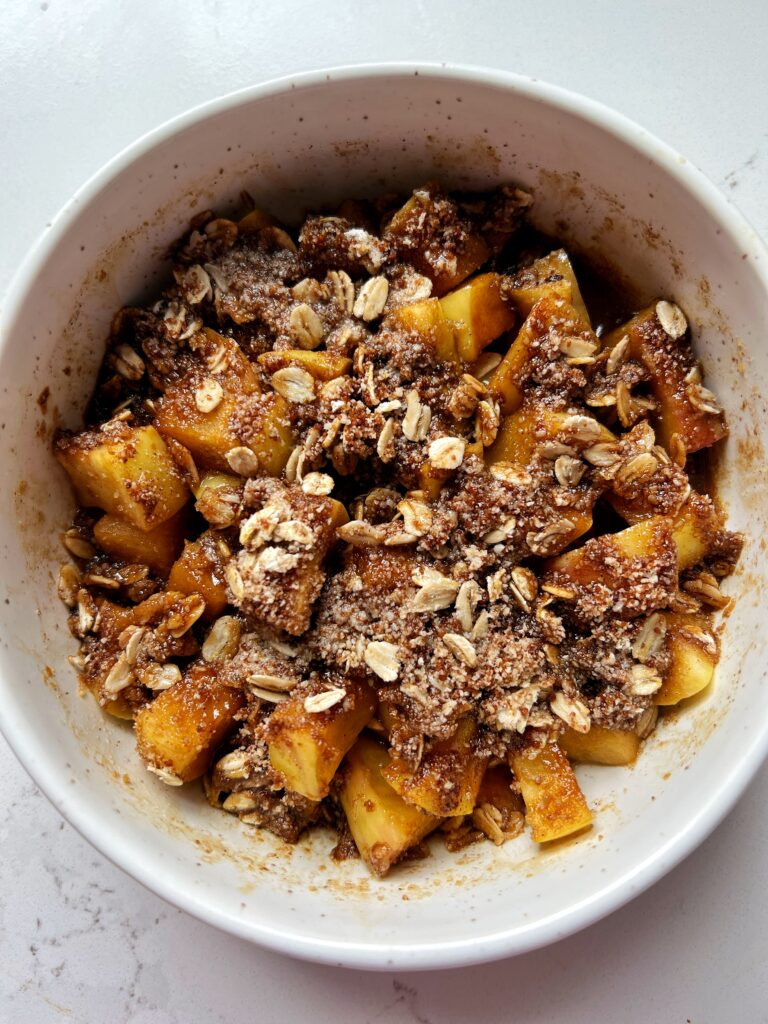 Print
Vegan Microwave Apple Crisp for One
Vegan Microwave Apple Crisp for One! This easy dessert takes less than 5 minutes to make and it's made with gluten-free and dairy-free ingredients.
Crumb topping:
Apple base:
1

medium apple, diced in about 1/4-inch cubes (I did not peel mine, peel if you wish)

1/2 tablespoon

coconut oil

1.5 tablespoon

coconut sugar

1 teaspoon

almond flour

1 teaspoon

cinnamon

optionally add pinches nutmeg, ground ginger and/or pumpkin pie spice
Instructions
In a small bowl, combine all crumble topping ingredients and stir together with a fork until combined
In a small to medium-sized microwave-safe bowl or baking dish, add apples and top with coconut oil
Cook for 1 minute on high power to soften apples
Remove bowl from micro and add the coconut sugar, almond, cinnamon, optional other spices, and stir to combine and coat evenly
Evenly sprinkle on top of the apple with the crumble topping
Cook for about 2 minutes then remove from microwave with oven mitt and enjoy! Feel free to add ice cream or whipped cream on top too