This is the BEST Healthy Gluten-free Enchilada Pie. Ready in 15-minutes this is a quick and easy dinner for the entire family to enjoy.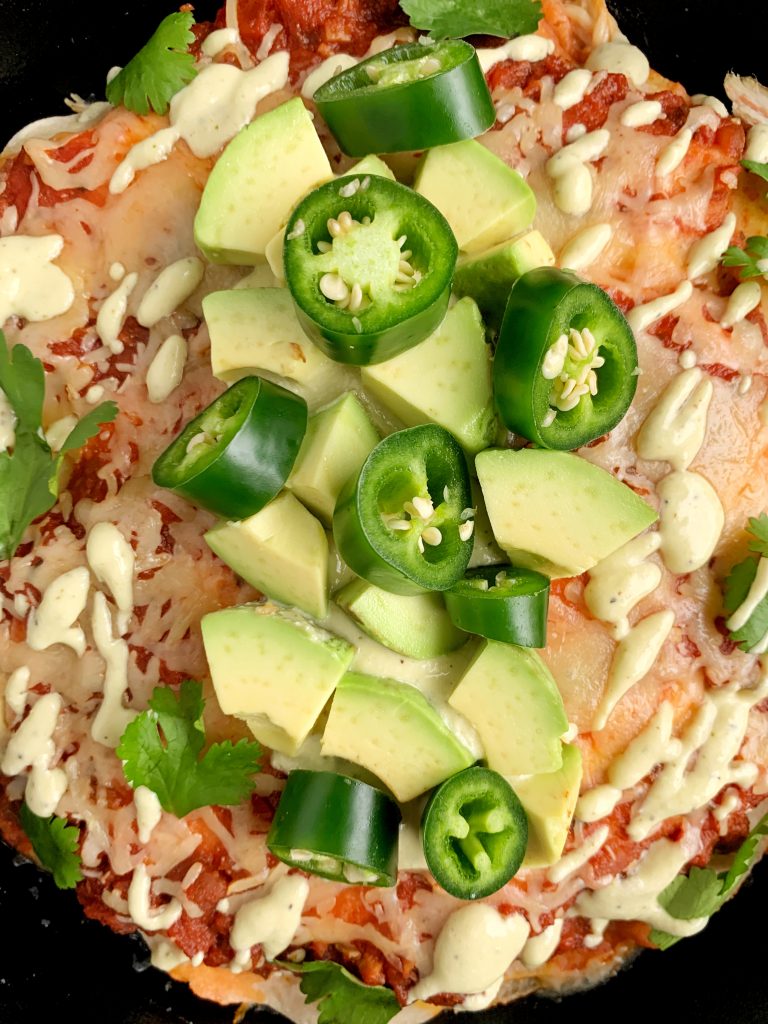 It is PUB MONTH BABY!!!
In case you somehow stumbled upon my blog and have zero idea what I am talking about, I am referring to my cookbook coming out this month. Just the Good Stuff is going to be out in the world in just a couple short weeks. I am so incredibly excited for you guys to get your hands on 100+ new and perfected recipes to enjoy in your home. There are recipes for everyone in the book and any dietary label or allergy or anything! Nut-free, gluten-free, plant-based, you name it.
And this epic Enchilada Pie is from the book that we are making here on the blog today.
This recipe actually came from my mother-in-law. My mom and husband, Jordan, also have recipes in the book. A little something special for those in my life who inspire me to cook and helped me navigate the kitchen when I first started cooking. Because believe it or not, I didn't learn to cook until my mid-twenties and I am the furthest thing from an expert. All of my recipes are simple and made with the intention that anyone and everyone can make them at home.
Now let's chat more about this Healthy Enchilada Lasagna we have here.
I am all about quick and easy meals that make a few servings (leftovers are key over here). And this gluten-free enchilada pie is a quick and easy meal that you'll get a few servings from. Plus you don't need many ingredients.
Here's what you need to make this Gluten-free (Paleo-friendly) Enchilada Pie:
Grain-free tortillas (I used these tortillas and doubled it up to make the lasagna thicker)
Shredded chicken like my bone broth one in JTGS (can use any cooked meat)
Chunky salsa
Green chiles
Shredded cheese of choice
Avocado oil
Caramelized Onions
Avocado, jalapeños and anything else for topping!
A few of my other favorite easy dinners to prep are: The Easiest No-Boil Baked Pasta Recipe (gluten-free), The Most Delicious Whole30 Egg Roll in a Bowl and The Best Grain-free Chicken No-Parmesan.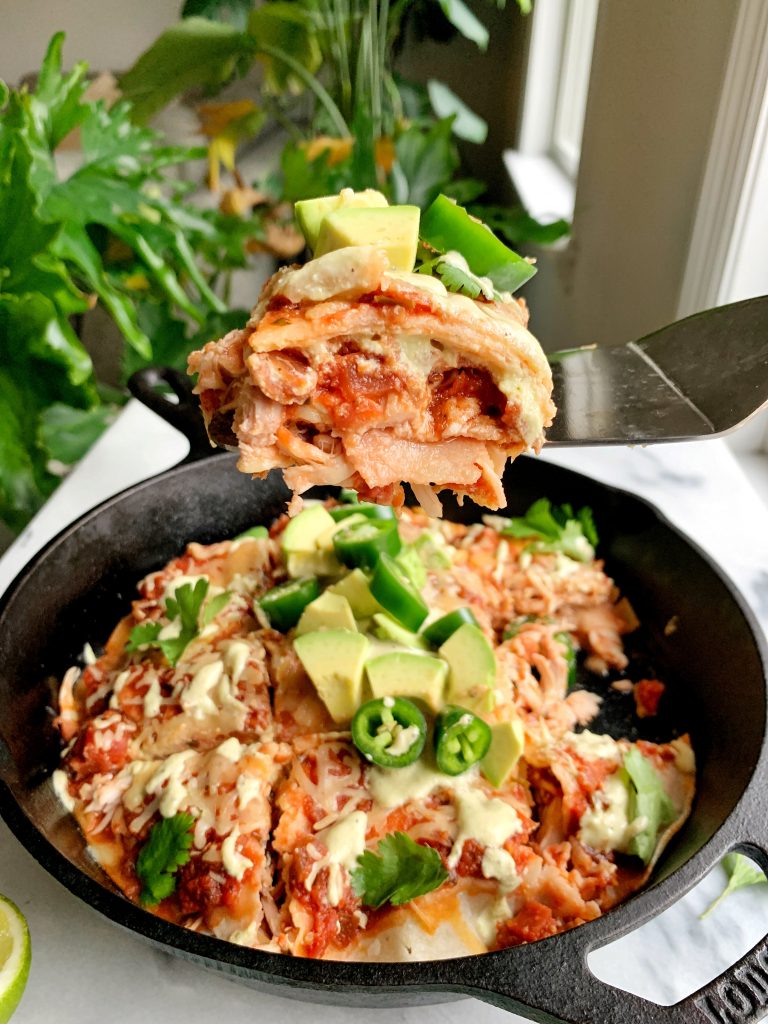 Print
15-minute Gluten-free Enchilada Pie
This is the BEST Healthy Gluten-free Enchilada Pie. Ready in 15-minutes this is a quick and easy dinner for the entire family to enjoy. This recipe is also from my cookbook, Just the Good Stuff.
Prep Time:

5 mins

Cook Time:

15 mins

Total Time:

20 mins
Avocado oil

3

large (9-inch) grain-free tortillas (use

6

if tortillas are smaller)

1 cup

shredded chicken (I love my B

one

Broth Poach Chicken from JTGS)

1

(4.5-ounce) can chopped green chiles

1/2 cup

caramelized onions (or any veggie)

1.5 cups

shredded manchego cheese (or non-dairy cheese)

1 cup

chunky salsa

Topping ideas: avocado, unsweetened yogurt, jalapeños
Instructions
Preheat oven to 375 degrees and grease an 9-inch round or square baking dish with avocado oil
Place tortilla in the prepared baking dish and top it with half the chicken, green chiles and onion
Sprinkle 1/2 cup cheese on top and 1/4 cup salsa
Cover with another tortilla or two then repeat steps
Top with last tortilla and sprinkle the remaining cheese and salsa
Bake until cheese is melted (about 15 minutes)
Remove from oven and add desired toppings, slice and serve warm
Notes
*Store leftovers in fridge for up to 5 days!
xx, Rach