This gluten-free Brown Butter Maple Pumpkin Bread is the ultimate pumpkin bread to make. Plus it is an easy one-bowl loaf that is made with all gluten-free ingredients.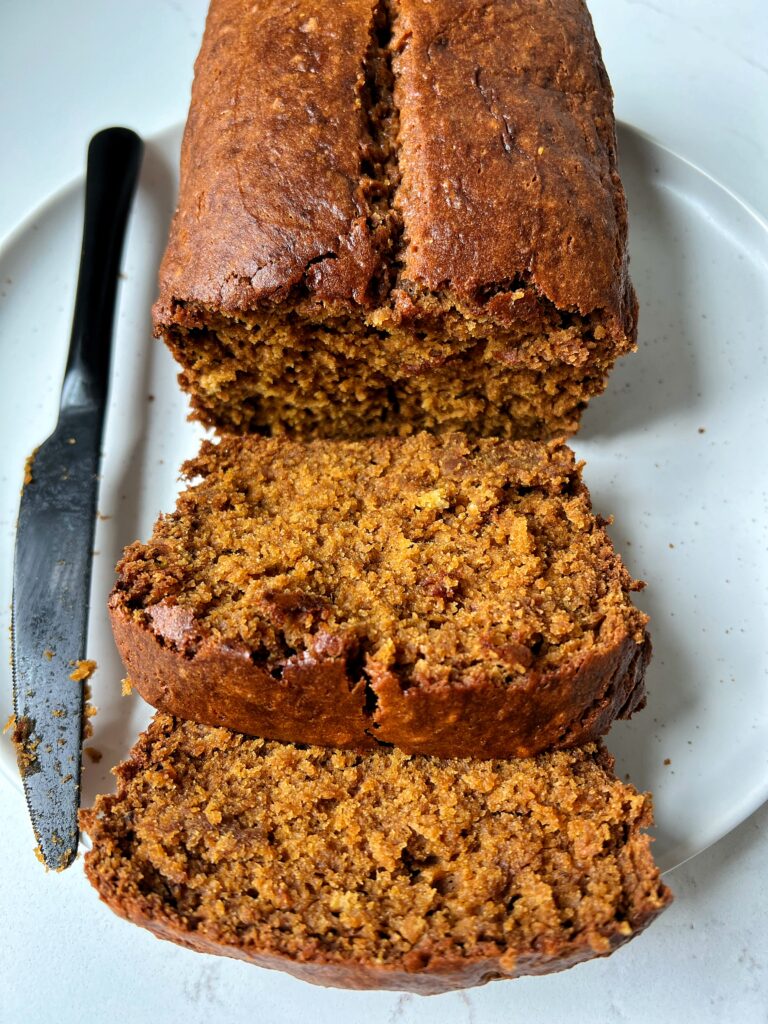 Yes yes yes – the world does need another pumpkin loaf everybody. Except this isn't your average pumpkin loaf – it is a maple pumpkin loaf. That is sweetened with maple syrup for the ultimate fall flavors.
I have been baking this bread on repeat. And every time I do, the entire house smells absolutely amazing with the maple syrup and cinnamon flavors. Plus the brown butter we use in it really adds even more amazingness to the bread. At first I was going to use oil in this recipe, but the brown butter is *the* way to go. I highly recommend it but if you are dairy-free, you can also use a vegan butter of sorts.
This maple pumpkin bread is going to win you over and it also happens to be gluten-free, nut-free and incredibly easy to make.
Tip: serve this with a cream cheese frosting on top or cinnamon butter for the ultimate dreamy slice.
What ingredients you need to make this maple flavored pumpkin bread:
Unsalted butter – you can use a vegan butter here too but make sure it is one that can brown well as it adds flavor! If not just melt the vegan butter. I use a grass-fed butter usually!
Eggs – I haven't tested flax eggs but they should work well in this recipe too
Pumpkin puree – I use organic and unsweetened pumpkin puree from a can in this recipe
Yogurt – any yogurt works – greek, coconut, etc. I actually used a pumpkin coconut yogurt when I made this and it was delicious!
Maple syrup – I am officially obsessed with maple syrup and pumpkin together!
Coconut sugar – this is my go-to baking sugar that isn't liquid! You could use cane sugar though if you prefer
Gluten-free all purpose flour – I don't recommend a grain-free flour but regular all purpose flour works if not gluten-free
How to make gluten-free maple pumpkin bread:
Preheat the oven to 325 degrees F and line with a piece of parchment paper and grease well
Add the butter to a saucepan and melt over over medium heat then turn the heat to medium-low and continue to cook until the butter is browned, swirling often (about 6 minutes)
Once it is deeply golden brown (with dark brown speckles running throughout), turn off the heat and then let the butter cool for about 5 minutes
In a large bowl, mix together the cooled butter, eggs, pumpkin, vanilla, yogurt and syrup until fully combined
Mix in flour, cinnamon, sugar and baking soda and mix again until smooth
Pour the batter into the prepared loaf pan
Bake in the oven on the middle rack for about 1 hour or until a small knife inserted comes out just barely dry
Allow the bread to cool for a few then use the parchment to gently remove the bread
Cut into slices and enjoy!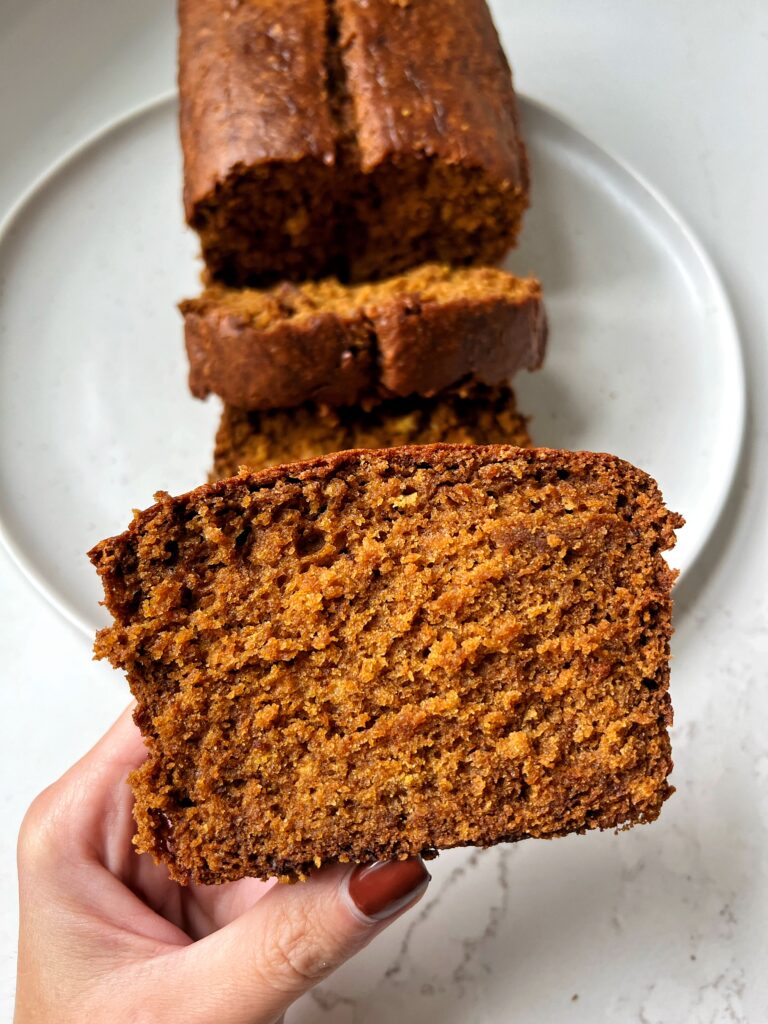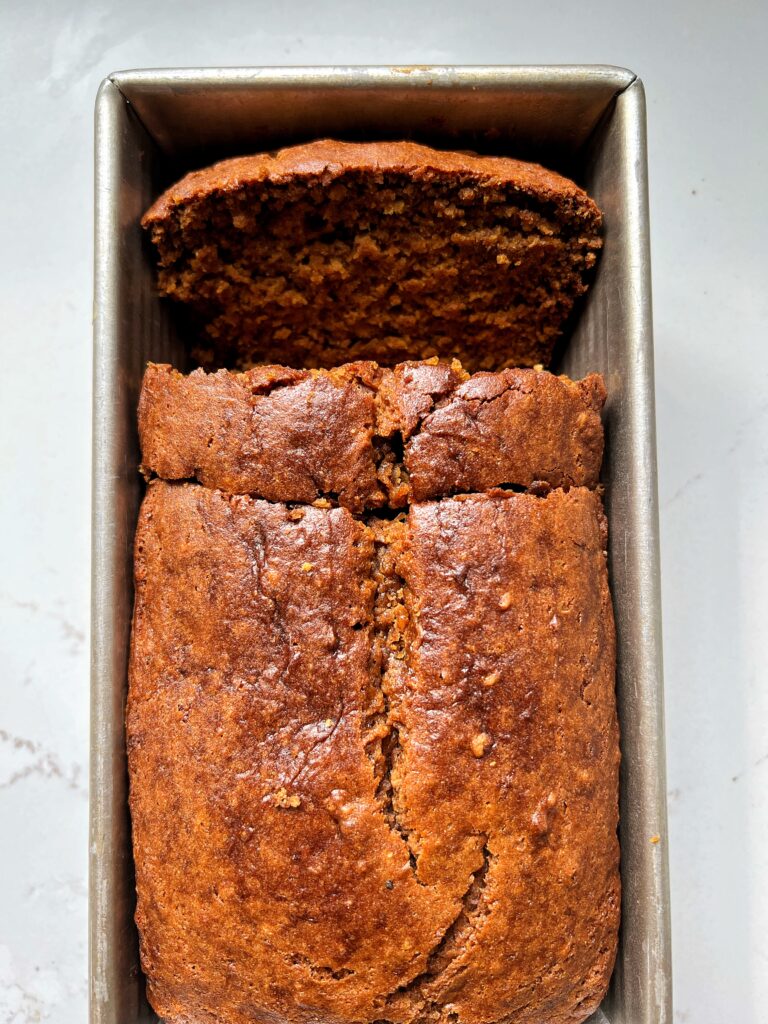 Tips for success making this bread:
Don't skip on making the brown butter! This adds so much flavor to the pumpkin loaf and it only takes a few minutes to make too. But don't forget to let it cool fully before mixing with other ingredients.
This bread takes about an hour or so to cook (sometimes more!). I like to stick a toothpick or thin knife into the center of the loaf and make sure it comes out clean and then that's how you know it's ready.
I love making this and serving it for a brunch, dessert or whenever. Plus you can keep it in the freezer for 2 months if you want to prep it in advanced.
If you aren't gluten-free, you can use all-purpose flour as well as the gluten-free flour!
A few other delicious pumpkin recipes to try:
Starbucks Pumpkin Cream Cheese Muffins (gluten-free)
Gluten-free Pumpkin Crumb Cheesecake
Gluten-free Pumpkin Chocolate Chip Cookies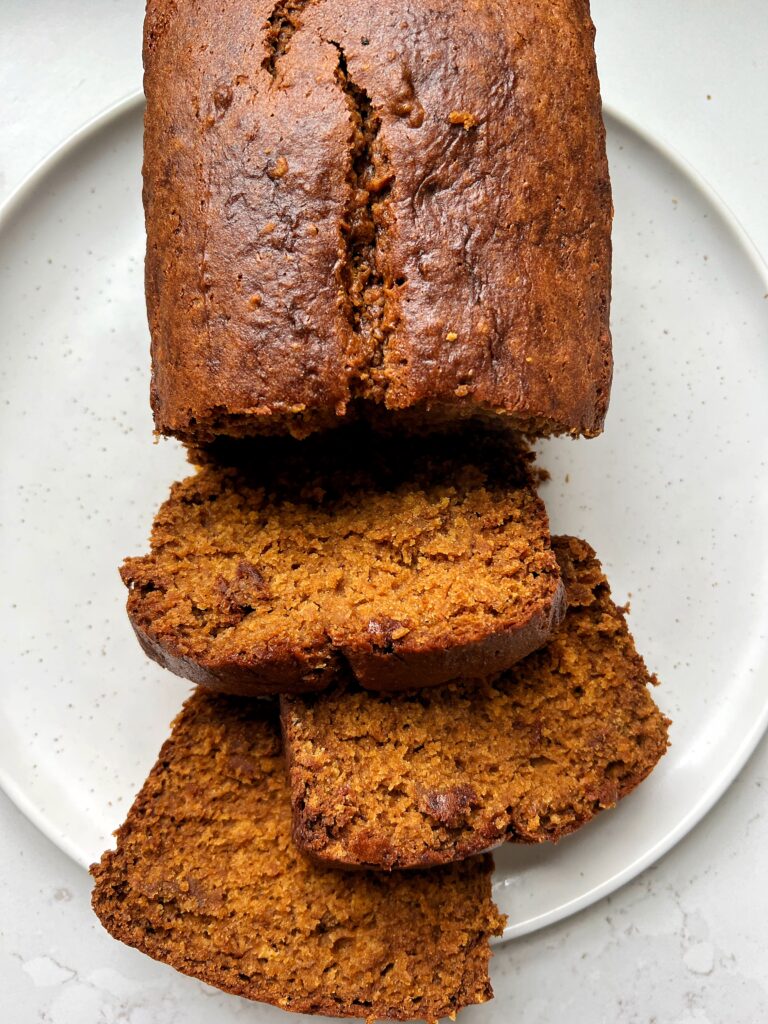 Print
Brown Butter Maple Pumpkin Bread (gluten-free)
This gluten-free Brown Butter Maple Pumpkin Bread is the ultimate pumpkin bread to make. Plus it is an easy one-bowl loaf that is made with all gluten-free ingredients.
Prep Time:

10 mins

Cook Time:

60 mins

Total Time:

70 mins
6 tablespoons

unsalted butter

2

eggs

3/4 cup

pumpkin puree

1 teaspoon

vanilla extract

1/2 cup

yogurt (any yogurt works – greek, coconut, etc.)

1/3 cup

maple syrup

1 cup

coconut sugar

1 1/2 cups

gluten-free all purpose flour

2 teaspoons

cinnamon

1 1/2 teaspoon

baking soda
Instructions
Preheat the oven to 325 degrees F and line with a piece of parchment paper and grease well
Add the butter to a saucepan and melt over over medium heat then turn the heat to medium-low and continue to cook until the butter is browned, swirling often (about 6 minutes)
Once it is deeply golden brown (with dark brown speckles running throughout), turn off the heat and then let the butter cool for about 5 minutes
In a large bowl, mix together the cooled butter, eggs, pumpkin, vanilla, yogurt and syrup until fully combined
Mix in flour, cinnamon, sugar and baking soda and mix again until smooth
Pour the batter into the prepared loaf pan
Bake in the oven on the middle rack for about 1 hour or until a small knife inserted comes out just barely dry
Allow the bread to cool for a few then use the parchment to gently remove the bread
Cut into slices and enjoy! I love topping this with my cream cheese frosting too
Notes
*Store in airtight container for 5 days or freezer for 2 months