Sharing my Classic Banana Bread Recipe made with all gluten-free and nut-free ingredients for an easy, no-frills, healthy kind of banana bread recipe. Plus it is perfect for toddlers since there is no added sugar (just banana!)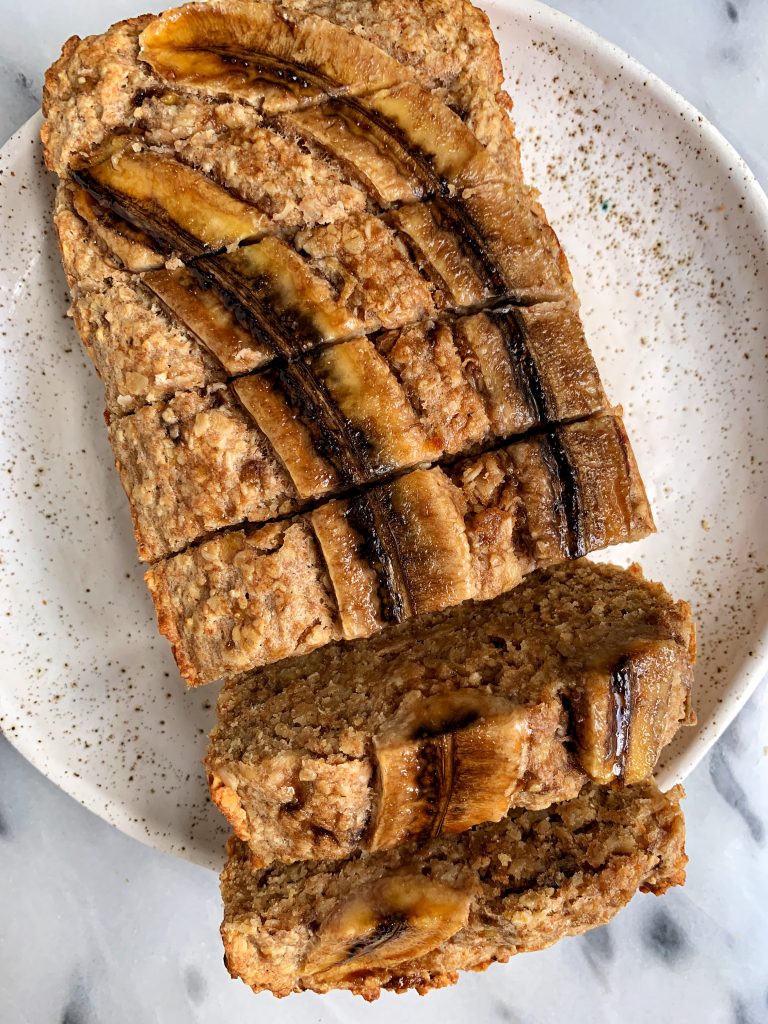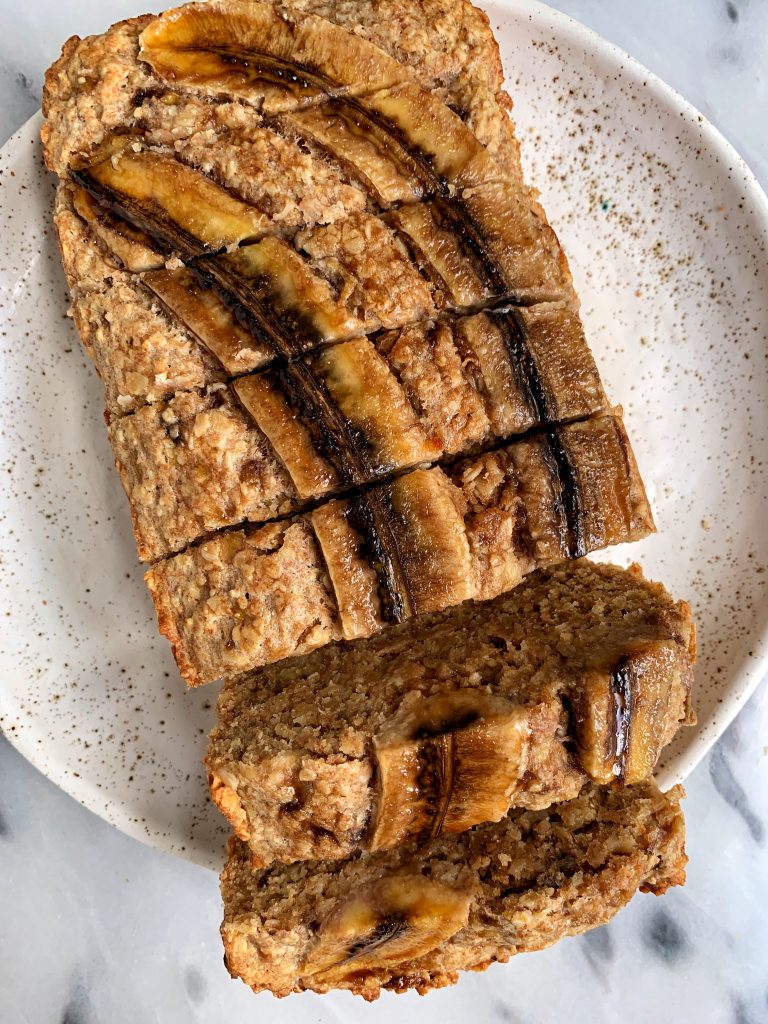 I have made approximately 1,000 banana breads on in my kitchen to share on the blog. But none of these are your classic banana bread recipe.
You know, the that doesn't have nut butter or chocolate chips or anything else in it.
Now don't get it twisted, you know I am the first person to crave everything nut butter and chocolate. But this banana bread is so simple and sometimes that is what we are craving.
A gluten-free twist on classic banana bread is here.
This recipe is also nut-free and lower in sugar than most banana breads. I use 1/4 cup of coconut sugar in the whole thing then just your bananas for natural sweetness. I want Ezra to eat everything I bake these days, and giving a wild child extra sugar doesn't sound too appealing (love ya Ez!). You can also omit the coconut sugar, which I have done as well!
You can of course add in some mixed nuts, blueberries, chocolate chips, anything your heart desires when you bake this. But I personally like keeping things as simple and classic as possible over here.
When I serve this to Ez, I just cut the piece into very small bite-size pieces and serve it to him. I do let him "try" to feed himself but he usually just ends up taking some food and mushing it all over his face. It sure is cute but cleaning him and the high chair 5x day isn't my favorite past time.I
I hope you guys love this banana bread as much as I do! Feel free to bake it and freeze some too. I always love storing the extras in the freezer for when we are in a bind and don't have time to prep anything!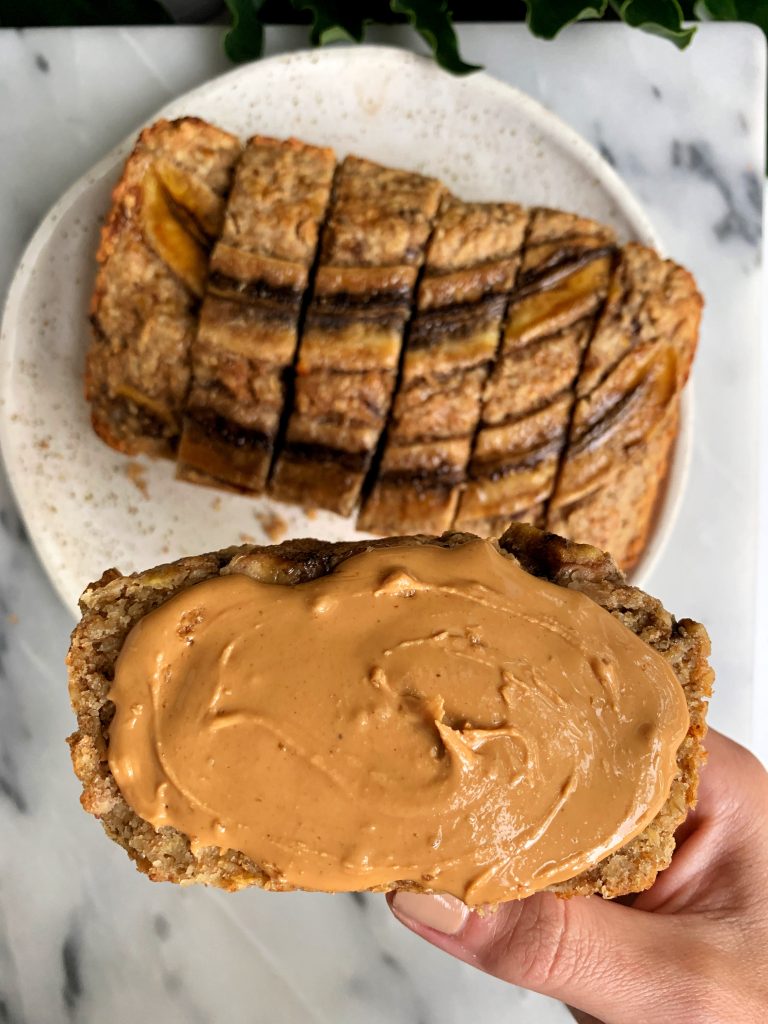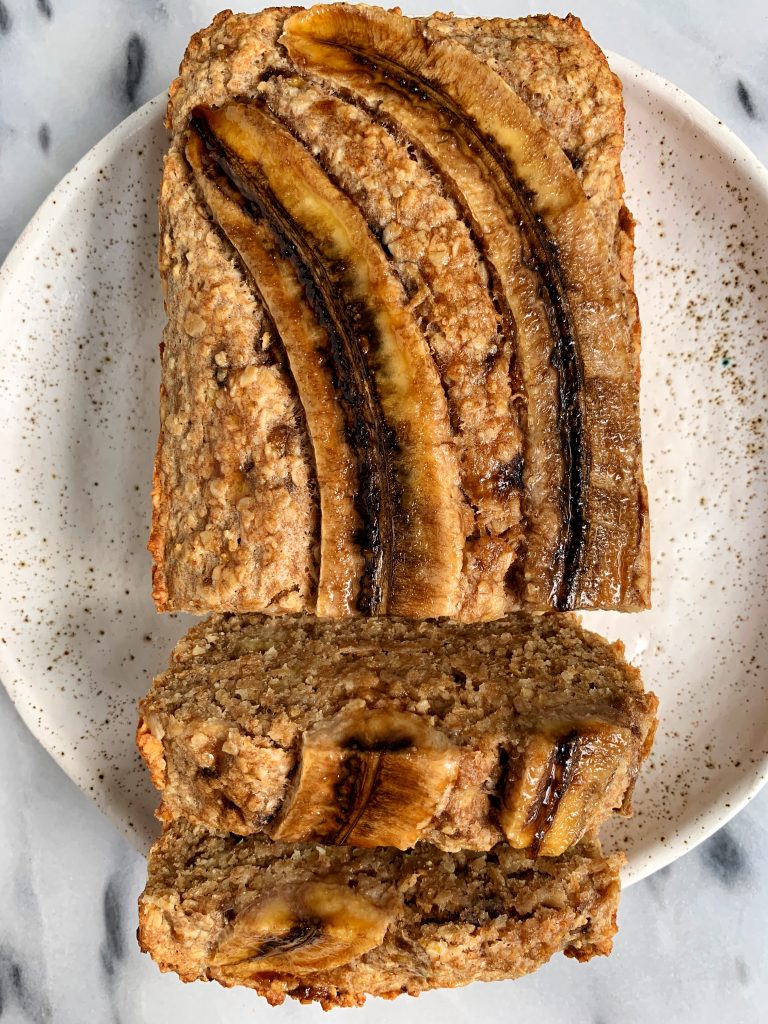 Print
Classic Gluten-free Banana Bread Recipe
Sharing my Classic Banana Bread Recipe made with all gluten-free ingredients for an easy, no-frills, healthy kind of banana bread recipe!
Prep Time:

5 mins

Cook Time:

40 mins

Total Time:

45 mins
1 cup

mashed banana (about

3

medium bananas)

2

pasture-raised eggs (or sub

2

flax eggs)

2 teaspoons

vanilla extract

1/4 cup

liquid coconut oil

1/4 cup

coconut sugar (can omit if you want!)

1/4 cup

ground flaxseed

1 1/2 cup

gluten-free sprouted rolled oats

1 cup

gluten-free oat flour (haven't tested another flour)

1 teaspoon

baking powder

1/2 teaspoon

cinnamon
Instructions
Preheat oven to 350 degrees and grease a bread pan with coconut oil or line with parchment paper
In a large mixing bowl, mix together the mashed banana, eggs, vanilla extract and coconut oil until smooth and creamy
Mix in the coconut sugar, flaxseed, oats, oat flour, baking powder and cinnamon and combine well so there are no lumps
Fold in the dark chocolate chips then add the batter to the bread dish
Bake in oven for 40-45 minutes or until you tick toothpick in and it comes out clean
Allow the bread to cool for a few then slice and enjoy!
Notes
*Store leftovers in airtight container for 5 days or freeze for longer
*Feel free to add some maple syrup to make this a bit sweeter!
xx, Rach