Crispy Chocolate Peanut Butter Cups made with gluten-free and dairy-free ingredients, sweetened with manuka honey!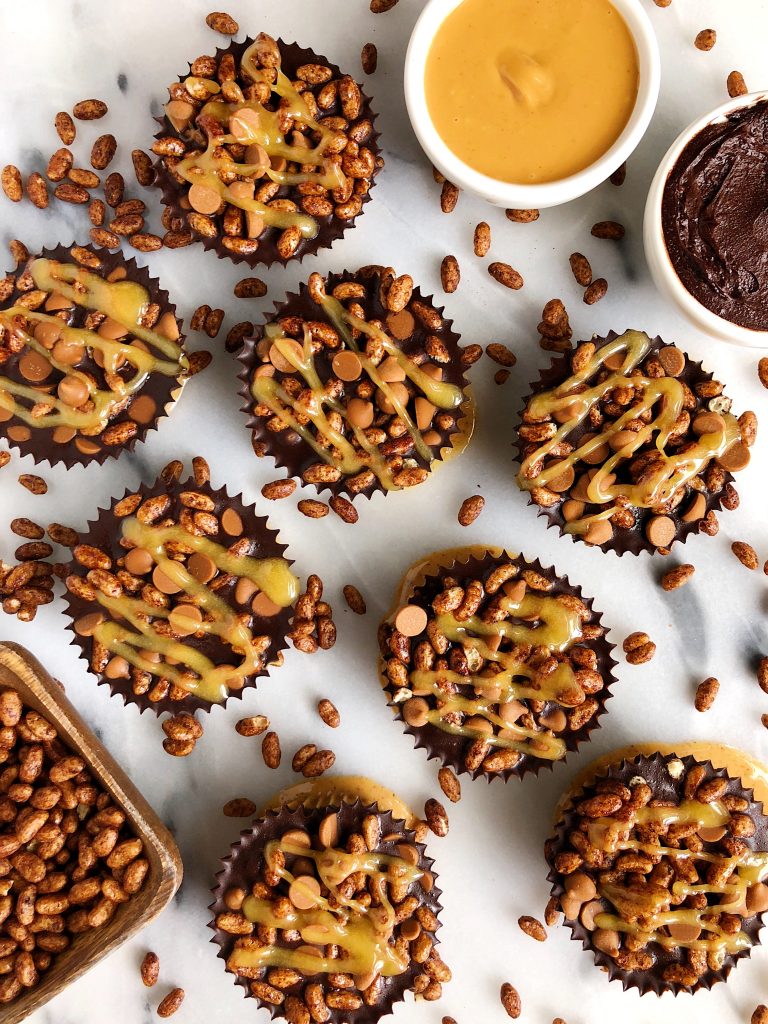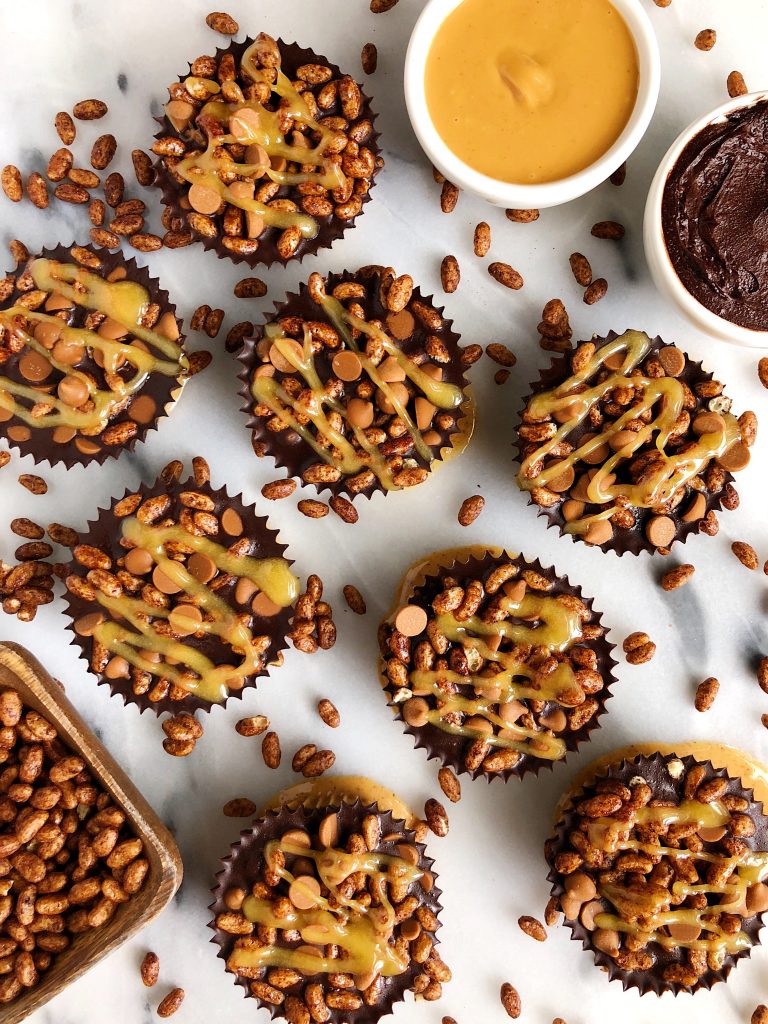 Will the peanut butter cup obsession ever come to an end? Going to go with a big fat NO here.
Peanut butter and chocolate and I go way back. Back to when I used to take gymnastics in elementary school (I am the most uncoordinated human ever) and the only way my Mom could get me to go was to buy me Reese's Pieces afterwards from the vending machine.
Then there was my blizzards phase. Anyone else used to get those at the ice cream shop? I'd get peanut butter cups or Reese's Pieces blended into chocolate soft serve. I'm craving it just thinking about it…
There is just something about dark chocolate and creamy peanut butter combined that makes my stomach go crazy. I crave it daily, eat it daily and I wouldn't have it any other way. But now that I have these homemade Crispy Chocolate Peanut Butter Cups in my life, my intake of peanut butter and chocolate just got even more crazy.
I love making homemade cups like these. They are so easy and quick to make. I also love that I can control the ingredients in them. No palm oils or refined sugars in my homemade cups and I'm able to control the sugars.
For these Crispy Chocolate Peanut Butter Cups I am using my favorite sweetener for no-bake recipes, manuka honey! Wedderspoon's manuka honey is absolutely insane. It is the only honey I use in the kitchen and I love how it adds a touch of sweetness and how their honey is actually good quality. It is sourced from New Zealand and you guys have seen me using their products like crazy on the blog.
I do only use it in no-bake or raw desserts and recipes though because I learned that if you heat manuka honey (or most honey) it releases toxins into the food. Honey is not made to be heated at high temps in the oven!
These Crispy Chocolate Peanut Butter Cups are here just in time for the heat. Keep them in the freezer until you're ready to eat though because they have no shame in melting all over your marble like mine today..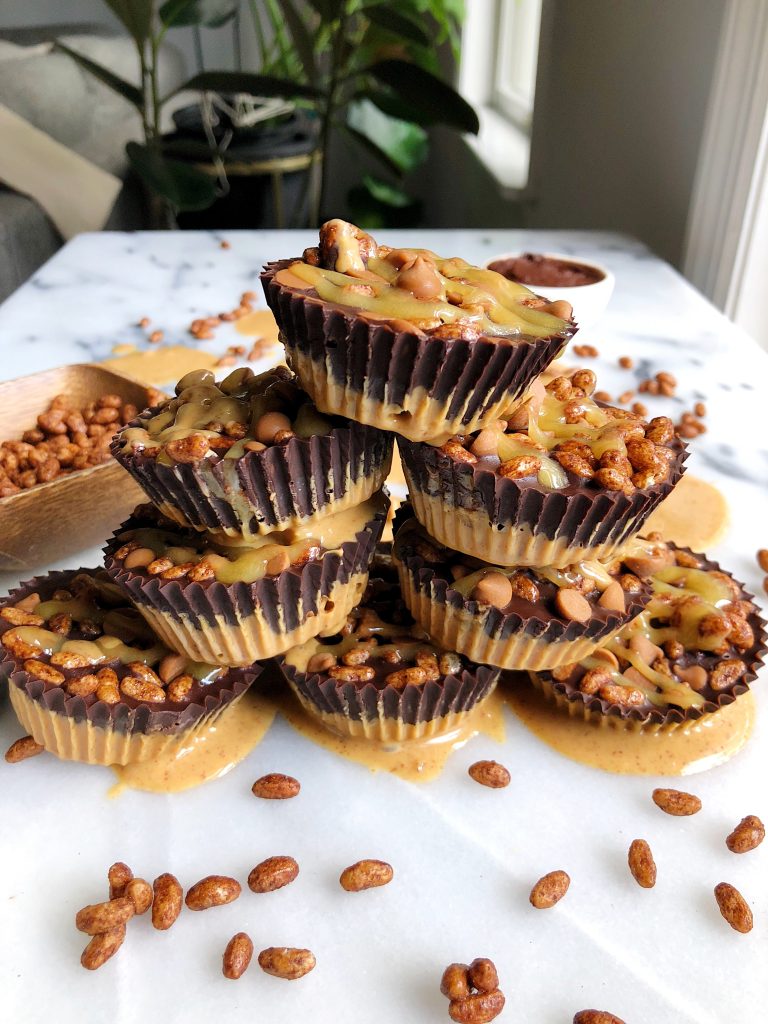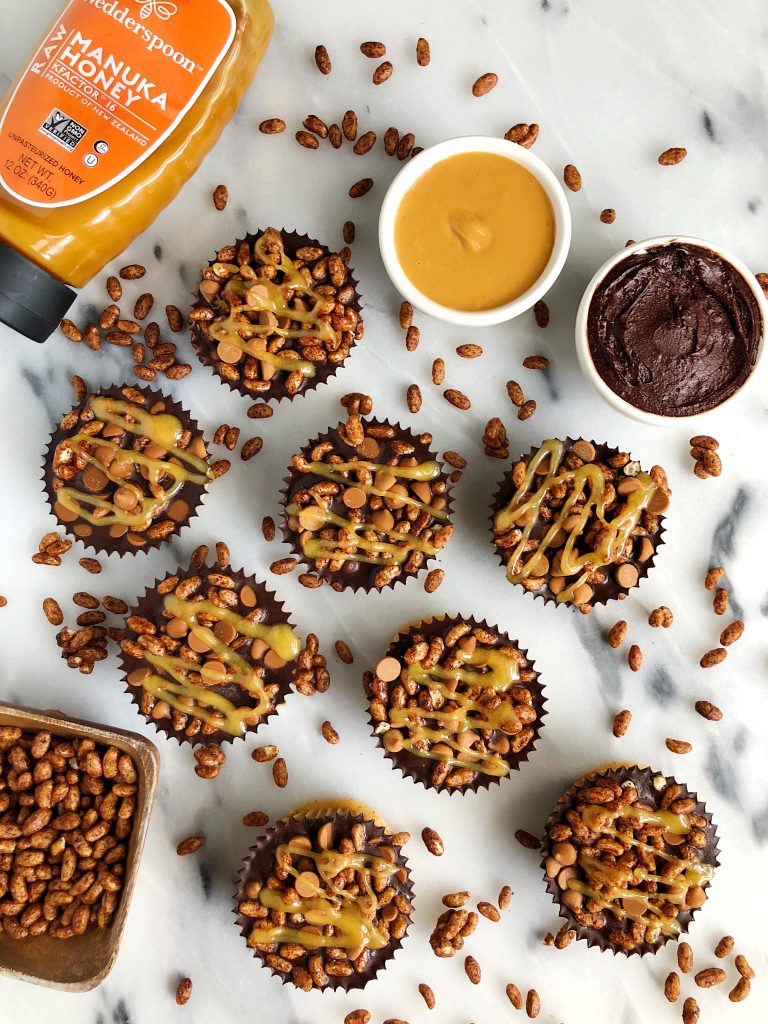 Print
Crispy Chocolate Peanut Butter Cups
Crispy Chocolate Peanut Butter Cups made with gluten-free and dairy-free ingredients, sweetened with manuka honey!
Instructions
In a small saucepan combine the peanut butter, coconut oil, coconut butter and warm over low heat and mix well so it melts
Remove from heat once liquidy and mix in the honey and stir
Add in the crisps cereal and mix well
Line a muffin tin with liners
Evenly distribute to each muffin liner (I filled 8 cups) then add to freezer to set for 30 minutes
Once those harden, begin to melt the chocolate then pour on top of each cups then sprinkle extra crisps on top and sea salt if desired
Place in the freezer to set for another 30 minutes
Notes
Store in the freezer for up to two month!
xx, Rach
Thank you Wedderspoon for sponsoring this post. It means so much to me to work with brands I love and believe in!
SaveSave
SaveSave
SaveSave