Dark Chocolate Pecan Pie Bars that are gluten-free, vegan and healthy for the holidays!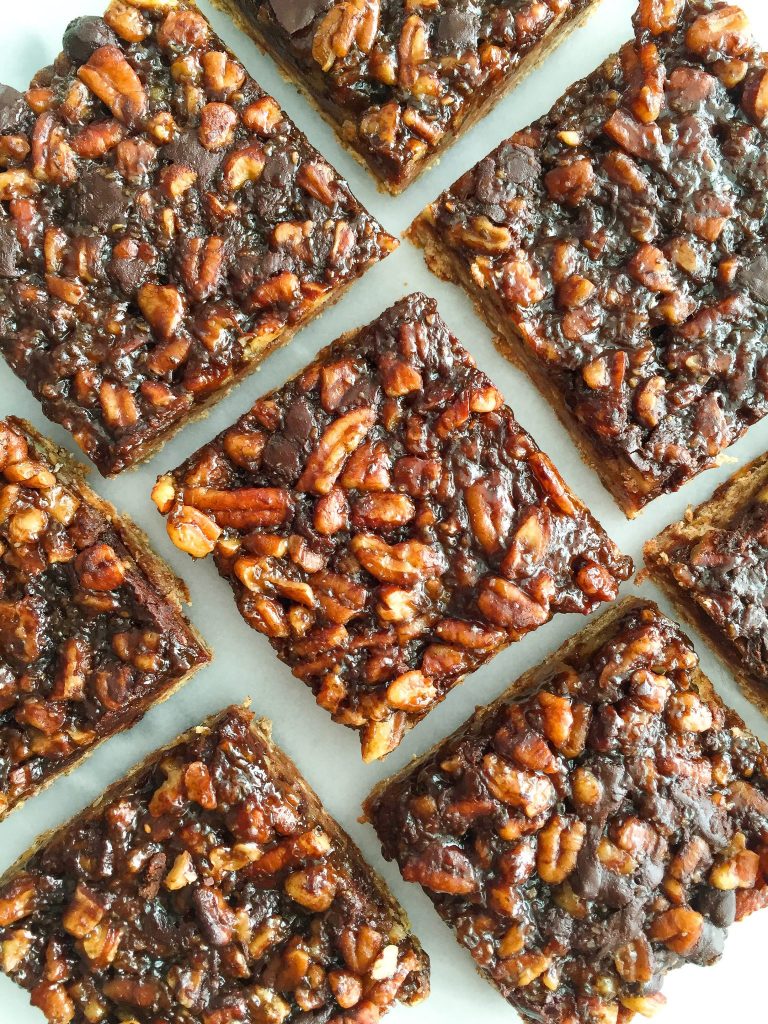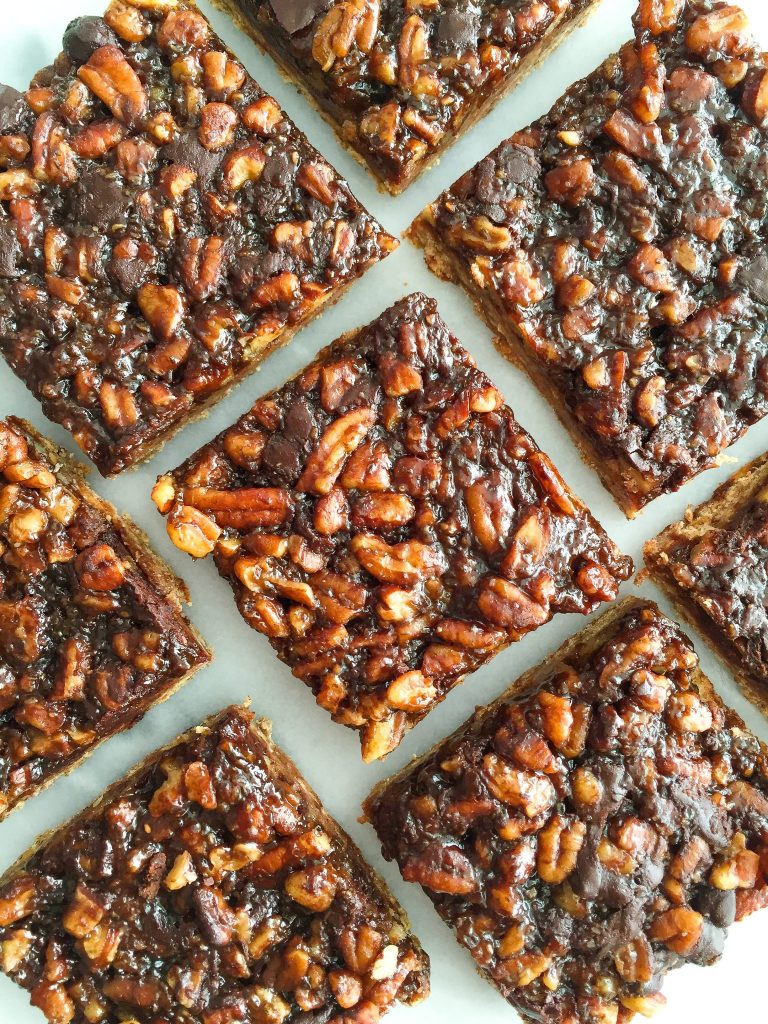 Dark Chocolate PECAN PIE BARS, hellllllo friends! These bars are seriously so perfect and just in time for the holiday season. Even though we all know these gems would be good for any season 😉
They have a homemade gluten-free crust that is topped with a CLEAN pecan pie filling. All you need for the crust are these three easy ingredients: Bobs' Red Mill Gluten-free 1-to-1 Baking Flour, dates and maple syrup. Yup it is that easy.
This is my second recipe using Bob's Red Mill Gluten-free 1-to-1 Baking Flour. I made that dreamy Double Chocolate Chunk Banana Bread a few weeks back and was seriously so impressed with how easy this flour is to bake with. It is a 1:1 sub for regular baking flour, making it super easy for anyone with a gluten-free allergy to still enjoy delicious treats #winning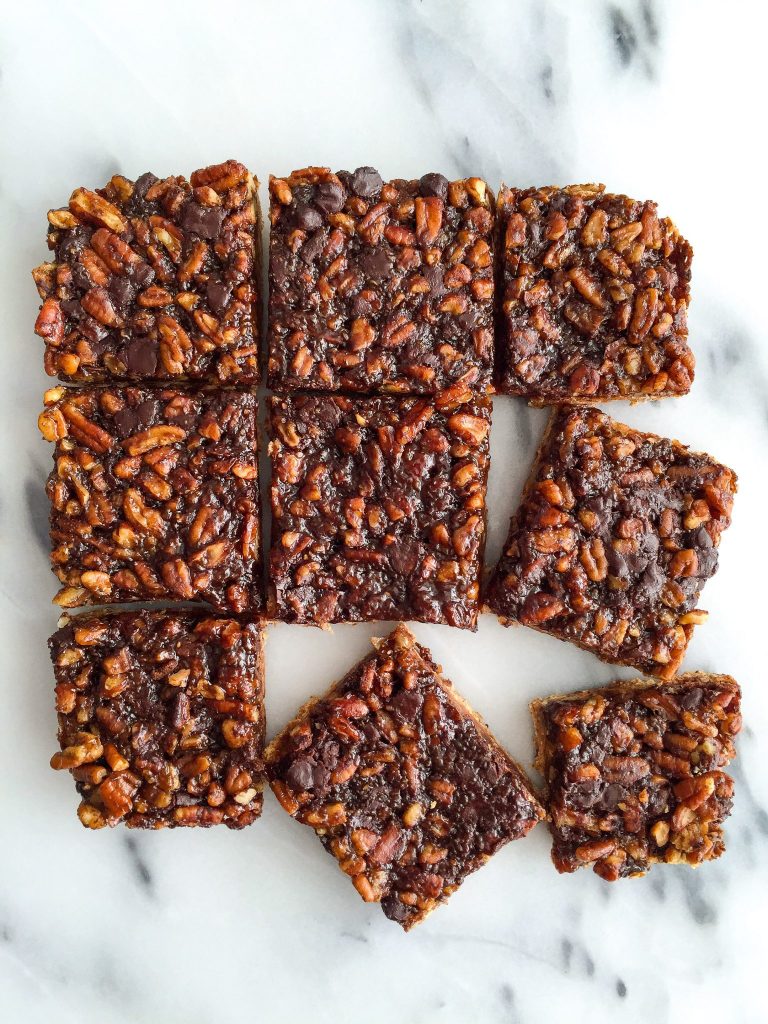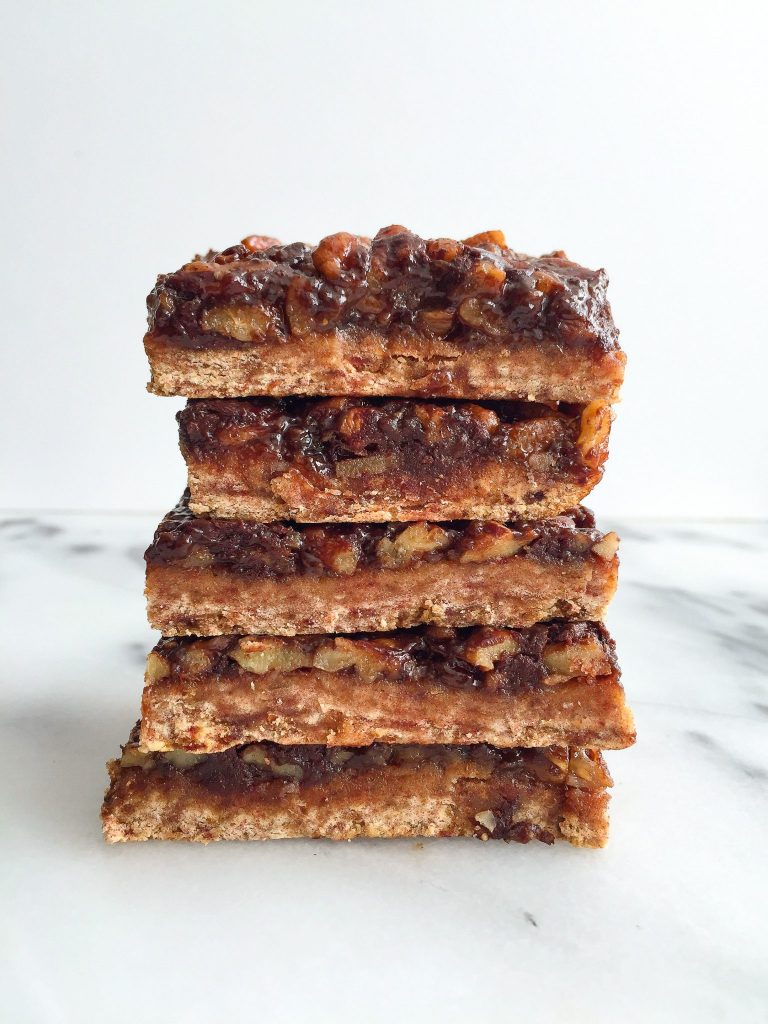 Also I am pretty sure half my pantry is Bob's Red Mill products right now. I recently started buying their chickpeas to make (instead of a can) and what a game changer. So much fresher and there is no salt added then. Their almond flour is the BEST ever. I have a dream recipe coming your way soon with it too for the holidays. I cannot wait to share!!
But back to these Dark Chocolate Pecan Pie Bars..
They are vegan, gluten, and refined sugar-free and SO easy to make. Basically the opposite of "regular" pecan pie. Like completely feasible baking for the holidays right here. Want to impress your fam with a healthy and clean dessert? Well, I am your girl. I have SO many deliciously easy clean eats coming your way this season and this is just the start.
The dark chocolate pecan pie filling is made with chia egg (feel free to sub flax or regular egg), pecans, maple syrup, coconut sugar, coconut oil then dark chocolate chips. So clean and so pure and delicious, it makes me so giddy.. I am a loser I know.
If you make these, don't forget to share with us on social. I can't wait to hear what you think! 🙂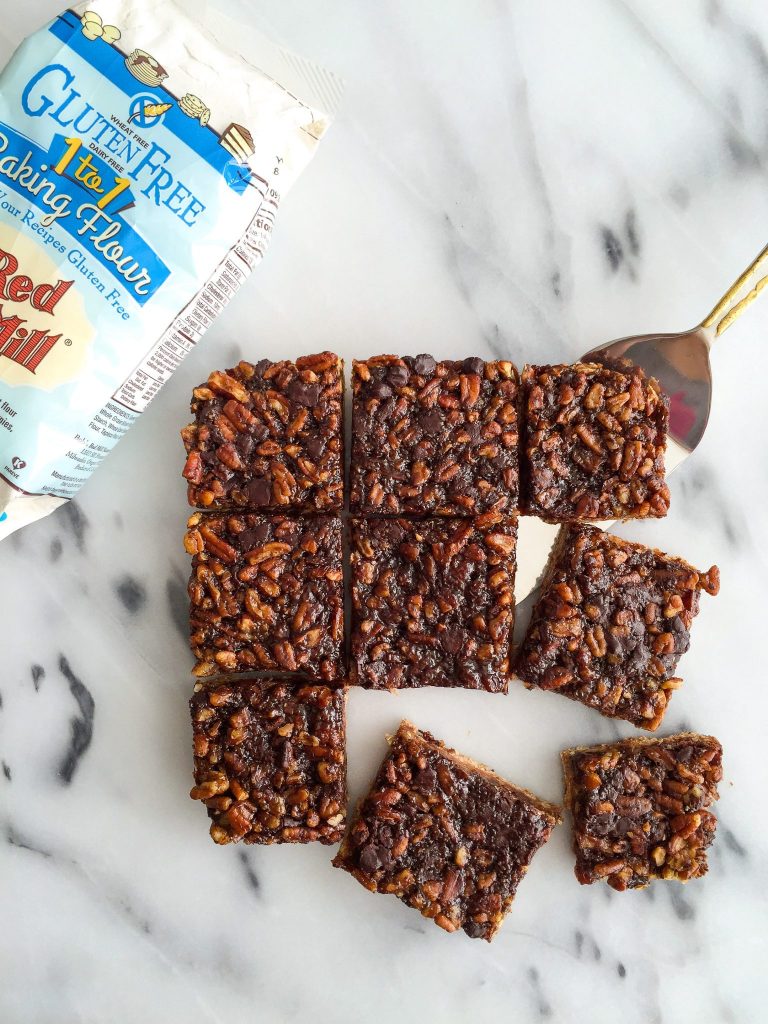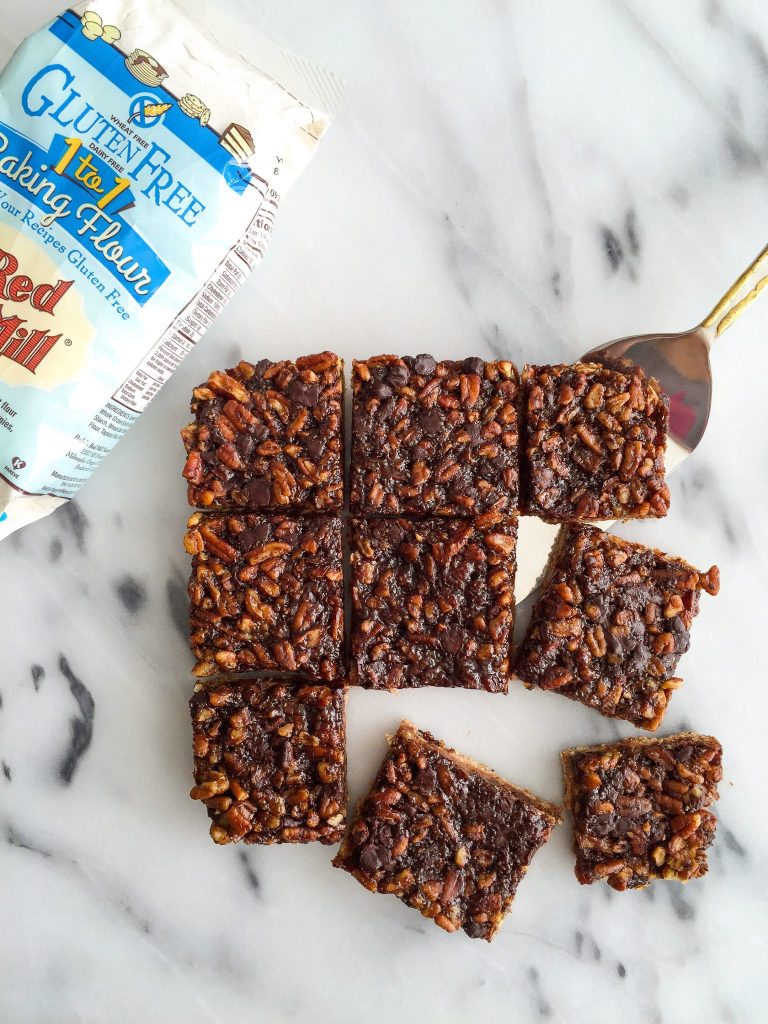 Print
Dark Chocolate Pecan Pie Bars (vegan & gluten-free)
Crust:
About

10

pitted medjool dates

1 cup

gluten-free flour

3 tablespoons

maple syrup
Pecan filling:
1/4 cup

maple syrup

2 tablespoons

coconut sugar

2 tablespoons

coconut oil, melted and cooled

1 cup

chopped pecans

1/3 cup

dark chocolate chips

1

chia egg (can sub flax egg)
Instructions
Preheat oven to 350 degrees
Grease 8×8 baking dish with coconut oil or parchment paper
In food processor, pulse together curst ingredients until a dough forms
Using your hands, press the dough into the baking dish to form it to the dish
Bake in the oven for 10-12 minutes then let it cool for an hour or so
Make a chia egg by combing 1 tablespoons ground chia (note ground chia not chia seed) and 3 tablespoons water and mix together, keep in fridge for a bit to form
In a medium sauce pan, boil together maples syrup, coconut sugar and coconut oil
Let the contents boil for about 30 seconds then simmer for a few minutes
Remove from heat and let cool for a bit
Once cool, add in chia egg and mix well
Mix in chopped pecans and dark chocolate chips then pour onto crust
Bake again for another 20 minutes at 350 degrees
Let cool and cut into squares and enjoy!
Author:
Category:

vegan, gluten-free

Cuisine:

dessert
xx, Rach