The most delicious Paleo Gingerbread Coffee Cake made with a dreamy gingerbread cake base and topped with a paleo crumb cake topping.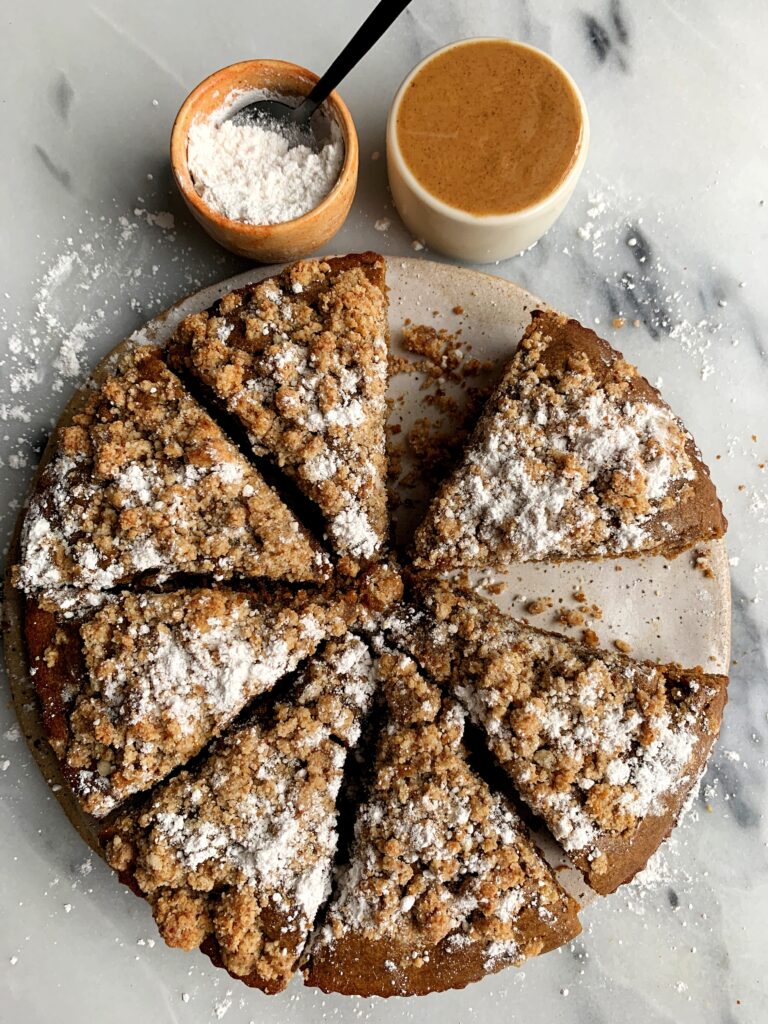 Looking for the most delicious breakfast cake recipe to make all season long? GREAT! You have come to the right place.
I made us a Gingerbread Crumb Cake that tastes so decadent and has just the right amount of sweetness. Yet it just so happens to be paleo, gluten-free and no refined sugars in the cake.
There really isn't a crumb cake type of recipe that I don't love eating and baking and photographing for that matter. Crumb cake was always my favorite growing up. And this seasonal twist on a classic is such a dream to make for the holidays. Plus it isn't filled with as much sugar and butter and all the things that do taste pretty damn good. But when you are craving gingerbread crumb cake daily – this is the one for you. It is surprisingly light and the cake itself is super moist (sorry if you hate this word but it is true!).
The crumb topping is sweetened with maple syrup and coconut sugar and has an almond flour base just like the cake. I also did sprinkle some powdered sugar on top because I couldn't help myself. It is crumb cake and so needed at times for that little extra sweetness and to give the cake the holiday feel.
If you guys love this recipe, share it with friends, family or anyone! And don't forget to please rate and review the recipe below if you love.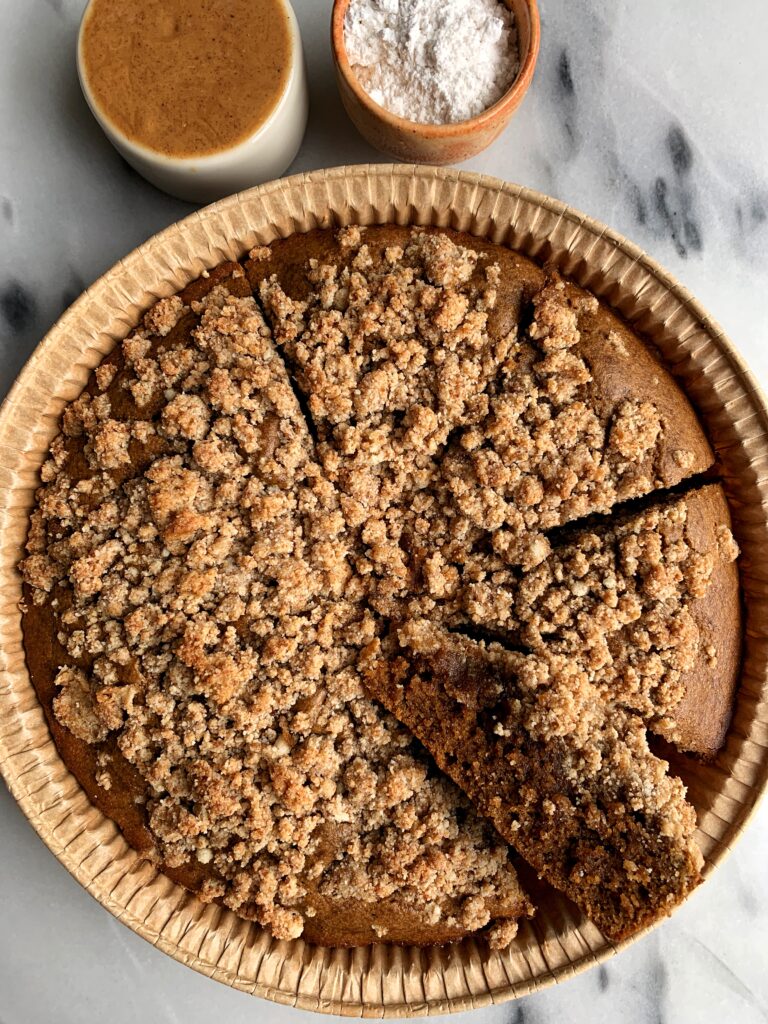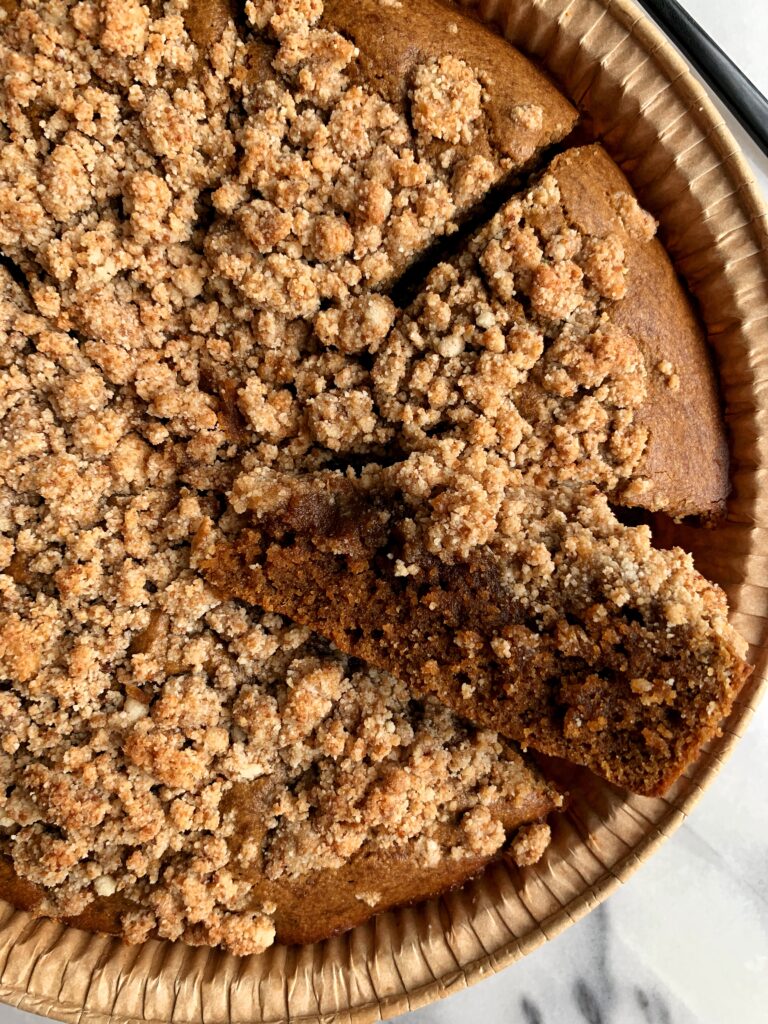 What ingredients you need to bake this healthier Gingerbread Coffee Cake:
Eggs – I haven't tested flax eggs yet
Non-dairy milk
Vanilla extract
Maple syrup
Almond flour – I haven't tested another flour
Tapioca or arrowroot flour
Cinnamon
Allspice
If You Care Baking Dish – a baking must have if you ask me! If You Care makes the best of the best when it comes to parchment paper and all of the things. Their products are totally chlorine-free and they are ready to use and you don't have to grease the pans or baking sheets either. Their dishes are perfect for all of the cake and pie baking needs all year around. And makes for easy transportation to a holiday get together or just an easier clean up.
How to make the dreamiest paleo Gingerbread Coffee Cake:
Preheat oven to 350 degrees and grease an 8 or 9-inch baking dish (I used the If You Care Baking Dish which is a game changer!)
In a large bowl, mix together eggs, milk, oil, vanilla, coconut sugar and molasses and mix well until smooth
Add in the flours, baking powder and spices and mix until fully combined
Add batter to the baking dish then prep the crumb topping
In a small bowl, mix together crumb topping then sprinkle across the cake
Bake in oven for 25-27 minutes (I stick a toothpick in the center and if it comes out "clean" it is ready)
Allow the cake to cool for a few then slice and enjoy. I also added powdered sugar on top, which is optional
A few of my other favorite healthier coffee cake and crumb cake type recipes:
Paleo Blueberry Crumb Cake Muffins (gluten-free + dairy-free)
The Best Ever Paleo Coffee Cake Recipe
Life Changing Healthy Chocolate Chip Crumb Cake (grain-free)
Vegan Cinnamon Coffee Cake Loaf (gluten-free)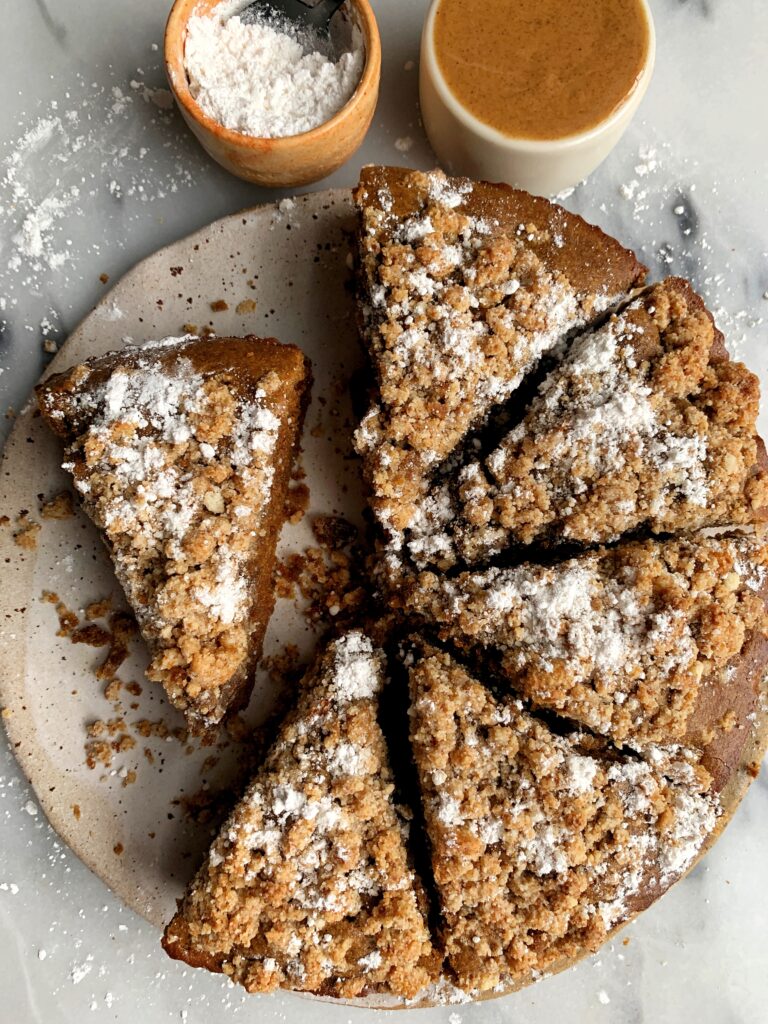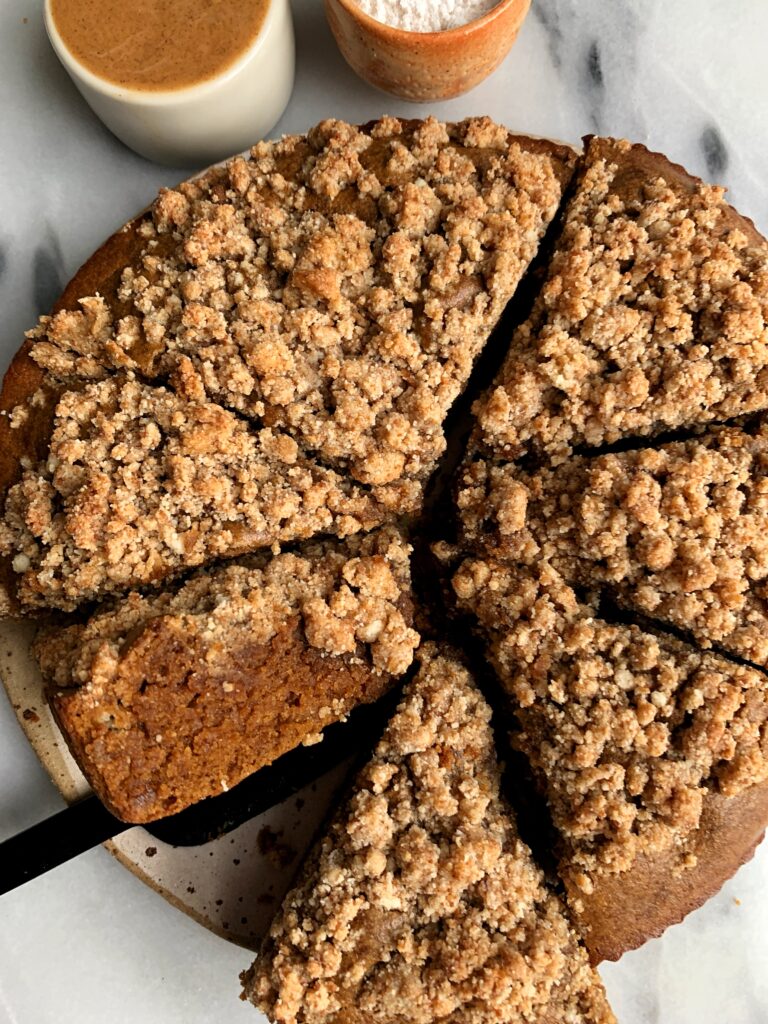 Print
Delicious Paleo Gingerbread Coffee Cake
The most delicious Paleo Gingerbread Coffee Cake made with a dreamy gingerbread cake base and topped with a paleo crumb cake topping.
Prep Time:

5 mins

Cook Time:

25 mins

Total Time:

30 mins
Gingerbread cake:
Crumb toping:
Instructions
Preheat oven to 350 degrees and grease an 8 or 9-inch baking dish (I used the If You Care Baking Dish which is a game changer!)
In a large bowl, mix together eggs, milk, oil, vanilla, coconut sugar and molasses and mix well until smooth
Add in the flours, baking powder and spices and mix until fully combined
Add batter to the baking dish then prep the crumb topping
In a small bowl, mix together crumb topping then sprinkle across the cake
Bake in oven for 25-27 minutes (I stick a toothpick in the center and if it comes out "clean" it is ready)
Allow the cake to cool for a few then slice and enjoy. I also added powdered sugar on top, which is optional
Notes
*Store leftovers in airtight continuer for 5 days or freezer for longer
**I haven't tested subs that aren't listed above