Life Changing Chocolate Chip Crumb Cake made with grain-free, dairy-free and gluten-free ingredients for the most epic healthy crumb cake recipe!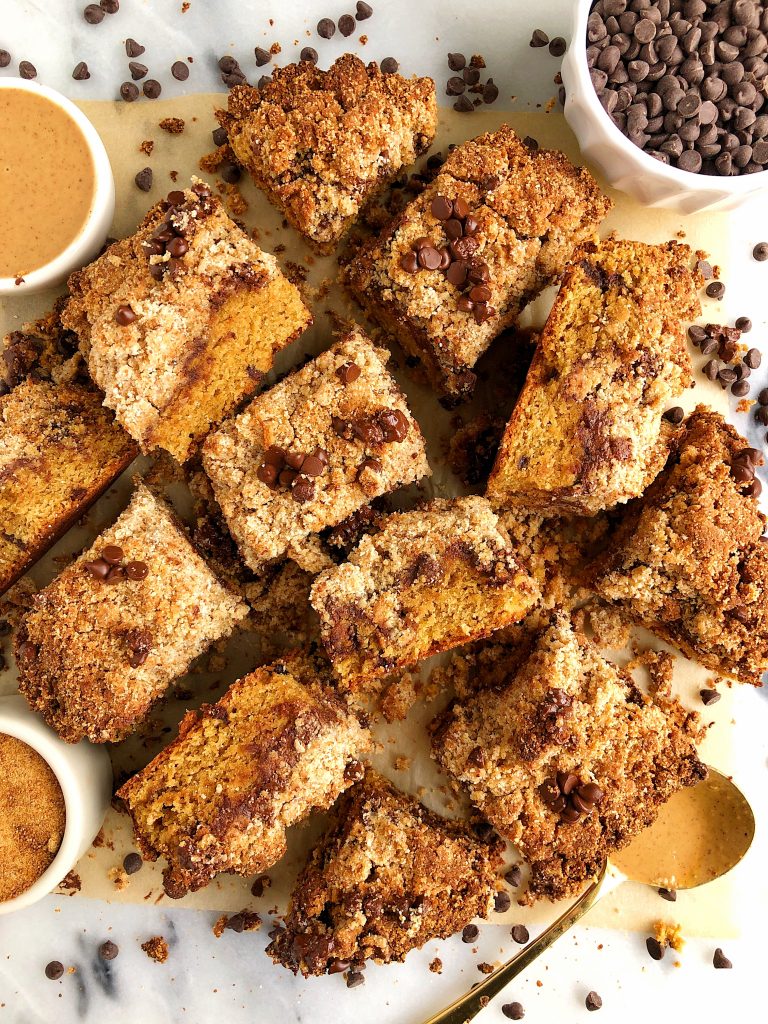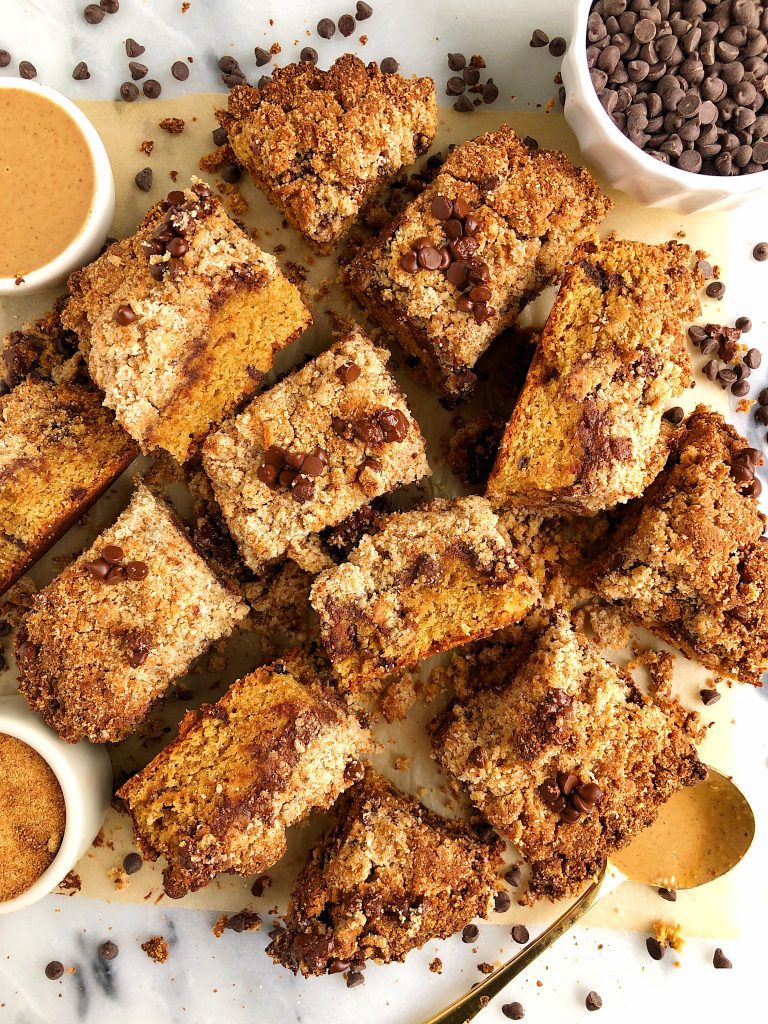 I am on a serious crumb cake kick right now. I was recently asking my parents and Jord if they had to pick one epic dessert to eat with no regrets, what would it be?
For me personally it was a crumb cake of sorts. The epic kind with chunks of powdered sugar crumbs on top of a moist and thick cake. It was always a favorite of mine growing up and really anything crumb cake-related is the way to my weird.
Now this Life Changing Healthy Chocolate Chip Crumb Cake has made my crumb cake obsessed self the happiest human ever.
Crumb cake that is grain-free, gluten-free, dairy-free and has just the right amount of sweetness to it.
When I was testing this, I didn't have much of a pan besides mixing everything into a bowl and hoping for the best. We got lucky with this recipe because the first try and it turned out so delicious.
I spiced up the traditional crumb cake a bit by adding a chocolatey twist to it (shocker). I mix in some Enjoy Life Food's Semi-Sweet Mini Chocolate Chips into the cake batter then sprinkle some on top of the cake and mix into the crumb topping. Chocolate overload? Perhaps. But it is the dreamiest addition to this recipe and now we really combined the two best things into one dessert: crumb cake + chocolate.
Enjoy Life Foods makes the cutest mini chocolate chips. They're semi-sweet, which I love for baking (and drizzling) and their baking chocolates are free of the top allergens and made with solid ingredients. You guys have been seeing a handful of their recipes on the blog the past few months like Healthier Gluten-free Dark Chocolate Cinnamon Rolls and Peanut Butter Chocolate Chip Cookie Bars (two of the most popular recipes recently over here).
Okay enough chatter about the crumb cake and chocolate. Time for you guys to try it for yourselves! I hope you love and obsess over this recipe as much as I do 🙂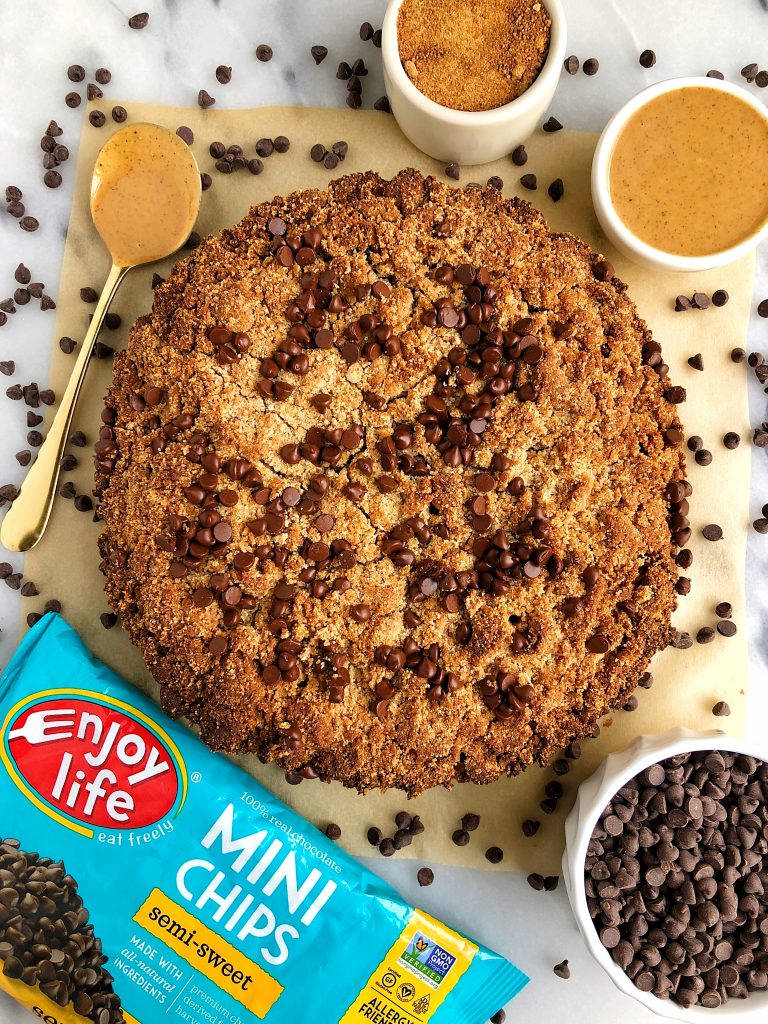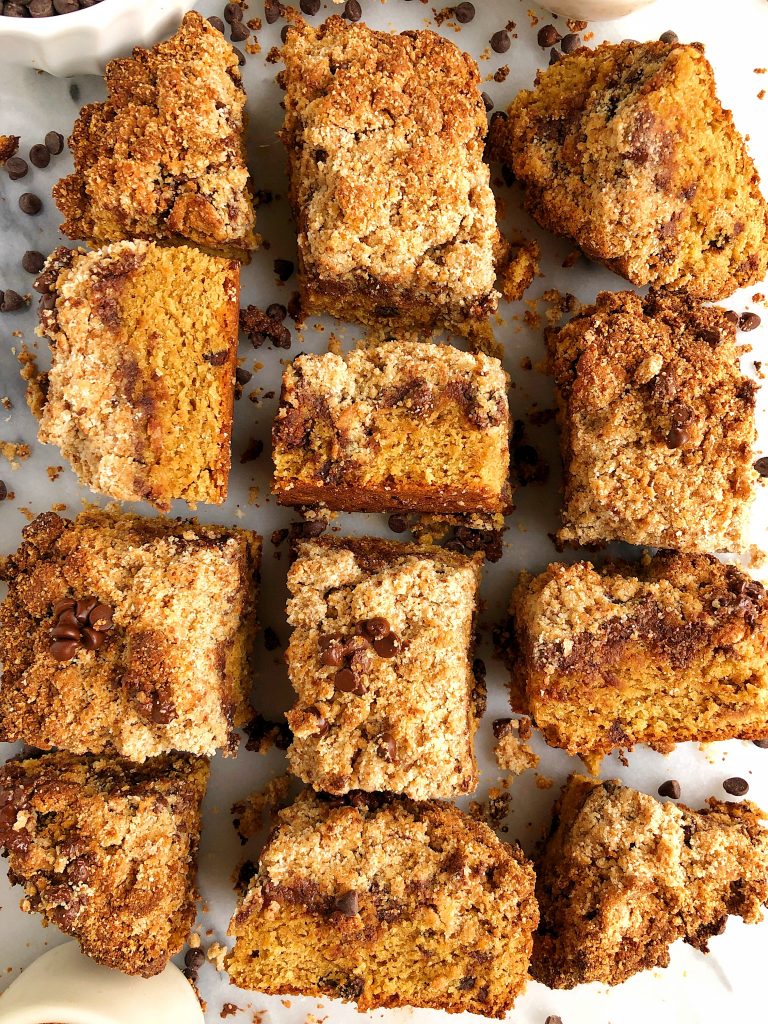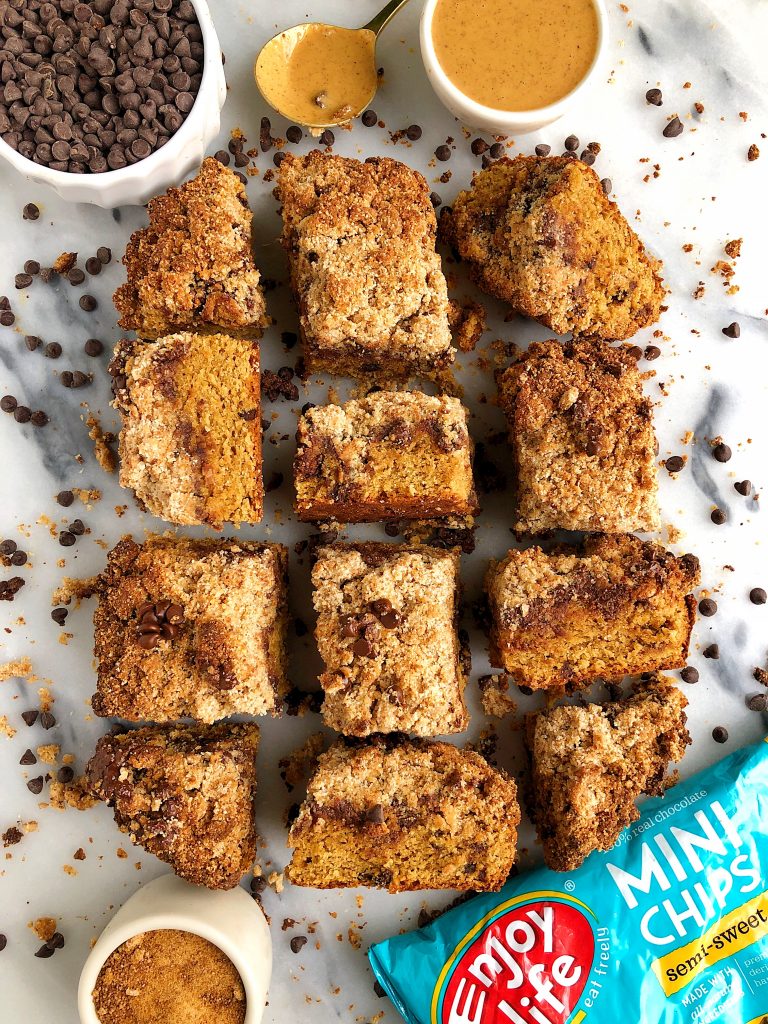 Print
Life Changing Healthy Chocolate Chip Crumb Cake
Life Changing Healthy Chocolate Chip Crumb Cake made with grain-free, dairy-free and gluten-free ingredients for an epic healthier crumb cake recipe!
Prep Time:

10 mins

Cook Time:

50 mins

Total Time:

1 hour
Cake:
Crumb topping:
1 cup

almond flour

5 tablespoons

coconut flour

2 tablespoons

arrowroot or tapioca flour

3 tablespoons

liquid coconut oil

5 tablespoons

maple syrup

4 tablespoons

coconut sugar
Instructions
Preheat oven to 350 degrees and grease a 9-inch round baking dish (you can try an 8-inch or square but baking time may vary!)
In a medium bowl, mix together the almond flour, coconut sugar, coconut flour, tapioca flour and baking powder and set aside
In a large bowl, whisk together the eggs, coconut oil and vanilla extract
Add the dry ingredients to wet and mix well to combine
Fold in 1/3 cup mini chocolate chips then add to the baking dish and press down
Sprinkle the additional 1/3 cup of chips across the top of the cake so it is covered with chocolate
In a smaller bowl, mix together the crumb topping ingredients in gently sprinkle on top of the cake and press down into cake
Bake for 40 minutes then remove and cover with foil and bake another 10 minutes, or until toothpick comes out clean (how I know if it is ready!)
Cool for a few if you can resist, then slice and enjoy!
Notes
*Store leftovers in an airtight counter for 5 days or freeze for 2 months
xx, Rach
Thank you Enjoy Life Foods for sponsoring this post. It means so much to me to partner with brands I love and believe in!